An Easy Girl Director Rebecca Zlotowski on Her Version of French Feminism
Lush and sun-kissed, An Easy Girl, the latest feature from French filmmaker Rebecca Zlotowski, is a Cannes-set summer vacation coming-of-age centered on a teenager named Naïma (Mina Farid) and her visiting older cousin, Sofia (Zahia Dehar). A screen descendant of Sophia Loren and Brigitte Bardot, Dehar is enviably confident and sexy; however, many French audiences have struggled to separate Dehar's character from her real-life persona, the one who was involved in an underage prostitution scandal in 2009. Zlotowski befriended the now-model and lingerie designer through Instagram and cast her in this salaciously meta role of an escort.
In the director's radical vision, there's no finger-wagging or punishment of her sex work or overt sexuality. We watch her with part fascination through the eyes of Naïma, who herself is figuring out love and friendships and the meaning of freedom, as they are seduced into a world of high society by rich, older men. An Easy Girl, which was inspired by the summer-y Eric Rohmer film La Collectionneuse, is also a movie of sizzling textures, a snapshot of a time filled with ennui and flirtation. During Lincoln Center's Rendez-vous With French Cinema series, Zlotowski visited New York to chat about the French reluctance to feminism and the perception of the women featured in her film. An Easy Girl, titled Une fille facile in French, will be released on Netflix later this year.
I did not know much about Zahia Dehar—the scandal, the backstory. I'm guessing this is much more widely known in France. Was she always in mind for the role?
No, the backstory of Zahia was a slight provocation. The mystery of the actress—the way she talked, moved, behaved—and the extraordinary erotic and free potential she had inspired me, not her backstory. But the fact that she had that added a special layer that I easily accepted with pleasure. I'm very glad that American audiences see the film, because when you withdraw the knowledge of her, I think the film still holds and this actress is still someone. So this is a special layer if you know it. If you don't, it's fine.
I was thinking she seems like a modern-day Brigitte Bardot and then she brought up Sophia Loren, of course.
Thank you! The thing is that in France, even if the film has been super well-received, the knowledge of the backstory cuts some people off from the desire to see the film, or the desire to understand her. There's a huge violence towards the character. I still feel very hurt by that, for her. I could not maybe manage to flip the perception. It's a wall.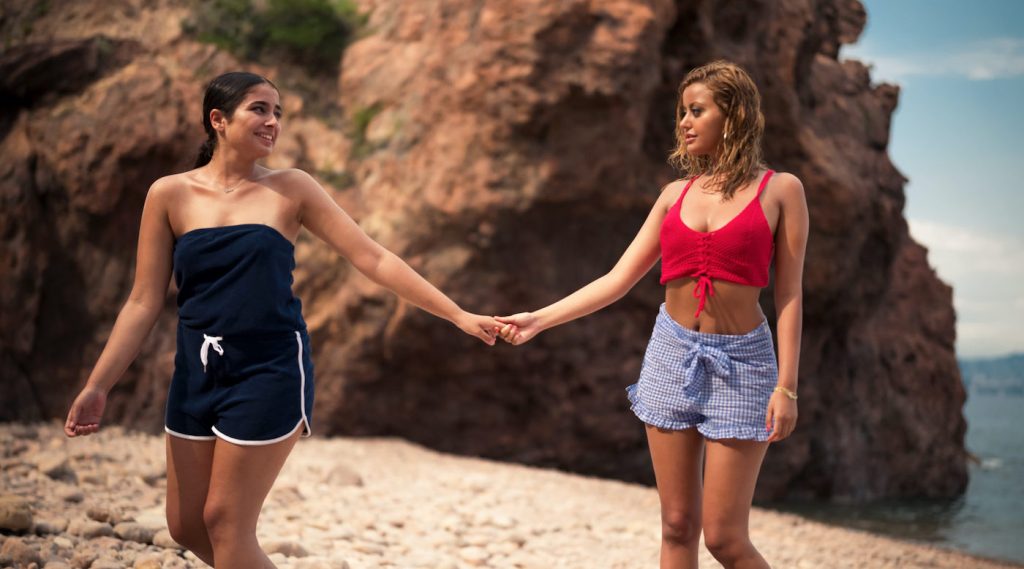 Oh yeah, so perhaps it plays better internationally.
Probably.
I also loved Mina Farid's character Naïma—I identify with her.
I do too!
I'm never Sofia! Did you have that cool older girl in your life growing up that you took inspiration from?
Yeah, sure. You always grow up looking at patterns, role models. I was an orphan so I never really had a feminine role model. So I would imagine women—and men—in my entourage: the strong one, the beautiful one, the independent one, the sexy one. In the summer, there's a moment in teenagehood—it's not so light and fun, it's absolutely scary and dark because you make choices you will pay for forever. And everyone tells you "this is the moment." So I think this is maybe one of the scariest moments ever. You have to follow a path but you have to climb up, not down—and if you climb down, something's gonna be wrong for a long time.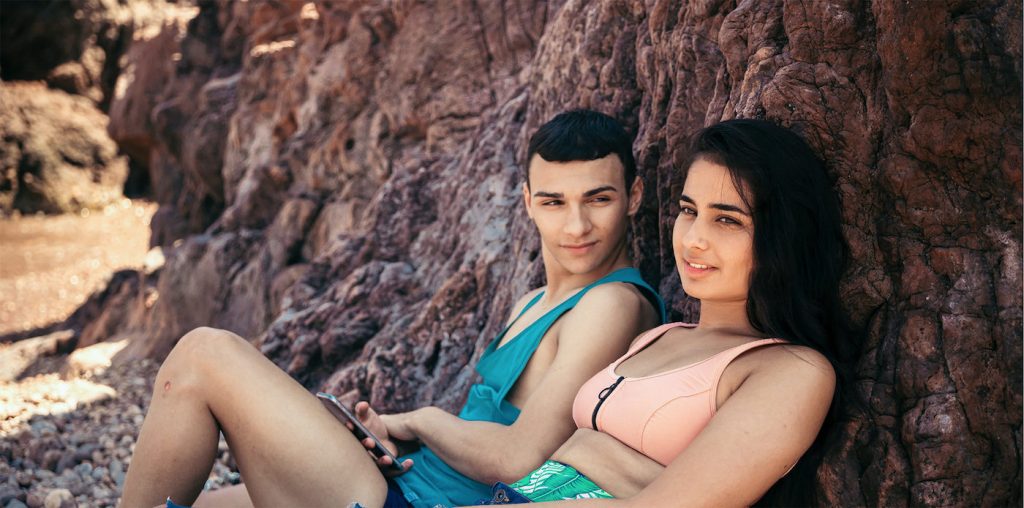 I also love that Sofia is not a conventional role model but you don't punish her or look down on her in the movie.
I know. People expect this kind of woman—an easy girl—to disappear, to be depressed, to commit suicide. I wanted to deconstruct the stereotype, that she should be a victim, that she should be in pain. Obviously she cries because she's disappointed by the guy, but she's not disappointed by herself. So there's something very strong and empowering, even if it's a secret path that some of the audience members don't get. But most of you guys understand perfectly. Also, I wanted to do it with humor and light and pleasure. There's something about '60s Italian cinema that's super connected to this film.
Even in the way this film is so delicious to look at! It's such a short moment in time and there's pain and regret but I think Naïma will grow up and look back on this summer in a wistful way.
Thank you. Exactly. Like a souvenir.
So many of these coming-of-age movies are about white girls so I liked that you made yours about non-white girls.
Absolutely. I met Zahia Dehar and I was like, "This girl is absolutely interesting and mysterious and fascinating and she inspires me a lot." This was the starting point. Then her cousin, of course, had to be Arabic as well. That's how the cast became not white. It was not a deliberate choice but I was really happy to take this road because it meant something to me politically. At the same time, I was shooting the TV show, Savages, and this is the topic of the series. It's the first French TV show with all Arabic people—the majority are minorities. It was definitely a political pattern I had in mind. Maybe I took that subconsciously. I felt that the origin of the girls in the film made me make other choices. The post-colonial imagination was in their body so I could not make the rich guy very Aryan. The Brazilian guy is Brazilian in order not to have a post-colonial dynamic.
Speaking of colonial themes, I was very tickled by the scene where Sofia talks about her favorite Marguerite Duras story, "The Lover," which is also about a young girl and an older lover.
To be honest, I didn't want to invite the imagination of "The Lover" specifically. It was just that I really wanted her to take revenge on this social humiliation moment where people doubted that she read. "The Lover" is here because the title addresses the guy she's having sex with. It's not necessarily about the post-colonial content, and more about what it means to be humiliated and being in control. But now that you mention it, this is very interesting. I feel that all the narratives can be appropriated by everyone. It's also a funny scene.
And then she just takes her clothes off at the end!
I didn't ask! She's an exhibitionist. If I had her body, I would be too. I would be naked all the time.
I was looking at her Instagram. Is that how you got in touch with her?
Yeah. Actually she followed me and I was like, "How does she even know I exist?" I'm narcissistic because I was curious that she knew me. I've been very surprised by the way she talks and behaves. I was struck by how much she looks like a '60s character, or an Eric Rohmer character. I was struck by this resemblance. I sent her a small message and asked her to get drinks and we met very easily. It was meant to be!
You mention Rohmer and I thought of La Collectionneuse from the opening scene. Was that an inspiration?
Oh yes, it created the project! We're in the middle of another cultural battle especially in France—in this post-#MeToo moment. There's a strong resistance to this movement, like when Polanski was just awarded at the César Awards. It's a complicated and historical moment so I don't want to say anything too fast because we need to add complexity to the moment. We need to be soft to each other, but there's definitely a cultural battle. The late '60s may have been the beginning of that battle. Rohmer used it in a way and I wanted to dialogue with him 50 years later. This is my answer to Eric Rohmer's La Collectionneuse. That was a strong feminist movie in a way, but the voiceover is masculine. I wanted to create my own feminine voiceover.
Judging by the news from French entertainment, I feel like the French are a bit reluctant to call themselves "feminists."
There's definitely a cultural history in love perceptions in France that's very Latin. In this perception, the flirting and the sexual relationship between people is something to protect, and not to fight. This is ancient history. I think there's another aspect to their reluctance on calling themselves feminists. It's anti-Americanism. Gender studies have been taken so strongly and intelligently in the U.S. because you're a young country. When it is time to import American patterns, the French become very resistant. They don't want Americans to tell them how to behave, especially sexually.
Featured image: Zahia Dehar is Sofia and Mina Farid is Naïma in An Easy Girl.