Hidden Life's Production Designer on Working in Terrence Malick's World
Production designer Sebastian T. Krawinkel recalls his first meeting about potentially working on Terrence Malick's A Hidden Life, which he describes as "almost a conspiracy meeting." He art directed both V for Vendetta and Speed Racer some years back, and two of Hidden Life's producers, Henning Molfenter and Charlie Woebcken, had co-produced those.
Krawinkel was handed "a rough outline, and asked if I was interested." The film is about the true-life story of conscientious objector Franz Jägerstätter, a Viennese farmer who refused to fight for the Nazis. Karwinkel replied he "was very interested," still without knowing who the director was.
"As time went by," he says, "I found out it was Terrence Malick." Then he says, with a gift for understatement, "I was even more pleased."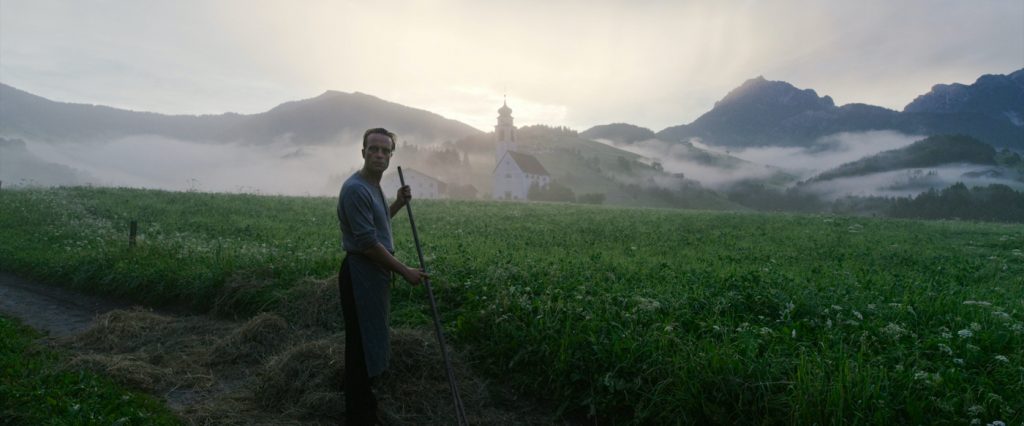 "We started to look for locations," he reports, "a year before we shot," and he began having phone calls with the storied director every Sunday. "He would sometimes call and talk to my wife because I wasn't available." But, he adds, that could be attributed to the director being "interested in everything," to the point of remembering to ask Krawinkel's wife how her sister was doing.
That eye for detail is apparent on the screen, with Krawinkel's design and Jörg Widmer's cinematography providing details that are sensuous, startling, and grounding, all at once.
"Since we were in the mountains, most of the houses were on slopes," he notes, which also provided sightlines and angles that were often "askew," or oblique, as the situation around Jägerstätter continues to unravel.
The Jägerstätter house was a combination of not only the real one but three different locations as well. Like most of Malick's locales, Krawinkel says, this film "combines several locations" to make a single one.
"The thing is," he adds, "when you present your work, you start with drawings, you start with location proposals. You have a Plan A, a Plan B, and a Plan C. Terrence liked all of them — he wanted to shoot it in all of them. We ended up having most of the locations."
As for how Malick shot and lit them, Krawinkel says the director would "float around problems like water around rocks. Over surfaces, through windows, he goes where the light is good, or where there's an instant moment he wants to capture. I won't say it's improvised, but it's all very true."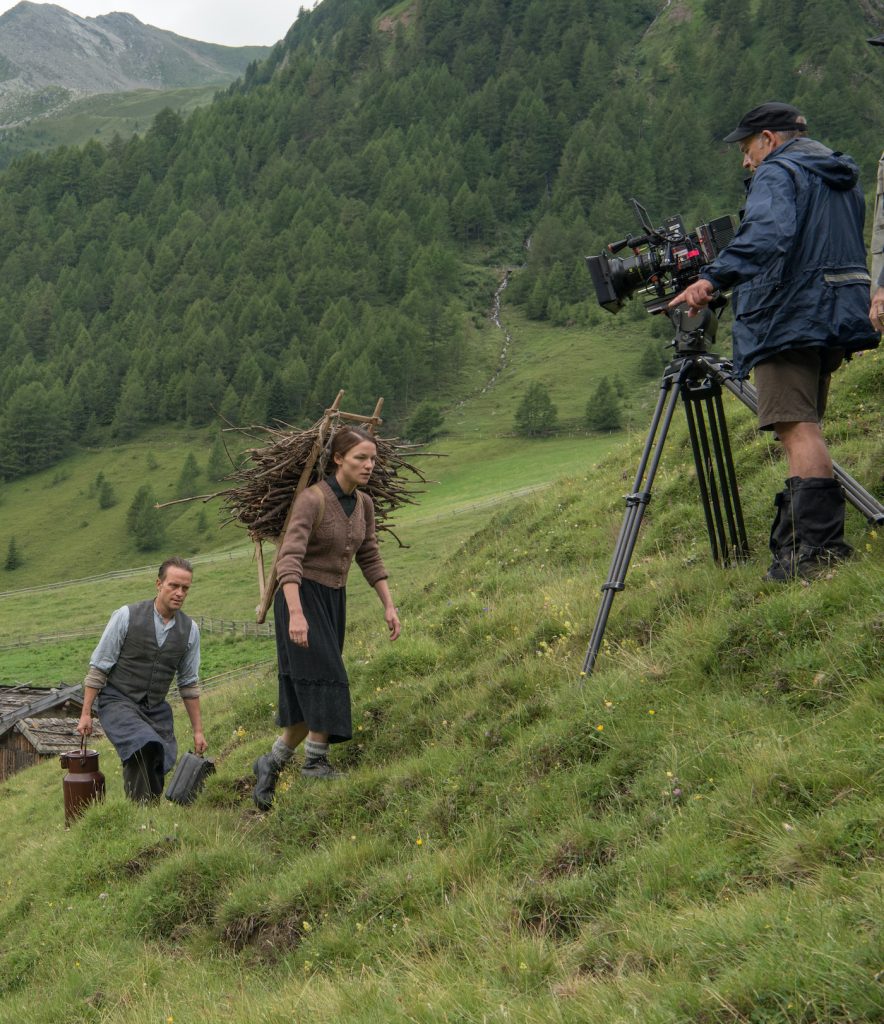 And because Malick wants that "truth," or verisimilitude, "everything needs to be 360 degrees genuine," since you can't be completely sure in advance where the camera will wind up.
One of the places it wound up was in the village below Jägerstätter's farm, which for the purposes of the film, was also shot in multiple townships. Krawinkel says the settings were "many more than just one village," but the "main scene, where they're sitting outside the restaurant, was "an amazing village in Italy."
That was a key locale since it's in the local biergarten that Jägerstätter sees his townsfolk and neighbors—the demonstrative mayor among them—inexorably turn, like pod people in Invasion of the Body Snatchers, to enthusiastic Nazi supporters.
"It wasn't like I do sometimes on huge projects," Krawinkel allows, " where if I don't find a village, I say, 'Let's build one from scratch.'" Instead, with the Italian village, and other settings, he "had to cover the tarmac, the signs," and other visual signifiers that the landscape, at least, has changed since those dark days.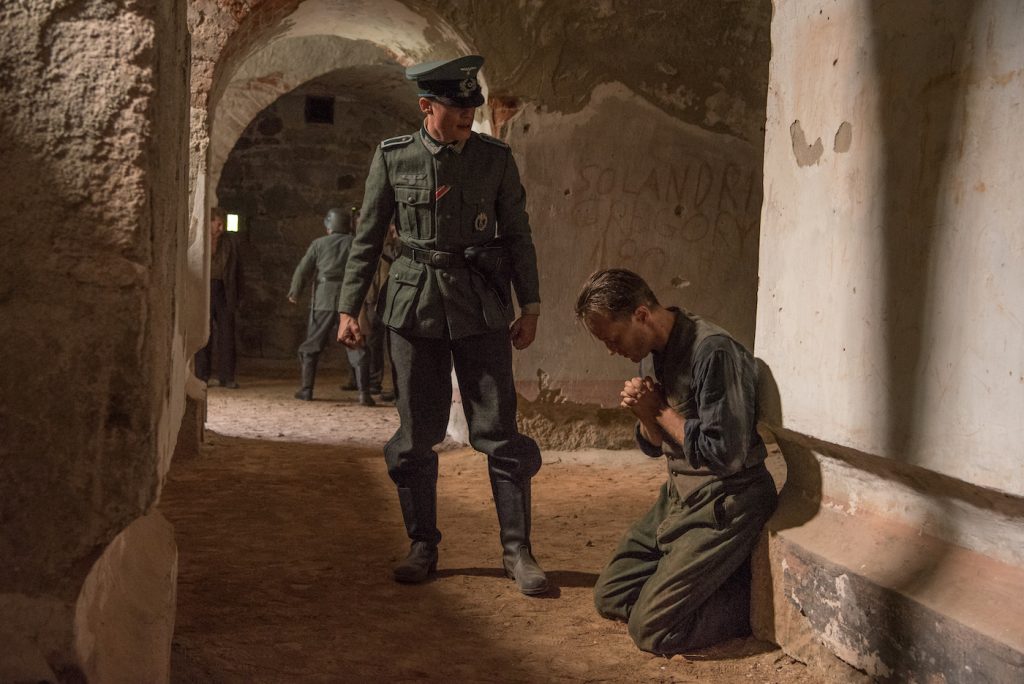 On a lighter, or at least more bucolic, note, for the farmsteads, "we got some farmers to lay the crops the way we wanted." And it wasn't only the crops that were real: So was the tilling done with cows, as they pulled the plow.
They even had consultants for the haying, to "show us how they would harvest the grass with the scythes (and) how to build haystacks from the period."
Other new experiences included finding "a historical train that was working," along with several stations from the period. "We dressed what needed to be dressed. It's not easy to shoot on a running train with a film crew…it was a challenge."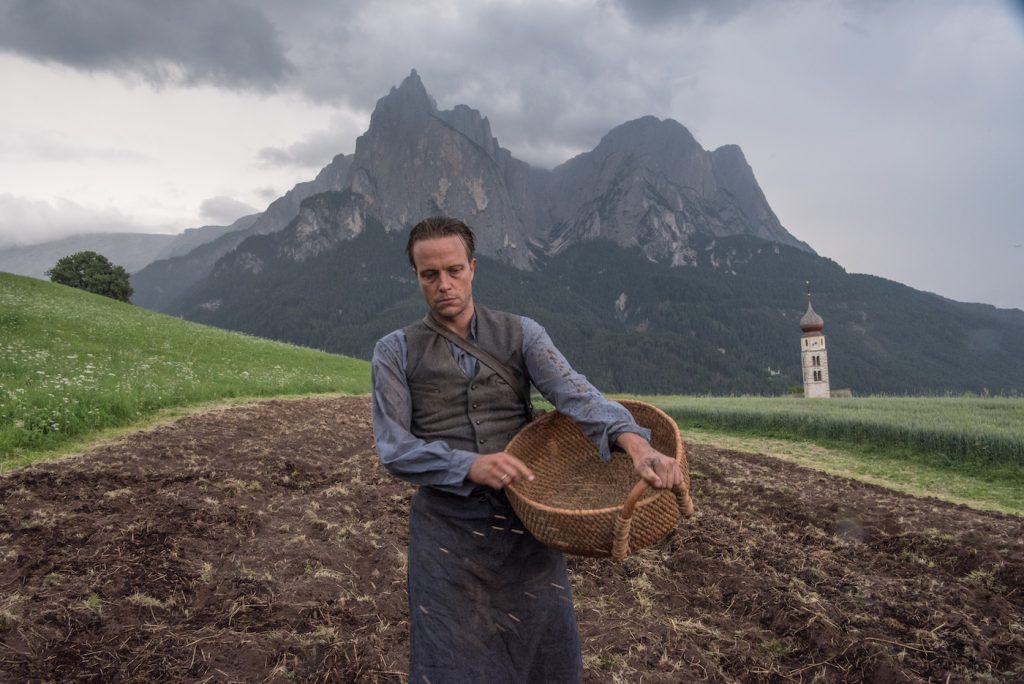 An even greater challenge, perhaps at least emotionally, was to go "to the real prison where (Jägerstätter) was executed… then we we found three prisons that looked like it. We shot in all three of them."
In contrast to the dark contours of the story, Krawinkel found it "such a delight and pleasure to work with (Malick) — the way he treats people and treats the movie. Normally the tonality on the film and how the crew interacts with each other is very competitive in the Hollywood system. (But) the way he approaches filmmaking is the way you work as a family. Everybody works together — everybody is interested in an amazing result in the end.
"We kind of grew together," he says of the crew, "since we were such a big family. Everybody was taking a camera bag, everybody was taking a tripod, and this and that… it was a family, it was very close."
But like even the closest of families, its members found themselves going separate ways for awhile. "I started in July 2015," Krawinkel recalls. But "it takes Terry quite a lot of time to edit films… it was like three years later the film came out."
When that particular family reunited to go to Cannes  "to see it, it was an enlightening moment."
Others reacted the same way to the film — Jägerstätter's story seems particularly timely now, and at Cannes was a contender for the Palme d'Or, and a winner of the François Chalais Prize — granted for a film that affirms not only life itself, but the tenets exemplified by the journalist it was named for.
As for Krawinkel's own affirmations,  he looks back on the experience of designing A Hidden Life and says "I think there was one door I wasn't happy with… everything (else) that made it in the movie is the best."
Featured image: Valerie Pachner and August Diehl in the film A HIDDEN LIFE. Photo Courtesy of Fox Searchlight Pictures. © 2019 Twentieth Century Fox Film Corporation All Rights Reserved