Sandler, the Safdie Brothers & Kevin Garnett Talk Uncut Gems
It was a bit of a homecoming when Uncut Gems premiered December 8 at the new ArcLight Cinemas in Boston: the Safdie brothers, who directed, went to Boston University; composer Daniel Lopatin hails from the nearby suburb of Wayland; and star Adam Sandler grew up in Manchester, NH but started his career in Boston's comedy clubs. Then there's Kevin Garnett, the Boston Celtics great who plays himself in the film.
At the post-screening Q&A before a packed crowd, Sandler took the stage sporting a green T-shirt with "Wicked Smaaht" stenciled on the front. Former Celtics player Brian Scalabrine moderated the talk with the group. Benny Safdie told the crowd about the 10-year journey to bring Uncut Gems to the screen. A thriller that centers on Manhattan jeweler and compulsive gambler Howard Ratner (Sandler) who is always chasing the next big score, Uncut Gems opens wide Christmas Day and has been generating awards buzz for months. Sandler recently took Best Actor honors from the Boston Society of Film Critics; the Safdies were named the year's best directors by the New York Film Critics Circle.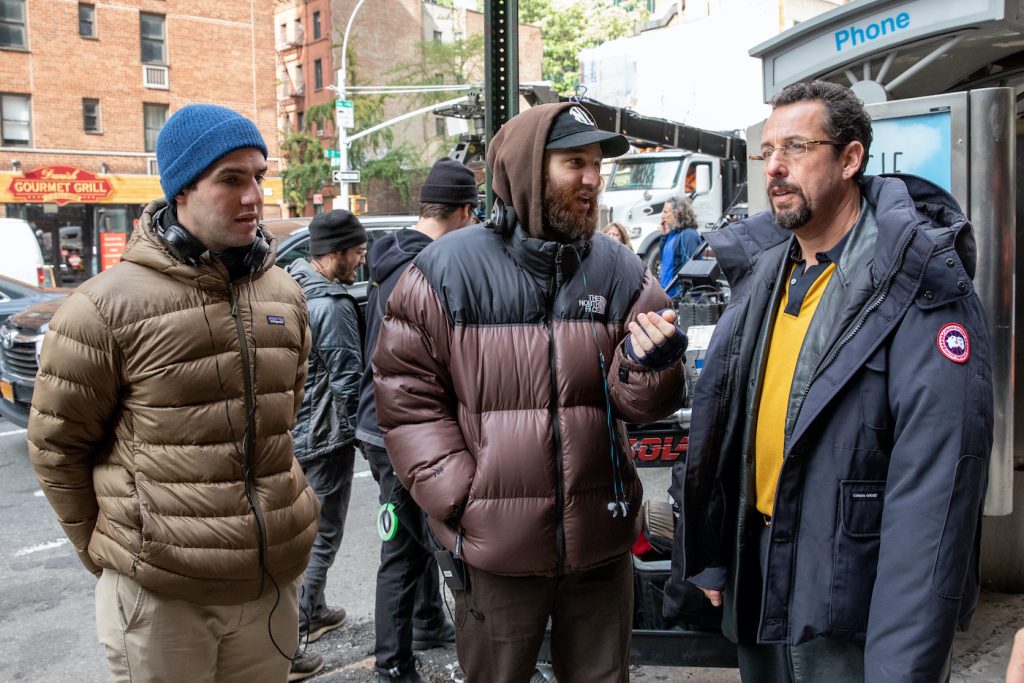 Safdie said he and his brother wrote the first draft of the script in 2010, inspired by their own father's "time in the Diamond District as a salesman and as a runner. We made Daddy Longlegs [in 2009] and wanted to follow with this but we hadn't earned it yet," said Benny Safdie. "We went to Sandler's management, they said no, then we made a documentary [in 2013] Lenny Cooke who was briefly in the Celtics summer league which was educational to our understanding that basketball players have their own crazy trips and personal stories." All along, the brothers were doing research for their project, interviewing people working in the Diamond District, noted Benny Safdie. "Then we made Good Time and that taught us about a lot about pacing and genre but [Uncut Gems] was always the goal for 10 years."
Bur Sandler didn't read the script or meet the Safdies until two years ago. "I did The Meyerowitz Stories and it went to the Cannes Film Festival. I don't usually do stuff like that. But with Meyerowitz I was excited to do it," Sandler said. "My agents are also their agents and they kept telling me, 'the Safdie brothers are in Cannes.' I was like, 'what's the Safdie brothers?' [and the reply was] 'very young filmmakers; they're very hip.' They kept telling me I had to meet them. So I watched Good Time and it was, 'Oh my God, these guys are incredible. Then I watched all their movies and I was very impressed."
To prepare to play the manic, intense Howard, Sandler spent time around compulsive gamblers. "Once that little thing is in your head, there's no stopping, no turning back, and that was part of the character. He nearly died when [loan sharks] hung him out the window, but he wouldn't cancel the bet. He still has the obsession and can't let go of the bet."
With his affable, nice guy demeanor, Sandler admitted he initially had a negative view of the compulsive, profane Howard, who drags his family into his whirlwind. But the Safdies helped him understand the character.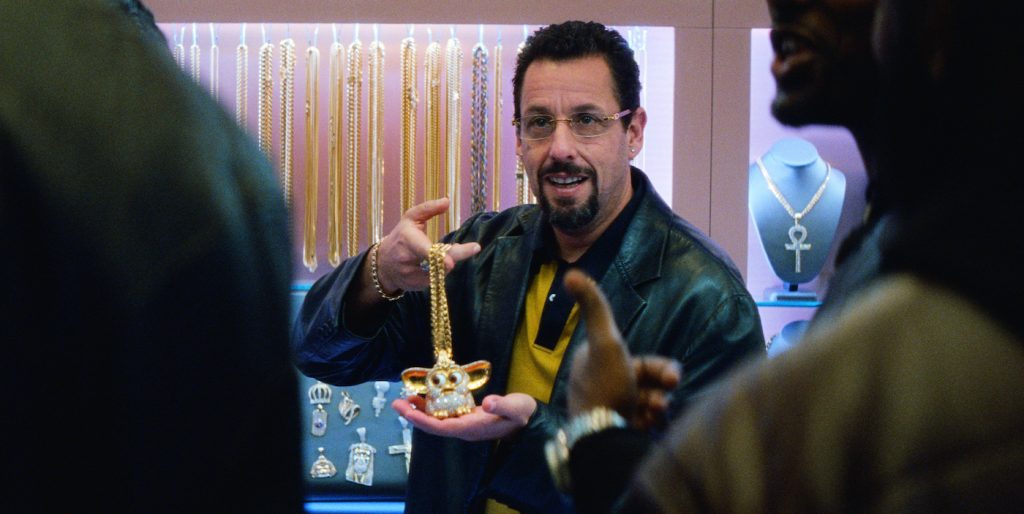 "These guys love Howard so much. I thought about how many people he hurt. I didn't see what was likable. But [the Safdies explained that] he's a dreamer, a guy who just wanted a big moment, to be a hotshot; his decisions are all out of that. He's not a bad person; he just did bad things," he said.
For a major scene in which Howard flees thugs who end up beating him and throwing him into an outdoor foundation ("They weren't actors; they'd never acted before," said Sandler. "They were tough guys."), the directors said they kept the city streets open and people were walking into the frame. "We kept the camera far back but that's what gives the energy to the movie," said Josh Safdie. "We did it in one take with two cameras a block away with long lenses. No one suspected a movie was being shot."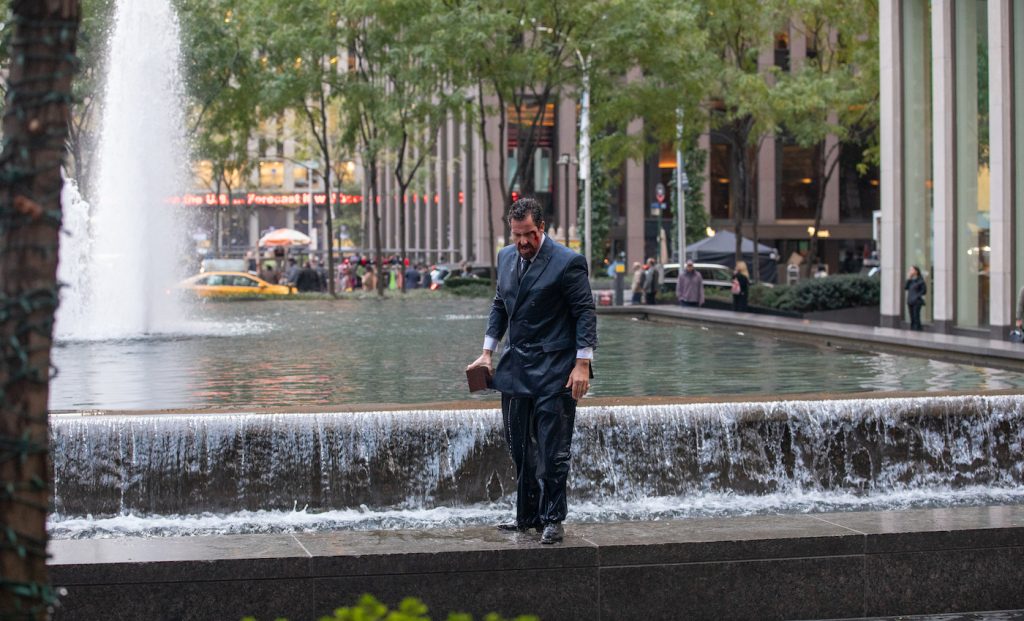 It turns out getting Sandler was easier than casting the secondary but crucial role of the real-life basketball star who borrows a dazzling opal from Howard, leading him further into a downward spiral. As New York natives and "crazy Knicks fans," the Safdies said they originally wrote the script for Knicks star Amar'e Stoudemire. But their agents then told them to cast a bigger star such as Kobe Bryant who was looking to act. Josh Safdie said he was skeptical.
"I said, 'He's a West Coast guy; I don't really see him in this role.' But I spent two weeks writing it. Then I was told, 'He doesn't want to act; he wants to direct.' I spent two weeks on this thing; f—- you."
"We were back a square one, and we were looking at a list of recently retired players," Josh Safdie said. "Kevin's name was on there, and my Knicks fandom eclipsed my basketball intelligence. I was like, 'I don't want him anywhere near the movie.'"
But the Safdies changed their minds after a conversation with Garnett. "He was so passionate. He can tell you a story in 3D. We just didn't want to get off the phone. We just wanted to keep talking with him because his personality is so infectious," Benny Safdie said. "That's the great thing about directing: we got to know him; he shared things about his life, and we wrote a lot of that into the script. It totally changed and now I can't imagine anyone else being in it."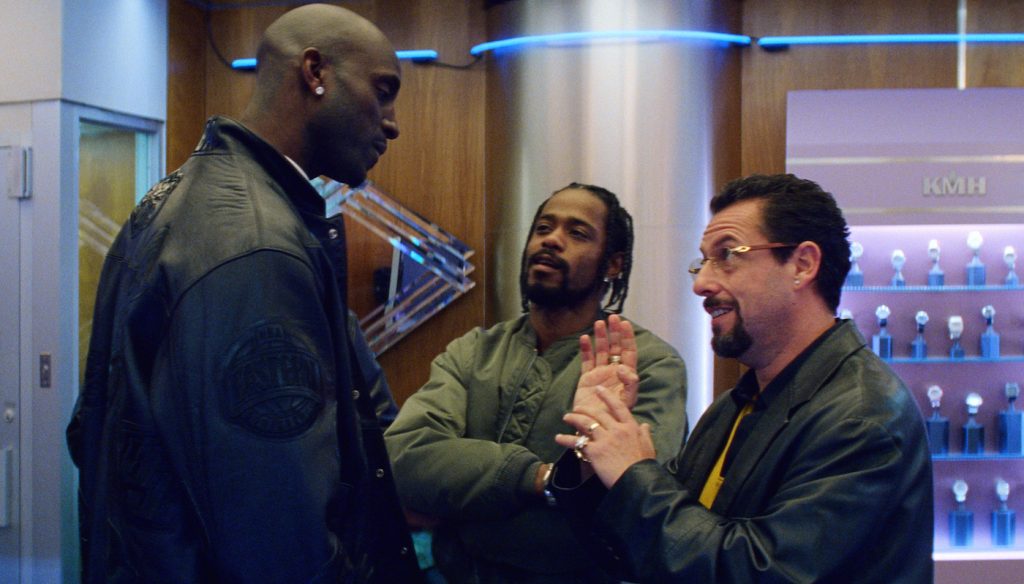 Garnett said he approached the role with the same "Grade A effort" that he brought to the court for every game. "I felt very compelled and a sense of responsibility to the character," he said. "I'm playing myself, like 'Who can play Kevin Garnett other than me?'"
Uncut Gems opens on December 25, 2019.
Featured image: Adam Sandler. Courtesy of A24