Frozen II Head of Special Effects Marlon West on the Sequel's Epic Ambitions
Frozen II co-director and screenwriter Jennifer Lee says that if the Disney Oscar-winning blockbuster Frozen was about a happily ever after, then Frozen II is about the day after happily ever after. Elsa, Anna, Kristoff, Sven, and Olaf are back, and fans get to see this found family take on new challenges and learn more about themselves and each other. As part of this chapter in their story, viewers are introduced to a number of new characters, several of which have magical aspects integral to their design. For help with that, co-directors Jennifer Lee and Chris Buck collaborated with the special effects department, which was co-headed by longtime Disney artists Marlon West and Dale Mayeda. Both had worked on the first film, so they were well-versed in the visual language and style of storytelling of that world.
In seeing the film, audiences engrossed in the story may not realize it, but the special effects department is the most engaged ever in bringing a Disney film to life. Of course, the Character Animation department is where Elsa, Anna, their family and friends take shape onscreen, and effects often help create tension or move the action forward. In Frozen 2, however, many characters would be impossible to animate without them, making this film the most collaborative between the various departments involved, from Visual Development to Character Animation to Technical Animation to Special Effects.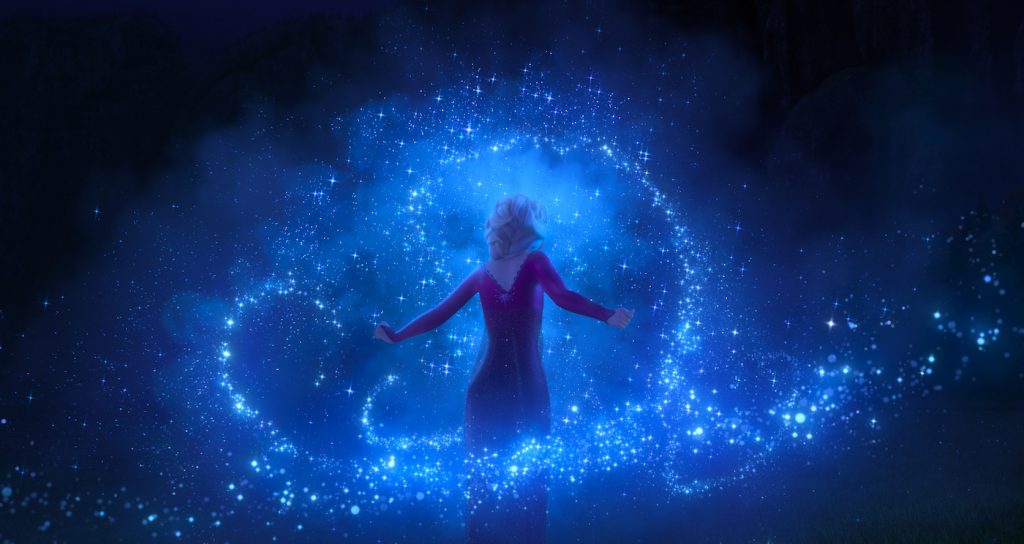 Elemental magic specifically plays an important part in Frozen 2. In fact, some of the best new characters introduced represent, utilize, or are made up of water, fire, and wind. What is fascinating is the varying degrees to which they owe their characterization to special effects. Marlon West explains that air spirit Gale, made entirely of wind and never seen, is on one end of that scale. Says West, "I would think Gale is probably the character most experienced purely as an effect, but Gale is a character, and we have to provide character animators rigs, so they can actually express that character through performance. It's really a collaboration between character animators, the technical animators, the effects department, and in some cases environments, because we have to put leaves and branches in places we needed them to be, so Gale can actually have some performance because Gale has no face, and no body."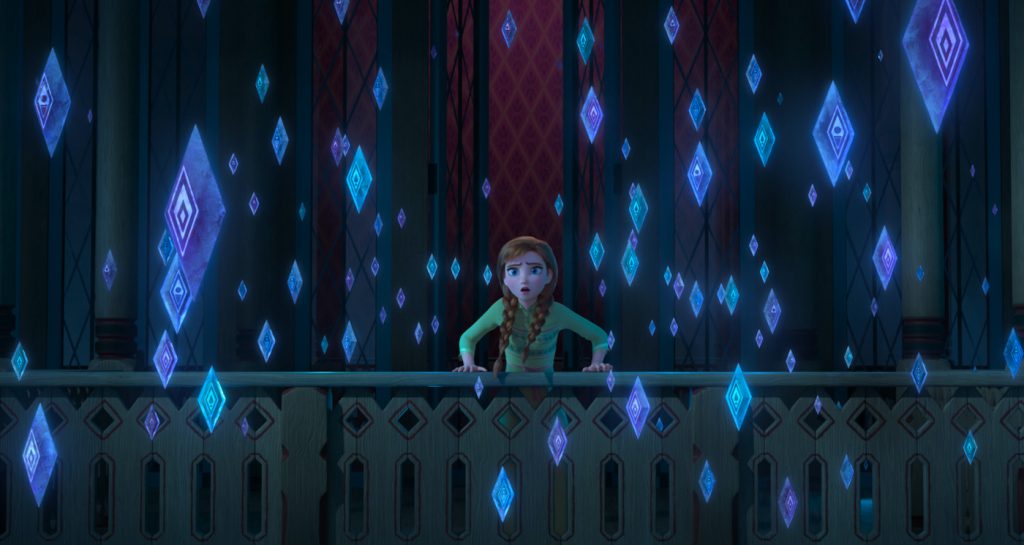 One character that will undoubtedly prove to be a fan favorite is the beautifully rendered magical water horse called the Nokk. This horse is made of water, but is solid, powerful, and above all, regal. This blend of water, which has historically always been very hard to animate, and solidity, required the Special Effects Department to build on a very specific design that was extremely collaborative. About The Nokk, West explains, "It's a traditional horse rig, and I say traditional in the sense that it also was not very caricatured. He doesn't have a big head, and he doesn't whinny. He's very regal. We had to work very closely with character animation not to step on what was often a very subtle performance, like with ear flips and nostril flairs and eye squints. Also, the Nokk has very slender legs, so a lot of the warping of his surface that we were doing to remind the viewer he's made of water had to be kept off of his face, his head, and his legs. His neck, flank, mane, and tail were the big areas that we effected to create the look for him."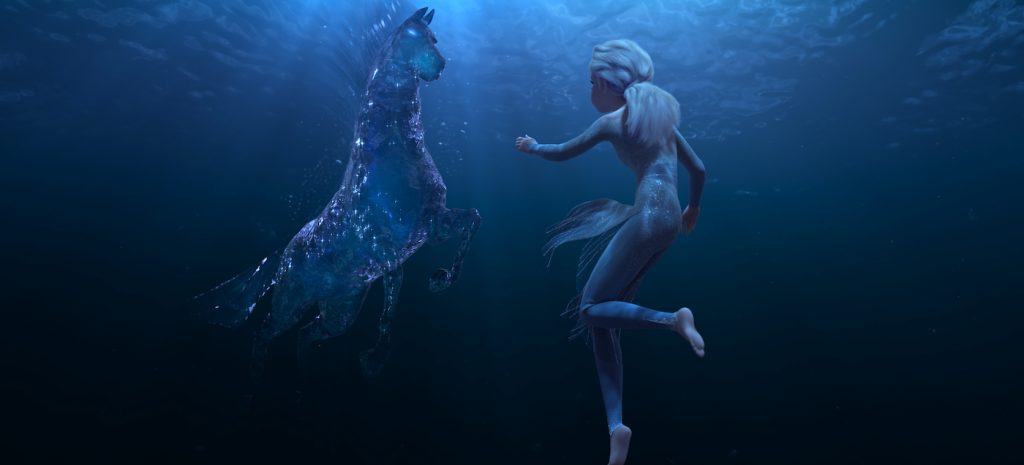 Though fire is sometimes a menacing force in Frozen 2, it also proves to be part of a charming and very cute character named Bruni. He is a fire spirit salamander that has fire as part of his makeup and wields it in a way that can make him dangerous. "The fire spirit is an adorable character, but there's a big chunk of time where he's unseen and just a source of fire," says West. "It was very important to make that look like real fire, and not some kind of apparition. It was important for the story not to burn that forest, and not to fill the space with smoke, because characters had to see each other from far away. You take those two things away, and fire stops being menacing. We kept the heat distortion, to make it look hot. When Elsa looks a hundred yards away and sees Anna stumbling, she can see her but it's distorted. Hopefully, it's menacing, and the stakes are high because people are running from it, and we can see how really hot the fire is. That fire spirit had to be whimsical and menacing, and just based on some character performance of how fast he's moving, and what he's doing and how big he is, and that's also very collaborative."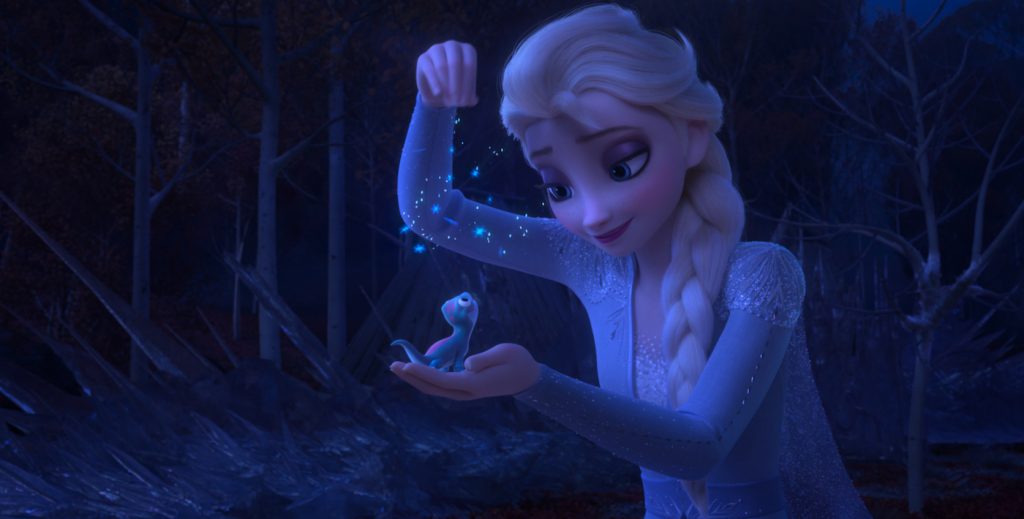 Creating these characters, and making them believable, means every department must work very closely together to achieve what co-directors Jennifer Lee and Chris Buck have in mind. West explains the way the Special Effects collaborated on both Frozen and Frozen 2.
"We work very closely with character animation. With the first Frozen, I was in character dailies every day. That's not very typical in an animation pipeline. Usually, they do their thing, and it comes to effects, and we go with instruction. I was in meetings with Jennifer and Chris very early for their pitches, and also to raise concerns about what might work. I could explain what needed to be altered, and usher their performances, making the effects believable. Because of that, when things came into our department officially, I had some great information about how characters should behave and what their intentions are."
For the character animators, it was especially helpful to get feedback from West and co-head Mayeda. They had already worked on the special effects with the character animators for the first Frozen and Moana. When they raised concerns or had ways of problem-solving, the character animators paid close attention to them.
Does all of this mean 3D projects are inherently more collaborative than they way animation was made during the hand-drawn 2D era? West has an opinion on that, having been at Disney all the way back to 1994's The Lion King. "As a person who has done both 2D and 3D, I think 3D has always been more collaborative. The pecking orders of who does what in an animated film was much more strident in my hand-drawn days. What a character animator did stopped at his or her desk, and the clean-up artist did a certain thing, and effects artists did a certain thing. Computer animation has always been so technical that you couldn't just hand stuff off to another department, you had to actually sit and talk to your rigger, your technical animation artist, and your effects artist. Now it's even more collaborative than it has been in the past, it's always been more than 2D."
Frozen II is in theaters on November 22, 2019.
Featured image: INTO THE UNKNOWN — Magical and larger than life, Elsa is the perfect mythic character—but she can't help but wonder why she was born with powers. Meanwhile, Anna is the perfect fairytale character—unflappable and forever the optimist. What truths about the past await Elsa and Anna as they venture into the unknown to an enchanted forest far from Arendelle? Featuring Idina Menzel as the voice of Elsa, and Kristen Bell as the voice of Anna, Walt Disney Animation Studios' "Frozen 2" opens on Nov. 22, 2019. © 2019 Disney. All Rights Reserved. © 2019 Disney. All Rights Reserved.