Writer/Director Jill Culton on her Animated Feature Abominable
At the beginning of the new animated feature Abominable, tomboy Yi (Chloe Bennett) is grieving for her dad, who has passed away. When she finds a wounded Yeti hiding on the roof of her apartment building, she names him Everest, after where he's from, and determines he needs help getting back to the famed mountain. She and her friends Peng (Albert Tsai) and Jin (Tenzing Norgay Trainor), travel all the way across China to get him back home. A partnership between China's Pearl Studio and DreamWorks, the film is making history as the first female-led, major-studio animated film with a central female character. The Credits spoke to writer/director Jill Culton, who shared her insights about bringing Abominable to the big screen.
The view we get into Chinese culture is something we've ever seen before in an animated feature. DreamWorks partnered with Pearl for Abominable. What role did they play in the film's authenticity? 
Knowing Yetis were from Mt. Everest, I knew we would be there at the end of the movie since it was about getting him home. I knew we were partnering with Pearl, and it was a great fit for a project with them. There are only a few countries that border the Himalayas, and China is one of them. I was looking for where you might find a Yeti that is the opposite of Mt. Everest, which is organic, majestic, and white. If you've ever been to a city in China, the big metropolises have lots of vertical buildings with neon and glass. I picked Shanghai as a reference, and the city in the movie is based on it. Pearl happens to have their headquarters there, so that made it perfect. If you are trying to tackle a movie in any other culture, whether it's China, or India, or Africa, if you're a Westerner trying to do a movie set in another culture, you have to be so specific and so careful, not just on the details, but to get the visceral feeling of these places. When we wanted to know what a normal apartment was like in a big Chinese city, the studio helped us design it and get the right feeling, like with the etiquette of walking in and out, or what it's like at the dinner table. All these things that might pull an audience out if they're watching it in China. We wanted so much to get that right. As a filmmaker, it's my responsibility to get that right, so our partnership was invaluable.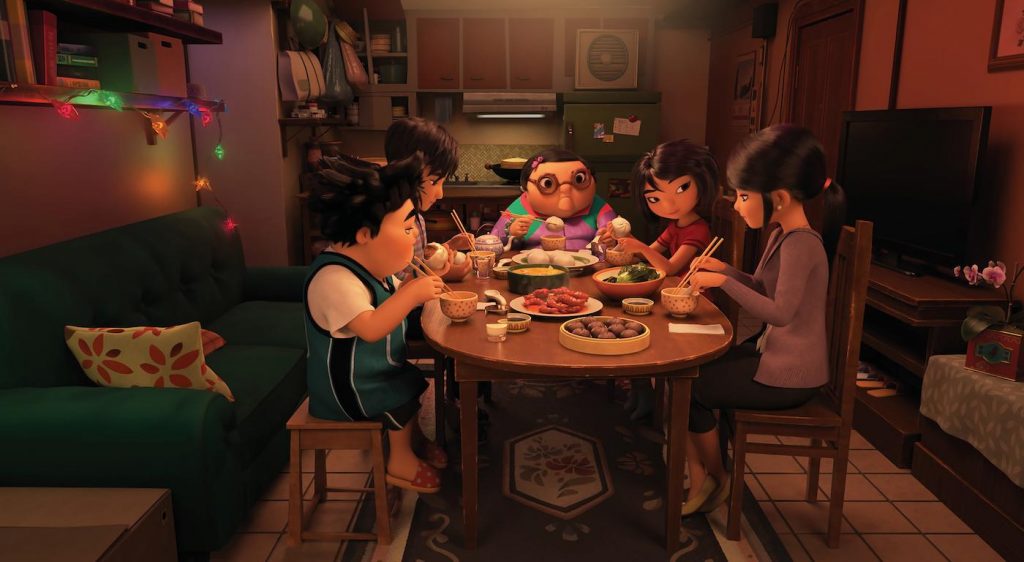 What kind of research did you for the path the characters would take to Mt. Everest? There are so many amazing landscapes in the film. 
I had a map on my wall when I was writing the movie. I started in Shanghai, our inspiration for our metropolis. I charted a course all the way from there to the Himalayas. It's about 3000 kilometers and I figured out the routes they could realistically take. The Yangtze river goes almost all the way there, and there are great locations around the river. In my research, I was finding these amazing places like the Thousand Islands Lake, or the Yellow Mountain, which has stairways all over it which no one really knows who carved. It should be one of the wonders of the world. Then I came upon the Leshan Buddha, the biggest Buddha in the world. I kept finding these locations I absolutely had to use as set pieces because they are so amazing. The natural landscape and landmarks of China were such an inspiration to me as I was trying to find physical set pieces where I could let the story in.
The film definitely speaks to the idea of nature as sacred. How does the Leshan Buddha figure into that? 
When I was doing research and stumbled upon the Buddha, I started reading all about it. I saw pictures of how small people were, compared to this giant Buddha. I got a weird feeling. Where I grew up in Southern California, going to church with my family, and when you walk into a big sanctuary, whether it's a cathedral in Europe or your own small church, there's a feeling of hallowed ground. You feel like you have to whisper because it's so special and sacred. I personally am also a big nature nut, which has worked its way into the movie. I really wanted nature to be a key element because it's so important to me. I live in Northern California now, and when you walk amongst the redwood trees, like in Muir Woods, in these giant groves, you get the same feeling of church, and that you should whisper. When I saw the Buddha statue carved out of the rock, I got that same feeling it was hallowed ground. I felt it was the perfect place for Yi to lay her burden down, and finally say her goodbyes to her dad.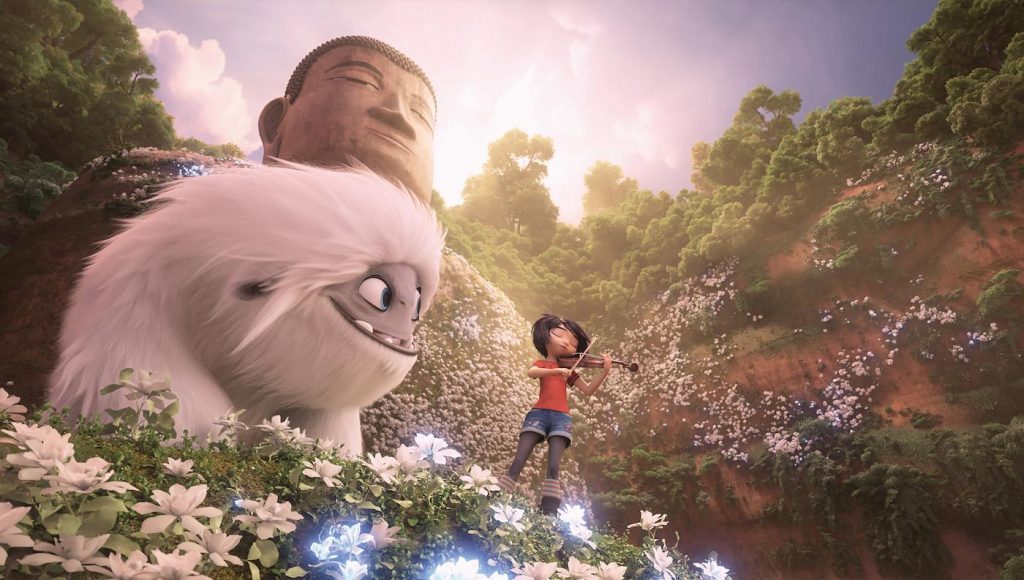 When did you add Coldplay? It's perfect for that sequence.
When I write, I listen to music. I listen to scores a lot and music that I love. I actually wrote that sequence to the song 'Fix You', and the lyrics are so perfect. It says, "tears streaming down your face, when you lose something you can't replace." and "I will try to fix you." What she can't replace is her dad. "I will try to fix you" is perfect because Everest never really speaks, but when Chris Martin sings that line, Everest pushes the violin towards Yi, urging her to play a goodbye song to her dad. If you notice, that song starts with a church organ. When they come through the mist, and Yi walks up to the Buddha, there's church organ music playing, and that's very purposeful. It does have a quality of being someplace sacred. It is the only place she feels safe to place her burden down.
Yi is a very strong-willed, independent character.  What elements did you use from your own personality to create her? 
The strong female lead character is really important to me. I grew up in Ventura, which is close to LA. It's a seaside town, and I was a skateboarder and surfer. I loved camping. I never looked at myself in the mirror when I woke up in the morning and threw on clothes. All the movies I grew up with were princess movies. So there was really nothing for me as a role model in those movies. I really hoped to create something new in Yi, a character that is flawed but driven, more of a tomboy, a little rough and tumble, an independent thinker who leaps before she looks, and has to suffer the consequences of that sometimes. She is the role model I wish I had had, and I hope she will resonate with a lot of girls out there.
The number of women involved in this production is both gratifying and impressive. How did that influence the finished film? 
I love that people are talking about that aspect of this film, that it has female filmmakers all the way up and down the line. As this movie evolved, so many great and talented women came on board. Our film is a perfect testament to the fact that women have been in this industry for a long time, and now, as female filmmakers, we are able to come together and make a great film and put it out in the world. It wasn't packaged that way. I think that it is even more beautiful that we all landed together with our decades worth of work and experience behind us. That's pretty amazing. I think it's a sign of things changing.
Featured image: (from left) – Yi (Chloe Bennet), Everest, Jin (Tenzing Norgay Trainor) and Peng (Albert Tsai) in DreamWorks Animation and Pearl Studio's "Abominable," written and directed by Jill Culton. Credit: © 2019 UNIVERSAL STUDIOS and PEARL STUDIO. All Rights Reserved.