The Handmaid's Tale Makeup Designer on Creating Misery in the Colonies
In Margaret Atwood's novel "The Handmaid's Tale," the radioactive Colonies are more felt than described. We're told it's where all Gilead's undesirables, the childless handmaids, the criminals, the sick and insane, are sent to die. In Hulu's adaptation of Atwood's novel, however, the Colonies became one of the show's most fecund sources of misery in season two. As Maria Elena Fernandez described in a piece for Vulture, The Handmaid's Tales creators did something brilliant when they set out to create the location—the asked Atwood what she had in mind when she wrote about them. This eventually led them to start researching real-life labor camps in Russia, China, and Thailand. The results of their research and the work of their talented crew led to one of TV's most unsettling locations.
Based on Atwood's scorching novel, the show is set in the near future in which fertility rates have collapsed and the totalitarian, women-hating government of Gilead rules the former United States after a catastrophic civil war. It's not easy watching, especially today in our era of ambient anxiety and dread. The women of Gilead are brutally subjugated, living in various states of enslavement. Handmaids, dressed in red, are sex slaves who are forced to bear children for their male masters their wives; Marthas, in green, are housekeepers and cooks; Wives, in turquoise and blue, run the household. We are plunged into this hellscape via the perspective of Offred (Elisabeth Moss), formerly June Osborne before the world fell.
Season two took us outside of Gilead into the radioactive wasteland of the Colonies. This is where we find Emily (Alexis Bledel) after she ran over and killed a Guardian in season one. She's soon followed by other major characters, with every day spent in the Colonies resulting in a step closer to the grave. Once a woman ends up there, they lose their identities and become Unwomen. For makeup department head Burton LeBlanc, the toxic environment would need to be visible on the faces of the characters, who would be succumbing to the torment of radiation and toxicity over time, so that newcomers would still look relatively fresh, while those there a while would be visibly molting.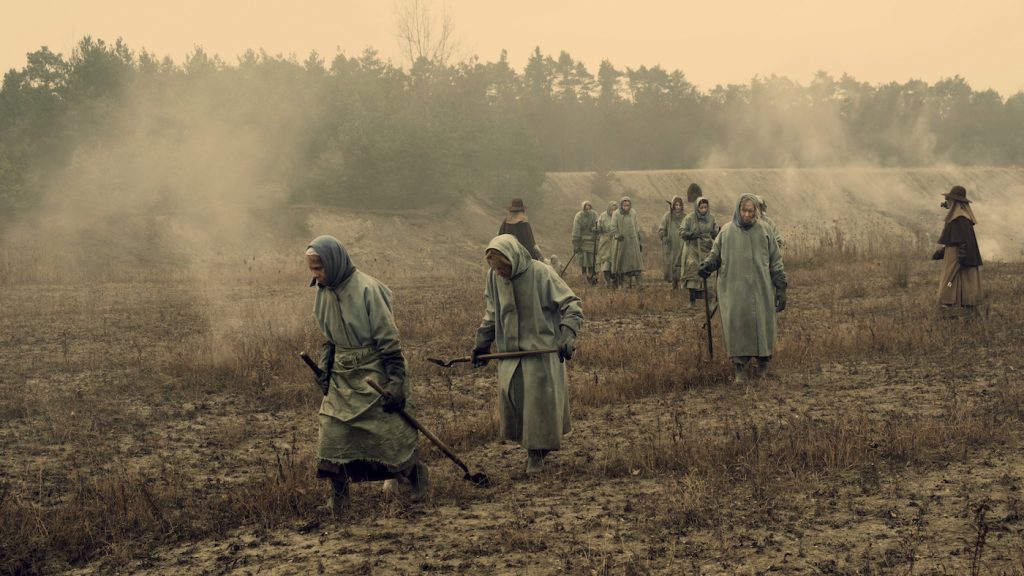 The looks LeBlanc created—cracked and oozing skin, vicious sunburn, hair and flesh falling off, were mostly achieved with makeup alone. He relies on a suite of products that sound like a list of the effects of extreme exposure to the elements, all produced by a line from the U.K.
"After testing various products, I decided to go with a UK makeup effects product line, Maekup. Their products worked beautifully for the looks I wanted to achieve," LeBlanc says. "Well before season two began we had production meetings and a full day of camera tests with our director and executive producer Mike Barker and director of photography Colin Watkinson. The Makeup products that I decided on were Psoriasis and Yellow Pus for the grey broken skin look and tones, and to create the pus oozing out of various skin openings," he says. "I used Sunburn for the tops of their forehead, ears, and nose. I used Dropper Dirt for their nails, and Dry Lip for a cracked effect look on their mouths, and Tooth Stain for their teeth."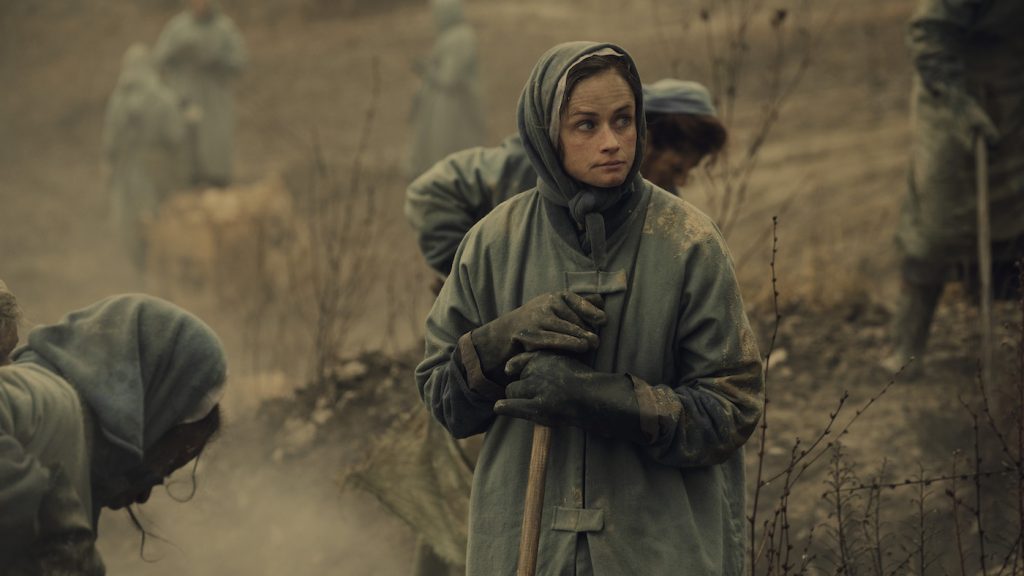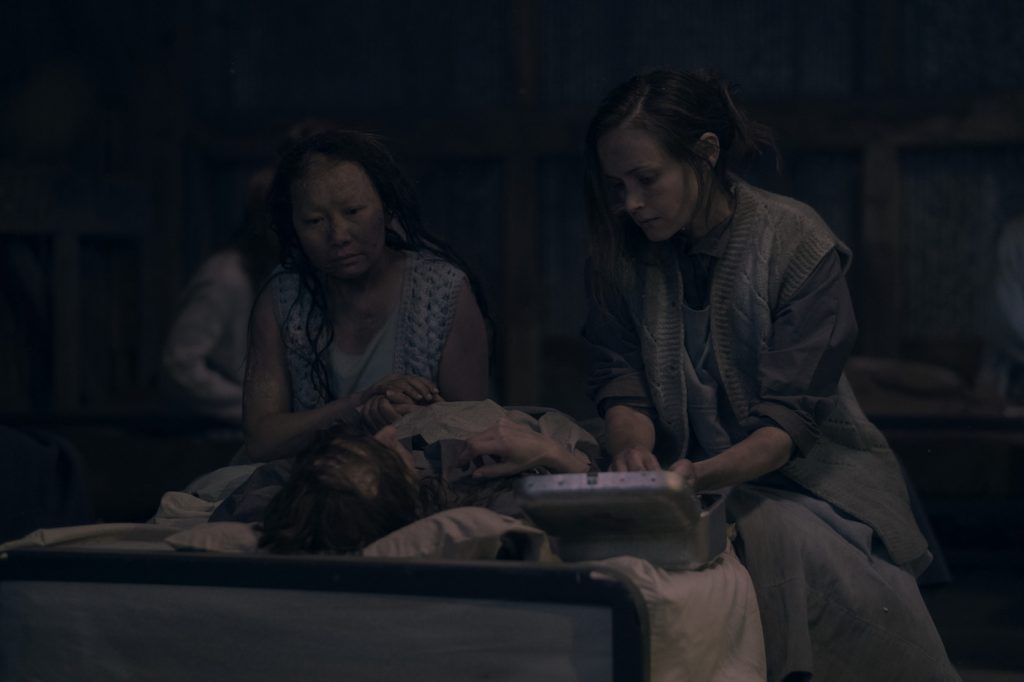 The scenes shot at the Colonies were filming during the winter months in Toronto, yet to achieve the necessary looks Burton had to be tough with the cast. In order to make sure everyone looked as pale and sickly as necessary, one of the most beloved products of all was off limits.
"These girls wouldn't have access to lip balm," Burton says. "On Handmaid's Tale, nobody gets lip balm, even though they're always asking for it [laughs]. Even losing your skin tone and lip color is a big thing. You don't have that plumpness in your lips, a nice tone to your lips. We'll take a bit of light foundation and graze over them. That's a great trick, to make them look more sickly and worn down. And we dry them out."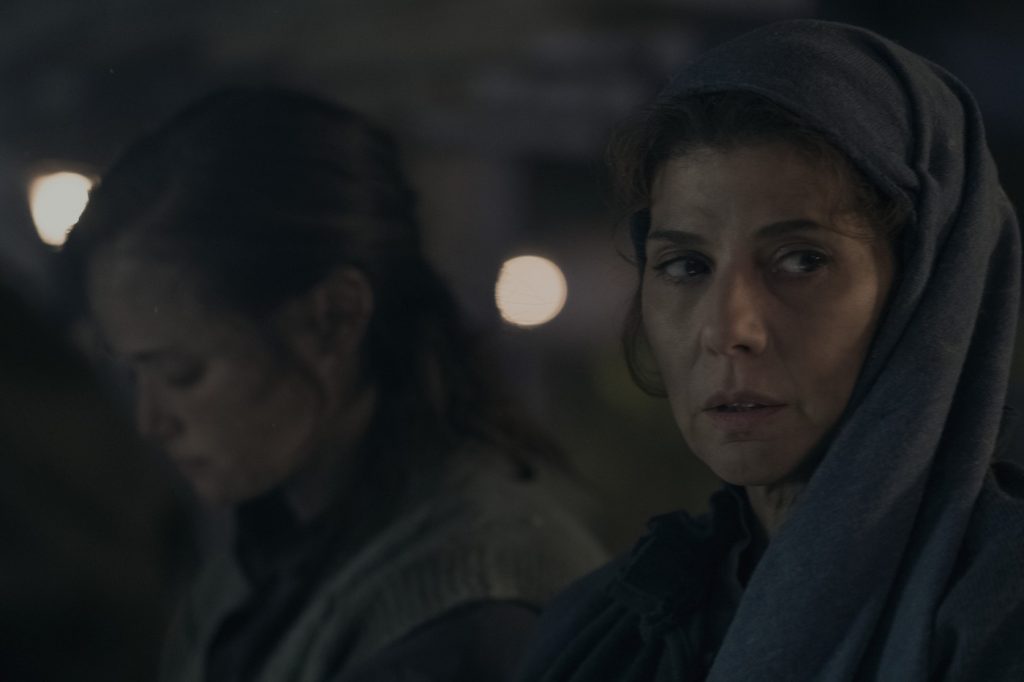 For the Unwomen who have been in the Colonies the longest, Burton made sure they looked as physically degraded as that amount of radiation poisoning would warrant.
"When it got to be extreme, with chunks of flesh and hair falling off them, we use silicone that you mold with your hand and put onto the face," he says. "Then there were a few actresses that would have prosthetics, for the people closest to death. My team worked with the prosthetics team. The product we used most in these cases was Dermaflage. It comes out in a syringe form, and you syringe it onto the face where you want to make it look like the skin is opening up. It was fun. We did camera tests to make sure everyone was happy."
One of Burton's inspirations for the look of the Handmaids toiling in the Colonies was Chernobyl. This, of course, was before HBO's miniseries Chernobyl began airing, which plunges viewers into the real version of what the Colonies represent. While creating the various looks of the Colonies was a huge task for season 2, every season requires Burton to keep his eye on Elisabeth Moss's face, literally.
"Sometimes I work 15-hours and I'm just working with her. Her face and makeup can change from scene to scene. The emotions are going up and down. I want to pull the viewer into all that emotion. That's a big job itself. I'm always watching over the other characters, but working on Offred is a full-time job."
For season 3, Burton explains that Offred's character is undergoing changes that you'll be able to see on her face.
"So much has happened in the past two years, and this season is more of a fight," he says. "We had conversations about where Elisabeth's character is going, and it's more of a Sarah Connor kind of thing." Sarah Connor, for those of you not on a first name basis with the heroine from the early Terminator franchises, was an iconically tough character played by Linda Hamilton. While it's somewhat hard to envision Offred taking on a cyborg killer from the future, she's certainly tough as nails. "Season three you'll see a more chiseled, more angular Offred," Burton says. "She's stronger, she's in fighting mode."
The Handmaid's Tale returns for season three on June 5, 2019.
Featured image: THE HANDMAID'S TALE — "Unwomen" –Episode 202 — Offred adjusts to a new way of life. The arrival of an unexpected person disrupts the Colonies. A family is torn apart by the rise of Gilead. Ofglen (Alexis Bledel), shown. (Photo by: George Kraychyk/Hulu)