Qualified Director Jenna Ricker on Indy's Pioneer Janet Guthrie
"This is my first documentary," says producer/director Jenna Ricker, of Qualified, a look at the life of Janet Guthrie, the first woman—in that pre-Danica Patrick/Pippa Mann era—to ever drive a car at the Indianapolis 500.
The doc is part of ESPN's 30 For 30 series, in celebration of the cable pioneer's 30th anniversary. But you have to go farther back than that, to 1977, to find Guthrie in the cockpit of a racer at Indianapolis. Prior to that, she'd worked as an aerospace engineer, with a hobby of racing sports cars—specifically Jaguars. "In sports car racing, being a woman had never been an issue," she told us, in a joint interview with Ricker. The skepticism she encountered at Indy after she'd left aeronautics for full-time racing "was really quite astonishing for me." She describes a "howling" at her presence, with the thought that "women can't possibly handle these big powerful machines. The only way it could be answered was on the race track."
Ricker found herself waiting for some answers, too. Primarily known for two prior indie narrative features (The American Side, Ben's Plan), she attended her first live Indy race about 10 years ago, describing herself as an "instant convert" once the engines roared to life. Prior to that, as she noted in a statement from ESPN, her main relationship to the event were memories of her father "tuning the radio to the race broadcast before he lit the grill on Memorial Day."
But she was even more smitten when she found out about Guthrie: "I went down the rabbit hole," she told us. And almost came to dead-end there. "I found her website, sent her a couple of emails and waited to hear back." But no reply from Guthrie was forthcoming. "When I couldn't take it anymore, I called 411 and got her phone number, and practiced my schpiel. She picked it up, and I started talking!"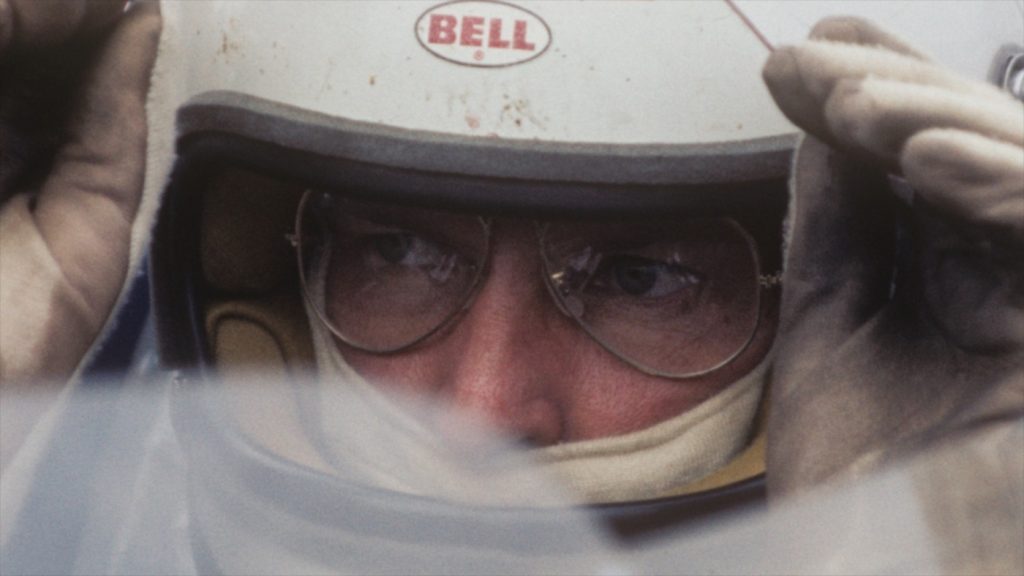 At that point, as Guthrie seemed to warm to the idea, Ricker thought the project was, well, off to the races. "But the nature of any film project is that it takes a lot longer than you think it will."
Part of that particular slowdown was that Ricker wanted to use primarily "archival film, experiencing it with Janet. To see how she was on everybody's radar (at the time)  would be a powerful way to experience everyone's story." But none of those stories, of course, were captured on conveniently present-day hi-def phones or video cameras. In this case, a lot of the footage wasn't even in 16mm, but sources like the "Super 8 footage that her brother took at Indy. If we didn't have it archivally, we couldn't tell it." The only thing contemporary in the doc, she adds, "are the interviews," which all come at the end.
But even the assumption of being at the end, or crossing finish lines, was tested in post-production. "There's a great transfer house here in New York city," Ricker says, which was handling the 16mm and Super 8mm source material. "When you do a film transfer to digital you're in pretty good shape." More problematic were some of the sequences they had to remaster from early VHS tapes. Or at least, they were problematic until Guthrie called again.
"We'd already locked picture," Ricker continues, "and were in the color correction process. Then Janet called, (saying) 'I think I found some more Super 8.'"
The historical Kodachrome was FedExed out, and was able to replace "some of the footage we'd been using from tape." When Ricker saw Guthrie's own history made even clearer, "I'm not going to hide the fact I got a little teary."
And while progress in image capture has moved by leaps and bounds since then, Guthrie isn't sure the future is arriving as fast as imagined for other female drivers: "I would say progress has been slower," she recounts, citing a trajectory that continues through Sara Fisher,  "the first woman to qualify for a pole on an IndyCar race—a  tremendously talented woman who came up through Sprint Cars," all the way to Pippa Mann in this year's race.
Fisher had nine starts in the Indy 500 (her pole position—the "inside track," or "first" position—came in an Indy qualifying race), but has since retired. Mann, the first British woman to qualify for Indy (in 2011) is starting this year's race from the 10th row.
And while these both represent strides—laps?—since Guthrie's breakthrough, she says it becomes "entirely a sponsorship issue," which determines how often you can race, to qualify, and stay honed for, the big ones. "That's what forced me out," she adds "and I regret it."
But there's some redemption, perhaps, in her story becoming better known not only to race fans but outside that world as well.  While Ricker allows that she's "smitten" with documentaries—"developing a story in the editing room (as opposed to writing it in advance) is kind of thrilling"—she also notes that "we'd like to take Janet's story in a narrative direction. There are so many elements in her story that fit. Once you do research on something like Indy, you realize there are a thousand stories there that would be interesting."
And Ricker was able to live out some of her own track fantasies as well: "I got to drive a go-kart around the Indy track," she says. We'll chalk it up to research—and another lap on a storyteller's journey.
Qualified premieres tonight, May 28, on ESPN.