Dr. Ruth Westheimer Talks Life, Sex, & Ask Dr. Ruth
As a follow-up to The Keepers, documentary director Ryan White found a very different, very inspiring story in Ask Dr. Ruth, which is releasing in theaters on May 3rd. The film examines the fascinating life of Dr. Ruth Westheimer, a Holocaust survivor who became the country's most widely known and celebrated sex therapist. In following this famously straightforward woman as she enters her 90s, audiences will see she is as energetic and enthusiastic as she's ever been. The Credits spoke to Dr. Westheimer about her work and the film that chronicles her life.
In the film, watching you when you're working, it's clear you are an active listener, but your career has also required lots of talking. How do you keep a balance of listening and talking as a relationship and sex therapist, and how did you develop that skill?
First of all, that comes from many years of experience of being a therapist in general, not necessarily a psycho-sexual therapist. You have to listen very carefully in order to get those nuances that maybe an untrained listener cannot get, and I think that comes with time and experience, but also with an intention of my wanting to know what makes people tick. If I would not have that interest, I should stop talking publicly. It's a skill that young people going into the profession have to grapple with. They have to learn it, and by learning it, you do what you are doing now. You are listening to me very carefully. You aren't looking at your phone, and you aren't looking for the next question, you are present here for the answer to this one. Maybe that comes from my background, from having been an orphan, from having to make relationships work in order to replace the whole family that was killed by the Nazis. It also taught me to listen to people very carefully who don't agree with me. I hope we did that in the film, show that very clearly.  When somebody tried to make a citizen's arrest because I talked about homosexuality, I was listening. The segment in the film when I talk to the woman who has an abortion, and I say it was an unintended pregnancy in order to make her go forward, and not be stuck in that horrible event. Much of knowing how to help people comes from listening.
It seems there's a lot of shame and discomfort around sex in this country. You have worked to tackle that head-on in your career. 
There's no shame or discomfort in the Jewish tradition. It says a husband has an obligation to have sex with his wife on Friday night. I did a whole book on sexuality in the Jewish tradition. I think that what I was able to talk about orgasm, erection, and specific sexual issues because I was very well trained by Helen Singer Kaplan. I'm also very Jewish, and in the Jewish tradition, sex has never been a sin, like in some other traditions. That helps me. What also helps me is that in the Talmud it says, "A lesson taught with humor is a lesson retained." I can't tell you a joke, but I can hear humor in the questions that I get. For me, working always to solve problems for people, it brings great satisfaction to me as an educator when people say that I've really helped them. That's what keeps me going, and what makes me feel 6 feet tall.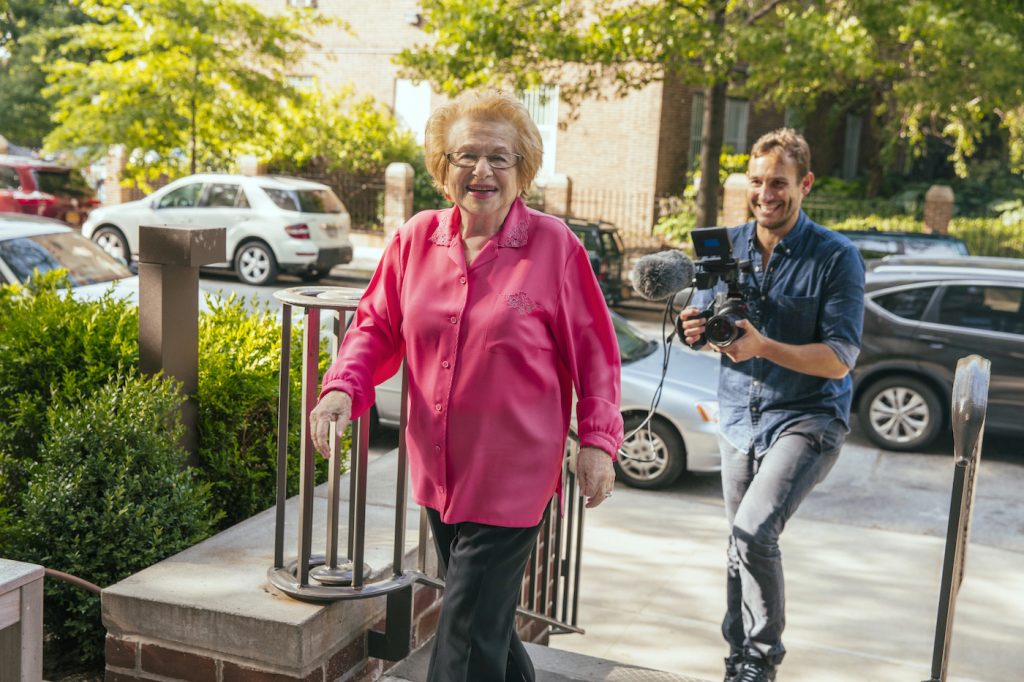 You have been on the radio and television for many years. So many sex therapists and advice columnists are influenced by you, but much of the younger generation isn't as aware of your work. What do you say to them?
I say, "Wait for my book to come out this summer!" It's a 'Sex for Dummies' particularly focused on millennials. It talks about sex and relationships, and about the concerns I have about the art of conversation being lost. It talks about the importance of making relationships work and giving time to relationships, so I hope to reach them soon. I have a lot to say to them. I say "Careful! Don't become dependent on that phone!" because you are going to lose that interpersonal relationship. You have to listen to each other. Connecting doesn't work if you're constantly looking at your phone.
Everything you do seems centered in joy. You don't dwell on the negative.
The important thing is, if you want to be an educator, which I do, then you have to be positive. If you're negative, you're going to pull everyone else into that. I have say to myself, "It's very sad that I had to get out of Nazi Germany, but I have an obligation to stand up, to be counted, and to say that abortion has to stay legal, we have to continue sex education, and we have to take time to sit down together and talk about what needs to be talked about, but still be kind to each other, no matter what.
Featured image: Dr. Ruth Westheimer in ASK DR. RUTH, a Hulu Originals film. Photo courtesy of Hulu Originals.