Spider-Man: Into the Spider-Verse's Oscar-Nominated Directors on Being Bold
Directors Bob Persichetti, Peter Ramsey, and Rodney Rothman asked themselves a question: how could they tell a story and be as wild and bold as they could adapting a comic book to the big screen that hadn't been seen before. Enter Spider-Man: Into the Spider-Verse. Now the three are Oscar-nominated directors, and their film has become a critical and commercial smash hit.
The coming of age story from Sony Pictures Animation follows Miles Morales (Shameik Moore), a, African-American/Puerto Rican teen living in Brooklyn who's trying his best to fit in at a private school at the urge of his cop father (Brian Tyree Henry) and mother (Luna Lauren Velez). His life is turned upside down when he's bitten by a radioactive spider and realizes he's developing super powers much like Spider-Man. Confronted, Miles must decide to embrace or ignore his new identity.
"We wanted to tell a story with the most clarity and the most emotional force," says Ramsey. "It's constructed from our point of view but we always asked ourselves are we doing Miles and the other characters justice by the way we were telling the story."
From its opening titles, you understand why the film earned an animated feature Oscar nomination. Every frame is dripping in a unique visual style; one that blends printing techniques of the 1960's Spider-Man comic with new CGI workflows. "Initially we were trying to figuring out what we didn't want," says Persichetti. "Once you start to say no to a bunch of things, the rules you do create can become something unexpected and feel like a revelation either visually or procedurally behind the scenes."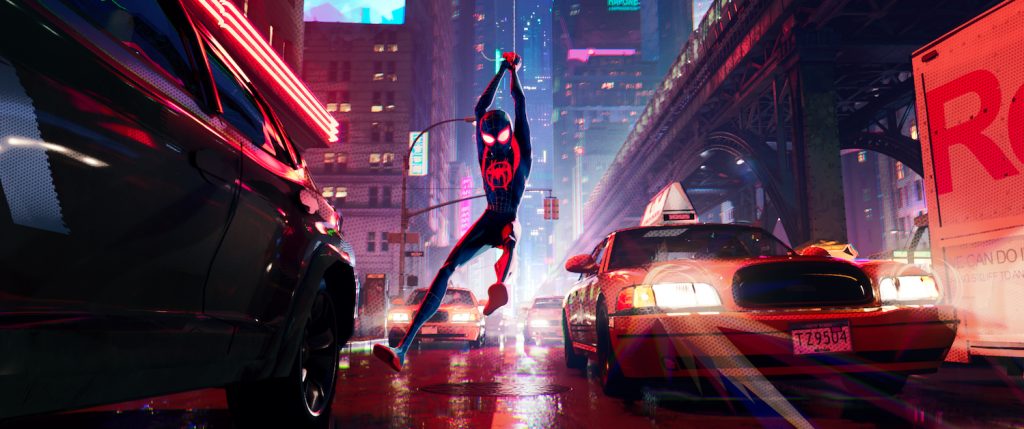 It meant traditional CG animation techniques like motion blur and depth of field were off the table. Instead, the directors wanted each frame to be a piece of art; combining CG animation and hand-drawn techniques where viewers would notice each choice made by the artists. "We added in a layer of hand-drawn artistry on top of every frame of animation," explains Ramsey "It's was about creating an atmosphere where people would let go of themselves and their identity with what's happening on screen. We wanted to make something immersive that emotionally worked and didn't let up." The complexity did however add to the film's production time. "Traditionally it takes about a week to animate four seconds of story. In Spider-Verse, it took one week to animate one second of film," notes Persichetti.
The team also avoided photorealism to enhance the comic book aesthetic which tends to be gritty over glossy. Aiding its granular feel was the line work that shaped character expression, half-tone dots to help render tone, punchy graphic elements that popped up during fights between good and evil, stylized panels that broke up the action and colors were broken down into shapes and given shorter transitions for a more illustrative feel to scenes. Animators were also pushed to make the lighting as dark as it needed to be; adding mood and texture to sequences.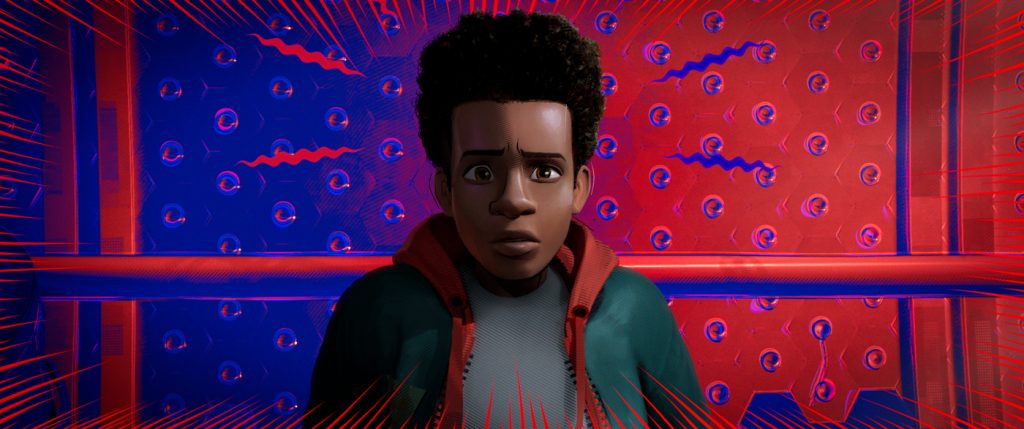 The directors were keen on when to add the visual flavor. "The story is buoyed by a lot of character humor, but we wanted to be as honest to the dramatic moments as we were with the comedic moments while never talking down to our audience once," says Persichetti. "We stuck to the rule that it's not until Miles is bitten by the spider that any of the comic book inspired ideas find their way into the screen language. Then as he evolves more into Spider-Man, we represented them on visually on screen but also in the performance. The more confident Miles became the more we brought in."
Adding to the revelation were ideas that evolved the character performance and narrative. "If we felt like we had seen the performance in an animated film before, we were probably going to say no to it," Persichetti admits. "The goal was to be as observed and naturalistic to our characters as possible. Once the animators realized we were not going to accept something that could be knocked out real quick and that the top of the line idea was to build on naturalism, not animation, we were able to make some big visual strides. Approaching the film this way allows you to make subtle choices that might seem counterintuitive to animation, but it makes other parts of the film much more special."'
The balance between performance and narrative was supported by its actors. "We were blessed with an amazing cast," Ramsey notes. "All were in total command of their talents and dived into their roles allowing us to really explore the story."
Artists from over 30 different countries contributed to the film's image and the directors admit they couldn't be thankful enough for them or the audiences' reaction. "We are blown away by the response of the movie," says Persichetti. "No one expected this film to have such force. We lived with this project for so long and now that it's no longer our movie, people have picked it up and identified with it in such a way that's there such a mass ownership of it. It's incredible."
Featured image: Peni (Kimiko Glen), Spider-Gwen (Hailee Steinfeld), Spider-Ham (John Mulaney), Miles Morales (Shameik Moore), Peter Parker (Jake Johnson), Spider-Man Noir (Nicolas Cage) in Sony Pictures Animation's SPIDER-MAN: INTO THE SPIDER-VERSE.