Oscar Watch: Writer/Director Nadine Labaki on her Riveting Drama Capernaum
Lebanese writer-director Nadine Labaki took to the streets to make her third feature, Capernaum, which centers on a neglected young boy. Furious with his parents after they sell his barely pubescent sister to an older man, the boy runs away from his ramshackle home. He befriends an Ethiopian refugee and then becomes the caretaker for her baby after the woman is arrested.
Playing a child who shares his own first name, 12-year-old Zain Al Rafeea leads a cast of non-professional performers who improvise much of their dialogue. The only pro on screen is Labaki herself as the attorney who represents Zain when he decides to sue his parents. His grievance? That he was born.
The wrenching drama won the Jury Prize at the 2018 Cannes Film Festival and is Lebanon's entry for the best foreign language film Oscar. The film takes its title comes from the town in a New Testament tale in which Jesus heals several people, but Labaki says the name has no religious implications. "Capernaum" simply signifies a place of chaos, she explained to The Credits while in Washington for a screening sponsored by the Motion Picture Association of America.
I've seen many films set in Lebanon, nearly all of which deal with war. Are recent wars in the region the backstory for this film?
It's really about the after effects of all the wars. In the world, and specifically the Middle East. The result of our conflicts, and our hypocrisies, and the bad decisions of governments.
What was your starting point for this film? How did you dig into this story?
I wanted to translate the voices of those kids I used to see on the street. Every time I would see a child, I would think, 'If he could express himself to me, what would he tell me?' Because I'm part of the society that's marginalizing these kids, that doesn't see them. The igniting point was just to understand more. Where does this boy go when he disappears around the corner? Who is his family? How does he feel? What is his take on all this injustice that he faces in life?
I started research, because I didn't want to imagine what goes on in their heads. I wanted to see the reality. It took four years. I went to the most difficult places in my country. I visited a lot of prisons for minors. I spoke to a lot of kids who end up in jail, sometimes because they've committed a crime, but sometimes just because they seek protection, and the law is so unfair that they find themselves in prison. And I spoke to a lot of children who faced extreme neglect, really abused.
You took such an interesting tact with raising the question of a child who is suing because he is alive. How did you come to that?
I used to ask these minors one question at the end, 'Are you happy to be alive?' Almost every time, the answer would be, 'No. I'm not happy. I don't know why I'm here. I don't know why I was born. If I'm going to abused, and raped, and violated every day.'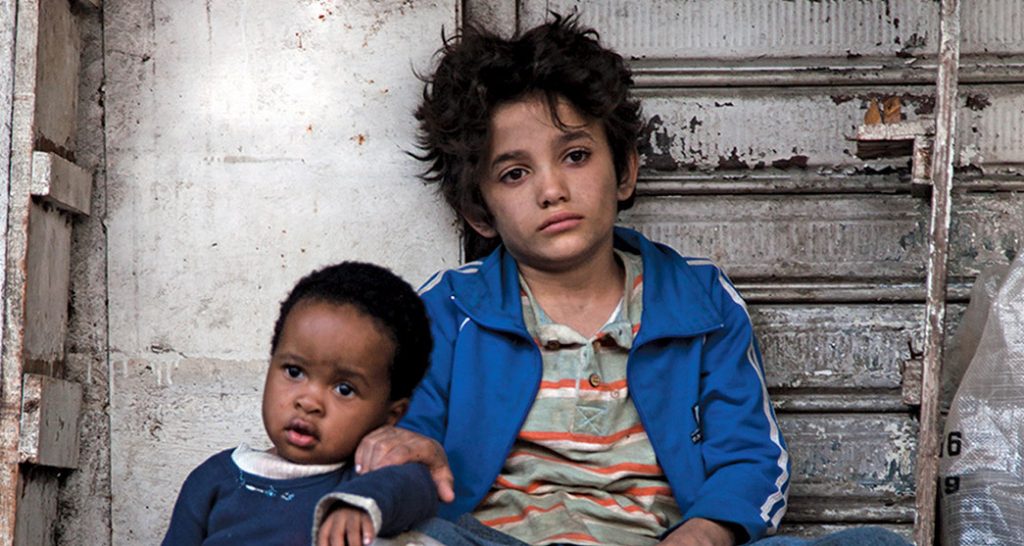 And the Ethiopian character?
The Ethiopian is also part of that vicious circle. For me, all these problems are intertwined. You cannot talk about child labor without talking about statelessness. Because most of these kids are stateless. And you can't talk about statelessness without talking about poverty. And you can't talk about poverty without talking about early marriage.
There's also the absurdity of borders. The absurdity of having to have a paper to prove you exist. Syrian refugees end up in prison because they don't have papers. They're not criminals, and they're treated worse than criminals.
Zain Al Rafeea is actually Syrian, but that's not made into an issue in the film.
In the film, he meets a girl who's a Syrian refugee. So we talk about this, in a way, through her. But in the film, we don't really know what Zain's identity is. That was very important for me. For me, it's just about a child and his most fundamental rights.
It doesn't matter whether he's Syrian or Palestinian or Lebanese or African, or Christian or Muslim — or Brazilian. Or even a child at the Mexican border.
Interesting that you mentioned Brazil. When watching your film, I thought of Pixote, director Hector Babenco's brutal 1981 drama about a 10-year-old boy in Brazil's underworld. Did films like that inspire you?
Pixote! Yes, of course. But I was inspired more by the situation than by other films. Of course, there are things that remind you of certain films. But it was the situation itself that imposed itself on me. The way that we decided to make this film, the way it was shot, was more instinctive than analyzed or referenced.
You previously made two films, Where Do We Go Now? and Caramel, that focused on women. Why did you choose a boy as the protagonist of this one?
I never really decided, "OK, now I'm going to make a film about women." It's something that comes naturally. I don't know why. This time it was only natural for me, as a mother and as a woman, that I look at this unbearable situation. We're not talking about hundreds of children. There are about 280 million children around the world that are in unbearable situations.
For me, it's not even a choice to be talking about this. It's a duty. People ask, what gives me the right to talk about this? Because I've never lived it. It's just my sense of responsibility.
You wrote the scenario, but not the dialogue. Did the story change as you filmed?
There was a very solid scenario. The writing happened in parallel with the research. But within the individual scenes, I gave myself the freedom to embrace whatever life was going to give me. Whatever the actors were going to give me.
None of them is a professional actor, Every one of them is living almost the same situation in their real life. So they brought their own experience. and they brought their own pain. I just wanted them to express themselves whenever they needed to. I didn't want to impose a certain way of thinking about them.
There was a lot of negotiation between the reality of what was happening at the moment and what was written. It was always a dance between both.
You had more than 500 hours of footage to shape into a two-hour film. Did you know what the movie was before you started editing?
We shot for six months. The original scenario held up, but the film was very long. The first version was 12 hours. You can imagine —
Actually, I can't.
[laughs] Yeah. It was very frustrating, to have to cut and cut and get to the point where there's this film now. The film could have taken different directions. There are so many treasures inside. It's hard to let go of certain scenes. But the scenario is there.
You play the attorney who represents Zain. Is that a symbolic role for you as his protector?
A little bit. In real life, to make this film I was always talking to lawyers and judges. I used to write pleadings.
In the script, the role was much more developed. I had a lot of other scenes. But when I started editing, I felt I was the only lie in the film. Because all of them are playing themselves. I was the only one who was an actor. I felt the difference. So I took out nearly everything and kept just what we needed to understand how this child was able to stand in front of justice.
Not to call the role a lie, but those scenes are different from the rest of the film. Everything is naturalistic, except the idea of Zain's lawsuit.
Exactly. Legally, a child cannot sue his parents. Because he needs a guardian to sue anyone, and in that case, the guardian is the parent. No judge can ever take such a case — unfortunately. So the court scenes were symbolic. We had to find a way for him to be heard.
This child is just saying, 'You didn't offer me anything to succeed in life. How do you want me to survive? How do you expect me to be a decent human being? In the end, that's what he says: 'I expected to be a good man, but life doesn't want this to happen.'
Featured image: Nadine Labaki attends a photocall for the Jury Un Certain Regard during the 68th annual Cannes Film Festival on May 14, 2015 in Cannes, France. (Photo by Pascal Le Segretain/Getty Images)