How Head Full of Honey Production Designer Isabel von Forster Creates a Beautiful Trip
A grandfather is losing his memory to Alzheimer's, and the family member with the most patience and understanding for his gentle if frustrated, increasingly addled ways, is a child. It was the premise of actor-turned-director Til Schweiger's 2014 German hit, Honig im Kopf, and four years later, he revisits the universal concept for Anglophone audiences in the homonymous Head Full of Honey.
Nick Nolte revives the role of Amadeus (in the original: Amandus, played by the German comedian Dieter Hallervorden), who once again incidentally reveals he's losing his wits at his wife's funeral, spurring concern from his son Nick (Matt Dillon, taking on Schweiger's original role) and Nick's wife Sarah (Emily Mortimer). A further check-in from Nick to Amadeus's ramshackle household motivates him to move Amadeus in with his own family, who reside not in the US but between London and the English countryside.
Ten-year-old Tilda, first tenderly played by Schweiger's daughter Emma Schweiger, and now by Nolte's own daughter, Sophie Lane Nolte, is attentive to her grandfather in ways that her busy father and frustrated mother cannot be, and it is her idea to help Amadeus's condition by bringing him back to the site of one of his most important memories: Venice. This is where he met his late wife, whose saucy black-and-white beach photo (remarkably similar in both films) he has ever at the ready. The two rebel against their household, setting off on an unauthorized overland trip, traveling by train, auto, and foot, and finally, with the help of the most beatific of nuns.
For audiences who see both movies, the pastoral landscapes and idyllic countryside family home might seem similar, yet different. Much of the same crew, including production designer Isabel von Forster, brought the English-language film to life, and with shooting once again taking place largely in Germany, they were tasked with adapting locations to fit a vision of the U.S. and England. Even aspects of the action in Venice were actually filmed in the neighborhood of Berlin. We got to speak with von Forster about the process that went into updating a singular story for a new audience, working within the same general region, and filling in the occasional gaps with visual effects.
This must have been a first—recreating a film for a different audience, with similar scenes set in new locations. How did you approach the process?
On one hand, we were re-telling the story, so our aim was to keep the look and atmosphere of the original version the same but improve upon it. On the other hand, it was a challenge to find locations in Germany that were capable of looking like they were in the USA or the UK, in a way local audiences would believe. Visual effects for the background was a great help in achieving that.
Were you ever worried about making the English-language update of the film too similar to the first? Or was there a goal to sort of hold a mirror to the initial work?
Working with a new cinematographer, René Ritcher, on this version, his input helped create a completely new look to the film in the end. The director, Til Schweiger, has a very clear vision of the aesthetics, colors, and atmosphere in his films. The DOP and production design had to see eye-to-eye, when it came to the realization of this look, from early on. We were all very happy that the result of this collaboration ended where we all envisioned.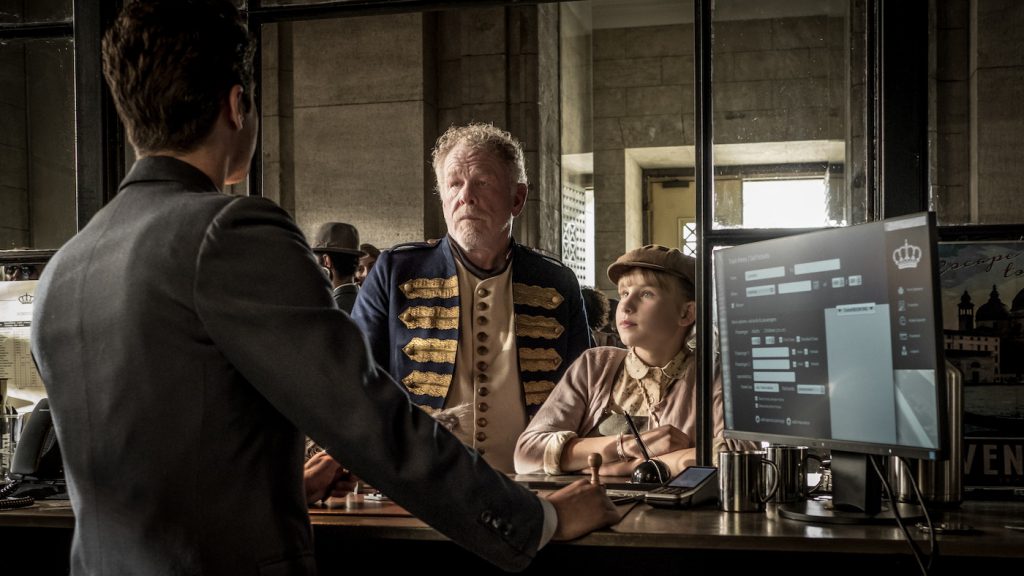 We were hoping to learn more about some of the locations across Europe used in the film: for example, the family's home and the church where that seminal initial funeral takes place. How did you go about putting together such great, bucolic locations twice in a row?
For the church, the challenge was to find a landscape here in Germany that could work as the American countryside. Finally, we found an open space that was wide enough to tell the story while creating atmospheric intensity, somewhere between Berlin and Hamburg.
The interior takes place in a church that very much resembles American architecture concerning the floor plans and the arrangement of windows of typical wooden churches. The interior set was found in the greater Berlin area and was enhanced by visual effects to match the surrounding landscape. It had been crucial for me to find the matching location, for this highly emotional scene.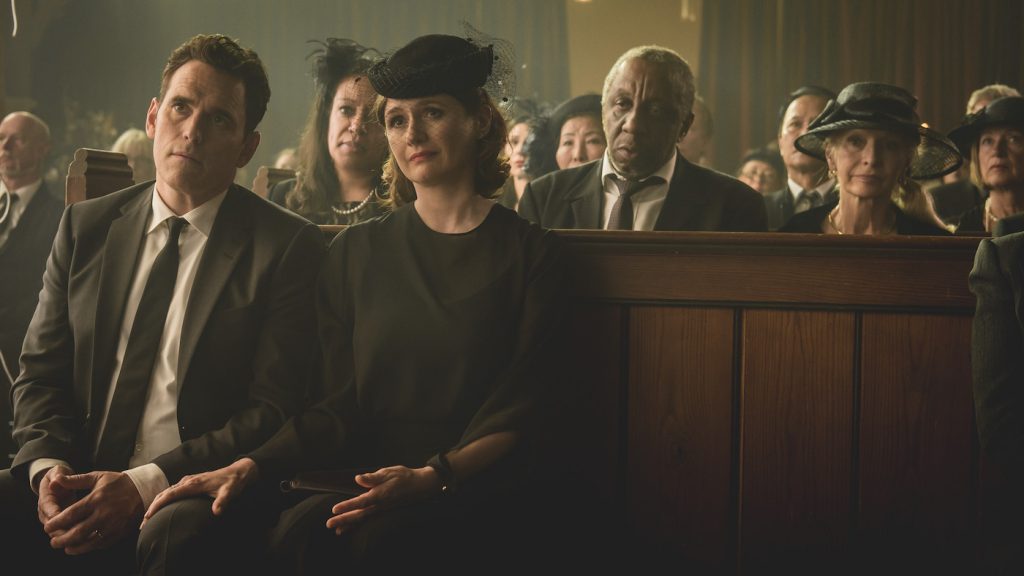 Another set, the hotel in Venice, Italy, was shot here in Germany in an old castle for the interior, while the outside was shot in a Venetian palazzo. VFX again helped to create the view to the Grand Canal.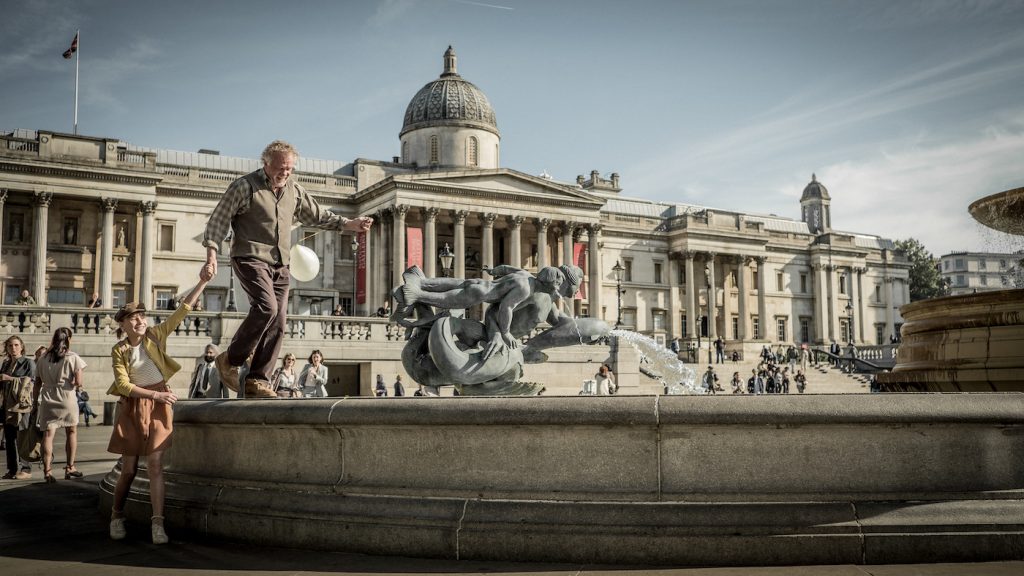 The family's home in this version has been moved to the English countryside, but we still filmed it in generally the same house that worked as the family's home in Honig im Kopf. When we arrived at the location four years later, the place had been sold in between and was mostly a construction site.
We added a porch and a garden house that was built completely from scratch and also shot some scenes in a different house, which actually is a castle, [near] Berlin.
Were there any challenges in designing Head Full of Honey's production that you didn't have working on Honig im Kopf?
We had to adapt everything to fit the different countries where the story takes place. This meant a lot of research for our department in finding out what all of these different countries' sockets, switches, window- and door handles looked like, in addition to graphics and package design—and props in general.
Also, the production design was developed over a longer period of time, compared to the production of Honig im Kopf, although it was a lot of fun to get into different countries' peculiarities.
You've worked extensively with director Til Schweiger. How was the experience with him and the rest of the returning crew working on Schweiger's English-language directorial debut?
Over the years we've developed a relationship based on trusting each other—this creates a joyful atmosphere when working with Til, [plus] he always keeps the entire team in good spirits. Working with actors as a director, all of Til's experiences give you the impression that he has been directing his entire lifetime, in such a gorgeous way. It was amazing to see how the actors reacted to the sets that reflected their character's houses and took them as part of their natural surroundings. It has been an honor for me to work with such great actors, like Nick Nolte as Amadeus, and to create a tiny section of his life's surroundings, and it has been very fulfilling to work with the whole team.
Head Full of Honey opens November 30, 2018.
Featured image: Caption: (L-R) SOPHIA LANE NOLTE as Matilda and NICK NOLTE as Amadeus in Warner Bros. Pictures drama "A HEAD FULL OF HONEY," a Warner Bros. Pictures Release. Photo Credit: Gordon Timpen