TIFF 2018: Halloween Really is That Good
I have never belonged to the camp that believes something you truly love can be tarnished in the slightest by adding to it. Don't like an adaptation of your favorite novel? Enjoy the book. Hate the film version of your favorite Broadway musical? No need to rip up the playbill. Loathe the sequel to your favorite film? Enjoy the original. In short, love what you love and ignore the rest.
And yet, I shuddered a little when I first heard a new Halloween was in the works. I love it so much. The 1978 original is a primer for excellence in horror. There are a lot of ways to enjoy horror movies, including ones dripping in as much camp as blood. But John Carpenter actually made a brilliant one. I always recommend it as an introduction to the genre for non-horror fans. There's a threshold where spicy food goes from flavor to pain and a point where horror goes from exciting to miserable. Halloween is at the zenith of where fun terror peaks. It goes as far as you can go without having late night regret.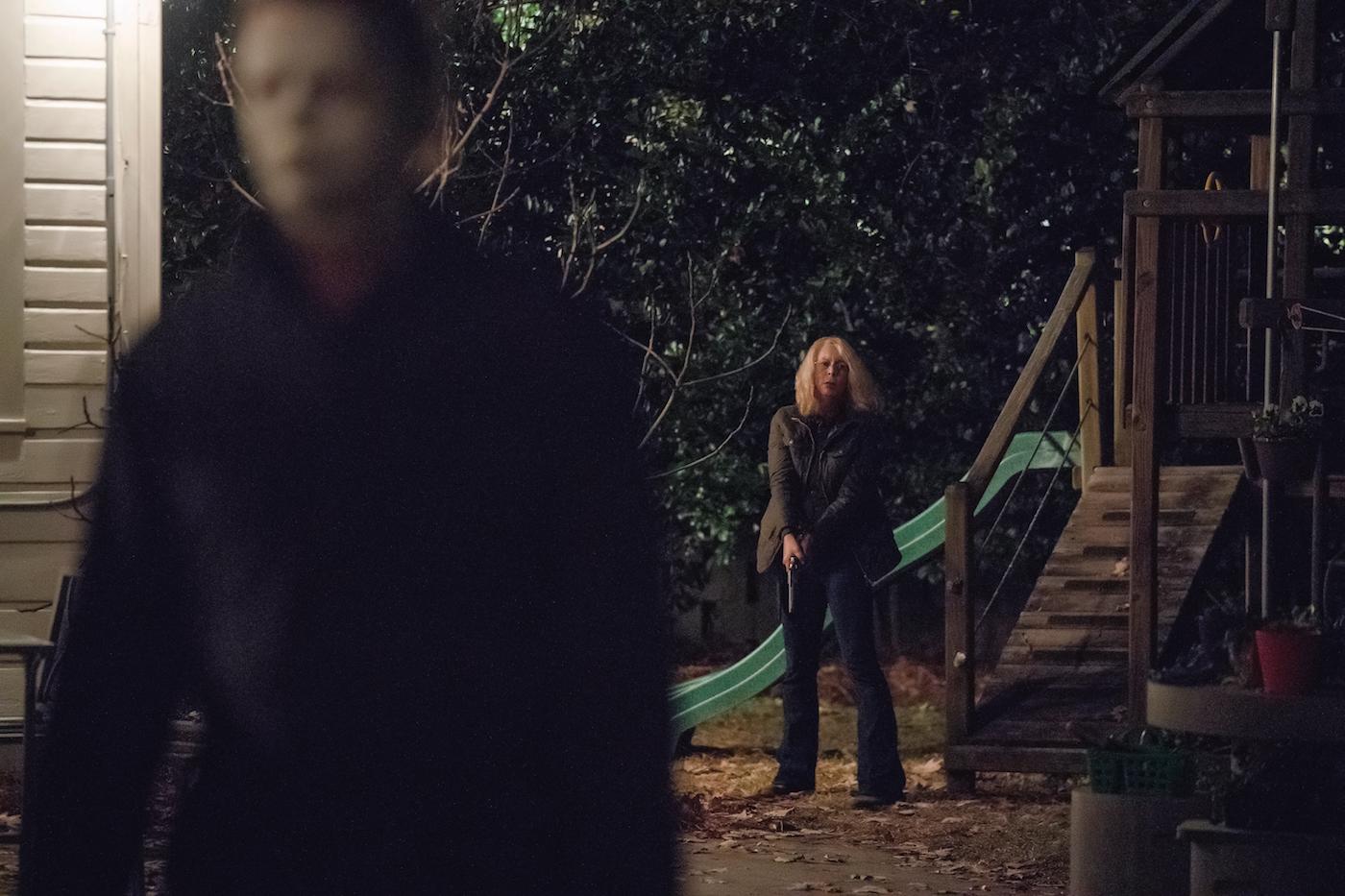 With that in mind, I enthusiastically took myself to the Halloween premiere at TIFF Saturday night. As the lights dimmed on the Midnight Madness crowd, the theme song thundered in the dark. Michael walked on stage and stared us down as we lost our collective minds. Then it went quiet for a beat too long and one man yelled nervously, "I hope that was planned?"
Face Your Fate On October 19 #HalloweenMovie #TIFF2018 pic.twitter.com/rXV8lp7Bvc

— #HalloweenMovie (@halloweenmovie) September 9, 2018
It was. In fact, we then had the pleasure of experiencing one of the most passionately planned reboot sequels I have ever seen. "Keep it simple and make it relentless," was the advice director David Gordon Green said he received from John Carpenter. But, like a renowned chef, simply knowing the recipe doesn't make a dish a success. What we as the fans were craving was, in fact, exactly what was on the menu that night.
Halloween has sudden scares, gorier kills, inside jokes, and great respect for the original. It was like going to a showing of Rocky Horror Picture Show for the first time, but you somehow cosmically know all of the audience participation. We shouted, shuddered, and screamed in unison. All the parts we wanted were there, but too much of one flavor or insufficient timing could have ruined the slasher stew. Yet, magic unfolded before our eyes.
Danny McBride, who I have loved since The Foot Fist Way, penned the impeccable script. There is a persistent gripe among moviegoers that there are too many reboots, remakes, and sequels anymore. While I disagree with that on many levels, I fervently insist that we are benefitting from what I call "professional fan fiction." These are creatives who have new ideas and also love old ideas. McBride is one of those. He has the chops and the passion and the guts to take a classic and add to it. "The only thing scarier than being chased by Michael Myers is having to write a sequel to Halloween," McBride said earnestly at the post-screening Q&A. He clearly cared so much that I was thrilled for everyone involved that it was a smashing success.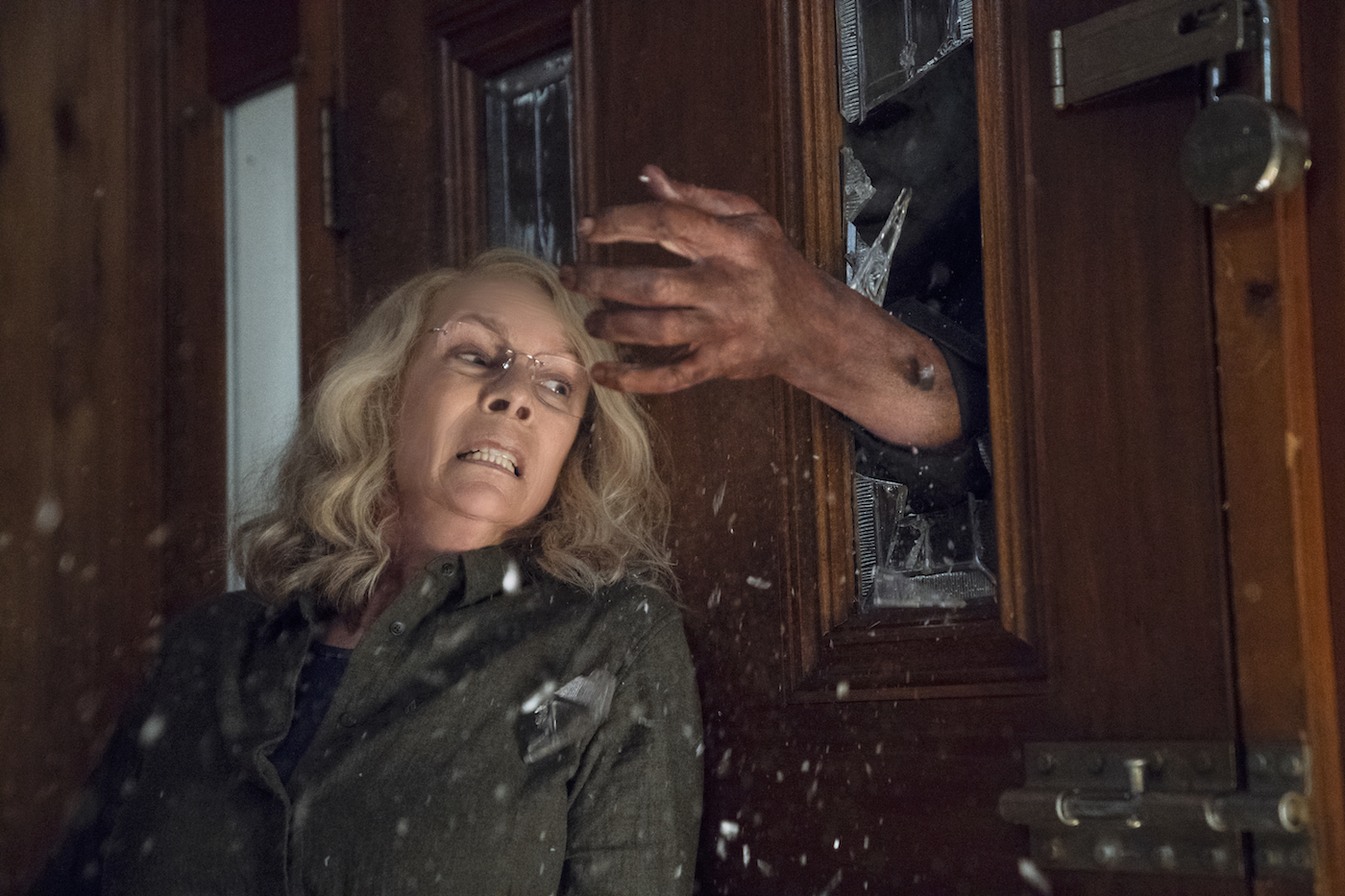 Trying to tap into the secret sauce, an audience member asked what makes such a cold-blooded killer so appealing. The cast demurred, not wishing to hinder our own interpretations, but I can tell you my theory. The people that die are just so annoying. They're often hilarious and a few times sympathetic, but they're disposable. Ultimately, there is something of a superpower to Laurie who is really the Shape's one worthy rival. We want to see him cut down half the neighborhood to prove his salt, or don't even bother. Laurie is too good.
However, she's getting older and she cannot protect her family forever. The new Halloween beautifully passes the scream queen crown to a new generation. No one will ever top the OG, but Judy Greer and Andi Matichak are worthy successors. As for Michael, he was just six when he committed his first murder and 21 the next. He is now 61. There is no logic or motivation in Michael's killing, which is what makes him so chilling, but he doesn't limit himself to teenagers anymore. He's matured. The film allows Halloween to stretch and become a true family affair. Something scary for everyone. Speaking of, it has major rewatchability, so it can definitely be annual holiday viewing.
HALLOWOMEN @missjudygreer @andimatichak Had not seen @halloweenmovie before it debuted last night. Love this moment of celebration and shock and awe at the reaction on their faces after the reaction from the fans. #STRODEWOMEN pic.twitter.com/QXoezm7O8E

— Jamie Lee Curtis (@jamieleecurtis) September 10, 2018
When asked what the cast and crew wanted to bring to the sequel, Jamie Lee Curtis said, "I just wanted to bring you guys. I wouldn't have a creative life without you and that was all I cared about. That they made a movie you would like." Mission accomplished. Halloween is the ultimate "watch with the lights out" fright fest that I hope to share with my family for generations to come.
Michael returns to stalk his Halloween prey October 19.
Featured Image: In "Halloween," JAMIE LEE CURTIS returns to her iconic role as Laurie Strode, who comes to her final confrontation with Michael Myers, the masked figure who has haunted her since she narrowly escaped his killing spree on Halloween night four decades ago.