SDCC 2018: Fall 2018 TV Preview
San Diego Comic-Con comes in the middle of the summer, just as the fall television season is starting to go into production, which makes it a great opportunity for popular series to send writers, producers, and stars to show exclusive footage and gag reels and meet with the fans. The Good Place set up an elaborate 'Good Place Experience' across the street from the convention center and next to a restaurant temporarily renamed "The Good Plates." Visitors waited patiently in long lines to go inside, where they were greeted by Michael (Ted Danson on video) and then entered into a meticulous re-creation of the show.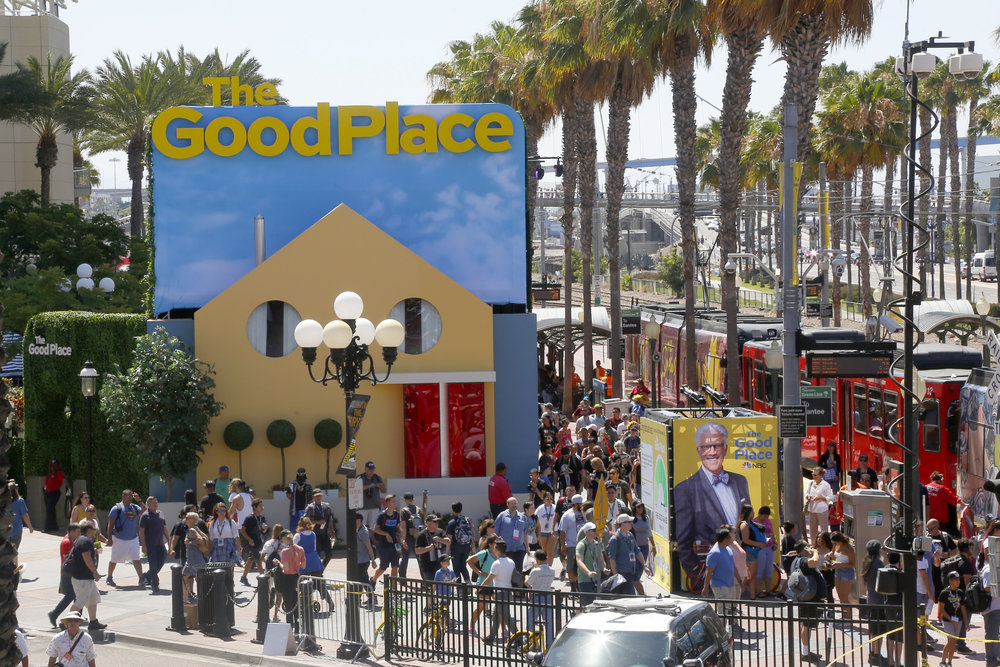 Here are some of the highlights of the TV series panel presentations:
The Big Bang Theory
It was billed as a panel of the show's writers and producers, with moderator Jerry O'Connell, who appeared on two episodes as Sheldon's brother. But when questions came up about whether Raj should get married and how Amy felt about her wedding dress, Kunal Nayyar and Mayim Bialik came out on stage to answer on behalf of the characters they play.
The answers to the questions: Nayyar says he likes keeping the character single because he gets to act with so many different women and because "it leaves room for a spin-off, but instead of Young Sheldon it would be Old and Fat Raj."  Bialik said about the dress Sheldon described on the show as "looking like a pile of swans," "We wanted Amy to have a dress that embodied all of her dreams and wishes. Why have just one?  If she loves it, it's not going to look silly." Nayyar was not impressed with her description of the difficulties of the hoop skirt. "Did you have to ride a seahorse as Aquaman?"
The fans always love to hear about the guest stars on the show, from Steven Hawking to Bob Newhart, Bill Gates, and Neil Gaiman. Last season, when Sheldon and Amy got married, the guest star was Luke Skywalker himself, Mark Hamill, which writer Steve Holland said was "literally a dream." Though it did pose a small housekeeping dilemma. "Should I remove the giant inflatable Death Star and all my light sabers from my office before he arrives?" It was everything he hoped and more. "They say 'Don't meet your heroes,' but if your hero is Mark Hamill, ignore that advice."  A dream guest star for the future would be Supreme Court Justice Elena Kagan – a possible new love interest for Raj?
We learned that Teller and Kathy Bates will return as Amy's parents and the first episodes of the season will show us Amy and Sheldon on their honeymoon.
There's a perennial question about whether the show's characters, who regularly talk about going to Comic-Con, will actually visit in an episode some day. The writers said that the logistics of shooting in the midst of a gathering of that size are too difficult. But there is a flag convention, and that might be something Sheldon and Amy would visit.
One reason for the show's enduring appeal is the way the actors and writers have allowed the characters to grow. A lot of the humor from the first season was about the characters' ineptitude with women (and in the case of Sheldon, lack of interest).  But now three of the four are married and one has two children.  Writer Steve Molaro said, "The characters grow on their own and let us know where they are headed."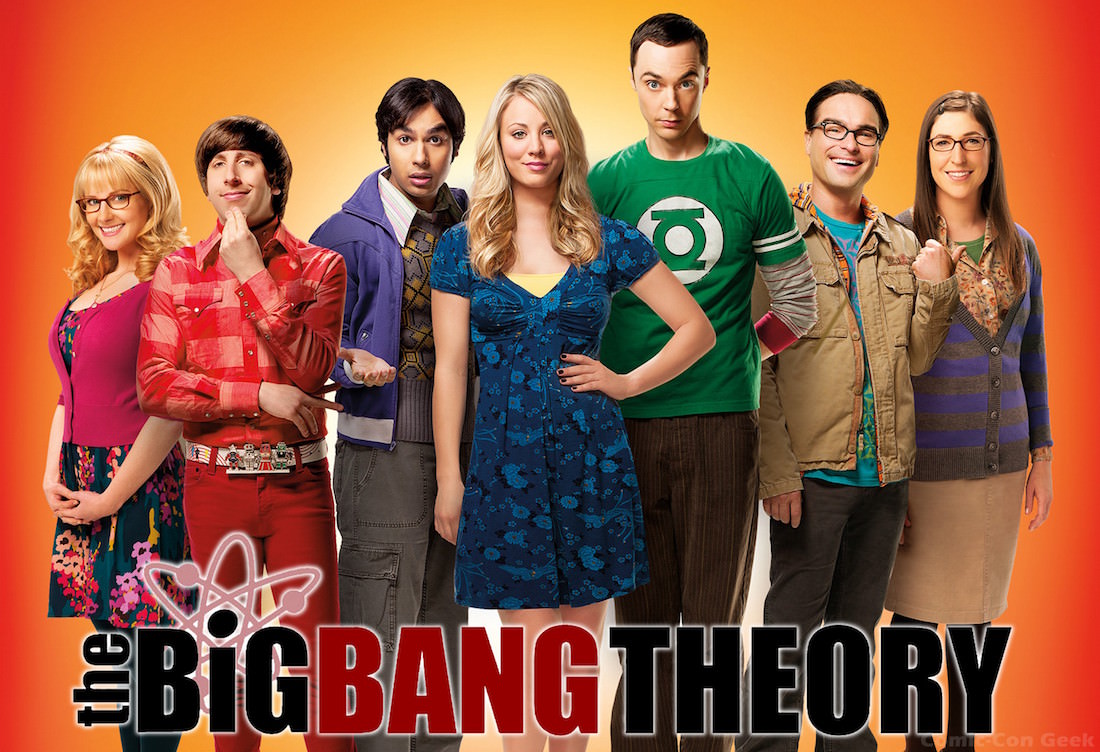 Crazy Ex-Girlfriend
Rachel Bloom and Aline Brosh McKenna talked about the upcoming fourth and final season of "Crazy Ex-Girlfriend."  Bloom told the audience she was going to sing us the new season's theme song as though she was presenting it in the writer's room – a capella and complete with stage directions.
The decision to end the series "was self-imposed. We weren't canceled," she said. "It's a finite story we're telling."
This season we will see Bloom's character "taking some of the lessons she learned and putting them into practice, merging the internal and external."  McKenna teased Bloom that while her "command of musical theater is truly prodigious," she is not as knowledgeable about the other musical genres the series includes in its song and dance numbers. "She only just discovered 'Fireflies,' which the rest of us heard in 2009." People constantly pitch them ideas for musical numbers on the show but "the one time we've kind of taken a request into account is a cool one we're excited for you guys to see," inspired by the "He had it coming" song, Chicago's "Cell Block Tango."
They spoke a bit about pushing NBC on language and content. "It's a bummer that we have to adhere to FCC guidelines because this country was founded by Puritans," Bloom said. They fought to include the clinical term for a female body part.
And Bloom urged the crowd to take risks in their own lives. "When you're young, say yes to everything. Any experience is a good experience and the people you meet are very important."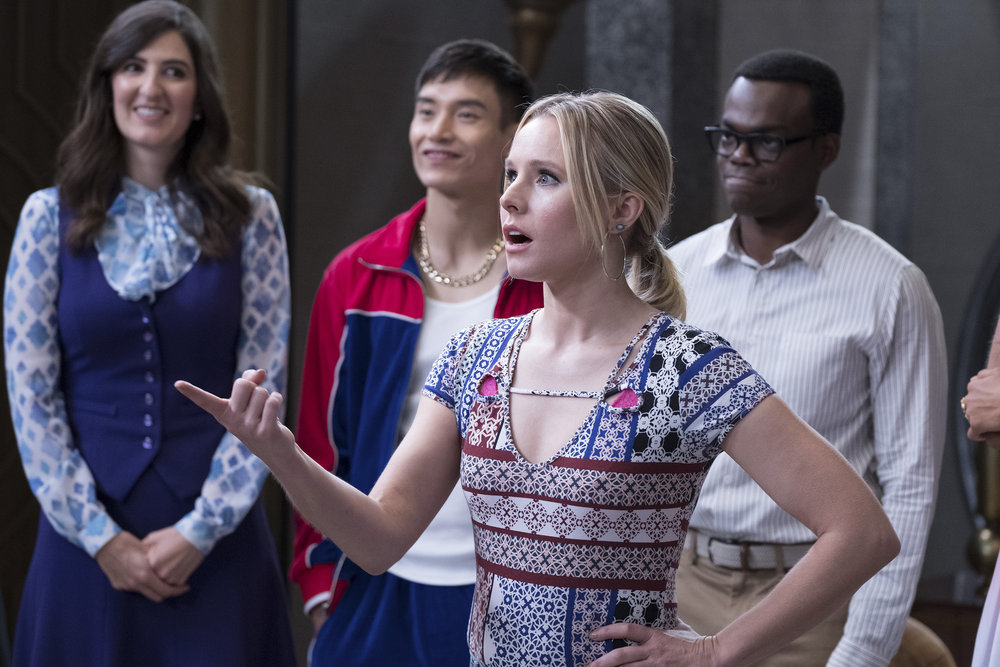 The Good Place
Moderator Mark Evan Jackson, who plays Shawn on the show, calls the series "the smartest, dumbest show on television." It deals with ethics and moral philosophy and it is also very, very funny.
Some behind the scenes details: Jameela Jamil (Tahani) said that her kiss with Manny Jacinto (Jason) was her first on-screen kiss and only her seventh kiss ever. "Even though he was contractually obliged to kiss me on camera, I still counted it in my number. But what a 7!" Jacinto gets a lot of people yelling "Bortles!" at him in public.  William Jackson Harper (Chidi) wishes he could take home a strange prop, "this really great deconstructed clown in a case." Kristen Bell (Eleanor) envies her character's forthright snark. "Eleanor is the ticker tape in my head of nasty, sassy things, not necessarily that I want to say, but I'm definitely thinking about anyone that I see. I don't find that I get good results in real life when I say that, and I'm looking for good results, guys. I'm looking for smiles and happiness. And so I don't say them but I do share that wicked, dark sensibility with Eleanor."
Everyone agreed the unsung MVP of the show is implacable producer Morgan Sackett.  "We say things to our costume designers like we need 300 identical blue and yellow striped outfits for people to run around in" or tell Sackett they need a giraffe or flying shrimp, or something that looks like shrimp but is actually vegetarian so that Kristen Bell can eat them on camera, and somehow they do it and act like it's not a big deal.
"Emmy nominee Ted Danson," as he was referred to throughout the "Good Place" panel, told the audience that the word "performance" was not really apt for what he does on the show.  "Really what we do is we show up and say these astounding words in these astounding locations with our amazing bow ties and you let the words play on you and out comes a performance. I don't know how to take credit for anything on this show other than to say I am hitting my marks and saying Mike's words and it's magic."
Featured Image: COMIC-CON INTERNATIONAL: SAN DIEGO 2018 — "NBC at Comic-Con" — Pictured: (l-r) Ted Danson, Kristen Bell at the 'The Good Place' Panel at the Hilton Bayfront, San Diego, Calif. — (Photo by: Todd Williamson/NBC)