Sound Designer Gives Voice to the Jurassic World: Fallen Kingdom Dinosaurs
The roaring reptiles of Jurassic World: Fallen Kingdom sound simply terrifying but in fact, each CGI dinosaur required a complex blend of custom audio elements to achieve maximum impact. To create vocalizations that would distinguish one creature from the next, Skywalker Sound artisans pulled from an arsenal of elements ranging from Styrofoam and dental drills to snarling Chihuahuas. Supervising Sound Designer Al Nelson says "All the dinosaurs wind up in the same field running away from a volcano, so you can't just throw screaming pigs on everything – – that doesn't work. It's like if Christopher Waken's talking to Robert DeNiro in a scene, you immediately know who each one of them is. It's the same kind of thing for dinosaurs."
Supervising Sound Editor Gwendolyn Yates Whittle focused on the human side of the equation. She says, "In this movie there's a lot of yelling and a lot of breathing so you have to make sure you keep track of your heroes in the midst of the chaos. My job was to make sure the people don't get lost in the melee."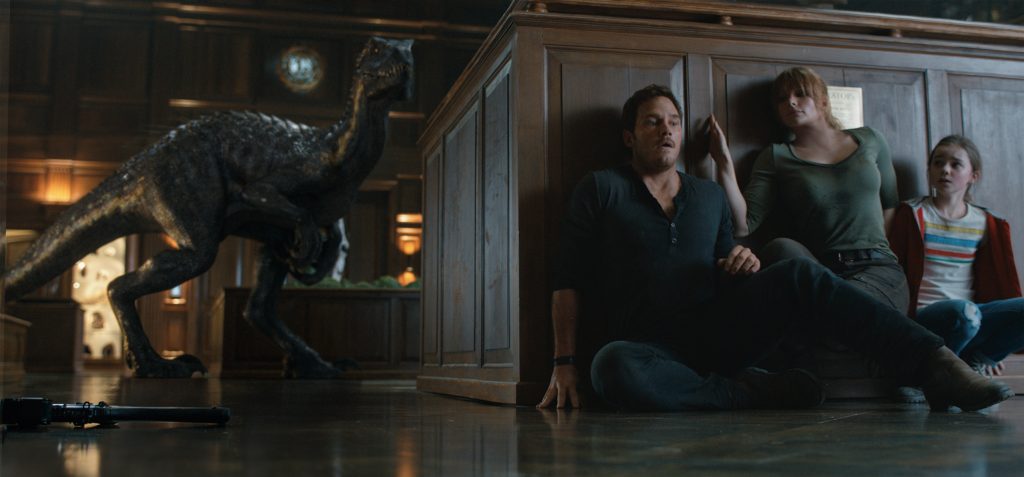 Teamed with collaborators including Dialogue and Music Re-Recording mixer Pete Horner, Nelson did much of the heavy lifting when it came to giving voice to the Fallen Kingdom menagerie. Speaking from Florida, where he's recording hippos on behalf of Disney World, Nelson de-constructed the signature sounds issuing from the mouths of four Fallen Kingdom stars
The Ever-Evolving Blue Raptor
"Raptors used to be scary and still are sometimes, but now we've created a language for Blue that is much more sympathetic," Nelson says. "We need the audience to feel for Blue when she's in pain and bonding with our protagonist." To ensure that Blue tugged at the heartstrings, Nelson turned to penguins. "We recorded penguins, changed the pitch and manipulated the audio to get these purring sounds that seem to being saying 'I'm okay, you're okay.'"
The Villainous Indoraptor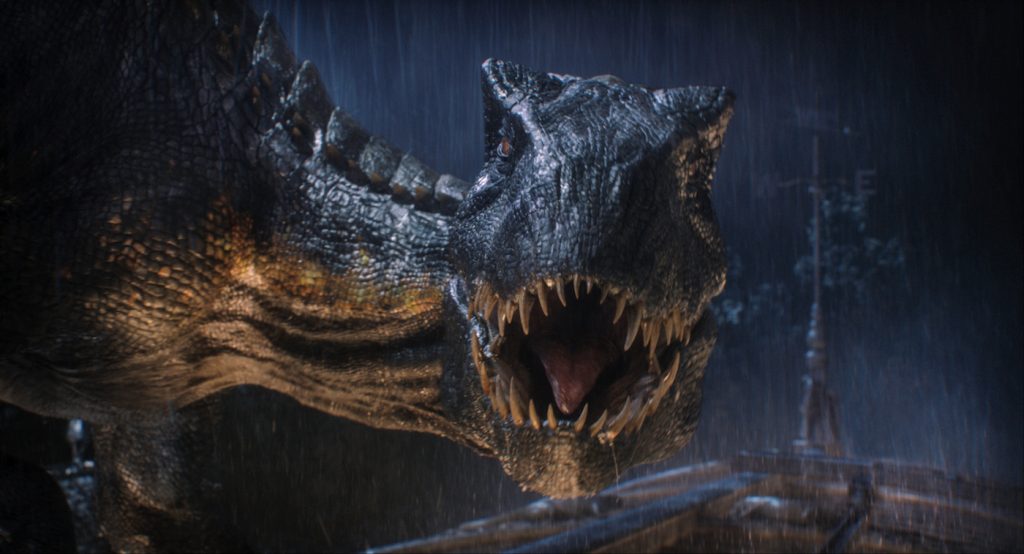 "Our original raptors had a scream that came for the most part from bird sounds," Nelson says. "For our hybrid Indoraptor, we wanted something that sounded bigger and more nasty." Enter the snarling Chihuahua. The dog, which belongs to sound editor Whittle's family, thrilled Nelson. "Gwen's dog Cobie is very snarly and sounds like it's trying to speak," he says.
After recording Cobie the Chihuahua in various states of agitation, he blended the canine audio with audio recorded in Barcelona by Spanish director J.A Bayona's longtime sound designer Oriol Tarragó. "J.A. is fond of very high pitched sounds so Oriol recorded dental drills and high pitched pig screams," Nelson explains. "We put these elements together with some deeper stuff I'd collected from bellowing pigs and big cats." Summing up the Indoraptor's scream, he says, "We used a little cougar, some lion, a little pig and our Chihuahua. Then you add some dental drill and it sounds pretty unique."
The Mean Carnotaurus
Nelson says "Carnotaurus is mean so we used an orangutan sound. The other thing we used was bowed Styrofoam." He scraped the Styrofoam with a double-bass bow typically used by classical musicians. Nelson observes, "It makes this squeaky REEECCHKK sound. You can also rub old ribbon against Styrofoam to get these great squeaks. So for Carnotaurus, one of our main ingredients was Styrofoam."
Cute Stygimoloch
For comic relief and a shot of unexpected heroism, Fallen Kingdom introduces "Stygy." "He's a short, stubby, head-butting dinosaur who's cute and fun and kind of saves the day," says Nelson, who credits colleague Pete Horner for using a family pet as inspiration. "Pete has dachshund named Rita so he played a little bit of her for me and I was: 'More of that please.' He combined "Ritasauras" with camel and a little bit of pig here and there. It created this sweet, gurgling kind of thing that fits perfectly with this funny little creature."
Rarely off the clock, Nelson, whose credits include Captain America: Winter Soldier and The Girl with the Dragon Tattoo, carries a hand-held recorder nearly everywhere he goes.  "When I get on an airplane I'll turn it on if I hear something interesting going on," he says.  "In the grocery store, I might record the computer beeps from the cash register. We call it field recordings because sometimes you're in a field, but then sometimes you're in a zoo, or sometimes you're in your sister's living room with a cat under the bed. Like a photographer or somebody with a sketch book, I'm always gathering."
Featured image: Velociraptor Blue in "Jurassic World: Fallen Kingdom." When the island's dormant volcano begins roaring to life, Owen and Claire mount a campaign to rescue the remaining dinosaurs from this extinction-level event. Welcome to "Jurassic World: Fallen Kingdom." Photo Credit: Universal Studios and Amblin Entertainment, Inc. and Legendary Pictures Productions, LLC.