Merritt Wever Transitions From Loopy Nurse to Frontier Toughie in Godless
Merritt Wever has no idea why she was picked to play a tough frontier woman in Netflix western Godless, but the New York actress wasn't about to ask questions when writer-director-creator Scott Frank came calling. "I don't go nosing around like that," says Wever, who won a 2013 Emmy co-starring in Nurse Jackie as Edie Falco's sly, exuberant sidekick Zoey Barkow.
Standing in extreme contrast to Zoey, Wever's Emmy-buzzed portrayal of Mary Agnes McNue celebrates a gun-wielding bisexual badass who defends the frontier town of LaBelle in 1884 after all the menfolk get killed in a catastrophic mining accident. "I was very surprised to get this offer," Wever says. "Scott never watched Nurse Jackie so he didn't know me from that, but I'm grateful our casting director Ellen Lewis thought of me. As an actor, you get used to receiving similar things. Godless was different. I knew I should do it because I was scared to do it. I was worried I wouldn't be able to pull it off."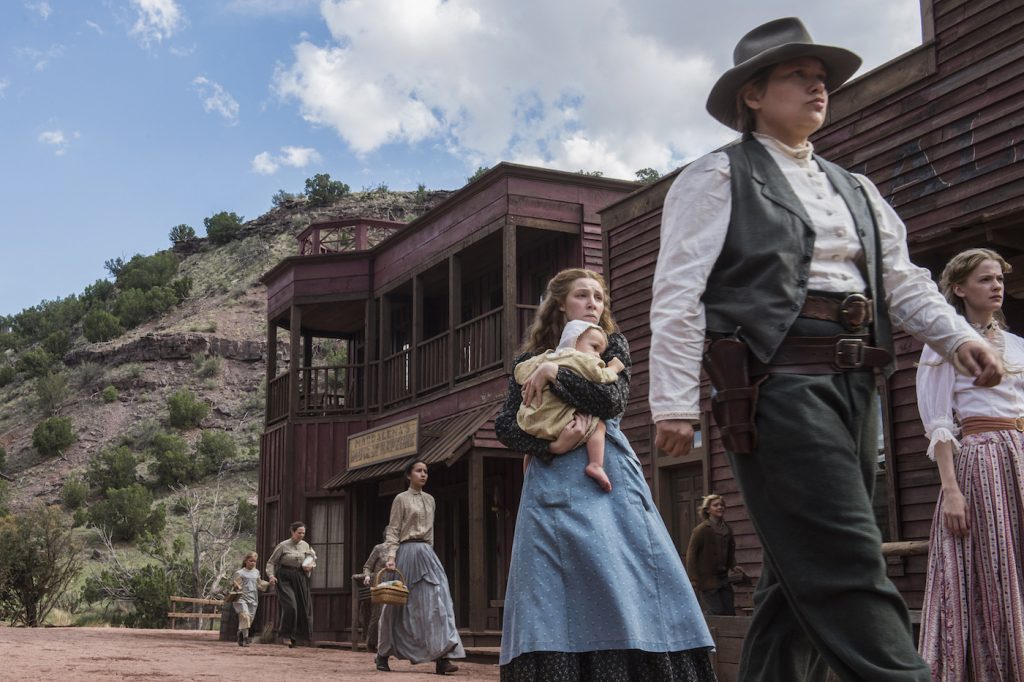 Wever, who studied poetry at Sarah Lawrence College, finds it hard to articulate exactly how she managed to embody Mary Agnes McNue with seemingly molecular-level authenticity. "I'm still trying to figure that out," she says. "I did my homework, went to the library and talked to a historian who's an expert in same sex relationships during the time that Godless takes place. But it's hard to know what ends up making its way into your body that early in the process. The truth is, you're not really doing the work until you show up on the day, with the other actors, in the environment, on camera."
One unanticipated piece of homework greeted Wever when she arrived on set in New Mexico and found out that cast mate Scoot McNairy would be speaking with a southern accent. "I didn't know Agnes had an accent until then, but since Scoot plays my brother, we would likely sound similar." Wever teamed up with the production's dialect coach and also borrowed some rural twang from her mom. She says, "Luckily, my mother's from Texas, so if they had to throw an accent at me, that was the one to throw."
Waver's transformation into Agnes also benefited from the wardrobe designed by Betsy Heimann (Pulp Fiction), who learned her craft from John Wayne's costumer Luster Bayless.  "Wearing the gun, the pants, the boots, it affects way you walk — and I didn't have to wear a corset, which was just a blessing, honestly," Wever says. "It made me feel very different from the other women in town because I'm carrying around this awareness of my difference, even if it means sometimes being an object of their scorn."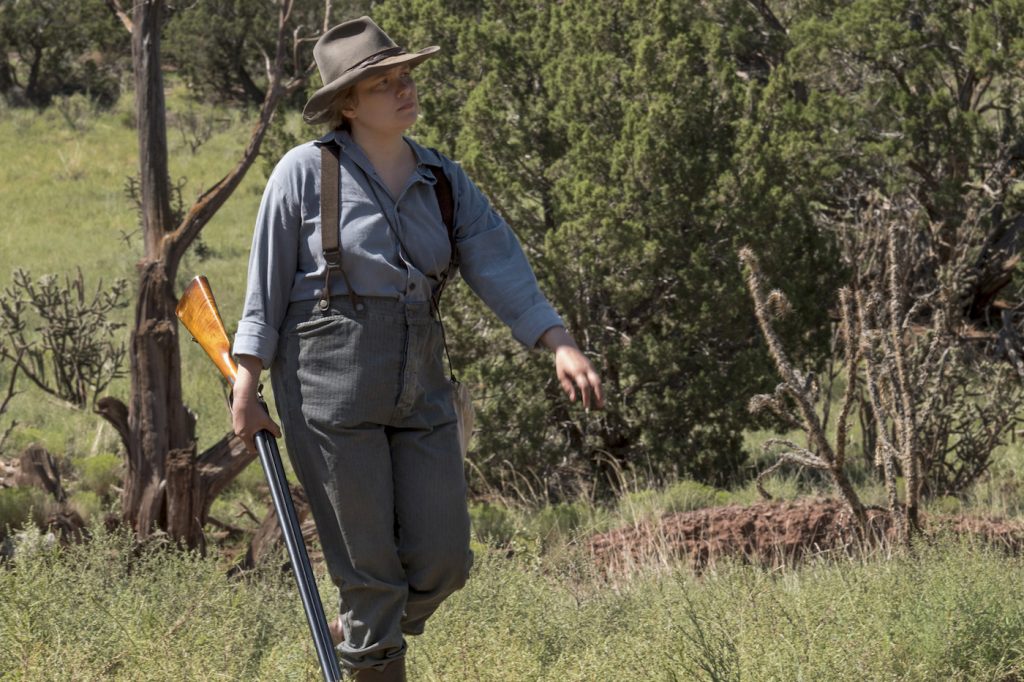 During the six-month shoot, cast members spent their nights in Santa Fe and commuted daily through the desert to the built-from-scratch town of LaBelle. "It was a bunch of us ladies in a van, so there wasn't private time to prep," Wever recalls. "This was more like a circus, going to and fro with this wonderful group of women led by Michelle Dockery, who is one fantastic broad."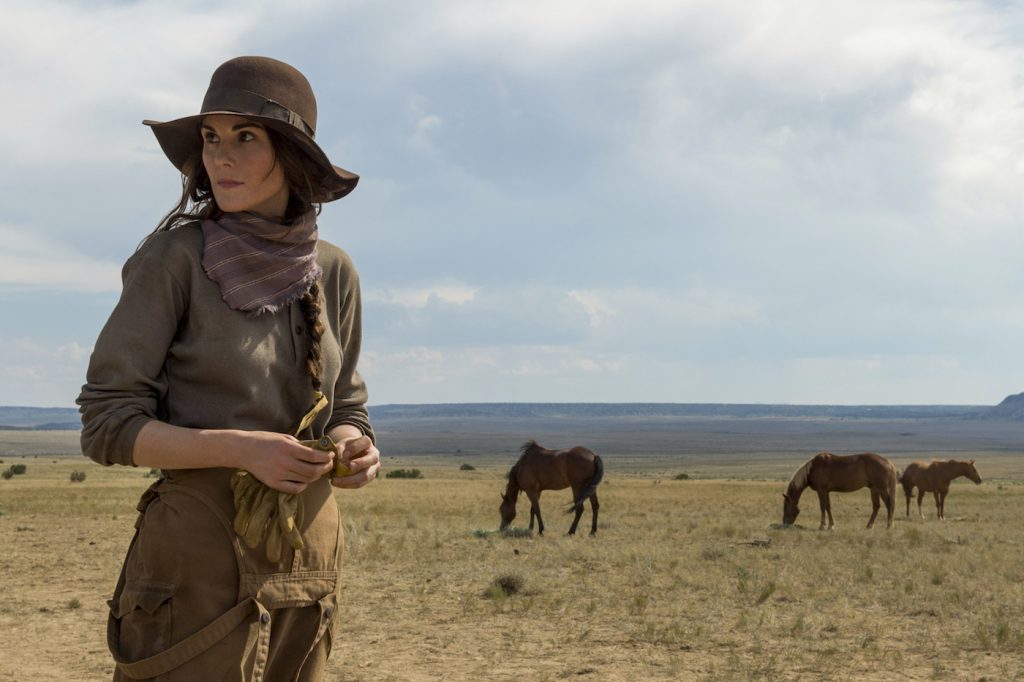 While Dockery's rancher character Alice grapples with geographic isolation, Wever's small town boss lady experiences social isolation, accompanied, in the actor's interpretation of the role, by a host of insecurities. She explains, "Alice functioned in the script as a kind of archetype who was strong and confident and tough and brave. But the truth is, at this time in my life two years ago when I played Agnes, I felt the opposite of all of that. It was strange to play a part that asked me to behave this way because I felt so lacking in that department. It was almost physically and emotionally painful to inhabit that space and pretend. I was like, 'I don't think anyone will ever believe me.'"
Instead of suppressing her anxieties, Wever channeled them into a storyline that included her character's relationship with town prostitute-turned-school teacher Callie (Tess Harper). She says, "I tried to lean into all of the ways that being tough wasn't easy for Agnes. I let her have moments of vulnerability and I decided to make her a little prickly too. I mean obviously she's written that way; she's a bit of an emotional porcupine. As much as she wants to give love with Callie, Agnes is just not very good at it. Before all this trauma, she was with a man. If it hadn't been for this horrible collective loss, Mary Agnes never would have had the space to live the way she's getting to live in Godless."
Featured image: Merritt Wever in 'Godless.' Photo by: Ursula Coyote/Netflix.