Joy Nash on her Breakout Role as Plum Kettle in Dietland
At one point in the two hour premiere of AMC's latest drama, Dietland, Margaret Atwood's most famous quote is uttered by main character Plum Kettle: "Men are afraid that women will laugh at them. Women are afraid that men will kill them." Other than being a perfect encapsulation of our current times, it's also a sentiment that can anchor the stickily interesting Dietland, based on the novel by Sarai Walker and brought to AMC by TV veteran Marti Noxon.
The show follows Plum Kettle, an overweight women who ghostwrites letters to the editor for a popular women's magazine. Plum has always fantasized about being thin and she's scheduled a weight loss surgery. But while she's waiting for her surgery date, she's suddenly involved in a swirl of nefarious activity from an underground feminist organization. Not to mention, there's a group called "Jennifer" that's murdering bad men. It's a fascinating and horrifying look at the beauty industry and tense relationships between facets of the feminist movement. At the helm of Dietland is Joy Nash who nabbed the plum role of Plum. She's previously had small roles in The Fosters, The Mindy Project and most recently played Senorita Dido in Twin Peaks: The Return. Nash has wanted to be an actress since she was 13, so snagging a role that AMC seems primed to position as a "lady Breaking Bad" is a huge get. But Nash is more than ready to tell this story as she talked with The Credits about the audition process, making people feel nauseous and how Plum might change her life.
How did you get involved with this role? What was the process like?
Well, I did a drop-off. I carried my headshot into the casting office. I saw the breakdown, the posting that said what they were looking for online and I thought, I could do that! I found out where the office was and I went there and that address turned out to be a post office. I did some more Googling and then I found the real casting address. I went there, knocked on the door, and when it opened, the casting associate, I had met at a party like four years before. She'd gone to grad school with some of my best friends and she said, Oh! Joy! You might be good for this. So I was like, that's what I thought! And then she asked me if I'd read the book, and she's like, you should read it. So I drove straight to the library and got it and it was nothing like I'd ever read before. I thought there was no chance that I would get the lead, and I didn't even think I'd be able to get an audition. So, I went online again and I found the audition material and I'm working on it, learning it, and I text this girl, and I say, I know I'm not gonna get an audition so I'm gonna make you a tape, what's my deadline? She said, it'll be Friday and if not, then Monday. And sure enough, on Friday morning I got a text from my agent. I auditioned, and then I auditioned a couple more times and then they gave it to me.
I know that you've been really outspoken about body positivity and other issues like that, when you read the book did you just feel an immediate connection with the material?
Absolutely. I'd never read anything quite like that. Most stories, even stories when the character has an idea about weight loss, this vision of themselves in the future, it never ends up like this, when they're happy with themselves? I felt like it was really special, so I was excited to take a stab at it.
What was it like working with Marti Noxon, she's a TV legend and working on this project that plays so well to her strengths. How has that collaboration been?
I think she's the most brilliant person I've ever met. Nothing she makes is by accident, everything is thought through and on a level that most people would never even get to. But she's so unassuming, like she is happy and sparkling and you just want to be around her. I love that that's kind of a way to be sneaky too, like, you think she's easily dismissible and she's absolutely not.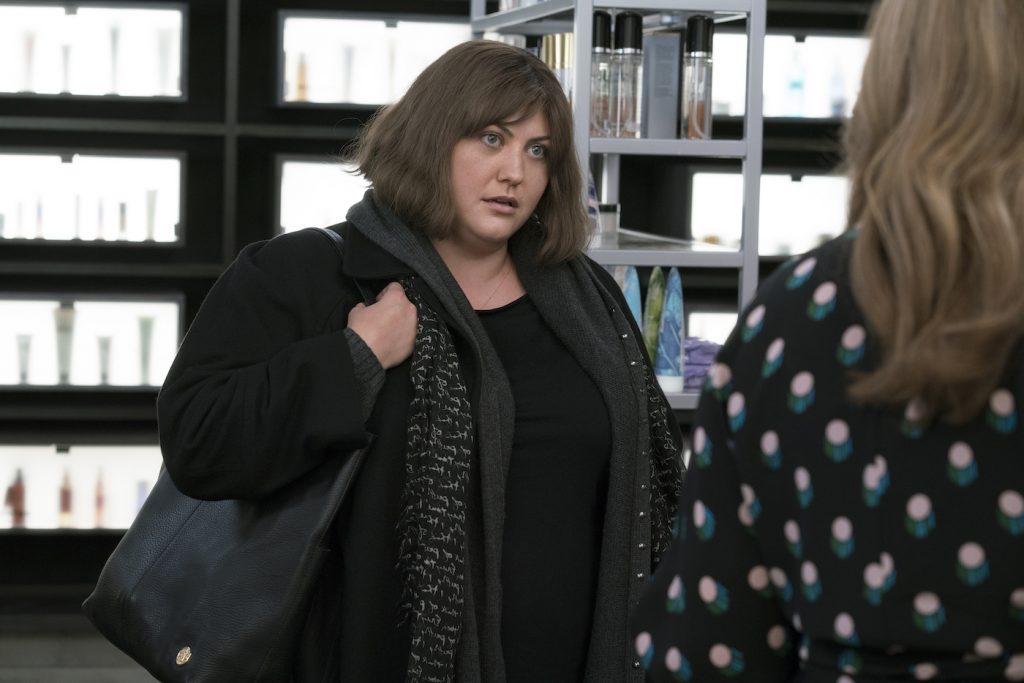 I feel like Dietland is so layered and interesting in the ways that it is looking at feminism from this group that is murdering these men, and then the situation that Plum is getting into with Robin Weigert's character. How have you thought about  the ways it depicts feminism vs. personal choice, identity and personhood. Was that something you really thought about when immersing yourself in this world?
Yeah. I think you're spot on. I love that it looks at it from a lot of different angles. I mean, feminism isn't just one thing. And I think from Plum's perspective, from the Calliope House perspective, and then even from Jennifer's perspective, are three completely different points of view. Plum really goes on a journey and she doesn't get everything right right off the bat, which is refreshing! It was hard at times to play, like I'm saying things I don't believe personally, but that doesn't matter, it's not about me, it's about the character and about the story and people make mistakes.
What are you hoping that audiences get from it?
I hope that it makes them uncomfortable. I hope that it makes them think a little bit. I think even putting somebody like me playing a character like Plum as the focal point of the series, that's not something that we've seen before. Which is really exciting. And I wanna act, why not? I'm just as interesting as so many other people. I think everybody deserves a moment in the sun. Why not Plum?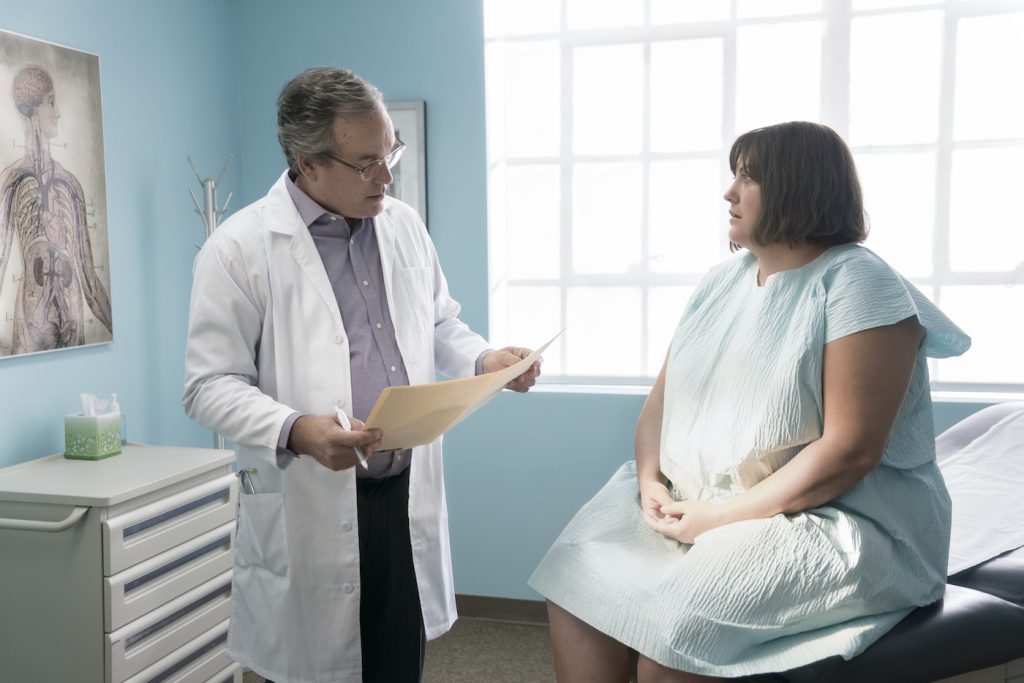 How do you feel people will see the show fitting into the #MeToo movement and the Time's Up movement?
I feel like it fits in really well with it. It's not like it encompasses everything because everybody's experience is so personal, but this is definitely an aspect of that and we absolutely go there. Since that stuff has been so public, and it's in the consciousness, it's cool to be able to live within that.
One of the reasons why I felt so nauseous watching it is I do think unwittingly, it makes you look at your own ideas about beauty standards and media. How do you think how that commentary is gonna come across?
I love that that's how you feel. I feel like that's the point. I want people to feel like they see themselves, and then they… if they don't like it, then they change it if they can. Like if they don't like the way somebody is reacting, or what is taken for granted as normal behavior, I think we should look closer at that.
I really do think Plum is gonna be a character in a Walter White way or something a bit more relatable. What are you hoping that people get from seeing Plum, and a woman like you, at the forefront of this really huge AMC show that is so centric to the female experience?
I mean, that's… the biggest compliment I've ever got. If only Plum could mean as much to people as these other AMC characters. I don't know. It's exciting.
This is such a huge breakout role for you. Are you excited about how your life is gonna change?
I mean, yes and no…  people keep asking me that and I mean, even before I got this part, I was working five jobs, but I was happy! They were five jobs that I loved, and you know, I live in a teeny studio that I love and I don't know that I want my life turned around this year. I'm excited about what we're making and I hope it touches people. I'm excited for the world to change.
Featured image: Joy Nash as Plum Kettle – Dietland.  Season 1, Episode 1 – Photo Credit: Patrick Harbron/AMC