How Superflys' Costume Designer Curated the Sensational Look
Costume designer Antoinette Messam got hired on December 18 to costume the suave hustlers of Superfly and on January 19, cameras rolled in Atlanta. "It was like the fastest production ever!," says the Jamaican-born designer. Getting up to speed in a hurry, Messam went "power-shopping" over the holidays in Toronto, where she loaded up on Fresh Company clothing. She then scoured stores in New York, explored off-the-grid spots in Atlanta and scoured the web for online purchases. By the time filming began in Atlanta, Messam had assembled a jaw-dropping set of outfits sourced from such as labels as Balenciaga, Tom Ford, Gucci, Valentino, Versace, Fear of God, Zara, H&M and Topshop.
Messam put together the wardrobe guided by "Director X," who previously shot music videos for Rihanna, Drake and Kendrick Lamar before rebooting the 1972 blaxpoitation classic. "Director X was very hands on with the look," she recalls. "He really knows his [fashion] lines. When I pulled out a jacket that establishes Priest's character, X said 'Is that Alexander Wang?' He did a promo for them so he recognized the jacket right away."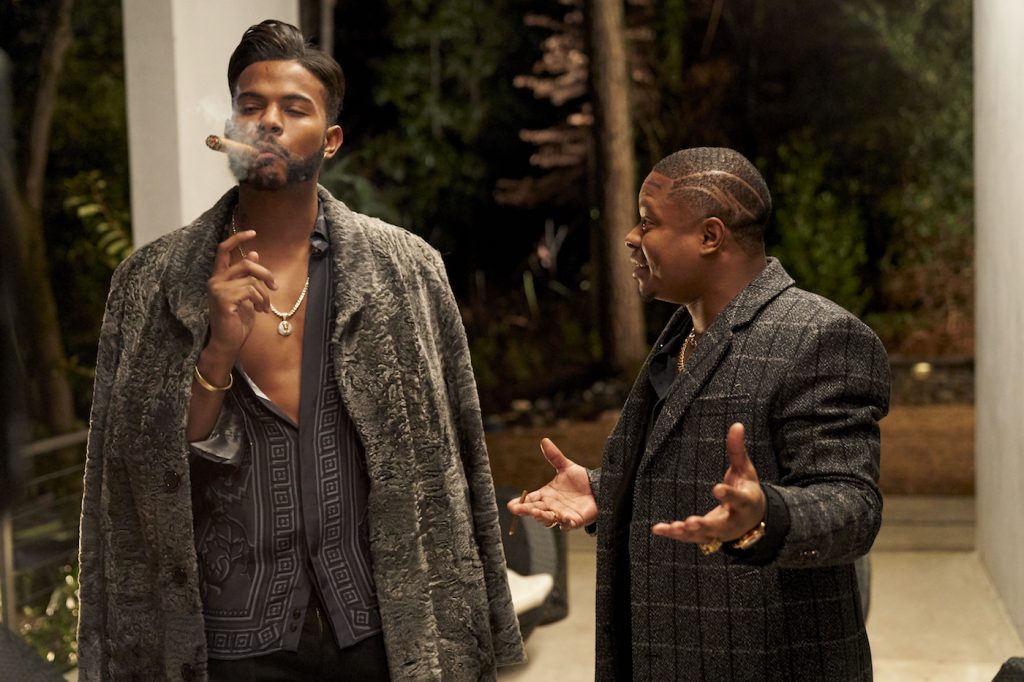 Speaking from Toronto, Messam shared insights about the hip looks that help sell the story of drug dealer Priest (Trevor Jackson) and his crew.
Trevor Jackson Re-invents the Sleek "Priest"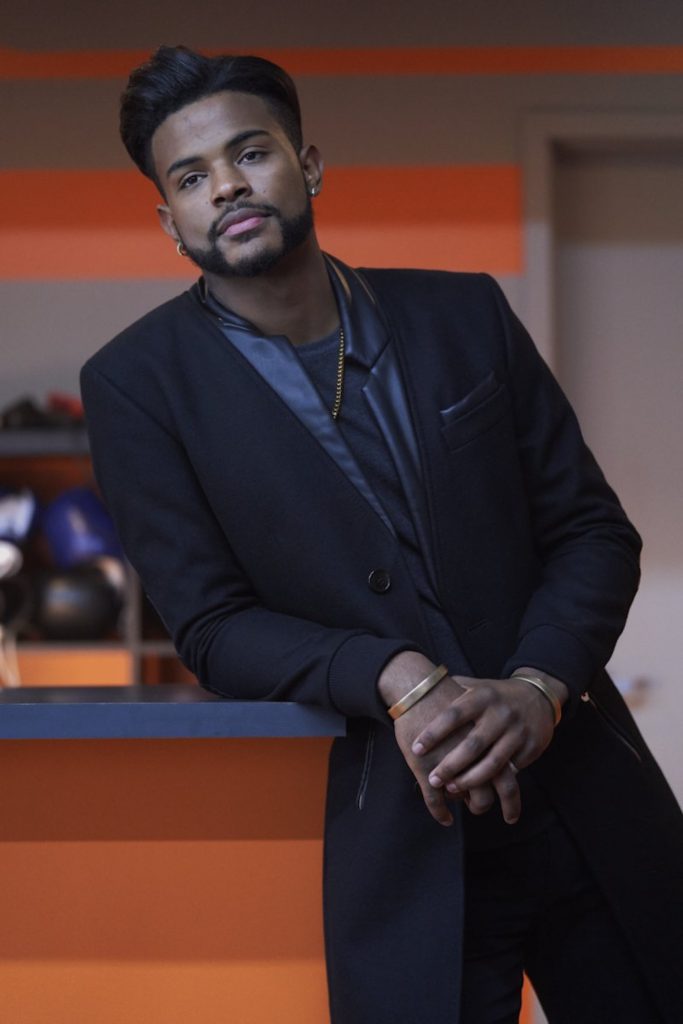 The original Priest, played by Ron O'Neal, famously sported leisure suits and floor-length overcoats, but Trevor Jackson's version of the drug dealer favors a less flamboyant style drawn from AllSaints, Burberry and German designer Phillip Plein. "Priest's clothes are predominantly dark and subtle because Priest doesn't want to bring attention to himself," Messam says. "At one point I do give him a jacket that has color in it, to show his confidence. He's wearing the jacket as he counts stacks of money. But the majority of time, Priest wants to keep a low profile, so the clothes are dark."
Given the tight time constraints, Massam did much of her tailoring on the fly. "Trevor's only 21 playing a 27 year old, and he worked so hard," she says. "I was literally fitting him in between scenes, when the poor baby would be half asleep and I'd be like 'Try this on Trevor,' while I pin and tailor things on him."
Scatter, the Mentor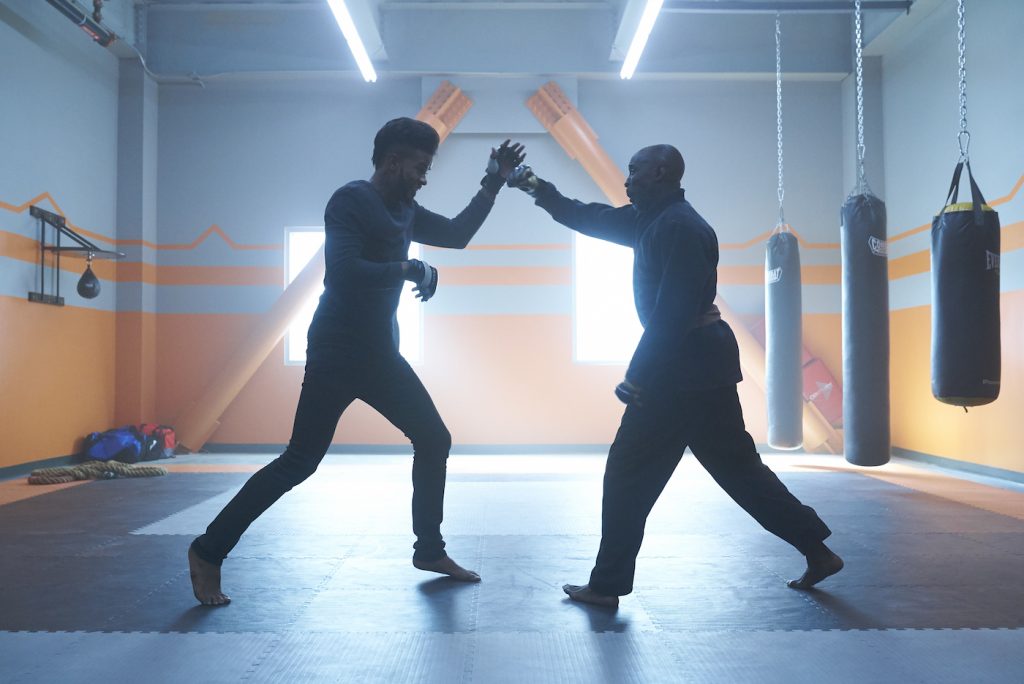 Michael Kenneth Williams plays Priest's mentor Scatter. "There's a bit of old school dandy to Scatter but at the same time he's into martial arts, so I wanted to combine those two worlds," Messam explains. "He can wear a slick duster overcoat and fedora one day, and a stylized track suit the next."
Messam acquired Scatter's track suit from UK athletic wear company Boxraw. "Their stuff isn't even carried in the U.S. but it's really well made, very slim and lean. For Scatter, I wanted a silhouette that was a little more elevated than a traditional two-piece Adidas track suit."
Boxraw contacted Messam after seeing her contributions to Ryan Coogler-directed 2015 boxing movie Creed. "When they reached out to me, I was like 'Tell me what you got?'"
Jason Mitchell's Eddie, a Player on the Make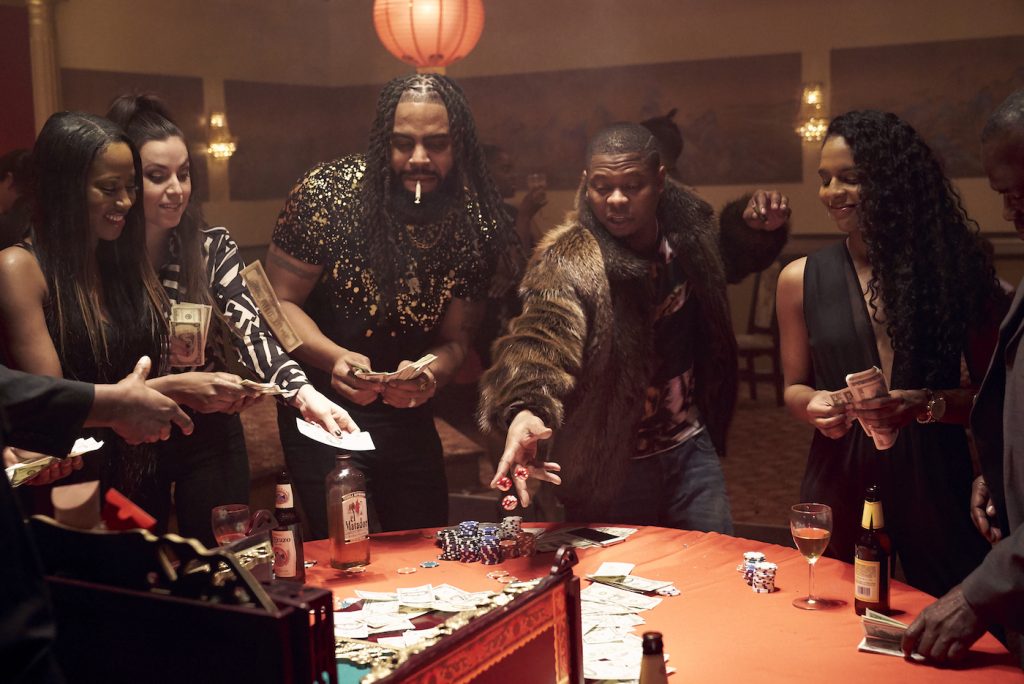 "We first see Eddie wearing a Diesel tee shirt," Messam says. "Later on in the story he's dressed in a bejeweled jacket and splashy watch where he's like 'I've now got the dough and I'm going to put it on my back.'" Messam outfitted Mitchell in GStar jeans and a John Varvatos leopard print leather jacket. "It was important to show a bit of an arc with Eddie, so that's why the clothes change through his storyline."
Getting White With The Snow Patrol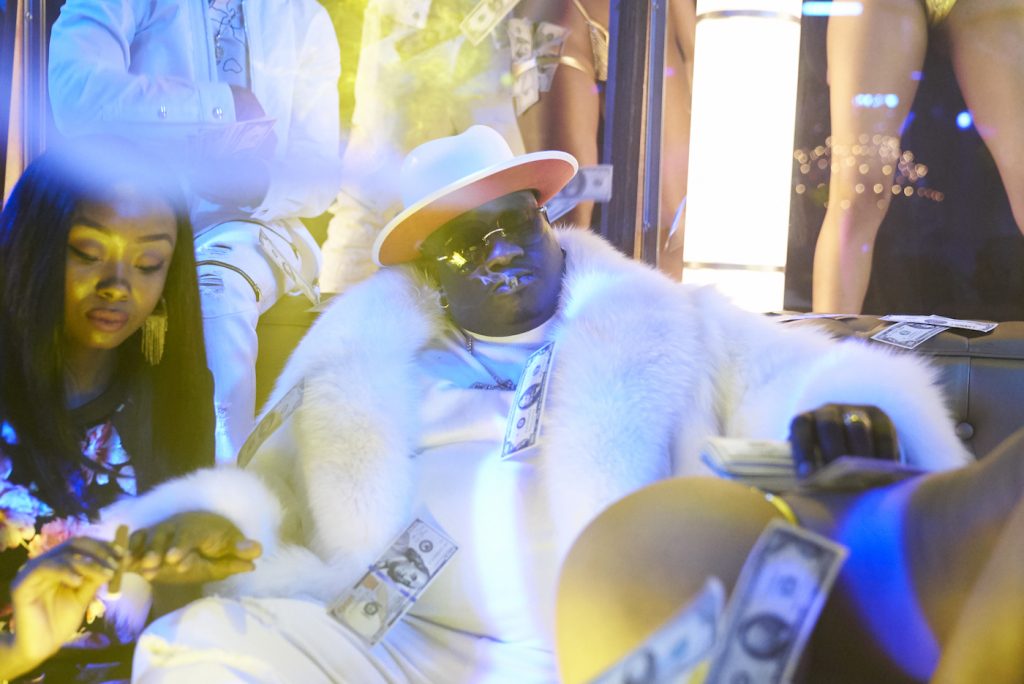 "The look for the Snow Patrol was scripted," says Messam, describing the rival gang that prides itself on dressing in all-white. "When we first talked at the beginning, Diddy was inspiration for the Snow Patrol, representing New York flash and opulence," Messam says. Taking design cues from Pharrell Williams' fashion line Billionaires Boys Club, she dressed one Snow Patrol member, played by rapper Big Bank, in fluffy fur coat and fedora. "Later on I found out, Big Boi has that hat, Bank has that hat, King Luther has that hat. It's very much an Atlanta look.
The Elegant "Georgia"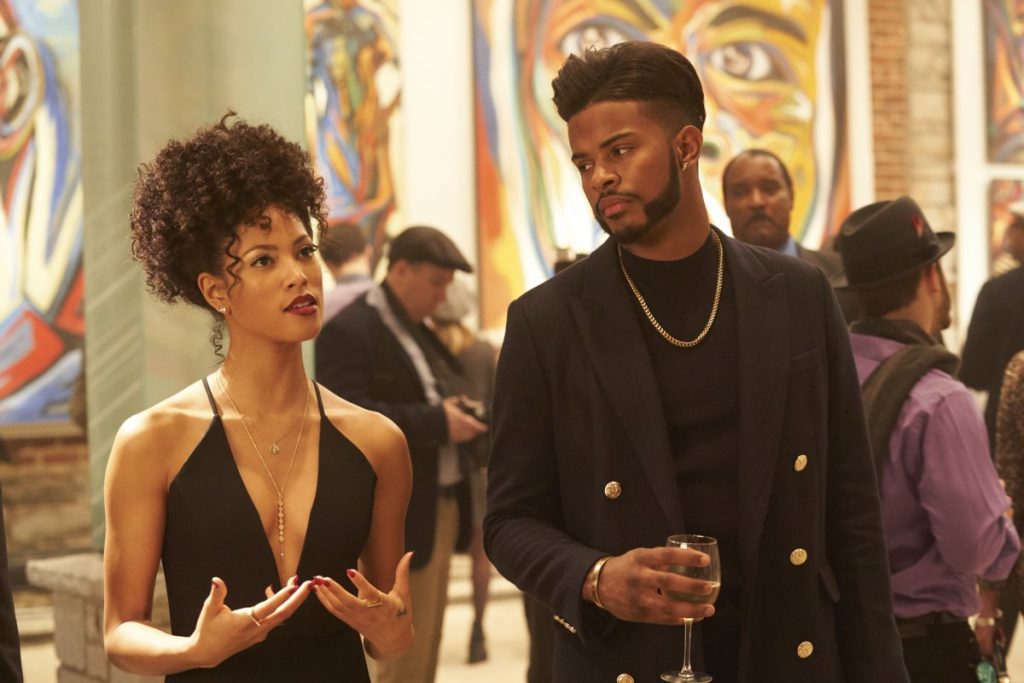 Lex Scott Davis plays Georgia, a sophisticated gallery owner involved with Priest. "I wanted Georgia to have a maturity about her. She very classic with a bit of glam, dressing in fur coats and elegant, sexy pantsuits. We also have the scene at a strip club where Georgia's wearing a micro mini, but when she's in her gallery with the mayor, there needs to be a feeling of strength there: 'I am the owner of this gallery and not just a club girl.'"
Taking Inspiration from the Original
Messam fondly remembers taking in the stylish street energy emanating from the original 1972 Super Fly. "I had a VHS copy in my collection of Blaxploitation films, which I loved to watch because I loved the fashion. I remember Curtis Mayfield's great music and the way Ron Neal carried himself. To me that movie felt like an accurate portrayal of Harlem during that period. I took away from it a desire to pay homage to Atlanta by reflecting the community through the costumes."
Featured image: Jason Mitchell and Trevor Jackson in SUPERFLY. Photo Credit: Quantrell D. Colbert. Courtesy Sony Pictures.