Get to Know GALECA: The Society of LGBTQ Entertainment Critics
When entertainment journalist and critic John Griffiths founded the Gay and Lesbian Entertainment Critics Association in 2009, the group, now known as GALECA: The Society of LGBTQ Entertainment Critics, had 20 members. Today, it has a membership of nearly 200 writers, including myself, who cover film and television for print, online and broadcast outlets and honor the best in entertainment every year through the Dorian Awards.
"There are tons of critics groups. I think there's probably fifty across the country. But we do stand out because we're one of a handful of national groups that cover film and TV. We also have a few members in the UK and in Canada," says Griffiths, who holds the title of executive director and founder of GALECA, an all-volunteer organization. Based in Los Angeles, Griffiths spent 14 years as the television critic at Us Weekly. Griffiths's resume also includes stints at People and The Advocate.
"Anyone who is a professional entertainment journalist who covers film and/or TV for a reputable outlet is encouraged to apply to GALECA," he says, pointing out that not all members of the group are LGBTQ. "We've got more than a handful of allies. Our vice president, John Esther, is a married straight guy who happens to be film editor for Lesbian News."
The mission of GALECA is always expanding, Griffiths says, but he initially started the group nearly a decade ago for a few key reasons. For starters, Griffiths, who is gay, hoped that an organization made up of out and proud LGBTQ writers would serve as inspiration for at-risk LGBTQ youth. "We have all been chastised for who we love and our identities, so I wanted to remind the world, to remind kids that are kicked out of their houses by their parents for being gay that we're here," he says. "It may be a small thing, but if a kid reads a story about a gay film in Entertainment Weekly, or an actor talking about winning a Dorian Award on TV, that helps."
Griffiths also wanted to provide support to LGBTQ writers covering entertainment. Any writer will tell you it is a difficult time to work in media these days with all of the consolidation and shrinking budgets. "I thought it would be beautiful to have a group where we could support each other and give tips on magazines and outlets that actually pay and share job leads, to give each other security, a feeling of fellowship and camaraderie in rough seas," Griffiths says. "I don't think many in the Hollywood machine realize how poorly all entertainment journalists are paid, even staffers—unless it's a major publication like Entertainment Weekly."
Still, the members of GALECA are devoted to covering entertainment and celebrating the best work in film and television through the aforementioned Dorian Awards. While the Dorians feature categories including LGBTQ Film of the Year and LGBTQ Television Show of the Year, the awards are not limited to LGBTQ content and performers. "We love all entertainment," Griffiths stresses, pointing out that Argo and 12 Years a Slave are among the films that have won Film of the Year.
Aside from the standard categories, the Dorian Awards also have unique categories like Campy Flick of the Year, Unsung Film of the Year and various LGBTQ categories "that aren't about representation but rather entertainment value," Griffiths says.
After the awards are announced each year, GALECA hosts a Dorian Awards Winners Toast in Los Angeles. Last year, Call Me by Your Name won Film of the Year. "The producers [Peter Spears and Howard Rosenman] and André Aciman, who wrote the book [on which the film, written by screenwriter James Ivory, is based on], were all kind enough to attend our awards," Griffiths says. Other past winners, including the likes of Lisa Kudrow, Jane Fonda and Ian McKellen over the years, who weren't able to make the event, have sent emissaries to accept their awards, or at the very least lovely thank you notes to the organization.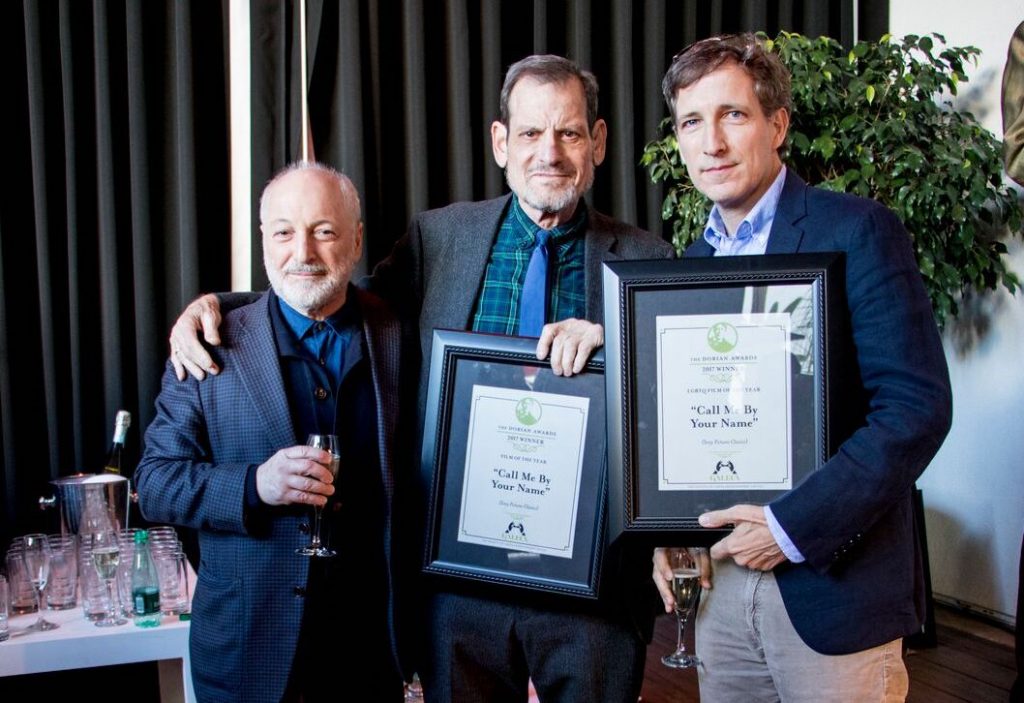 While more and more people in the film and television industry see the value of supporting GALECA and the Dorian Awards, GALECA members don't always get the access to film screenings, television screeners and celebrity interviews they need to do their jobs. "It's disappointing. There's work to be done for sure. There are still people that need to be educated, to be told that gays like everything—spy capers, superhero movies. They should take advantage of the fact that we're influencers,  and we spread the word. If you don't include us in your awards season outreach, you're going to miss out on benefitting from our group's special eye," Griffiths says.
Griffiths has nothing but praise for supportive film studios, television networks and streaming services, including A24, Lionsgate, Paramount, Fox, Fox Searchlight, Magnolia Pictures, IFC/Sundance, Focus Features, The Orchard, Hulu, Netflix, Amazon and NBCU as well as Logo, FX and Starz, that reach out to LGBTQ writers and critics and provide the access they need. He adds "a special thanks to awards guru Lisa Taback and her team at LTLA as well as the awards PR team at Ginsberg/Libby."
Some news to share: Recently, the GALECA board decided to split the timing of the Dorian Awards film and TV awards. "Our Dorian film awards winners announcement, and our actual winners toast ceremony will now come in January and our Dorian TV awards announcement/event will be in June," Griffiths says.
One of Griffiths's goals for the Dorian Awards, which have been written up in trade publications like Variety and the Hollywood Reporter, is even more exposure. "We hope to bring our Dorian Awards Winners Toast—and a few related concepts that would utilize our members—to TV," he says.
Featured image: Transparent's Bradley Whitford and Amy Landecker with GALECA's John Griffiths at the 2016 Dorians Winners Toast. Photo credit: Christopher Stewart