Sweetbitter Creator Stephanie Danler on Adapting her Award-Winning Novel for TV
Sweetbitter portrays a side of restaurants not often seen in mainstream media—delicate, sensual, feminine. The Starz TV show, based on Stephanie Danler's award-winning novel of the same name, premiered Sunday, May 6.
As executive producer, Danler trades her lyrical sentences for powerful visuals. States of loneliness, intoxication and longing are portrayed in many ways, though most perceptively on star Ella Purnell's face, best known for her role in Tim Burton's Miss Peregrine's Home For Peculiar Children.
"I feel like she has these eyes that are able to show you the melancholy and excitement of being alone in the city for the first time in your life," Danler says.
Purnell plays Tess, 22, who arrives in New York City a blank slate. She lands an "invitation" to train as a backwaiter at 22W, an upscale Manhattan eatery. Here, her worldview tilts. Her sensory awakening begins.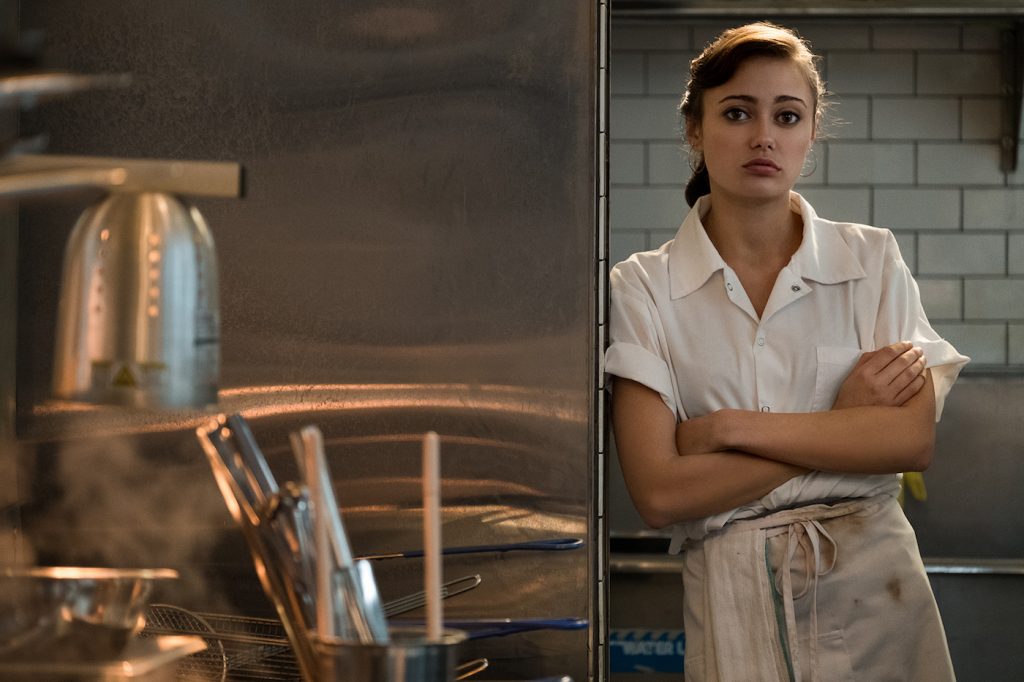 The restaurant is modeled on Danny Meyer's Union Square Café, where Danler also began her first job in New York City in 2006. Danler threw herself into food, wine and hospitality for the next 9 years, managing beverage programs and opening two restaurants. Meanwhile, her vision for Sweetbitter played out in her mind.
While the book's plot unravels over the course of a year, Danler and Executive Producer Stu Zicherman (The Americans, The Affair, Six Degrees) made the conscious decision to slow down the pace of storytelling to focus on Tess' arrival in New York City.
The undercurrent of Sweetbitter is desire. Food becomes Tess' gateway to existential cravings. Eventually, the sometimes self-destructive young woman, who is developing her palate and identity, will test her boundaries—with sex, cocaine and staying out till dawn.
One of Danler's most detested expectations of readers concerns the likeability of a lead female character. Tess' naivety can be unnerving. Her morally ambiguous decisions frustrating. And that's why she's interesting. Before they began shooting, Danler took Purnell to lunch and told her: "The death of the show is if you try to be likeable as Tess."
In the premiere episode "Salt" directed by Richard Shepard (The Matador, Dom Hemingway, Girls), we meet the main characters and the objects of Tess' infatuation. Tess is immediately drawn to Simone's finesse and command of the room. During a pre-service blind tasting, the senior server and resident wine expert, played by Caitlin Fitzgerald (Masters of Sex, Rectify), pinpoints a Côte de Nuits down to the village, Gevrey-Chambertin, and vintage, 2000.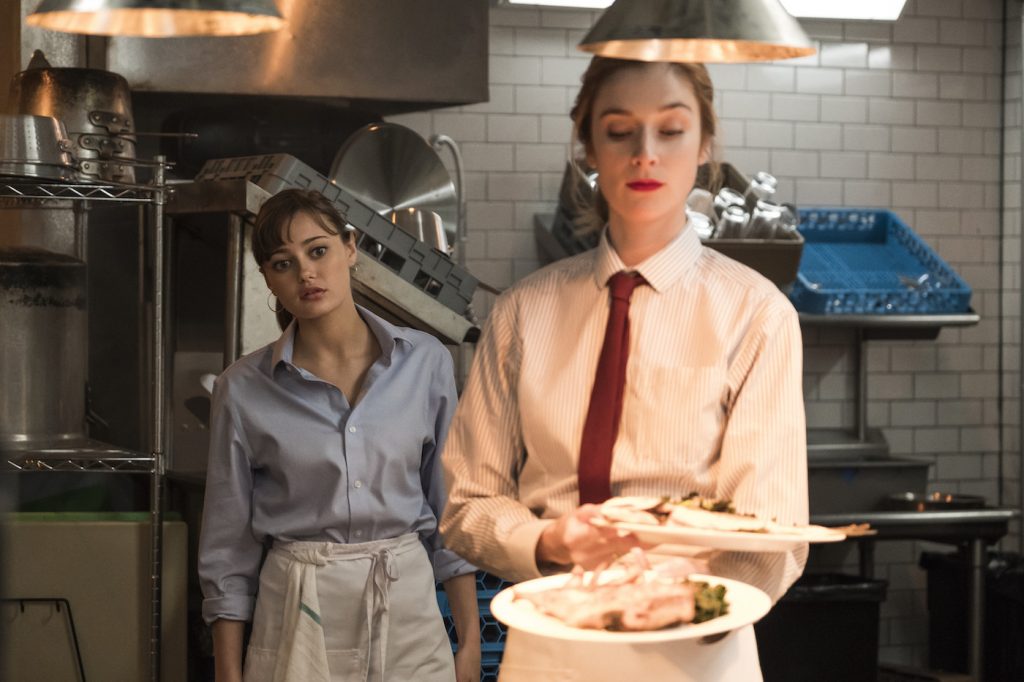 Tess' next point of attraction: Jake, a sullen bartender played by Tom Sturridge (The Hollow Crown, On the Road) who has a mysteriously intimate connection with Simone.
While Tess' yearning for Jake is central to the show, the backbone of Sweetbitter is the relationship between two women. "It's a genuine female friendship that will transform both of them. It's a love story in a lot of ways with all of the complexity," Danler says. "There's something very pure between the two women; they're kindred spirits. But of course, that sort of intensity lends itself to competition as well."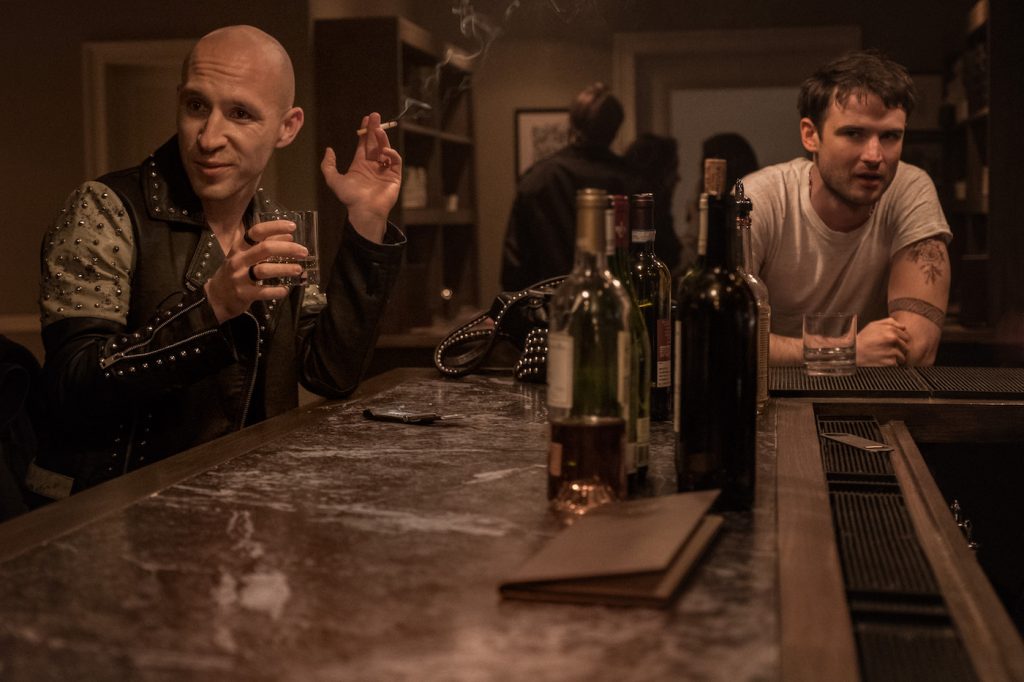 In Simone, Tess recognizes the person she can become.
Season one's six episodes cover Tess' first two weeks of training and her intimidating introduction to the restaurant world. From behind-the-scenes prep to service to after-hours shift drinks—when coworkers don their street clothes and take off their masks—the show captures the seduction of restaurant culture. In episode one, we get a preview of new girl's future initiation into the restaurant clique when she earns the diminutive yet affectionate nickname "Baby Monster" from Sasha, a gay Russian server.
In a future episode, in a particularly tense scene, Tess observes as Simone serves a former co-worker, who has married a regular and returned to dine. Polite catching up quickly turns to subtle mocking, and their strained exchange exposes the flaws in each other's paths. "I think, ultimately, what we explore in the episode is that both of them are trapped—Simone, by the restaurant, and Serena, by the marriage. So, 'is there a way to avoid these traps' is the question that I put on Tess," Danler says.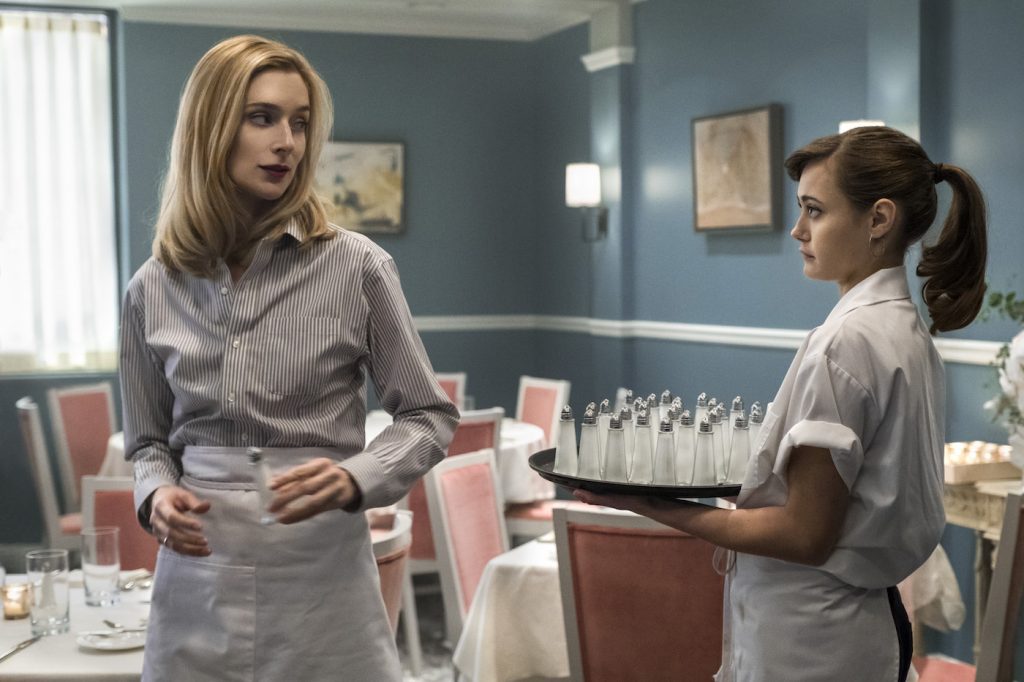 In a city like New York, more creatures like Simone exist, Danler explains. Simone has chosen a different path—not to be married, not to have children, and also not to pursue a hugely ambitious career. Instead, Simone values her time, her artistic freedom and her money. "She's created and curated her own life outside this sort of hetero-normative box," Danler says.
Every episode, aside from Episode 5, is based on a major moment from the book. The scene that most stands out to Danler is the late-night feast in China Town, when the staff are discussing their last meal. "It's that feeling of inclusion and that particular New York feeling where the night doesn't have to end," Danler says. "You can be in a fine dining restaurant one second, and another in a neighborhood filled with non-English-speaking Chinese immigrants, eating the best food of your life. That's what makes New York so special."
Nearly every interaction in Sweetbitter contains suggestions below the surface. "There are so many ways to create tension and arousal and eroticism without nudity, and I think we took advantage of most of them. But, a huge part of the book, is a sexual awakening— with all of its complications and missteps," Danler says.   
Danler has spoken at length about sexual politics in the workplace—particularly about the unregulated restaurant industry in 2006. "We are really dealing with everything—from workplace romance and consensual flirtation to microaggressions to really morally questionable, objectionable abuses of power," Danler says. "And now I have a television platform with which I can continue to talk about these stories and not pretend like they didn't exist and don't still exist today."
When writing the script, Danler took a lot of inspiration from dramedies that raised questions about sexual identity and politics, such as Transparent. "That's not an erotic show. No one watches Transparent for titillation, but it does provoke conversation, which I'm excited to be a part of," Danler says.
Danler praised Girls producers Lena Dunham and Jenni Konner did, as well as the way The Girlfriend Experience takes a provocative look at female sexuality. "It's not necessarily the most relatable, but it's very bold and it had me asking a lot of questions," Danler says.
Sweetbitter is less brazen, but realistic. "It's not the loudest show on television but I think it's really honest," Danler says.
Featured image: Stephanie Danler (Executive Producer, Creator), Ella Purnell (Tess)