How The Voice Production Design Inspires Musical Creativity
Tonight, Spensha Baker, Britton Buchanan, Brynn Cartelli or Kyla Jade will be crowned the newest winner of The Voice. Whether you're Team Blake, Team Alicia, Team Kelly, or even Team Adam, The Voice is always an inviting place to spend time every week. The talent is astonishing, the rivalry is riotous, and the environment is electric. Production designer James Pearse Connelly is responsible for transforming a singing competition into a glamorous music haven where dreams are born. The spaces he creates are vibrant, inviting and imaginative, stoking the creativity of the artists.
"We're going on these soundstages and it really is a docu-series following the journey of an artist competing in this shiny show," Connelly explained. "Los Angeles and Hollywood is a little romanticized. There is a definitive branded flavor to The Voice that is a through line throughout the entire show."
The production design of The Voice captures a musical fantasy. Connelly has somehow collected the idealistic vision fans harbor of show business and manifested it on stage. In reality, rehearsal rooms and backstage lounges are often grungy side rooms made of cinder blocks. On The Voice, these spaces are open, airy, and rife with creativity.
"Overall from a production design standpoint, it's really about setting the tone and creating the brand," Connelly said. "Backstage doesn't really look like that just as an overall note."
Universal Studios Hollywood is one of the few production sets that is open to not only a live audience, but also constant tours of the lot. Serving as the crown jewel of the Universal Studios theme park, The Voice set functions as not only a soundstage for filming, but also a tourist attraction. As a result, Connelly's designs have to be truly immersive and not a single detail is spared.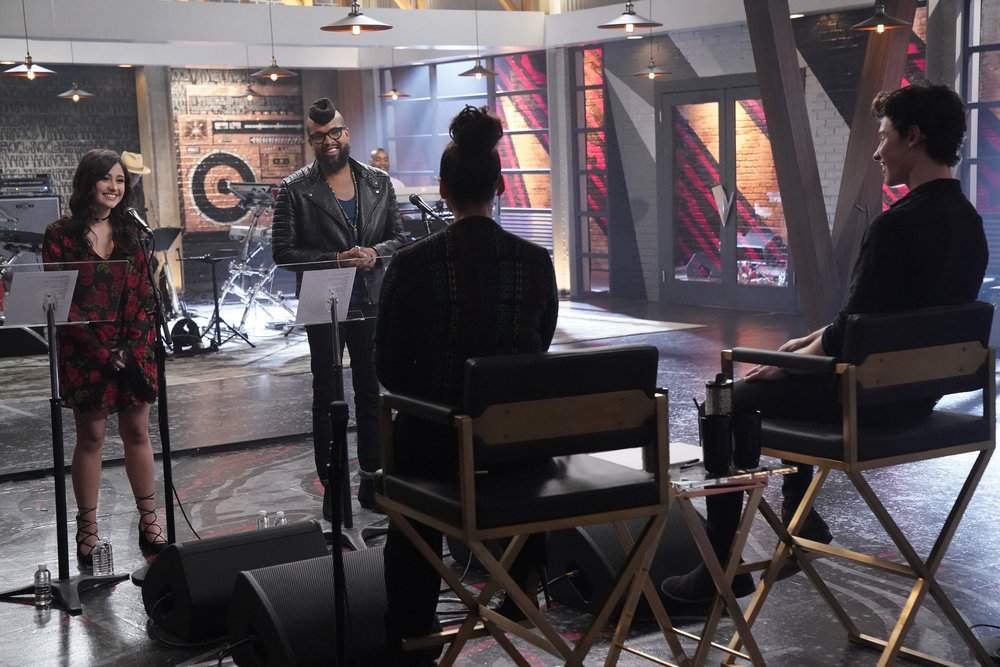 "If you take a peek inside a loading door, or there is a big stage light, or some suitcases, these are really incredible things that the world doesn't get a chance to see all the time," Connelly said. "I try to take a peek almost every day at what are those special, iconic Hollywood things that I could bring into the show."
Editing techniques make reality TV sizzle and crack, but in reality, filming often involves a lot of waiting. To create spaces where the coaches and contestants could work and sharpen their craft, Connelly turned to more common spaces designed for everyday life.
"You look around your world and any kind of lobby or waiting room or dentist office or your office, there is always a little seating vignette," Connelly noted. "There is a relatability in every interior you go to. There is a couch, a place to kick your feet up. Why shouldn't that be in these spaces? Why does it have to be so sterile and so TV show? I think it's just a great way to warm it up and feel a little bit more at home and provide a sense of style."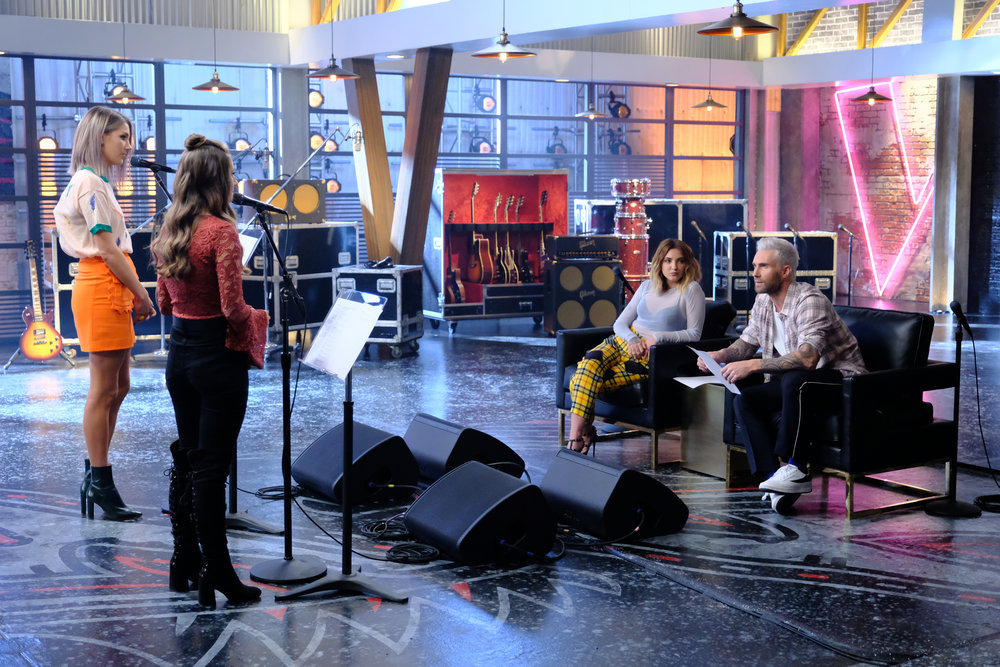 While Connelly's designs are welcoming and familiar, they're also on the forefront of design trends. His Instagram feed, @jpconnelly, is filled with design ideas. In fact, Connelly has likely inspired a few fads. His spaces on The Voice look like trendy slices of Nashville that have been transported to LA.
"I feel like I helped influence and push a resurgence in wood paneling," Connelly said. "I was using it everywhere. From there, you just try to mix in a little bit of neutrals and look at some hotel design and new chic bases and put it in a blender and put it out there."
Coaches on The Voice have hailed from every corner of the music industry. Regulars Blake Shelton and Adam Levine tick the country and rock boxes, respectively. Alicia Keys and Jennifer Hudson have covered contemporary soul, Pharrell Williams and Cee Lo Green captured hip hop, Gwen Stefani has represented ska, and Kelly Clarkson and Miley Cyrus have offered their pop expertise. Connelly has been able to create dynamic spaces that are representative of all the artists by honoring what unites them.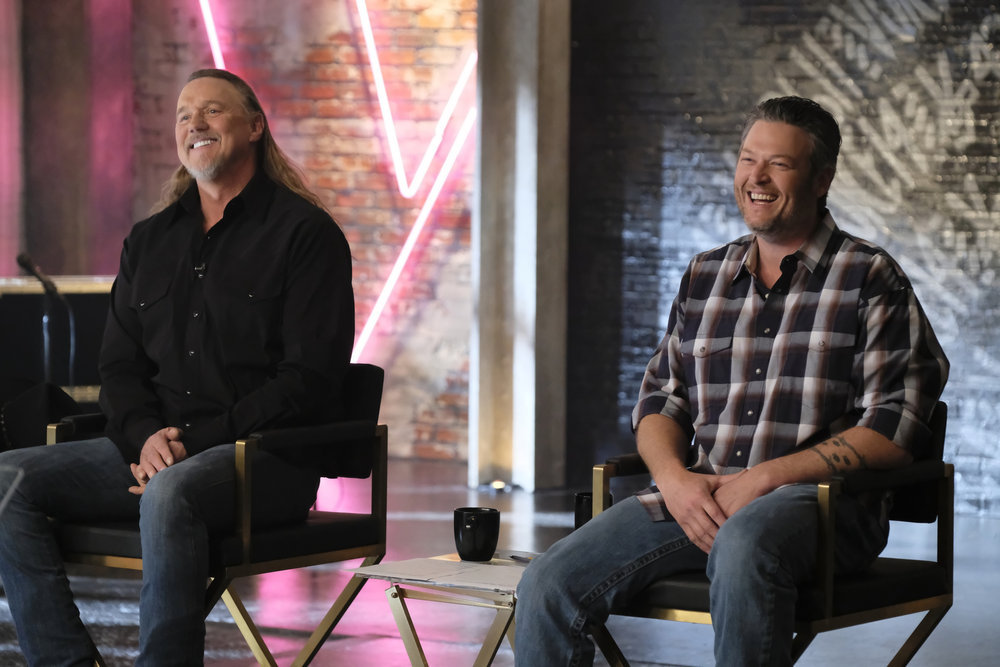 "Lately, I ask myself, what does music look like?" Connelly explained "What does a place look like where you can create real, original music, or the spirit of a music competition. I started off looking for warm tones and the color palette inspired by the instrumentation. The woods of a guitar and the brasses of the brass section of an orchestra and the wood of the violin and the whites of drums and the shiny chrome of snare drums. I was taking all my color palettes and textures from musical instruments. Lucky for me, brass and chrome were on trend."
The Voice has grown to fill the sets Connelly has created, and in turn they shape the show's atmosphere. Despite being a competition, The Voice is the most uplifting, supportive, and inspiring music show on TV. That mood is thanks in great part to the tone Connelly sets.
"If you put personality in environment, you're going to end up with behavior," Connelly explained. "This equation that the architects use. I like to think about that all the time. In a way, your environment and production design become the script for a show. I use it all the time and I analyze that all the time when I rewatch my shows."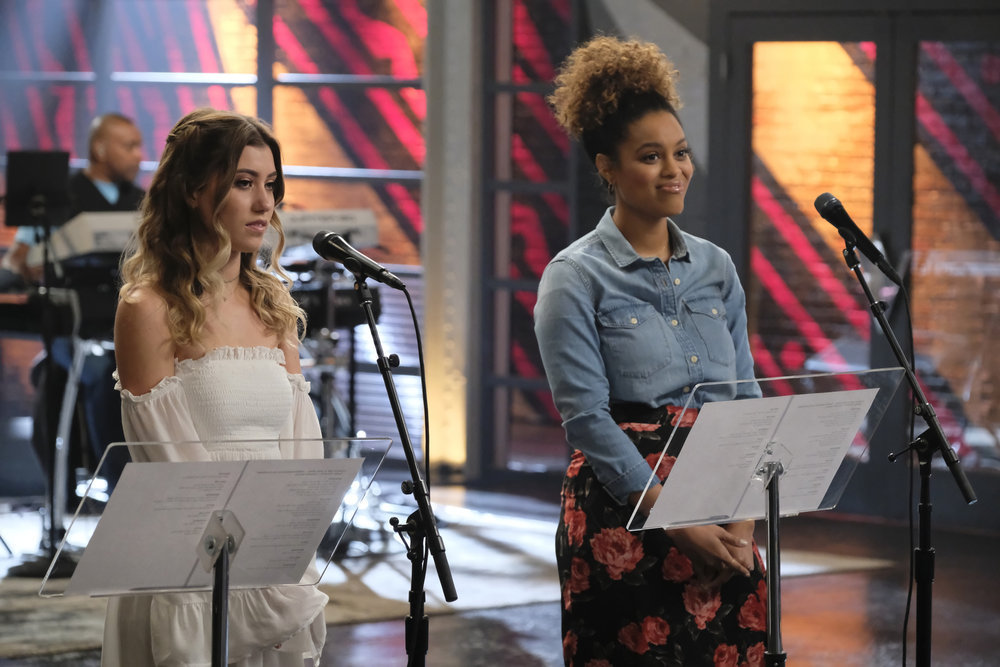 The Voice closes season 14 tonight and Connelly will move on to NBC's newest reality show, Making It premiering this July. The crafting series, hosted by Amy Poehler and Nick Offerman, called for a southern touch. Connelly found inspiration while visiting family in Charleston and created the perfect crafting cottage.
"We had to build a barn in the middle of a field here in the valley," Connelly recalled. "It was an 85-foot by 50-foot craft barn with brand new construction. It had a foundation and power and air conditioning. We were basically building a soundstage. I took it all from personal experience down in Charleston. It just sort of strikes you. If the feeling is right there and it looks like the show, you may as well grab a photo and see what you can put into it. Chances are other people will see the same thing."
But for tonight, all eyes will be on the Voice set where another dream will come true. For Connelly, his hard work and vision will live on from season to season for fans to enjoy.
"Universal Tours asked me with to wrap The Voice stage with a hand painted mural so they can point out the stage for the tours, as well as provide scenery for our show," Connelly explained. "Every time I see that from the parking lot, I'm reminded how lucky I am to be here and what an experience The Voice has given me. What Los Angeles and the Hollywood dream is really about wakes me up. I don't take it for granted."
The Voice season finale airs tonight on NBC at 8/7c.
Featured Image: THE VOICE — "Live Finale" Episode 1419A — Pictured: (l-r) Kyla Jade, Blake Shelton — (Photo by: Tyler Golden/NBC)