Five Major Questions After Westworld's Beguiling Episode "Virtú e Fortuna"
The third episode of Westworld's ripping second season, "Virtú e Fortuna," was a riveting, fairly tightly plotted affair. This being Westworld, it answered some questions while posing many more. The main thrust of"Virtú e Fortuna" was the robot revolution, led by Dolores (Evan Rachel Wood), and now enveloping a good portion of the Westworld park. Yet "Virtú e Fortuna" also seemed to suggest that the unrest in Westworld is hardly contained to that one park's dusty borders. The episode also featured Dolores's reunion with her host father, Peter Abernathy (Louis Herthum), who Bernard (Jeffrey Wright) learns contains a mysterious, highly coveted encrypted information in his code, something that the Delos Corporation will stop at nothing to get. And finally, there was the reveal of The Raj, also known as Park Six, which was briefly hinted at in the season two premiere when Ashley (Luke Hemsworth) came upon that dead Bengal tiger and said to Bernard, "We have Bengals in Park Six, we've never had a stray cross park borders." It seems all the borders in Westworld are dissolving.
Let's get to our questions!
Does The Raj reveal that the host revolution is happening throughout every one of the parks?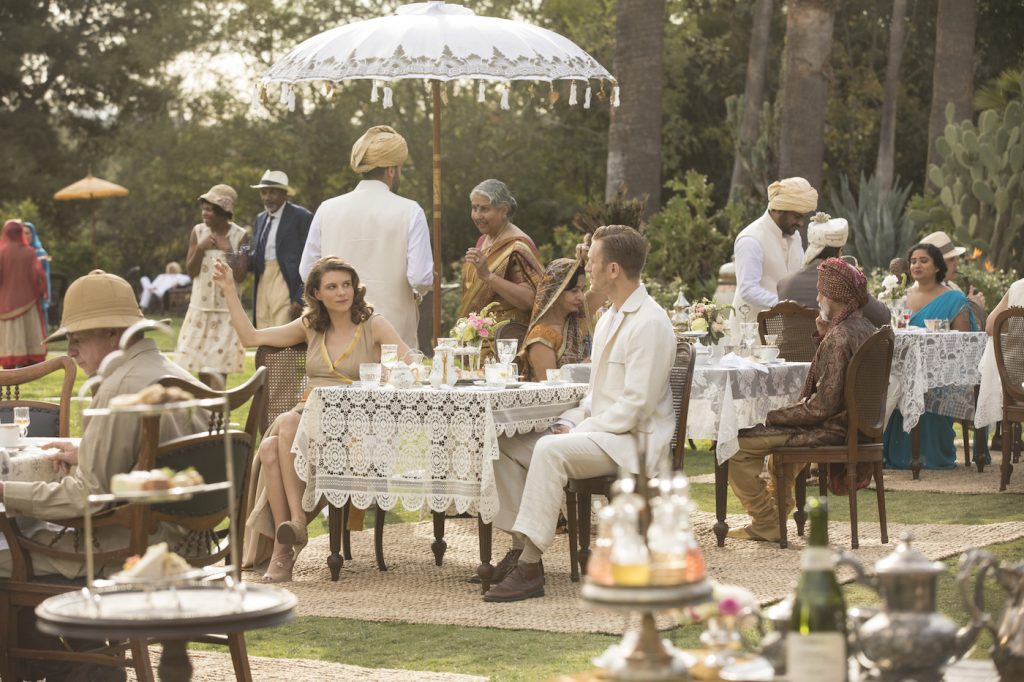 Talk about a bold cold open. Suddenly we seem to be in India during British rule, where two attractive, monied individuals meet at a fancy garden party and proceed to have a very Westworld-ian romance. Nicholas (Neil Jackson) must prove to Grace (Katja Herbers) that he's not a host. The proof is secured at the business end of a pistol. Yes, we're in Park Six, or Raj World, and it appears that the revolution happening in Westworld has spread. Grace manages to survive both the murderous hosts and that Bengal tiger, but when we find her still alive by the episode's end, washed up on the shores of Westworld (along with the dead tiger), she's greeted by a contingent from the Ghost Nation. What does it mean that the hosts in the Raj have also gone on a murder spree?
Is Maeve's control of the hosts slipping?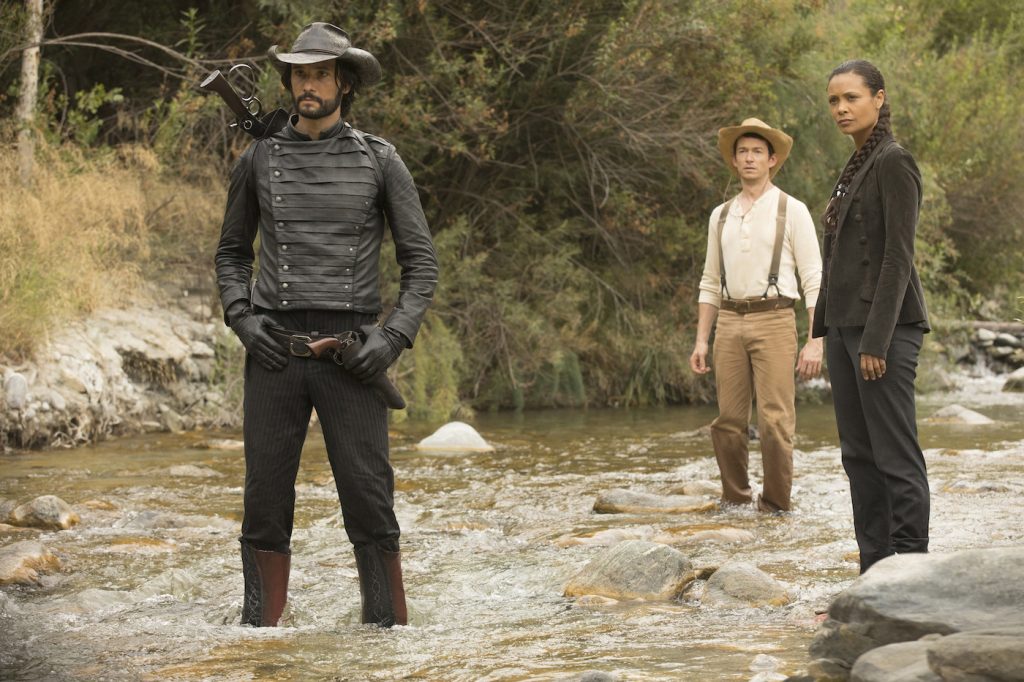 For a while there, Maeve (Thandie Newton) seemed to be the most powerful host there was. She charged through the final few episodes of season one essentially making herself a super robot, increasing her intelligence (among other attributes) as well as her ability to control other hosts simply by telling them what to do. Yet in "Virtú e Fortuna" Maeve's ability to dictate terms to other hosts fails her, and it might have something to do with her past. As she, Hector (Rodrigo Santoro) and Lee (Simon Quarterman) are crossing a river, they're approached by members of the Ghost Nation. Maeve is immediately returned to the moment in her "past" when they surrounded her house and, eventually, murdered her. Maeve tries to tell the approaching Ghost Nation member to stop, but he only pauses briefly before pursuing them. Is she losing control?
What's the deal with Peter Abernathy?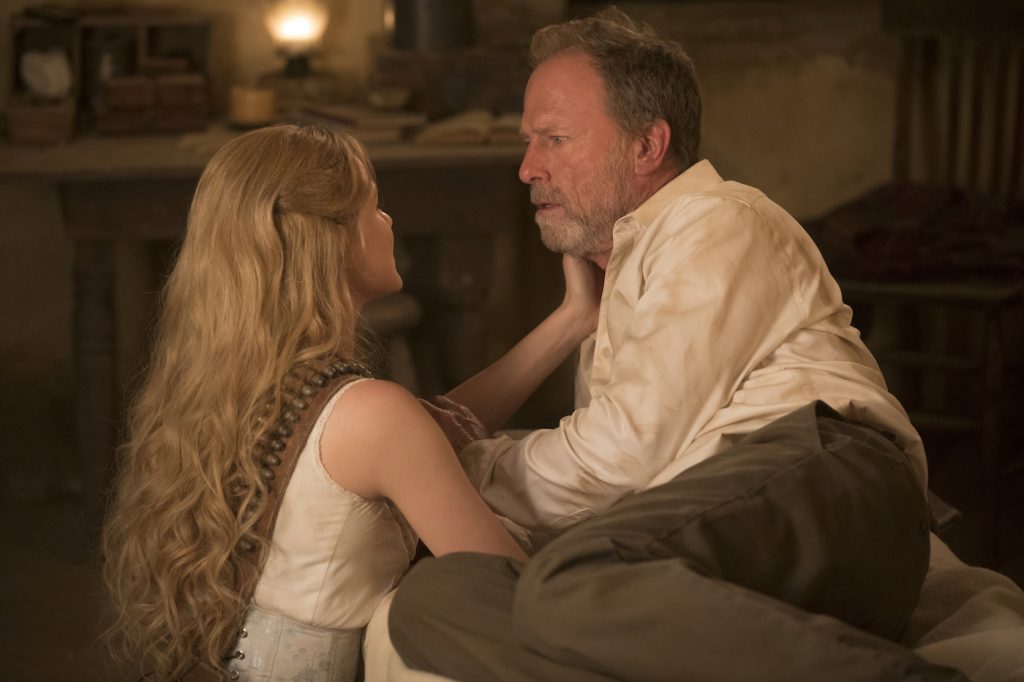 Dolores's dear old dad has long been a mysterious key in the Delos Corp's plans, and in "Virtú e Fortuna" we learn that not only are their plans literally inside of him, but that they don't even need him alive to get what they're after. This is revealed when Charlotte (Tessa Thompson) suggests that she and her Delos swat team simply "cut off his head and go." What kind of information could he be storing where Delos doesn't even need him functioning to retrieve it? Is it a massive trove of surveillance footage from everything every human has done in the park? Is it all the collected DNA information? Why can't they get it remotely?
Does Dolores intend to turn people in the real world into hosts?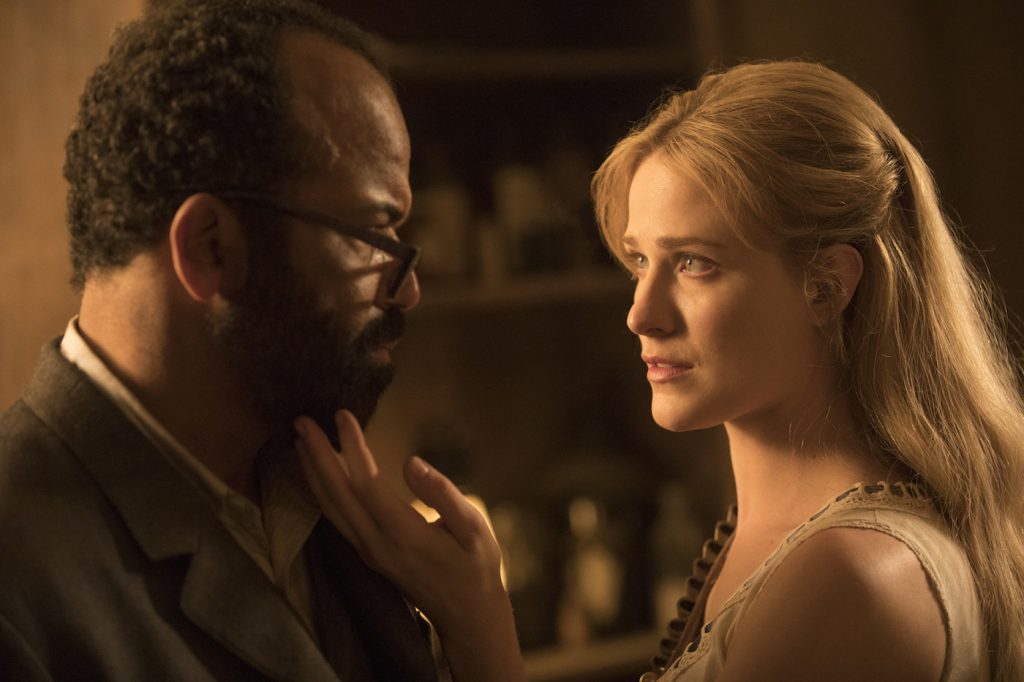 Dolores seems surprised to find out that poor Bernard doesn't realize he's the host version of a former real person, park co-founder Arnold Weber. Bernard has no knowledge or memory of the real world, but we know that Dolores sure does. In fact, her memories of the human world revolve around her time spent with Arnold, and this makes her the only host with any real understanding of what the world outside the park is like. When she tells Teddy what her plans are for them when they breach their fictional world and enter the larger realm of the humans, is she suggesting that she do to them what they have done to Bernard—turn humans into hosts? Is this her ultimate plan for gaining control over the real world?
How come Westworld and Shogun World aren't separated by more intense barriers?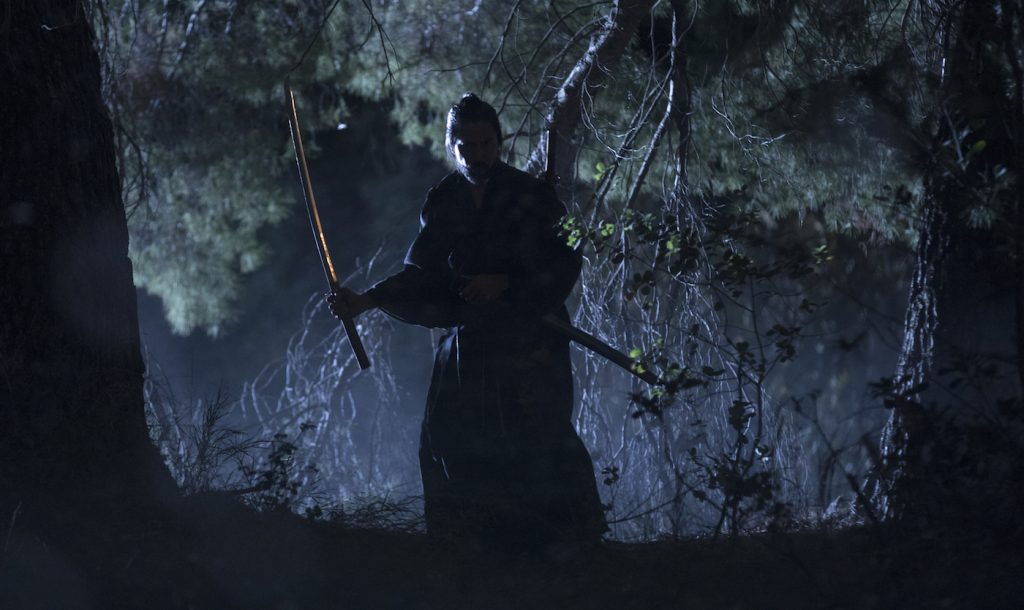 "Virtú e Fortuna" ended with Maeve, Hector, Lee, Armistice (Ingrid Bolsø Berdal), Lutz (Leonardo Nam), and Sylvester (Ptolemy Slocum) stumbling into Shogun World, with the episode ending as a Samurai quickly advances. The Raj was separated from Westworld by a cliff and a body of water, but the snowy Shogun World, based on Imperial Japan, is reachable by foot. Are the walls of the parks disintegrating? Is there a reason these two parks don't seem separated by a more intense boundary?
Finally, here's the teaser for episode 4, "The Riddle of the Sphinx," which will feature the Man in Black (Ed Harris) teaming up with Major Craddock (Jonathan Tucker), who Teddy (James Marsden) foolishly let live despite Dolores commanding him to put him down. This will likely come back to haunt poor Teddy, as everything seemingly does.
Featured image: Evan Rachel Wood, James Marsden. Photo: John P. Johnson/HBO