Costume Designer Phoebe de Gaye Brings Killer Style to Killing Eve
In the role of the international assassin known as Villanelle on Killing Eve, Jodie Comer is literally dressed to kill in a high-end wardrobe full of labels such as Burberry, Miu Miu, Dries Van Noten and Phillip Lim.
The chic attire, which prompted Vogue to hail Killing Eve as the most fashionable show on television, was sourced by a small team led by costume designer Phoebe de Gaye, who tells The Credits that she couldn't wait to get to work on the BBC America series after she read the show's pilot script. "The script was very funny, and there was something a bit disturbing about it all as well. It was quite unusual," De Gaye says.
Created by Phoebe Waller-Bridge and inspired by Luke Jennings's novellas, Killing Eve is a genre-busting spy thriller that casts Sandra Oh as Eve Polastri, an American security service operative stuck in a boring desk job in London until she is recruited by British intelligence to hunt down the psychopathic Villanelle and end her killing spree. Before long, the two women become obsessed with each other.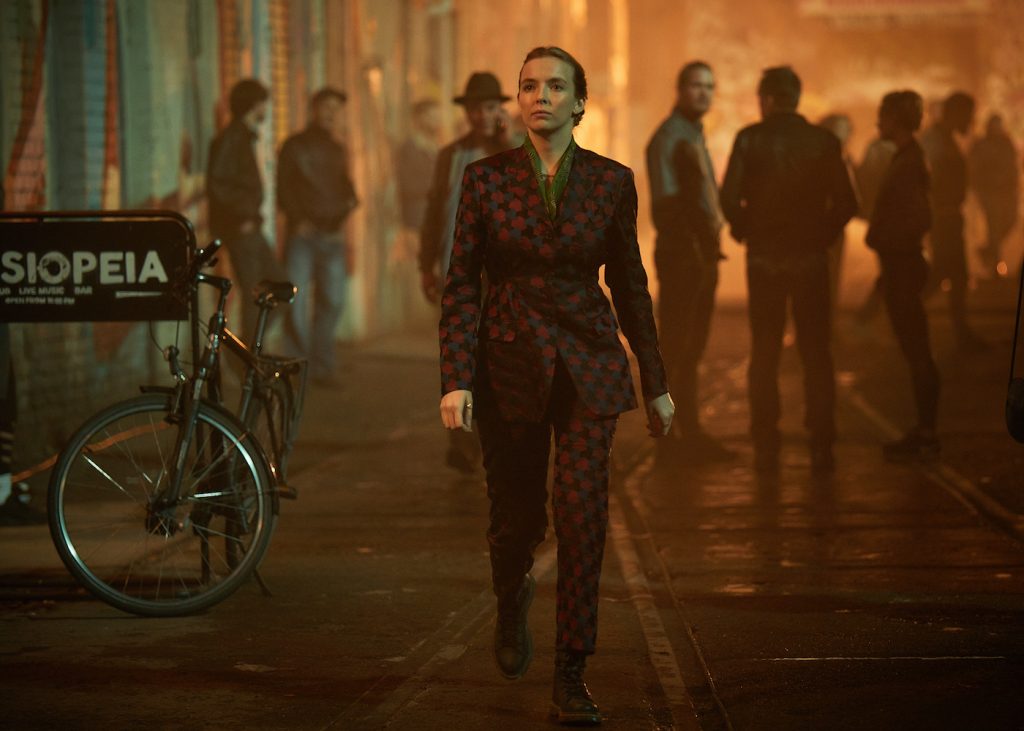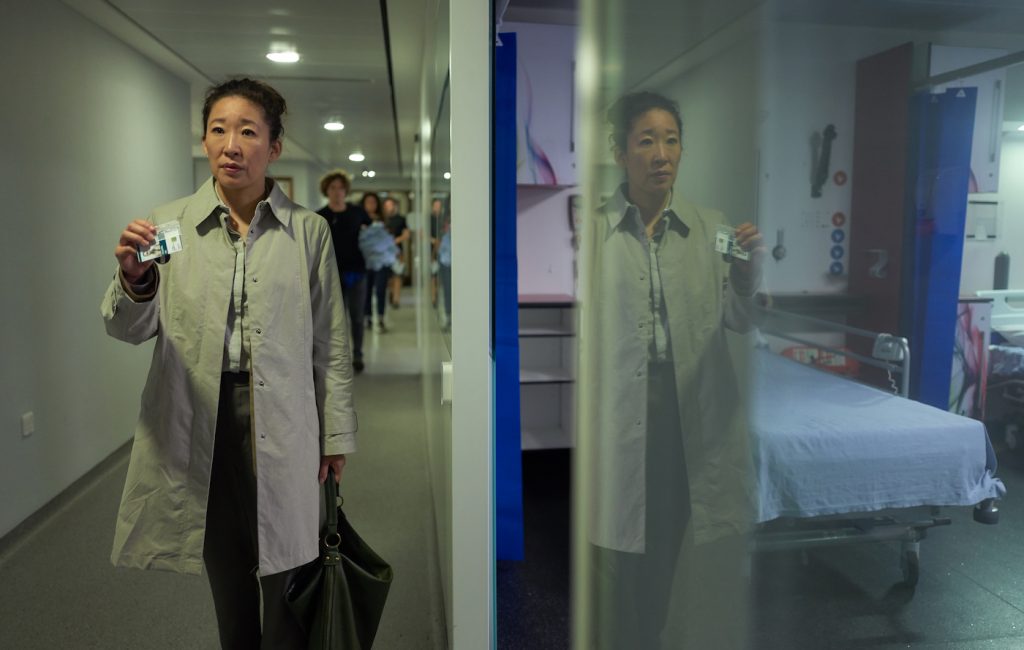 The first thing De Gaye did when she was hired to work on the series was create a shared mood board for Villanelle and Eve. "That was a very interesting thing to do because they're so different. The Villanelle character is sort of mad about clothes—they are a reward she gives herself—whereas Eve couldn't care less about what she looks like," De Gaye says, noting, "There's great scope there for dramatic contrast and humor."
Dressing a glamorous assassin on a television series budget was a challenge, De Gaye acknowledges. Thankfully, she did much of her shopping in the summer when there were sales. She also went directly to some labels, including Burberry and Molly Goddard, who were generous with discounts. "Still, we spent quite a lot of money on Villanelle," she says.
Asked to choose her favorite item from Villanelle's wardrobe, De Gaye singles out a pink Molly Goddard dress. "I'm most proud of that pink frock. It just seems to sum up something about Villanelle putting up two middle fingers to the world," she says.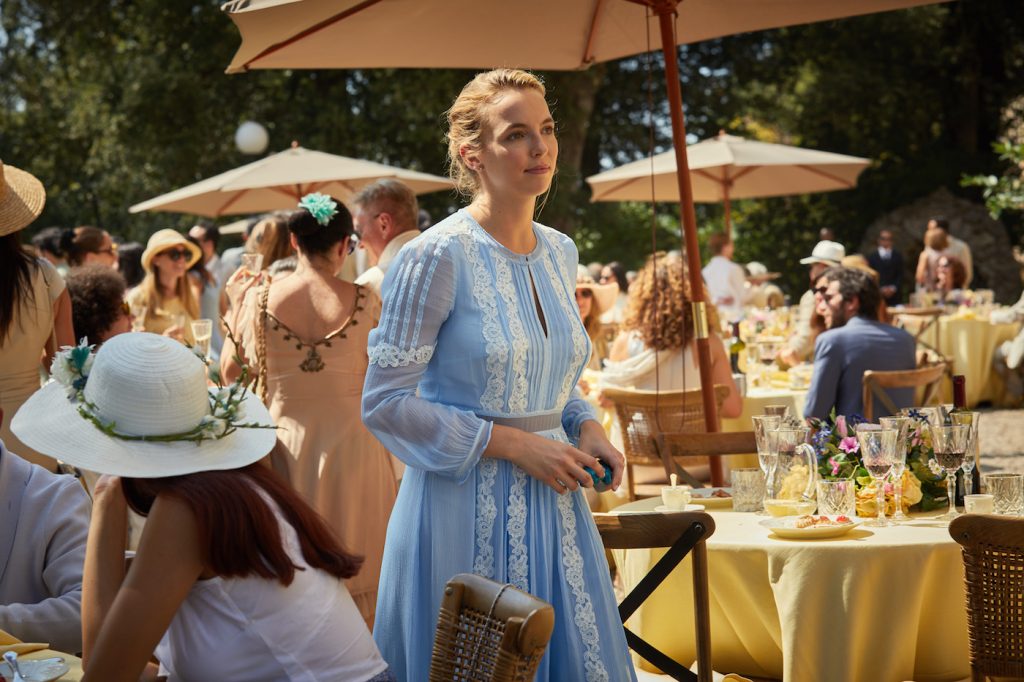 The poufy pink dress seems more like something one would don for a party, but Villanelle wears the attention-grabbing garment to a session with a psychiatrist, who has been asked by her handler Konstantin (Kim Bodnia) to determine whether she remains fit to kill, and it was the wardrobe choice that elicited the most discussion between De Gaye and the producers of the series "because it was quite a strong statement, and they wondered whether it was going to be a bit much, but in the end they decided to go with it," she says. "I was really glad they did. I thought it worked quite well."
While Villanelle likes to peacock, Eve sports a nondescript wardrobe, including easy launder suits. Most of the character's clothing was purchased at Uniqlo and charity shops. "It was all very standard sort of stuff for people who can't be bothered about clothes. It was practical, convenient sort of stuff and dull colors," De Gaye says.
Oh is an elegant woman, the costume designer notes, "So it was quite difficult to make her look not elegant. She put on some terrible stuff, and you'd think, 'Well, that actually doesn't look bad on you.'"
De Gaye had worked with Comer previously on the Starz historical drama The White Princess, but she hadn't collaborated with Oh before Killing Eve. "Both of them are very quick to work with. Very quick. [Trying on clothes] didn't go on for agonizingly long sessions. It's just, 'Oh, yeah, that's great.' 'Yeah, do that.' 'Good. Do that!' They're very decisive, and I quite like to be decisive as well," she says, "so the whole process went quite quickly."
In one of the show's smartest uses of wardrobe to tell story, Villanelle steals Eve's suitcase while she is in Berlin and sends it back to her in London packed with designer clothes, including a stunning black-and-white Roland Mouret cocktail dress that Eve would never buy for herself.
"We tried different things, and this Roland Mouret dress seemed to fit the bill the best because of that great zip up the back, and it had a bit of an ivory graphic on the front. It wasn't just black. Sometimes just black is dull on camera," De Gaye says. "It felt like something that Villanelle would go for as well."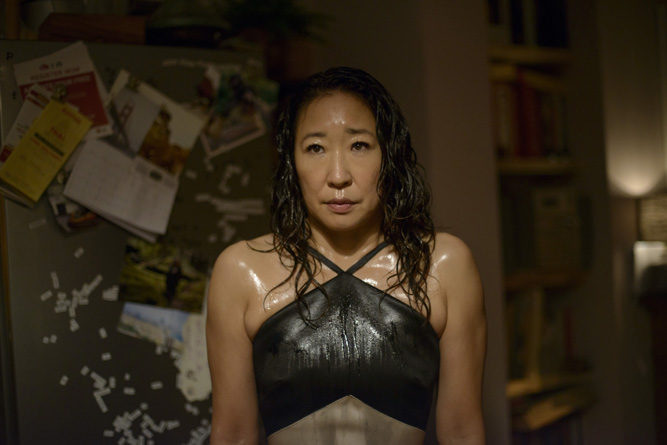 Intrigued, Eve puts on the Roland Mouret dress and is modeling it in the mirror when Villanelle drops by her home—well, breaks into her home—for a visit. "It's so embarrassing for Eve that she's caught in the act in a way of admiring herself in it, which was essentially Villanelle's plan," De Gaye says.
Featured image: Killing Eve's Jodie Comer in a Molly Goddard party dress. Photo credit: BBC America/Sid Gentle Films Ltd 2018.