Super Troopers 2 Star Kevin Heffernan Discusses The Gleefully Insane Sequel
If for no other reason than sheer longevity, comedy collective Broken Lizard deserves a shout-out for sticking together. The five guys who specialize in "low brow humor for high-brow people," as ensemble member Kevin Heffernan puts it, started cracking each other up around 1990 as undergrads at Colgate University. Twenty-eight years later, they've created R-rated Super Troopers 2 (opening today), which aims to outdo the raunchy slapstick featured in their 2001 sleeper hit.
Heffernan, Steve Lemme, Erik Stolhanske, Paul Soter and director Jay Chandrasekhar gang-write the scripts and share top billing in every Broken Lizard movie, including Club Dread (2004) and Beerfest (2006). How do they keep their act intact? "Everyone has an ego, but we've been together long enough that you can tell someone 'I don't think that's funny' and still come to work the next day," says Heffernan, speaking from a car in Los Angeles. "We've learned how to collaborate, even if that means being brutally frank at times."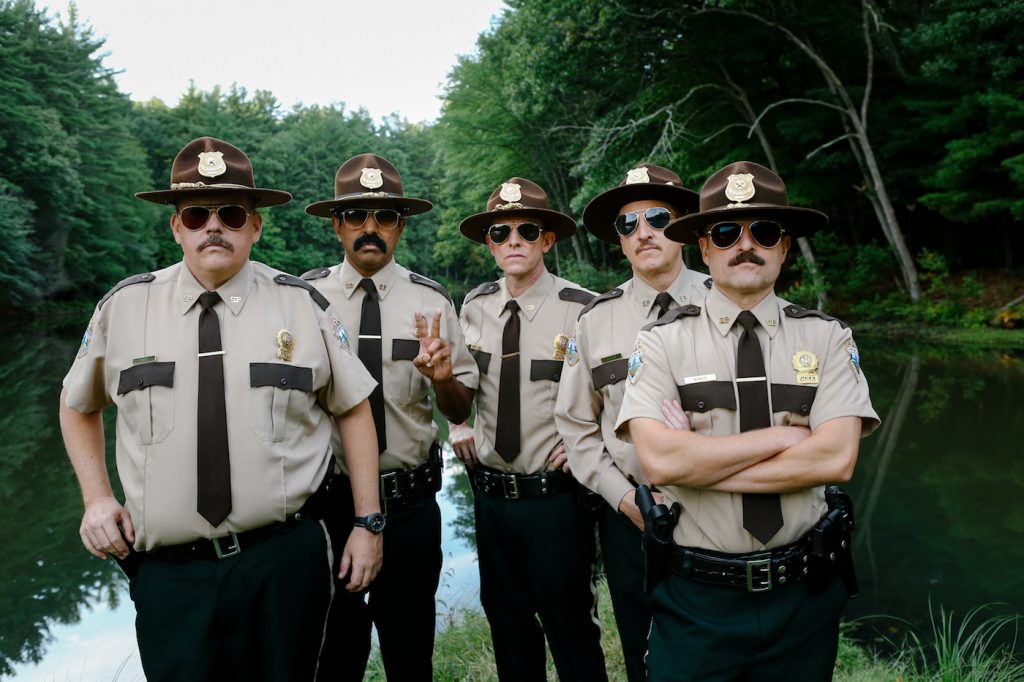 The troupe's survival-of-the-fittest-joke approach produced Super Troopers 2, loosely inspired by an actual border dispute reported on NPR radio: Goofball cops take over a small French-Canadian town that in fact belongs to the United States due to an ancient boundary miscalculation. Chaos ensues. Broken Lizard spent years pitching their Yankees-versus-Canadians premise to traditional funding sources. "It was painful," Heffernan recalls. "You get the financing, then you lose it, you get it again, you lose it again." Finally, Broken Lizard launched a fund-raising campaign on crowd-sourcing Indiegogo platform and raised $2 million in one day. By month's end, fans donated $4.7 million for the privilege of seeing Super Troopers 2 on the big screen.
Heffernan says, "It's super flattering when 54,000 people want to see your movie get made. One guy said he skipped a car payment to make a donation. Another time we were walking through an airport in Chicago when this baggage handler steps onto the tarmac with snow all over him and tells us, 'Hey you guys, I donated to your campaign!' It's very humbling."
In deference to their fan-financiers, Broken Lizard made sure they packed Super Troopers 2 with crowd-pleasing schtick. The sequel guest-stars Rob Lowe as a brothel owner/mayor/drug smuggler while Brian Cox breaks rom dramatic type to reprise his role as a Karaoke-singing "Chief." But it's Broken Lizard's idiot police characters that drive the action. Heffernan notes that his Farva character, simply annoying in the first movie, turned positively psychotic the second time around. "Writing this script over the years, any time we came up with something that was super inappropriate or ugly American, we put it in a file where we were like 'That would be a great thing for Farva to say.'"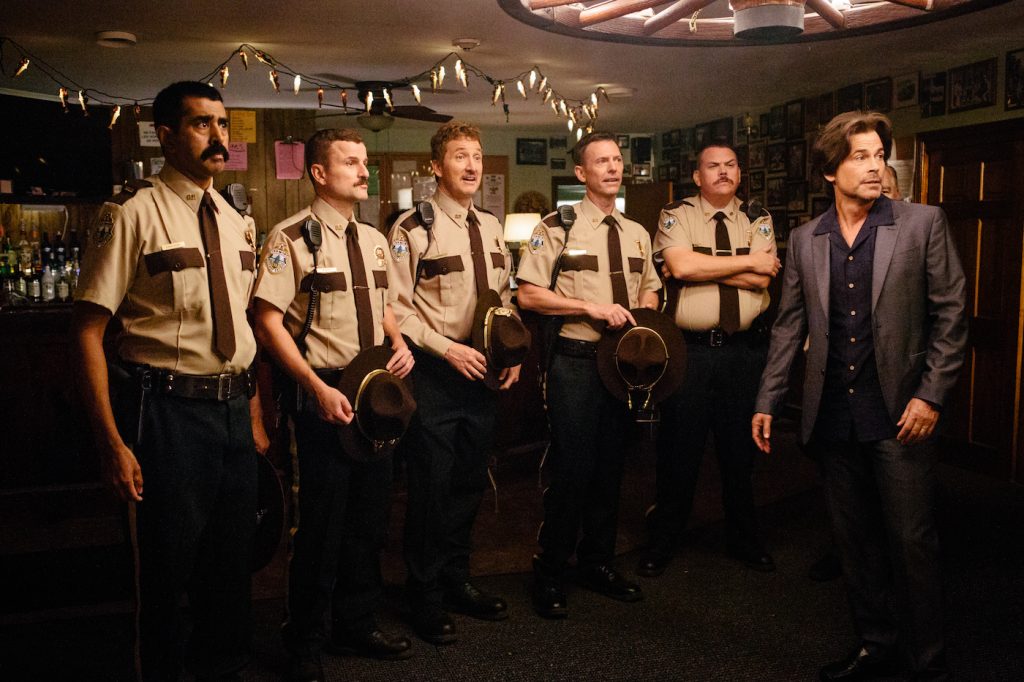 In Super Troopers 2, Heffernan says, "Farva's suddenly threatening to cut off appendages and things like that. He's become sort of an insane person, which was a blast to play. While the other guys are busy delivering exposition, Farva's chewing gum and doing stupid s***.
Broken Lizard amped up the action in its sequel by forcing the Super Troopers to confront an enormous bear named Whopper. "Our first movie featured a man dressed in a bear suit," Heffernan recalls. "We promised our fans if they donated a certain amount of money, we'd unlock the idea of using a real bear in Super Troopers 2. So we brought this 1,700-pound diva onto the set and every department, every crew member, every actor was completely focused on making sure that bear didn't eat someone. We were very, very delicate."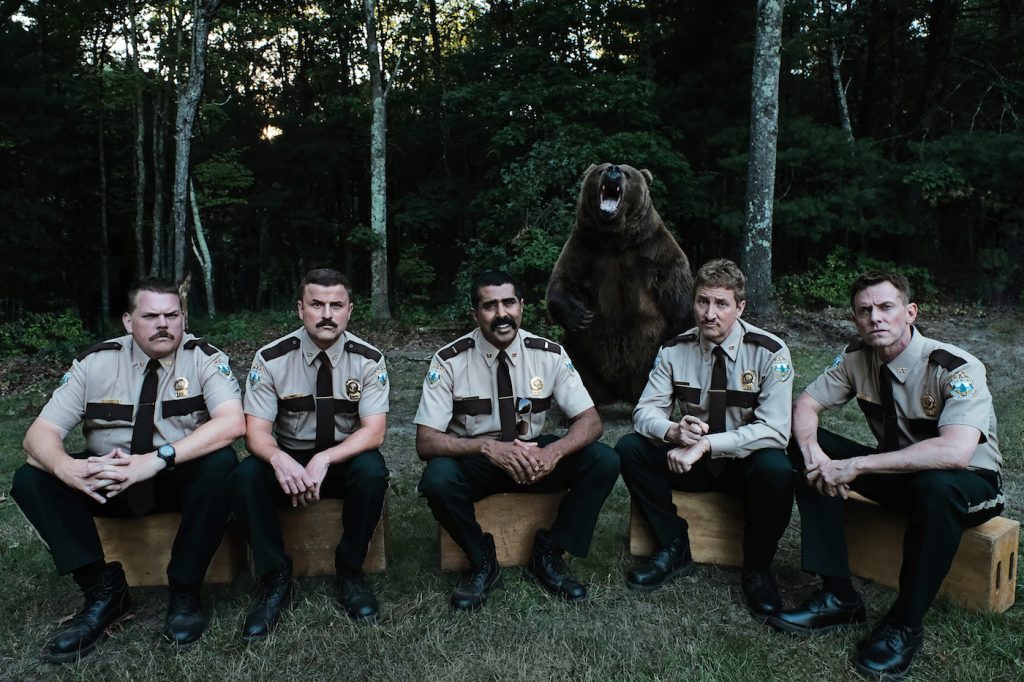 After Heffernan's Farva survives "Whopper," he lands upside down in a porta-potty and ingests a bottle of black market muscle relaxants. "The nugget of that scene was, 'Let's incapacitate Farva so we can hit him with a phone book, put a fly strip on his head and do whatever we want to him," says Heffernan, who was happy to oblige if the stupefaction ritual got laughs from the Super Trooper's faithful. "For the fans, it's like 'If you've ever wanted to beat up a paralyzed Fava, here ya go.'"
Featured image: Kevin Heffernan as "Farva" in the film SUPER TROOPERS 2. Photo by Jon Pack. © 2018 Twentieth Century Fox Film Corporation All Rights Reserved