Jessica Jones Costume Designer on Losing the Cape in Favor of Leather & Denim
Krysten Ritter wears jeans for every scene she plays as the star of Netflix series Jessica Jones. Technically a super-hero capable of jumping off skyscrapers and landing on the sidewalk without a scratch, the hard-drinking private eye from Hell's Kitchen has no patience for the tights/cape/mask routine. Instead, Ritter's character is dressed by costume designer Elisabeth Vastola in boots, jeans and motorcycle jackets that owe more to Marlon Brando's iconic Wild One rebel couture than cartoony costumes.
"Krysten's not going to wear a superhero suit, so we wanted the strongest materials you could find in contemporary clothing that would allow her to run around and feel like she belongs in downtown New York," Vastola explains. "Denim and leather make the most sense because they allow Jessica to protect herself and do all the action that she needs to do."
Jessica Jones' street-tough uniform originated in 2001 on the pages of Alias # 1 created by writer Brian Michael Bendis and artist Michael Gaydos. In 2018, the character's rage-fueled sarcasm has struck a cathartic chord with #metoo era viewers. Traumatized by past abuse at the hands of sadistic Kilgrave (David Tennant), SPOILER ALERT whose neck she broke at the end of season one, Jessica Jones in season 2 still keeps it real to the point where her misadventures recently inspired one fan to play dress-up for a day of drinking and surveillance.
Speaking from the New York City set of her next Marvel superhero show Daredevil, Vastola, offers a toe-to-shoulder breakdown of the Jessica Jones look:
BOOTS: "Jessica Jones always wears a heavy black motorcycle boot made from leather with some silver detailing," Vastola says. "The boots are based on a design by this great Italian shoe maker named Giuseppe Zanotti. We then custom-fitted the boots for Kristen and made some alterations, working with foot scans made by Krysten's orthopedist. About halfway into the second season, we added more detailing that splits the line between masculine and feminine in a really nice way. At this point I feel like the boots into themselves are emblematic of the character.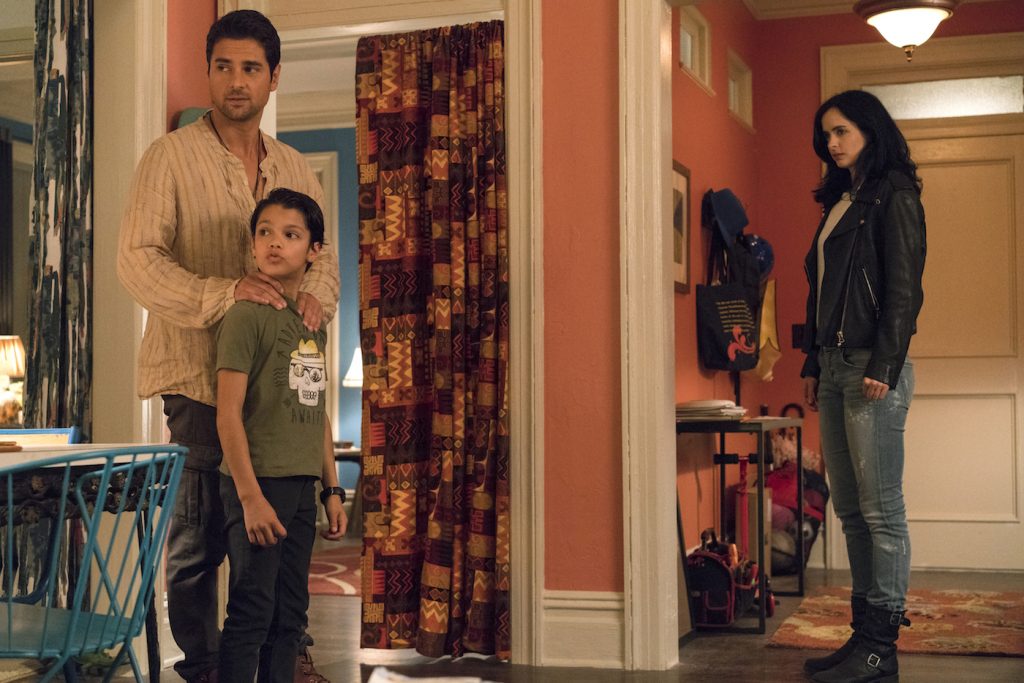 Practical Support: "The practical reasoning behind the boots is that they are stiff and provide perfect sort of literal support for her powers," Vastola explains. "Given that Jessica's able to jump really high, you need something really supportive on your feet for that kind of action."
BLUE JEANS: "Jessica wears this brand of jeans called R 13, which is based in L.A.," says Vastola, who studied Art History at Columbia University before shifting to a career in costume design. "We ship the jeans direct from the company and tailor them here to get the silhouette we want. We started this year with the distressed ones from season one, which are kind of sky blue in color. We tweaked that look during the middle of this season and got Jessica new jeans which are a bit stiffer, a bit more rough, but they still have this straight legged fit and have rips in them that I think are beautiful and kind of natural. We also moved out of light blue into a kind of medium blue."
Not one of a kind: "We have multiples of the jeans in Kristen's closet that we use for stunt performers, or if we get dirt on them or something happens to the jeans," Vastola says. We need to be prepared so we have at least five of pretty much every piece of wardrobe."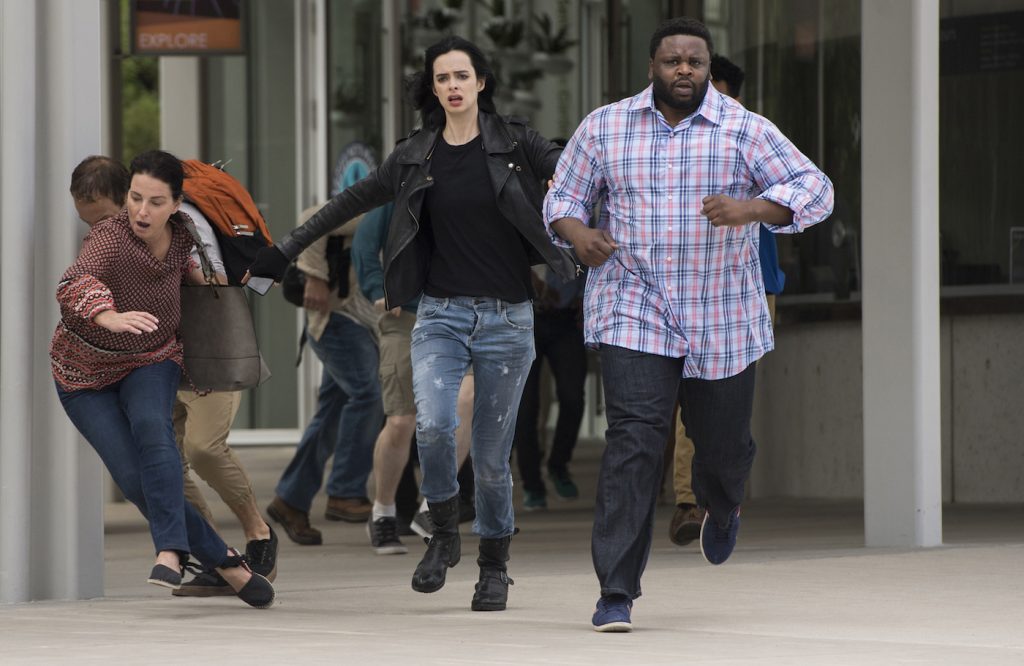 BLACK JACKET: "The jacket originally came from this company called Acne Studios but they stopped making it so this season I brought an amazing master tailor onto the show," Vastola says. "We've replicated the jacket and make it in-house now. It has zippers up the sleeves and two zippered pocket, but we removed the belt, belt loops, and anything else that could get caught. At this point it's pretty sinuous. Jessica kind of has a rock and roll attitude, so we wanted to dip into that irreverent lineage that people often associate with the motorcycle jacket."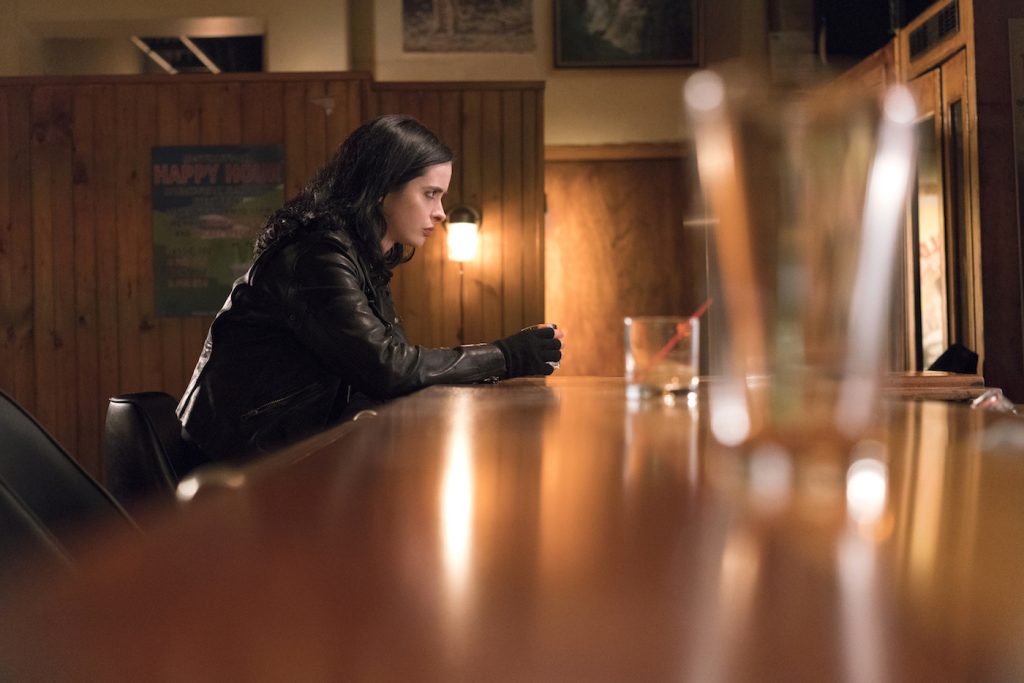 TANK TOPs: "The boots and jackets and denim all have this kind of tough exterior but the tops Jessica wears are emblematic of her softer side," Vastola explains. "When Jessica takes her jacket off, that's a vulnerable move so what you see underneath are tank tops or tee-shirts or sweaters that are often cotton knits with a nubby feel, or open weave, or some kind of texture. I like the top to feel expressive in some ways as opposed to just a flat cotton."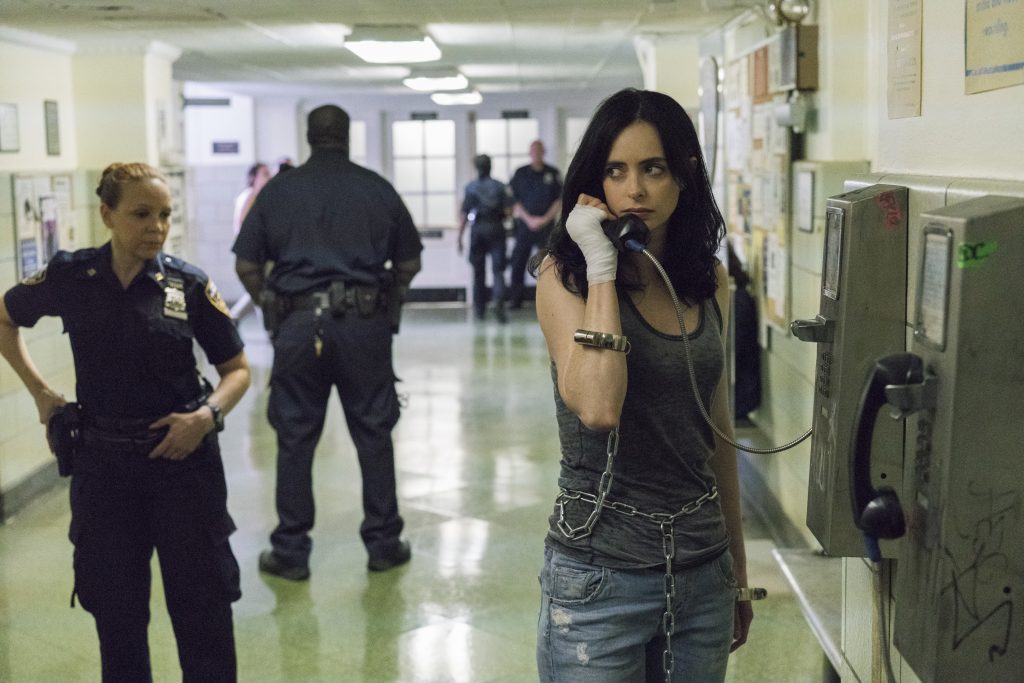 THE OVERALL EFFECT: "Most of the time we have this black, white and light blue palette for Jessica which makes a nice combination color wise," says Vastola. "Between the boots, the jeans and the shirt, it feels like something I'd call 'New Age Noir.'
Featured image: Krysten Ritter is Jessica Jones. Photo by David Giesbrecht/Netflix.