Is Iron Man Saying Goodbye in This Behind-the-Scenes Avengers: Infinity War Featurette?
Another day, another new bit of footage from Avengers: Infinity War. In this mostly funny, totally charming behind-the-scenes featurette, there's an emotional note at the end from Iron Man himself that's worth contemplating.
Before we get there, let's get to the funny stuff. In the video, you'll see how your favorite Avengers and assorted superheroes actually get along on the set. Considering they shot both Infinity War and the still untitled Avengers 4 back-to-back, which took roughly a year (Infinity War began in January of 2017 and Avengers 4 wrapped around January 2018), you'd hope these actors actually liked each other. And while Marvel wouldn't release a peek behind-the-scenes if the actors were all complaining about one another ("Benedict Cumberbatch is rude to production assistants!" is a phrase you're likely never going to hear), this is still a fun look at what feels like genuine camaraderie between actors who have worked together for years.
The video begins with some really excellent work from Dave Bautista, as Drax, marveling (pun!) over the handsome man they've just pulled from space (that would be Chris Hemsworth's Thor).
"How is this dude still alive?" Star-Lord (Chris Pratt) asks.
"He is not a dude," Drax counters. "You're a dude. This?" Drax says, pointing at Thor. "This is a man." We'll let you watch the rest to see how this play out.
You'll get some Chris action (Pratt and Hemsworth), see a trio that brings us all the way back to the very beginning of the Marvel Cinematic Universe (Robert Downey Jr., Gwyneth Paltrow and Jon Favreau, your stars and director, respectively, of the very first Iron Man), and, the kicker, see some really cool footage of the performers (both the actors and stunt professionals) going at each other for the Battle of Wakanda.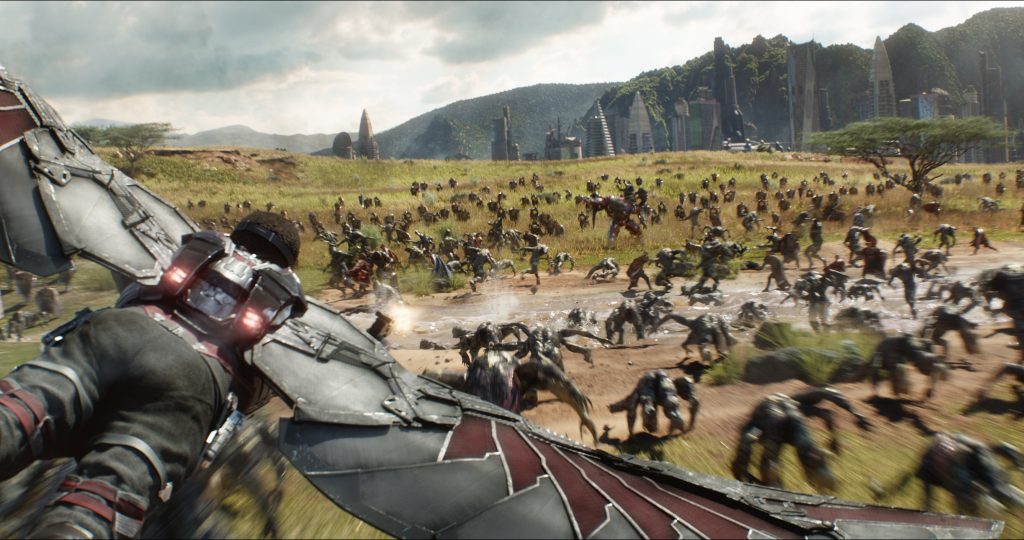 In the Wakanda section, Elizabeth Olsen and Danai Gurira talk about working together, which lets you know that Scarlett Witch will be a big part of the Wakanda scenes, which makes sense considering this is where the Avengers have taken Vision (Paul Bettany), her love interest. You know, the one with the Infinity Stone in his forehead.
"I think there is something very powerful about being able to play women who do heroic things," Gurira says. Amen to that.
Then come the quips—Cumberbatch takes a dig at Pratt, and it stings. But Downey Jr., who seems prepared to take Cumberbatch down a peg or two, admits to being infatuated with him.
All in all it's a fun two minutes plus to spend with these folks, with some good new footage (we particularly like watch Star-lord make a grand exit in front of Doctor Strange), but it's the surprise emotional ending that us thinking. Robert Downey Jr. talks about how this entire Marvel Cinematic Universe (Mark Ruffalo calls him "the Godfather" of the MCU), one he helped launch in 2008, has been "the ride of a lifetime." You'll have to excuse us for reading a bit into his tone, and his wording, but to us, it sure sounds a bit like a goodbye.
We know not all these superheroes are going to survive Thanos. If you were basing your predictions solely on this video alone, you'd have to think Iron Man may be one of them.
Avengers: Infinity War opens on April 27.
Featured image: Tony Stark/Iron Man (Robert Downey Jr.) w/ Doctor Strange (Benedict Cumberbatch), Bruce Banner (Mark Ruffalo) and Wong (Benedict Wong) in the background L to R. Photo: Film Frame. ©Marvel Studios 2018