Pacific Rim: Uprising's VFX Supervisor on Creating 300-Foot Monsters in Photo-Realistic backdrops
When he was a British schoolboy, Peter Chiang used to stand in the local bookstore staring at the covers of science fiction paperbacks and dreaming about fantastical scenarios. "I just loved the imagery," says Chiang. "I started illustrating space ships and monsters and creatures, growing up on Thunderbirds sci-fi cartoon series here in the UK, and watching Blade Runner, which had a huge impact on my life. I remember thinking 'I want to do that.'"
Four decades later, Chiang used his old-fashioned drawing skills to fine-tune giant robots and dinosaur-sized freaks as visual effects supervisor for Pacific Rim: Uprising, opening Friday. Working alongside director Steven S. DeKnight, Chiang oversaw 1,600 VFX shots of "Jaeger" fighting machines, reptilian "Kaiju" monsters, smashed buildings, crashing glass and dusty debris transmitted via Internet from 2,500 far-flung artists based in Mumbai, Los Angeles, London, Vancouver and Montreal.
Chiang, headquartered in Burbank, California's Legendary Entertainment offices, used a software program called cineSync to tweak VFX submissions so he could illustrate exactly how collaborators needed to revise their shots. He explains, "The software allows me to scrub through the clip, stop on a frame, draw on it with a digital pen in whatever color I want and physically show the team in London, for example, 'Don't put the robot here, put the robot there.' The London team could save out a copy and use that as reference for their next version."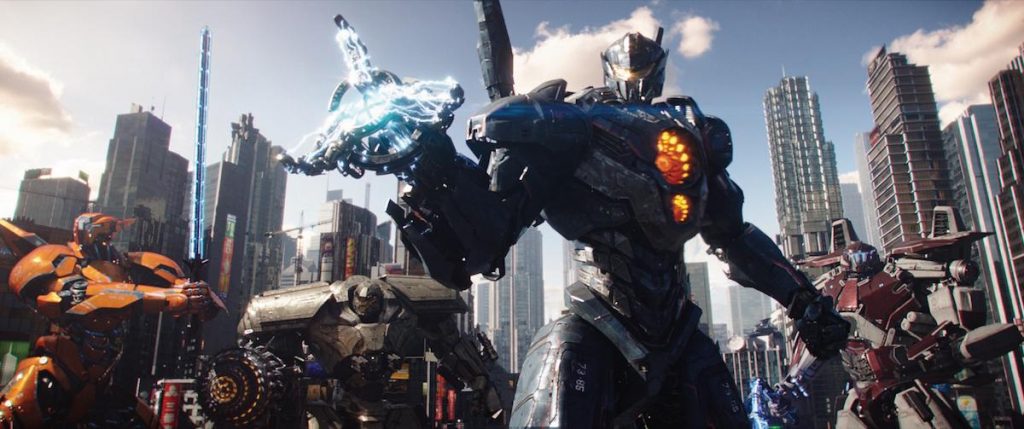 Why can't the VFX contributors just get it right the first time?
Chiang says it comes down to a question of interpretation. "When an artist translates the director's vision, it's probably not going to be 100 percent the first time. The robot's hand moves too quickly, or a footfall lands in front of the camera and blocks a certain aspect of a shot, or an effects simulation might be technically perfect, but maybe we want to cheat a little and get less dust because it's covering up some of the action." Pressured to meet a January 21 delivery date for all visual effects, Chiang spent eight months in post-production cracking the whip. "I'd tell the artists, 'I'm going to give you three 'Go's' to get the shot exactly how Steven wants it.'"
Chiang, whose previous credits include The Bourne Ultimatum and a 2014 reboot of Godzilla, signed up for Uprising just two weeks before principal photography began. In early 2016, he joined director DeKnight in Sydney, Australia where they struggled to locate actual boulevards broad enough to accommodate the computer-generated 240-foot Jaeger monsters and their 300-foot rivals. "A Jaeger running down the street needs 70 feet, which is very wide," Chiang notes, who routinely constructed hybrid urban backdrops that seamlessly fused digital architecture with bricks and mortar buildings. "A lot of times we'd say, 'Lets forget about the left hand side of the frame because we can re-build that in CG, but we like the buildings on the right so let's photograph those.'"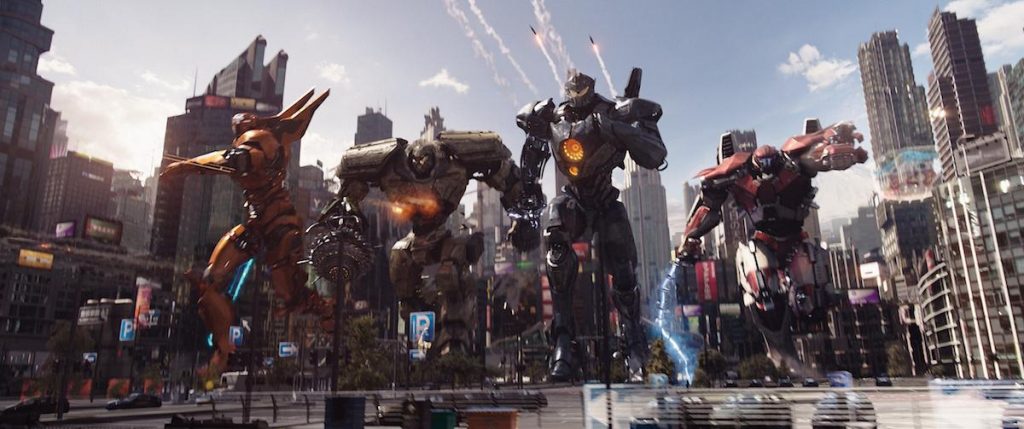 The characters' humongous scale also made it tricky to place cameras in the vertiginous sweet spot where much of the action takes place. "There's this gap between what you can film from a camera on a 100-foot tall crane and the minimum height that a helicopter can fly for aerial shots, which is 500 feet," Chiang says. "We were dealing mostly with action around 250 feet in the air so we used drones to gather our plates at that altitude. We also used weather balloons as markers where there were no physical buildings to create eye lines for the actors to look at."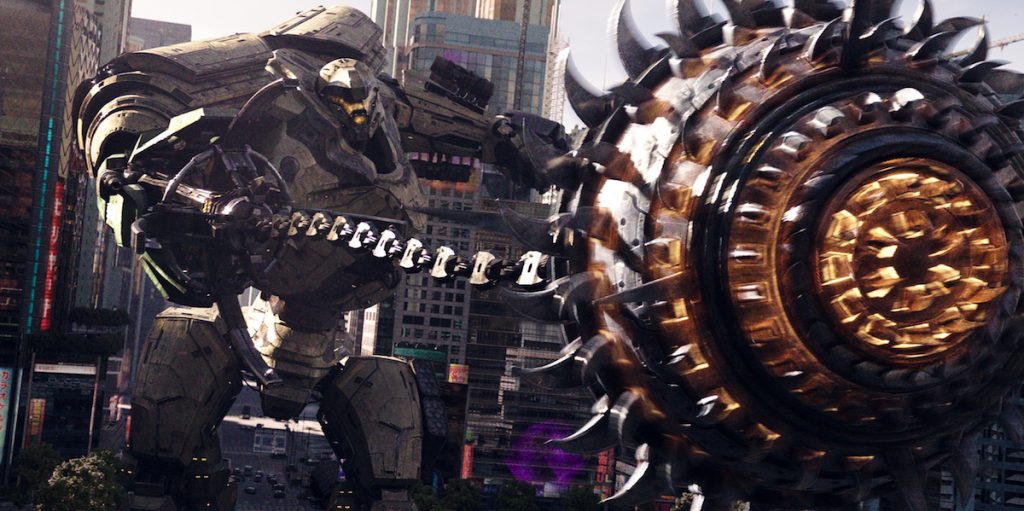 During the six-month shoot, which encompassed China, Japan, Iceland (standing in for Siberia), Korea ("Mega-Tokyo") and Japan, filmmakers relied on animated pre-vis storyboards as a rough draft for how scenes would play out once digital elements were inserted in post-production. To block out smackdowns, Chiang and DeKnight also made use of store-bought action figures marketed in 2013 when Guillermo del Toro's original robot-versus-monster blockbuster hit theaters. Chiang explains, "We had a toy table where we'd move around Gipsy Danger and the Kaiju 'Leatherback' like maquettes, to map out the action: 'Gipsy's here, and Leatherback's there, and Gipsy should come over and fight him in some great way and do a gag.' We literally staged the action that way, taking photographs along the way and storyboarding with the pre-vis guys while we figured out what the characters should be doing."
After DeKnight wrapped principal photography in March, Chiang used Lidar technology to scan buildings and landscapes as a means for rendering photo-realistic backdrops. "It's like taking a 3-D X-ray of the building," says Chiang, who also used a multiple-camera "triangulating" process called photogrammetry to create visually convincing versions of the locations. "We captured the physical data of the set, and from there you can then accurately place three-dimensional objects within the plate so all the elements interact in a realistic way."
Looking back on the 15-hour days he spent managing the Pacific Rim: Uprising VFX production pipeline, Chiang regards beat-the-clock urgency as part of the program. "Look," he says. "I'm very privileged to have this job. You go to amazing places and do amazing things with amazing people. The times with Steven poring over the toy table, going to Tokyo, flying around Mount Fuji in a helicopter — it's been an incredible ride."
Featured image: The monstrous Kaiju attack in "Pacific Rim Uprising." The globe-spanning conflict between otherworldly monsters of mass destruction and the human-piloted super-machines built to vanquish them was only a prelude to the all-out assault on humanity.