How the Pacific Rim: Uprising Director Lured Star John Boyega to Star in the Sequel
We've already written one story today about how scheduling conflicts can vastly change a film. In the case of Pacific Rim: Uprising, the scheduling conflict was huge—Charlie Hunnam, the star from Guillermo del Toro's 2013 Pacific Rim's—was no longer able to reprise his role in the sequel. In a great interview with i09, director Steven DeKnight discussed how they turned this possible disaster into a major win by eventually casting John Boyega. Yet it was a long road before he was even able to pitch the young superstar,  as first DeKnight had to figure out how to completely re-write the film's story. The original script, by scribes Emily Carmichael and Kira Snyder, was based on Hunnam's Pacific Rim character Raleigh Becket returning, and had already been given the green light by Legendary Pictures and was all set to go.
Hunnam's schedule was being eaten up by his passion project, an remake of Papillon, a story about French criminal's incarceration and escape from the notoriously brutal French penal colony of French Guiana. So DeKnight had to toss the script he loved from Carmichael and Snyder and start over. Pacific Rim director Guillermo del Toro and producer Mary Parent then pitched the idea that the hero of the story should be the son of Pacific Rim's Stacker Pentecost, played memorably by Idris Elba, who sacrificed himself to save the world.
DeKnight tapped Maze Runner writer T.S. Nowlin for a fresh pass, and once the script was done, they simply had to find the right actor to play Jake Pentecost, the son of a legend. It was suggested that they try to get John Boyega, but DeKnight figured that would be impossible—he was already starring in a little sci-fi franchise called Star Wars. 
Yet DeKnight and his team came up with a plan to get Boyega to come in for a general meeting with Legendary Pictures, and producer Mary Parent made sure all the Pacific Rim: Uprising concept art was in the room. Luckily for everyone involved, it turned out Boyega was a giant monster and anime fan. The results of this happy turn of events will be on a big screen near you on March 23 when Pacific Rim: Uprising is released.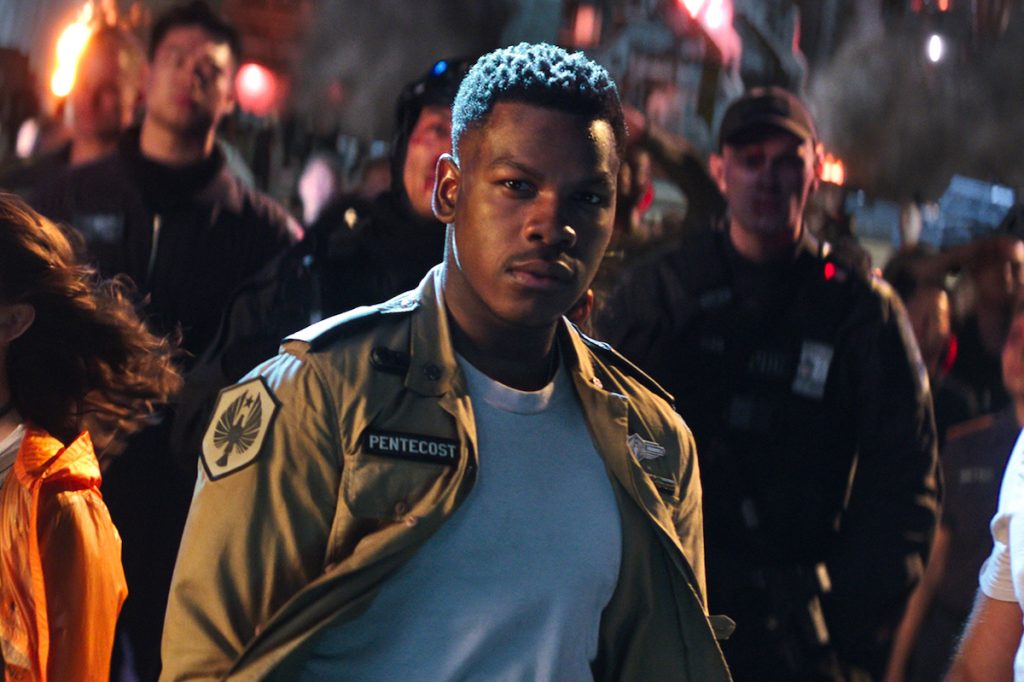 Featured image: Jaeger mech "Bracer Phoenix" in "Pacific Rim Uprising." The globe-spanning conflict between otherworldly monsters of mass destruction and the human-piloted super-machines built to vanquish them was only a prelude to the all-out assault on humanity. Courtesy Universal Pictures.