Broken Down, Dirtied, and Greased Up: Designing the Costumes of A Series of Unfortunate Events
Evil has never had a more sumptuous wardrobe than in Netflix's A Series of Unfortunate Events. Count Olaf (Neil Patrick Harris), who fancies himself a great actor, utilizes thinly veiled, yet tremendously detailed costumes to fool the show's dimwitted adults. Costume designer Cynthia Summers created Olaf's many aliases, as well as the clothing for the rest of the cast, in season two.
"I think it's wackier," Summers said of the new episodes. "Olaf has definitely gotten darker, if that's possible. There's a lot more to look at. It's a lot fuller. It's a lot more mad cap antics and bigger bad guys. It's super busy this season."
Neil Patrick Harris delivers a rich and zany performance as the single-minded and despicable Olaf. The Count is perpetually assuming new identities that could become rote in the hands of a lesser talent. Summers' designs are the anchor that completes the performance. Each disguise she creates is so thorough and amusing, it immediately telegraphs to the audience what he has cooking next. Summers said Harris' performances begin in the fitting room.
"We build 95% of what we have here, shoes, hats, the whole complete outfit, the jewelry, everything," Summers explained. "Of course, Olaf has to wear prosthetics. He has a prosthetic forehead and hair. Neil likes to be in his prosthetics when he comes for a fitting, which is great because it helps me envision what I'm doing with what special effects make-up is doing. And then he'll do the voice he's going to use and it just brings alive everything in front of me when I'm looking at him. It's like having my own private show with Neil and his genius."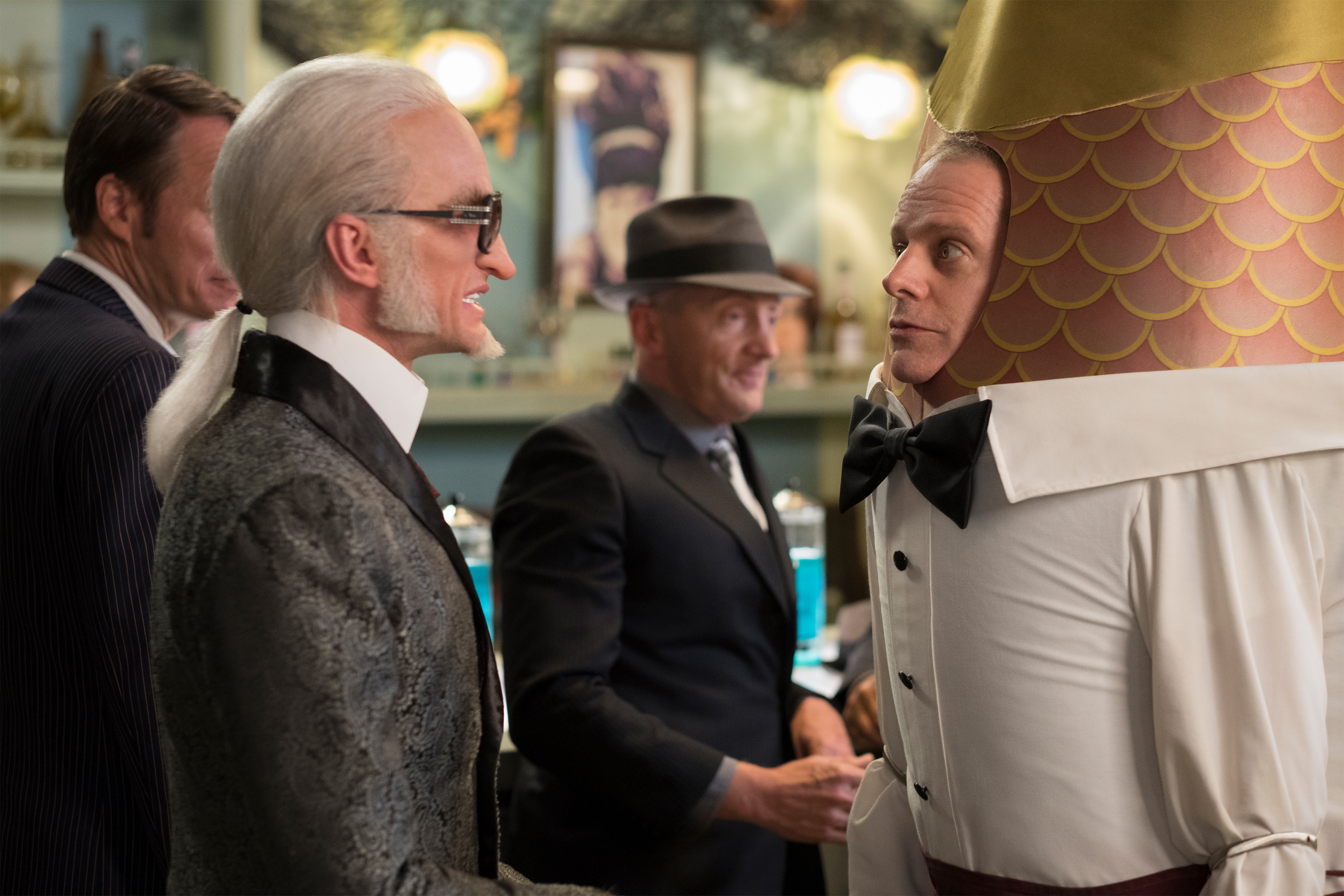 Beyond just giving Olaf the look he needs for a specific scheme, there's a more subtle story arc the costumes are telling this season. Beyond his notoriously poor hygiene that requires Harris to grow long nails that are dirtied in the makeup chair, Olaf's twisted soul takes a physical toll that Summers' designs help to convey.
"You'll see in season two as he becomes darker, he's physically getting smaller and shrinking," Summers said. "We're making the clothes tighter and he's becoming a little decrepit. He's just too evil for his own good."
Creating the characters' style is a collaborative creative process, Summers explained. From the word on the page through brainstorming the design, she works with the entire team to ensure everyone will be happy with the creation.
"The script tells us where we are and who we are, and sometimes will describe what the characters look like or specifics that they're carrying with them or on their body," Summers explained. "The ideas that the producers and directors and the cast bring to their characters, that's where the difference is. After that, we all get together and talk about it and then I do character collages. I have an illustrator that illustrates absolutely everything that we do."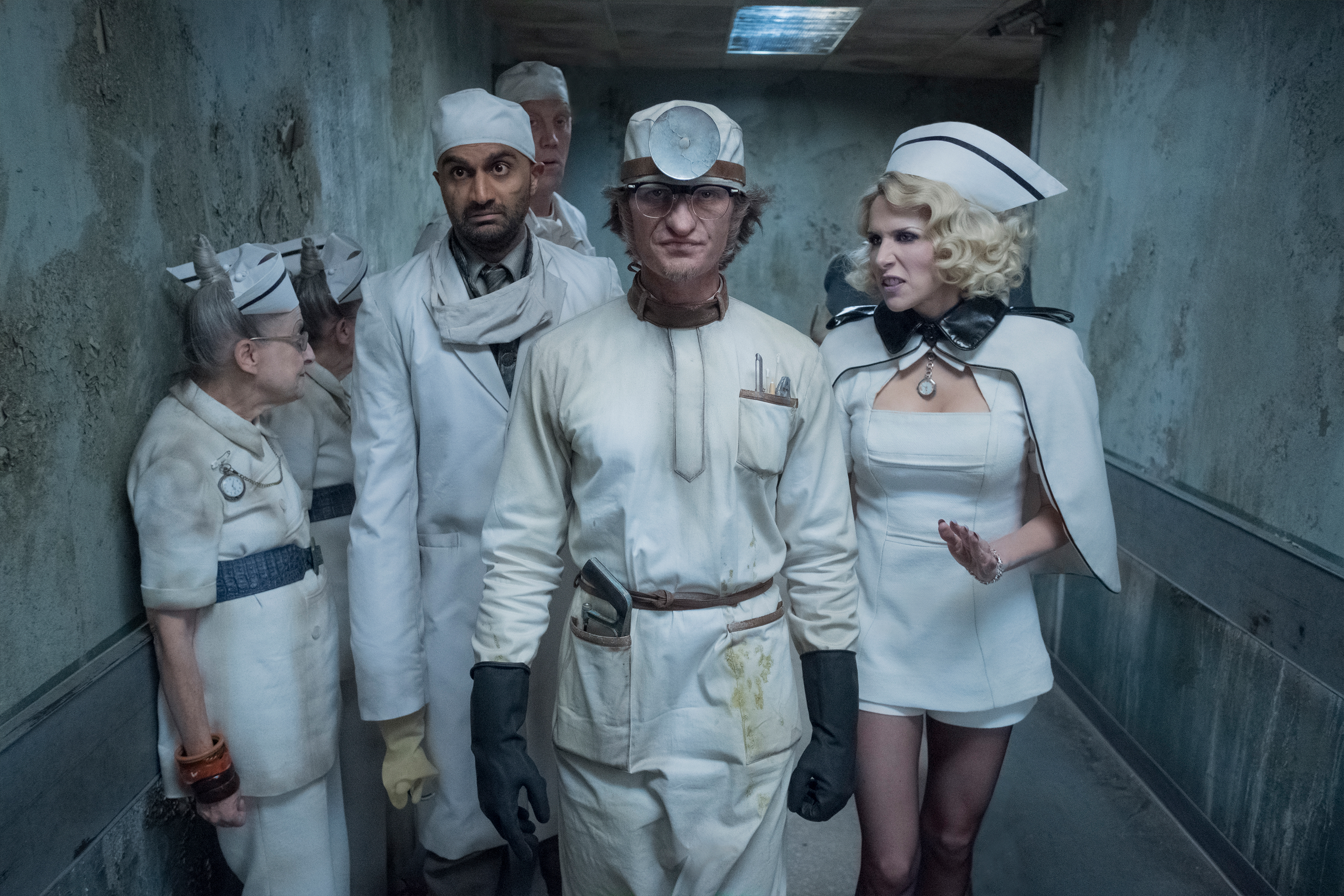 After the costumes have been illustrated, Summers begins sourcing fabrics, glasses, hats and more. From there, she can begin building the stunning pieces. To make sure that the characters maintain integrity, she carries through a specific color scheme.
"Most characters have a color arc or color that they wear to set them apart from others," Summers explained. "Then we have the disguises, which are completely different. It's like the secondary character that the main character is portraying and always different."
Of course, it wouldn't be the world of Unfortunate Events if the clothing weren't dirty. No white is pure bright in this story. There's a consistent level of filth that Count Olaf and his troupe thrive in. Each piece of clothing has to reflect the characters' aversion to cleanliness.
"Absolutely every piece of wardrobe goes through my breakdown department," Summers said. "Especially for characters like [Olaf's acting] troupe, everything of theirs is gnarly and awful so it gets broken down and dirtied and greased up and specific holes and all sorts of fun stuff."
To be sure that the costumes show up in the bleak and grimy world that the poor Baudelaire orphans inhabit, Summers often exaggerates the colors. The cinematography will tamp down the vibrancy making for a much different look on screen than on set.
"Even the pieces that don't get broken down to that degree, get shaded so that we've got lots of different shadows and lines when we light it," Summers explained. "The lighting is very unique. It's very dark. It has a filter that basically desaturates all the color so when you see the final on camera you just know that it's probably 10 times brighter in real life than what you're seeing on camera. We have to gauge that, so everything comes out looks like, 'Oh my god, it's bright hot pink!' But when we see it on camera it's very muted. It's a bit of a science project in that regard."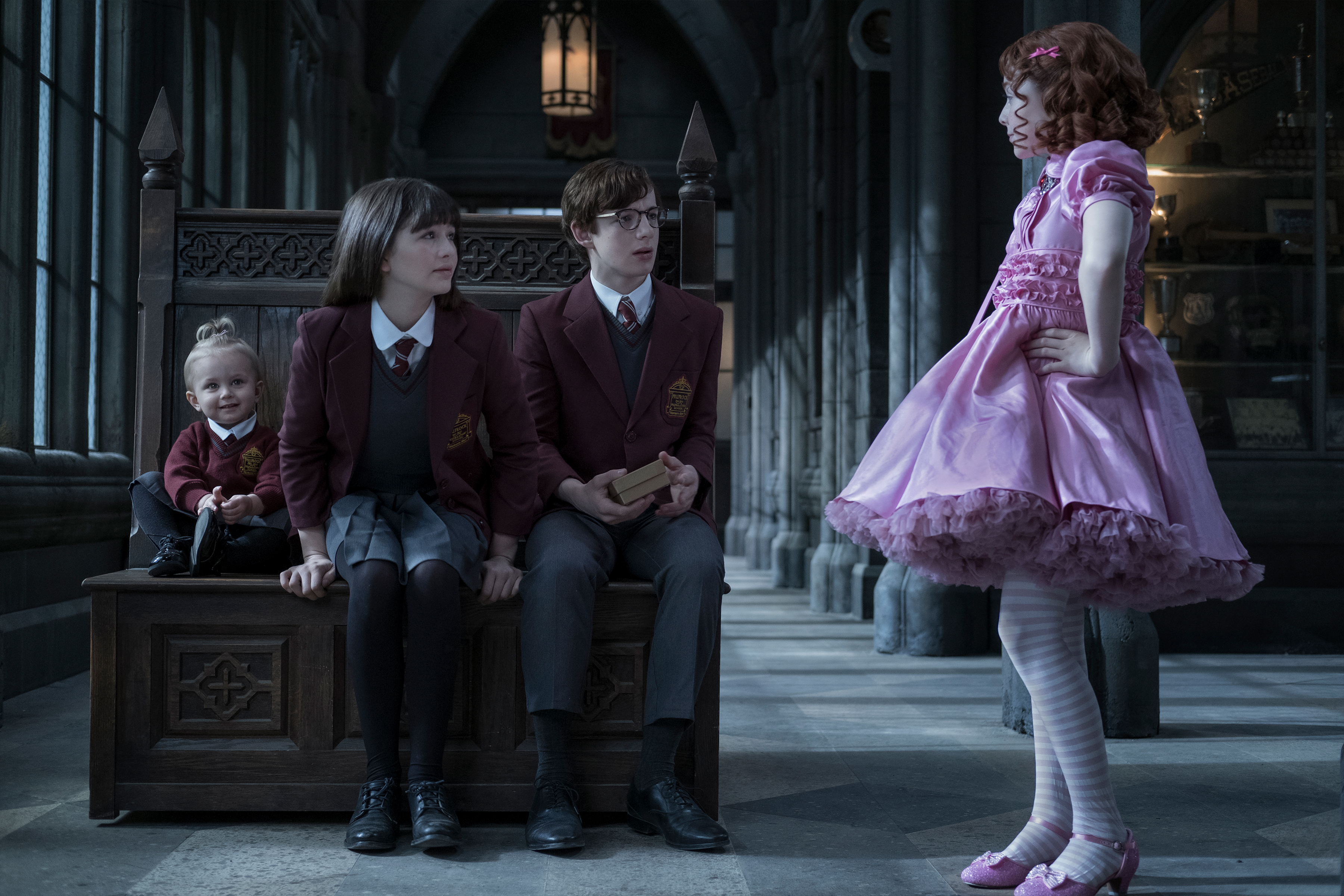 The novels from the series by Daniel Handler (pen name Lemony Snicket) 'The Ersatz Elevator', 'The Vile Village', 'The Hostile Hospital', and 'Carnivorous Carnival' are the source material for the ten new episodes. Summers particularly enjoyed designing for 'The Hostile Hospital.' A particularly twisted installment in the Baudelaires' journey finds Olaf attempting to perform brain surgery on Violet. The makeshift hospital is, of course, nauseating and bears no proper medical equipment. For these scenes, Summers put the cast in doctor whites.
"This is generally awful for costumes because A. nobody wants to shoot all white and B. how do you get texture and depth and interest out of something that is just white?" Summers recalled. "A lot of that gets down to style and to design, because you need to design interesting angles and pieces so that you're looking at something that's interesting and not just white. And then everything is broken down and everything is very texturized and very shaded."
For the 'Carnivorous Carnival', Summers double down on the white fabrics. This time, for a character that doesn't traditionally sport that color.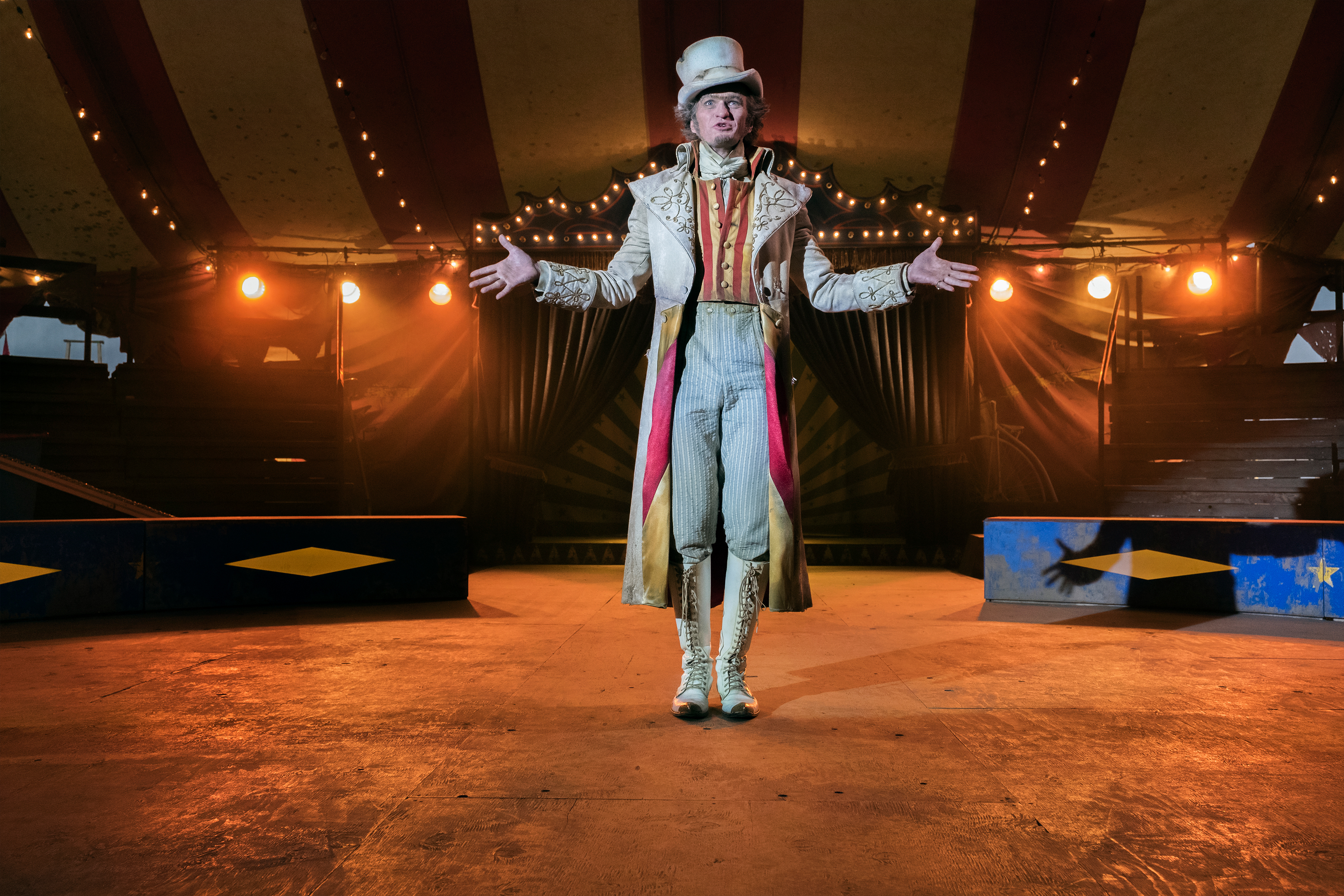 "When I was referencing was ringmaster outfits, historically they're red," Summers said. "We wanted to be different. We wound up doing primarily a white ringmaster outfit for Olaf. It's unusual and it worked so well for us in the scene and the sets and in the lighting. That set the tone for the rest of the carnival outfits, which wound up being more traditional reds and gold."
Olaf's endless rotation of disguises is fascinating, but season two also introduces a host of interesting new characters. Summers had an expanded universe to design for with a wide range of personalities. Nathan Fillion as Jacques Snicket and Sara Rue as Olivia Caliban make their entrance. We also get introduced to the deliciously wicked Esmé Squalor played by Lucy Punch.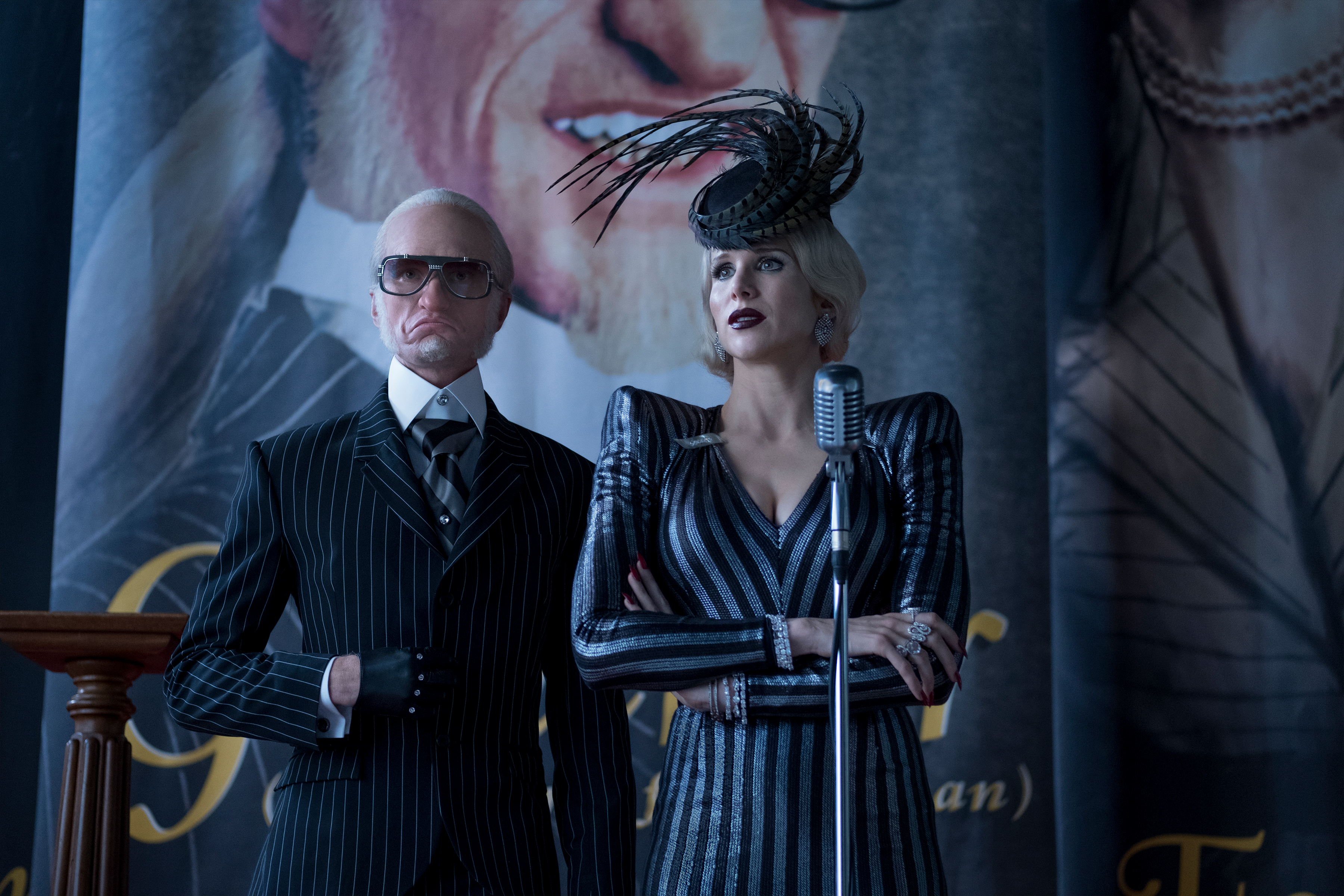 "Esmé  is a fashion plate in this and she's always wearing what is 'in'. That came from 'Ersatz Elevator'. That's the episode where everyone is wearing pinstripes, whether they're large or small. In the hospital scene, she's in disguise as a nurse. It's amazing. I can't say more than that."
That's as far in the journey as Summers will take us. For the rest, we're on our own. The only way to uncover the remaining secrets of A Series of Unfortunate Events and see all of Summers' costume designs come to life is to watch season 2 on Netflix now.
Featured Image: Neil Patrick Harris in A Series of Unfortunate Events. Credit: Eric Milner / Netflix