Accept, Enjoy, Enthuse: Jeff Goldblum on his Mantra, Isle of Dogs & More
Jeff Goldblum is a bon vivant at heart. He always seems to be having a good time no matter what he is doing. No wonder he told Vanity Fair that his mantra is "Accept, enjoy, enthuse." Even when he is only heard and not seen, as is the case in Wes Anderson's stop-motion, Japanese-infused adventure Isle of Dogs, the 65-year-old actor brings joy to his role as Duke, a gossip-mongering member of a pack of misfit alpha canines banished to a trash-piled island by a corrupt mayor.
Anderson certainly senses Goldblum's distinctive presence onscreen, as well as that of his co-stars, even if we don't see him in Isle of Dogs. "I am just happy to have their personalities. There is a strange thing that happens with these puppets. They aren't talking that much but they are on screen a lot. It's a bit of an alchemical, if I'm using that term properly."
That quality might be one reason why — decades after stealing scenes in such mega-blockbusters as 1993's Jurassic Park and its 1996 sequel ,The Lost World (as well as 1997's Independence Day, which got a second edition in 2016) — Goldblum is being recruited for 21st-century follow-ups. This June, he will reprise his role as Dr. Ian "Chaos Theory" Malcolm in Jurassic World: Fallen Kingdom.
Not only that, Goldblum joined the Marvel superhero club last fall as the flashy Grandmaster in Thor: Ragnarok, a character he says he isn't sure he will inhabit again. But, today, he is fully invested in discussing his experience speaking for a bohemian mountain dog in his third collaboration with Anderson, which opens today.
You are part of this makeshift troupe of Wes Anderson players. He seems to enjoy working with the same actors multiple times. What do you like about working with him?
Oh my golly, I'm so lucky. Once, twice, now thrice. These are gorgeous movies and this movie is an important artistic landmark, a cinematic achievement. To be associated with anything like that is an honor. It's no accident these things turn out the way they do. Wes is also the sweetest, down-to-earth guy and it's a dream to hang out with a cast like this one, doing publicity things with Bryan Cranston, Bill Murray, Bob Balaban, Edward Norton and Liev Schreiber.
In The Life Aquatic with Steve Zissou, you were Bill Murray's dashing nemesis oceanic explorer Alistair Hennessy.
Dashing?
You had flair—that scarf and those glasses.
That was Wes's idea. That was his personal scarf and he borrowed Mark Mothersbaugh's glasses.
In The Grand Budapest Hotel, you were a lawyer, Vilmos Kovacs, who is trying to help Ralph Fiennes' Gustav H. but you meet a rather horrifying fate in a museum.
Damn that Willem Dafoe. He bludgeons me and then cuts my fingers off. How about that? That is quite terrifying, since I'm a piano player in real life. My group and I play jazz at Rockwell (a venue in Los Feliz). We are going to do a live recording April 18 and 19 at the Capitol Building. I've appeared on a couple of records, but doing this is fun. I've played for a couple decades. I did The Graham Norton Show in England while promoting Thor and Gregory Porter sang Mona Lisa and I accompanied him. Decca saw the show and a deal was made.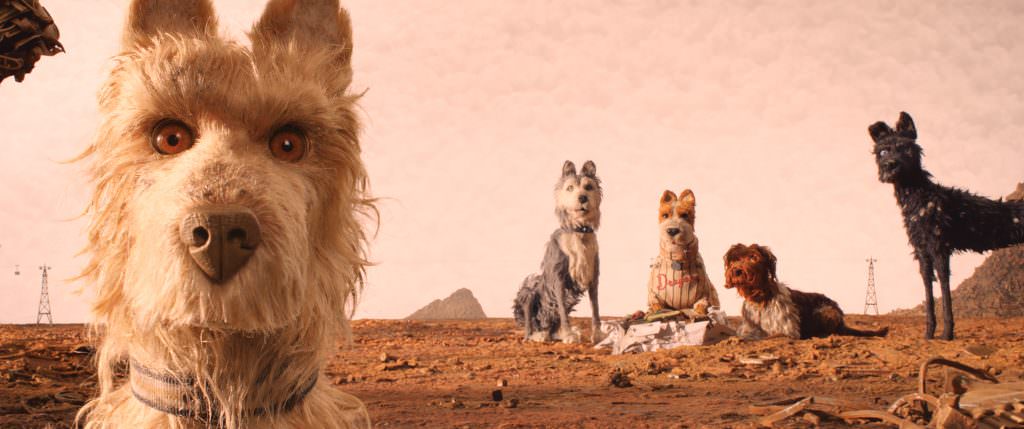 Now you are Duke, this four-pawed version of TMZ. Did your role as a People magazine reporter in The Big Chill prepare you to be this canine purveyor of juicy gossip tidbits?
That's so funny. No one has made that connection to The Big Chill. I was, "Hey, here's my latest scoop."
Did you choose to be Duke or did Wes pick you? I actually like his blue-grayish fur and eyes. He isn't quite as mangy as the rest of the alpha dogs. He is described as having a slender face, sleek ears and a ballet dancer's overly-nimble gait in the production notes. You have all those traits, too, don't you.
Wes said, "You are going to be Duke." I read the script, a beautiful document, and Duke was it. He has crystalline blue eyes much like Peter O'Toole in Lawrence of Arabia. Yes, I have an overly-nimble gait. I work on having that. My wife competed in the Olympics. A nimble Olympic gymnast.
You have two young sons. Charlie Ocean, who is 2 and a half. And River Joe is almost 1. Those are great names. Did you get any Isle of Dogs toys for them?
We thought about their names a lot and just pulled the trigger. Today, Lauren (a publicist) brought me a little rubber version of my dog. But they have been playing with Funko Pop! doll that just came out of the Grandmaster. They also have the old doll from the original Jurassic Park that someone sent to me. It's black clad. You can't have enough images of yourself.
Duke lists what he requires in life: a balanced diet, regular grooming and his annual physical checkup. That is what you require, too, or so you say.
What he says is true. I like my diet balanced. I like to keep up on grooming and not scare little children. And a yearly checkup is a must. These days, though, I require less and less. As Mick Jagger says, you get what you need.
From photos I saw online, it looks like you own a large poodle? Have there been other dogs in your life?
His name is Woody, a boy 4 or 5-years- old. He is a red-haired standard poodle. I had dogs throughout my life, including a poodle named Ginger. No miniatures. I like a big dog.
Featured image: Jeff Goldblum as "Duke" in the film ISLE OF DOGS. Photo Courtesy of Fox Searchlight Pictures. © 2018 Twentieth Century Fox Film Corporation