Uncategorized
Solo: A Star Wars Story One of Franchise's Oldest, Set Before Events in Rogue One
While you might have guessed that Solo: A Star Wars Story took place relatively early in the Star Wars timeline, you probably didn't expect it to be one of the oldest stories in the entire franchise. This includes the films, books and animated series. In fact, Solo: A Star Wars Story takes place before every other film in the Star Wars galaxy save for the three prequels, and includes the animated Star Wars Rebels series and Rogue One: A Star Wars Story. 
How do we know? The Hollywood Reporter first noted that one of Lucasfilm's partners, Del Rey Books (an imprint of Random House), has released this nifty little visual timeline to help you figure out when all the happenings in the massive franchise take place. Del Rey Books publish all the official Star Wars novelizations for Disney, and they've put Solo right after Star Wars: Episode III – Revenge of the Sith. This means that when we join the young Han Solo (Alden Ehrenreich) as he starts out legendary career as a smuggler, we'll be watching him operate in a galaxy that has just seen the rise of the Empire. It'll be interesting to see just how firmly entrenched the authoritarian mores of the new rulers are by this point, and just how much of a threat people like Han realize they are.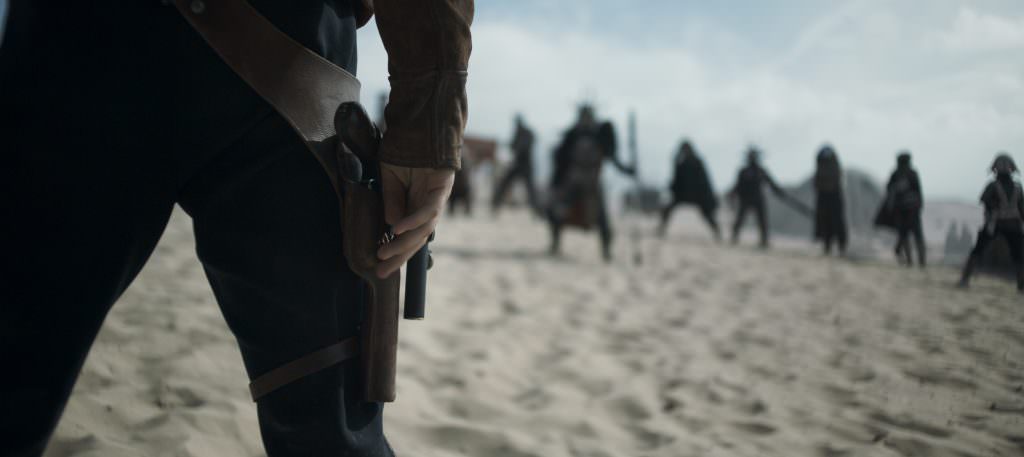 For you Star Wars readers, Solo takes place between the novels "Star Wars: Tarkin" and "Star Wars: A New Dawn," which allows us to further pinpoint exactly when the events in the film take place: "Tarkin" takes place 14 years before Star Wars: Episode IV – A New Hope, while "A New Dawn" takes place 11 years before. As THR notes, this gives Solo a three-year window of when it could take place, and means that when Han was just starting out his risky, high stakes career, Luke was only 8 years old, toiling away on the moisture farm on Tatooine.
Collider points out that the novel "Star Wars: Last Shot" likely tells us even more about Solo's timeline. This book, by Daniel Jose Older, is placed just before the Solo novelization (while the book "Star Wars: Thrawn" is right after it), with a synopsis broken up into a "Then" and "Now" section. They believe Solo will deal with the "Then" section, which reads as follows:
It's one of the galaxy's most dangerous secrets: a mysterious transmitter with unknown power and a reward for its discovery that most could only dream of claiming. But those who fly the Millennium Falcon throughout its infamous history aren't your average scoundrels. Not once, but twice, the crew of the Falcon tries to claim the elusive prize—first, Lando Calrissian and the droid L3-37 at the dawn of an ambitious career, and later, a young and hungry Han Solo with the help of his copilot, Chewbacca. But the device's creator, the volatile criminal Fyzen Gor, isn't interested in sharing. And Gor knows how to hold a grudge. . . .
We know that in Solo, Han and Chewie are recruited by Tobias Beckett (Woody Harrelson) to get involved in some down and dirty business, and this "mysterious transmitter" seems like a pretty good item for them to be ferrying, chasing or stealing. We'll find out for sure when Solo: A Star Wars Story hits theaters on May 25.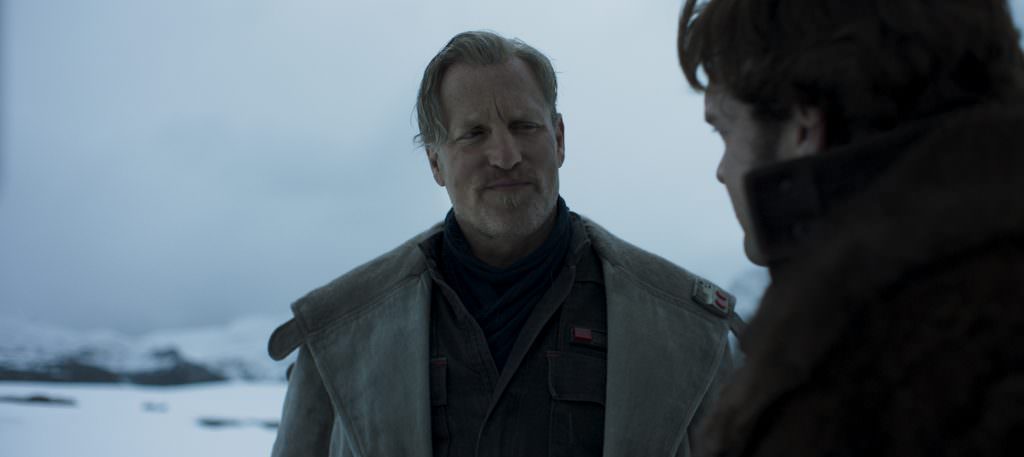 Featured image: The Millenium Falcon in SOLO: A STAR WARS STORY. Courtesy Lucasfilm/Walt Disney Studios