Oscar-Nominated Director Luca Guadagnino on his Lush, Lyrical Call Me By Your Name
As part of our Oscars week coverage, we're re-posting our conversations with some of this year's Oscar-nominees. Luca Guadagnino is nominated in the Best Picture category, alongside his producers Peter Spears, Emilie Georges and Marco Morabito. The other Best Picture nominees are Darkest Hour, Dunkirk, Get Out, Lady Bird, Phantom Thread, The Post, The Shape of Water and Three Billboards Outside Ebbing, Missouri. 
Italian director Luca Guadagnino's lush and luscious love story Call Me By Your Name is an homage to the director's love for cinema.
"Every movie is personal. This one connects me with my love for certain films," says Guadagnino, citing French director Maurice Pialat's À Nos Amours and the films of Italian auteur Bernardo Bertolucci as particular influences. "I was drawn to the possibility of telling this story through the lens of directors I love: Bertolucci, Renoir, Rohmer … I grew up loving these films. I think I understood myself through these films, even before I had any understanding of my sexual identity. I understood my position in the world watching these kinds of films. To me, as a director, to have the luck and the privilege of being able to indulge these recollections of emotional memories, it's extraordinary."
Set in Northern Italy in the summer of 1983, Call Me By Your Name opens with Oliver (Armie Hammer), a doctoral student, arriving to intern at the17th-century villa where professor Perlman (Michael Stuhlbarg), an expert in Greco-Roman culture, summers with his wife, Annella (Amira Casar), a translator, and their precocious 17-year-old son Elio (breakout star Timothée Chalamet). Amid sensory delights such as trees bursting with fruit and lavish meals served al fresco, Elio and Oliver swim, bicycle, discuss music and literature and, finally, allow their discreet flirtation to blossom into passionate intimacy.
Guadagnino first read André Aciman's novel of the same title back in 2008 when he was making I Am Love with frequent collaborator Tilda Swinton (she also starred in his A Bigger Splash in 2015). At the time, another director was attached to Call Me By Your Name, but since Guadagnino helped scout some locations in Italy, where he lives, he was given an executive producer title. Eventually, the first deal fell apart, but Guadagnino remained close to the project. "One day, I was with [the film's screenwriter] James [Ivory] who I've known for many years. He was part of the project and we said, 'let's think of how we would do it.' So he and I wrote the script [on our own]. Then we tried to make it with James directing but it was difficult to put together. The market is a strange beast. Eventually, I became the director and it became a small, small, small thing with a little amount of money," he says.
"James wanted to make it in Sicily and I moved it to the North of Italy," says Guadagnino. "I did A Bigger Splash in Sicily against the sea [but] I don't like the sea. I don't like the heat. I like winter and the north."
Call Me By Your Name has earned universal acclaim ever since its world premiere at the Sundance Film Festival, through glowing reviews out of the Toronto International Film Festival and most recently was met with standing ovations at the New York Film Festival. With Oscar buzz swirling around the two leading actors, as well as Guadagnino and Ivory, it's not surprising that Guadagnino said recently that he's thinking about a sequel that picks up Elio and Oliver several years into the future. The director has already finished his much-anticipated reimagining of Italian horror master Dario Argento's 1977 cult classic, Suspiria, starring Swinton, Dakota Johnson Chloë Grace Moretz and set for release in 2018.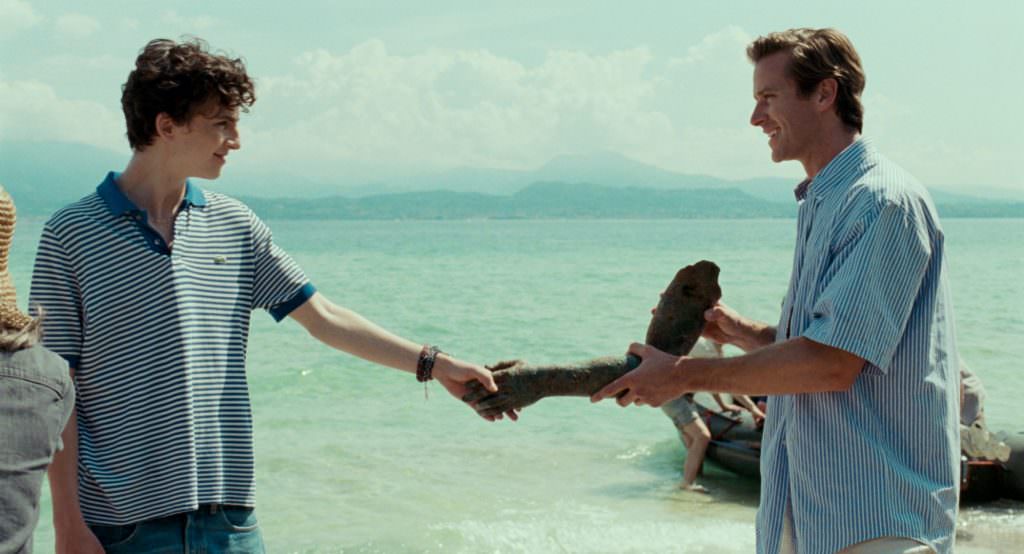 Call Me By Your Name is about first love and a powerful gay romance but it's also about culture and family — the Perlmans read (in several languages) and listen to music together. Beauty in all its forms is central to their lives. Late in the film,  a conversation takes place between Elio and his father that is empathetic, insightful, loving, honest and unlike any fatherly advice one is likely to hear in a coming-of-age movie. It is a scene that encompasses the film, a celebration of highest ideals of love and life and a succinct philosophy, with neither pretension nor sentimentality, about what matters most.
It is Guadagnino's point of view, too. "You make culture in every possible way," he says. "The transmission of culture, the transmission of knowledge, I believe, is the heart of this film. It's about family; a place where oppression can be played out but also a place [for] a Utopic vision of a better society, in which generations directly and indirectly share knowledge. That's, for me, very important and beautiful that I also try [to have] in my own life.
"The film is about empathy. If we would all be able to call ourselves by each others' names, there would be no wars," Guadagnino says. "Imagine Donald Trump saying to a shoeless Mexican young man who's trying to cross the border, 'call me by your name.' Imagine how he'd learn about life."
Featured image:  Left to right: Timothée Chalamet, Director Luca Guadagnino and Armie Hammer. Photo by Peter Spears, Courtesy of Sony Pictures Classics