Writer Ed Solomon Puts the Pieces Together for HBO Thriller Mosaic
As the guy who broke rules to mesh comedy and sci-fi with his now-classic Men in Black script, Ed Solomon knows how to pull off experiments in entertainment. Still, when he and Steven Soderbergh co-created Mosaic, Solomon had to wrap his head around a lot of unknown variables. The murder mystery debuted this past Monday on HBO for five consecutive nights in tandem with a free app that re-structures the same whodunit in interactive flow chart form for smart phones. But for all its 21st century innovations, Mosaic motivated Solomon to organize his thoughts with a nearly ancient Hollywood technique: index cards on a wall. "We had to do it analog," he laughs. "This was really about 'Human being trying to hold gigantic story in head' because I couldn't allow the scenes to disappear from my visual field."
To be sure, there's a lot to keep track of in Mosaic.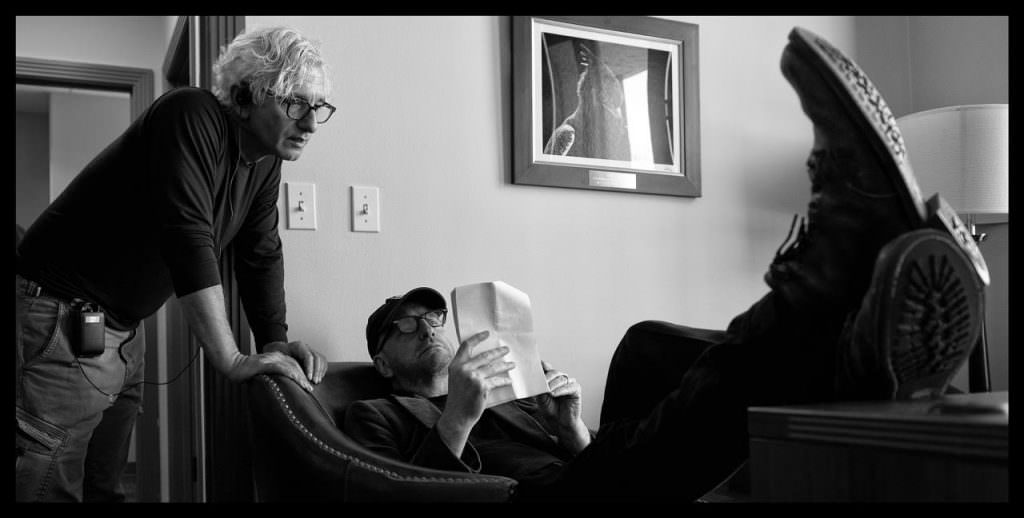 SPOILER ALERT
One hit wonder children's book author Olivia Lake (Sharon Stone), living on valuable land in a posh ski resort, attracts con man Eric Neill (Frederick Weller) and her handsome handyman Joel (Garrett Hedlund). Foul play ensues and Eric goes to prison. Four years later, Eric's sister Petra (Jennifer Ferrin) and neurotic cop Nate (Devin Ratray) re-open the case, much to the consternation of corrupt ex-sheriff Alan (Beau Bridges), Olivia's rich neighbor Michael (James Ransone) and slick businessman Tom (Michael Carvers).
Each character has secrets to hide and a skewed point of view, which is exactly how Solomon planned it after Soderbergh invited him to figure out a saga for the PodOp app, co-developed by producer Casey Silver to the tune of 14 patented technologies. "Steven wanted to do a small town true crime thing centered around the kind of larger-than-life woman where all the molecules shift when she enters the room," says Solomon, describing the character who came to life as Olivia. Speaking from his Manhattan apartment, Solomon reads from the text he sent to Soderbergh a few days after their first meeting. "'Since we're talking about a ski town that used to be an old mining town, I like this theme of things being buried deep below the surface that start to bubble up. Maybe Olivia came up with an idea, wrote it down in 45 seconds, drew it in two weeks and spent the rest of her life searching for it to happen again. And what if Olivia's estate has faded icons from this fantasy world she created from her book, as if to say, dotted in the woods around Maurice Sendak's house were thirty year-old sculptures of 'Wild Things'?"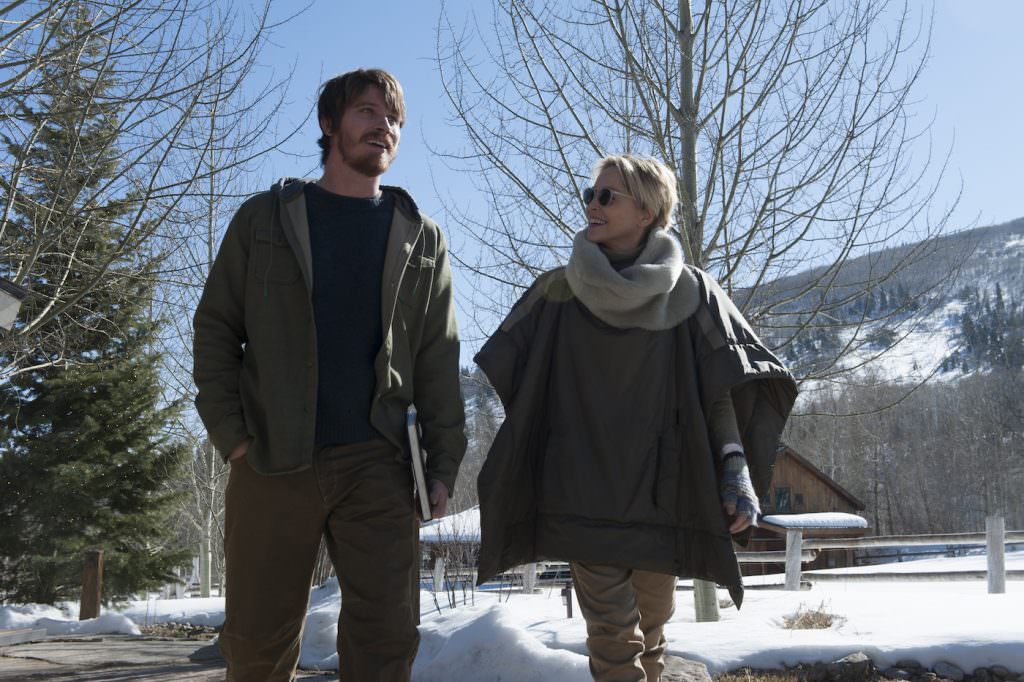 Soderbergh signed off on the core notion and convinced HBO to back the TV/app package. Then came the hard part. Solomon explains, "Instead of a single-line narrative, the story had to be told from a lot of different points of view so we designed the whole town in our minds. I made this list of characters and their back stories. Then I outlined everything that happened in sequential order."
Enter the Wall of Cards.
"We had this 1200-square foot office lined floor to ceiling with index cards, different colors for different characters," Solomon says. "Steven and I would sit in the middle of the room, stand up, take an index card off one wall and transfer it to the other wall where we laid out the scenes in a narrative way. Analog was literally the only way to build Mosaic because it was so complex we would otherwise would have gotten lost."
After Solomon expanded the outline into a 265-page shooting script-in-progress, the cards were shipped in late 2015 from New York City and re-assembled in Park City, Utah. There, Soderbergh directed, operated the camera and edited the first batch of scenes with characteristic efficiency, using the cards as guide posts. "Every night, Steven and I walked into this hotel room with the cards on the wall and we'd go 'Okay tomorrow we're doing this scene and that scene, just to keep in mind the different points of view," Solomon recalls. "Normally, you shoot one point of view, but on Mosaic, Steven sometimes had to shoot three points of view of the same scene."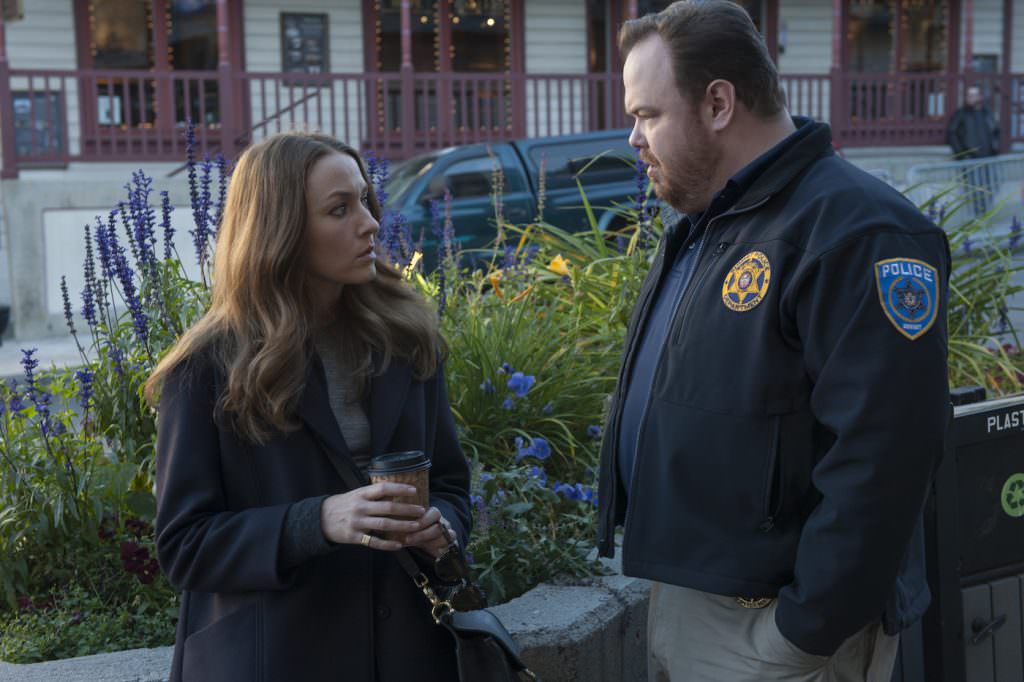 The linear version of Mosaic, completed with a second round of filming in spring 2016, offers a relatively straightforward chronology as dictated by Soderbergh and Solomon. By contrast, the app allows viewers to choose different paths by selecting one character's perspective over another. "I think of the broadcast version and the app as being like fraternal twins," Solomon says. "Same genetic material, same point of origin, same incubation, but as they grow, each one becomes a different organism. There's stuff in the app that's not in the linear version and vice versa, not because we're trying to be clever or make people watch both. It's just that each version has different needs."
The Mosaic app re-configures the six HBO episodes into 17 discrete chunks of video complete with clickable "discoveries" that open up emails, video backstories, legal documents and newspaper articles. For example, the app reveals the meaning of a mysterious symbol that appears without explanation in HBO's limited series. Solomon says, "Steven's attitude was 'Let's be realistic: We live in a world where people who watch stuff on their devices are going to be interrupted by texts and emails and what not, so why not let them go further?' When there wasn't room for some of these things in the linear version, we'd include them in the app."
Now that he's gotten a taste of flow-chart storytelling, Solomon has no plans to revisit the 120-page feature film format any time soon. He says, "I'm working on a new one and when the producer asked me how it was going, I said 'I'm only on page 530. I have about 130 more to go.' I never thought those words would ever come out of my mouth!"  Moving beyond the traditions of linear filmmaking, Solomon savors the subjective possibilities offered by digital technologies. "There's something freeing about knowing you have that much room. You still want each scene to be tight and meaningful, but I love being able to explore nuances so I can tell a deeper story in this odd and interesting way."
Featured image: Ed Solomon and index cards detailing Mosaic's many perspectives. Photo by Claudette Barius.