Real Life Special Forces Heroes Helped Keep 12 Strong True To Life
Star Chris Hemsworth got some guidance from the man he portrays in the movie 12 Strong (released Jan. 19). Hemsworth plays Capt. Mitch Nelson in the film about a team of Green Berets on a strategic mission in Afghanistan in the days immediately following 9/11. The real-life Special Forces officer he represents is Mark Nutsch, who asked that his name be fictionalized in the movie.
Nutsch and one of his Green Beret teammates visited the production on location in Albuquerque, New Mexico, to offer some guidance on how to portray soldiers, honor the facts of the real story  —  and ride the horses that play a key role in the film.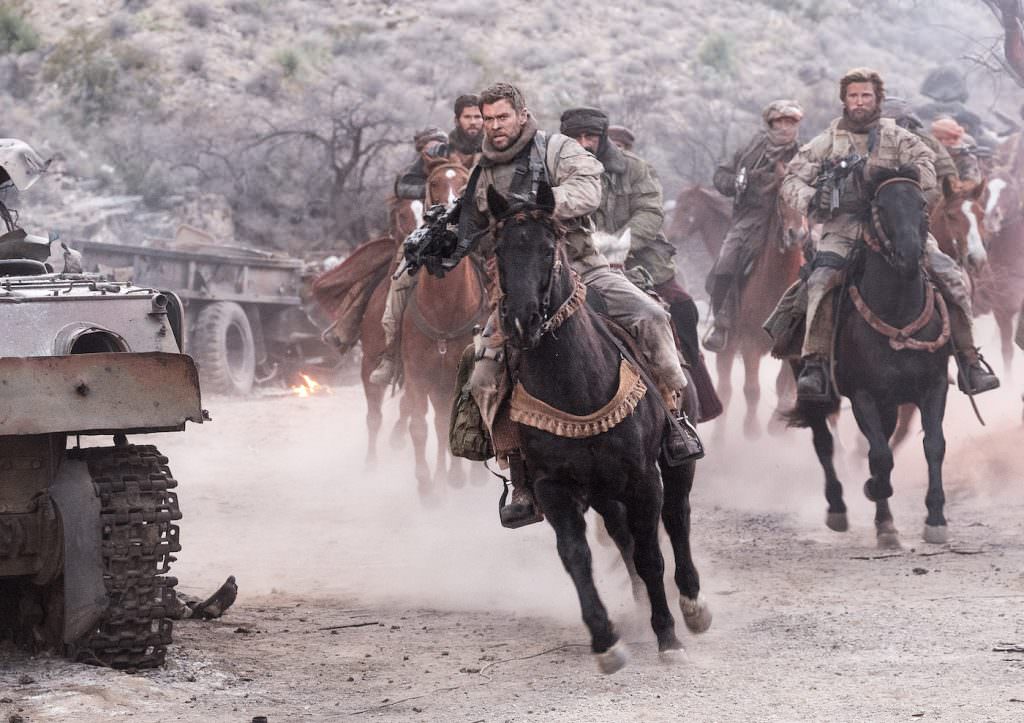 "We tried to impart some key aspects we hoped they would take away regarding special forces, the forging event that was 9/11 and the relationship between the CIA and Special Forces," Nutsch told The Credits. "We wanted these actors to learn more about these real men they were playing."
Nutsch tutored the actors on some of the training that makes members of the Special Forces unique, like the emphasis on diplomacy and alliance-building, as well as the mix of specific skills that forms a 12-man team.
"It's a big-Hollywood, Jerry Bruckheimer film. It's certainly not a documentary," Nutsch said, noting that the movie dramatized some aspects of the true story. For example, it only covers three weeks of a months-long mission. "We're pretty pleased with it. We were able to influence some things."
Filmmakers are seeking more and more realism in movies about members of the military who have accomplished heroic deeds in real life. Clint Eastwood cast the real men who stopped a terrorist on a train to Paris for his upcoming The 15:17 to Paris, which is out in February.
Eastwood also cast a former Navy SEAL (Kevin Lacz) in his Oscar-winning 2014 movie American Sniper. Lacz served as a technical adviser for the movie as well, training star Bradley Cooper for his starring role.
Navy SEALS also trained the actors in Peter Berg's 2013 Lone Survivor. Marcus Luttrell, who wrote the book, consulted on that movie along with two of his former SEAL Team 5 members, Ray Mendoza and Mark Semos.
Kevin Kent, who is credited on 12 Strong as the military technical advisor, is also a former Navy SEAL.
Nutsch noted that while many previous movies have focused on Navy SEAL teams, this movie had a responsibility to portray the Green Berets differently.
"We tried to inform and educate the entire production about Special Forces. We are not Navy SEALS; Green Berets conduct our missions working with local allies. Those missions last weeks to months to years in duration," Nutsch said.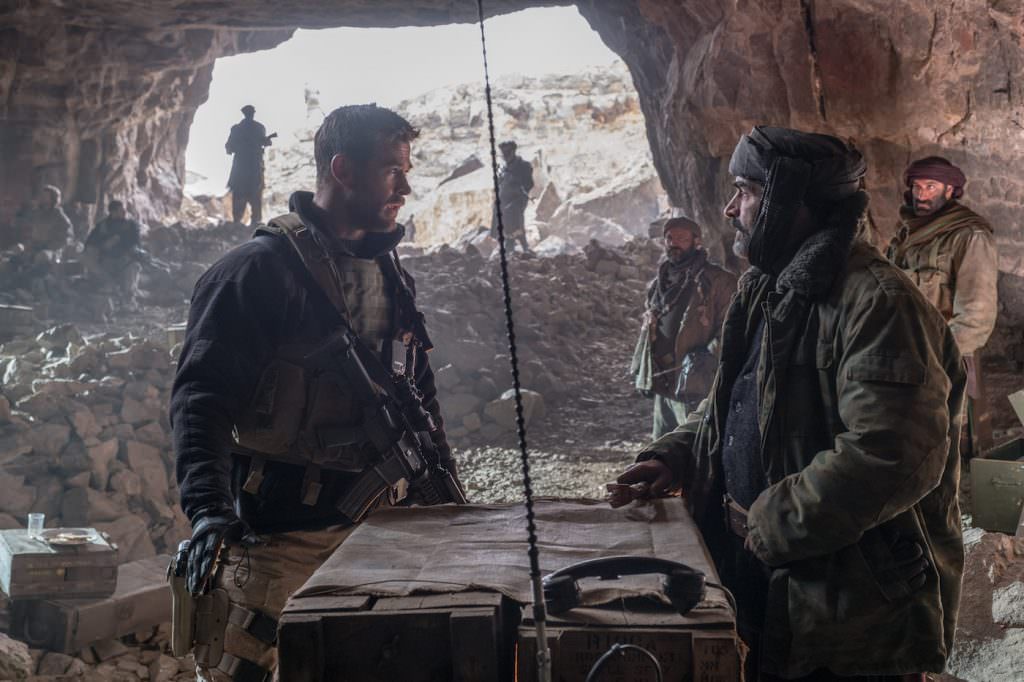 Hemsworth got the message.
"We've seen a lot of Navy SEAL movies, which are very smash-and-grab approaches, which is what they do best, better than anyone," Hemsworth told media outlets earlier this year. "With Special Forces guys, they embed themselves in a community over a course of months or years, and it's a diplomatic duty and relationship building within these communities to achieve their outcome."
The movie is about U.S. forces forming an alliance with leaders from Afghanistan's Northern Alliance to take back a town that controls the northern region in Afghanistan. Director Nicolai Fuglsig chose to shoot in New Mexico, standing in for Afghanistan  —  which Nutsch said gives the movie a plausible backdrop. Bruckheimer has also noted that Afghan refugees who live in the state have roles in the film, which may offer additional realism.
Nutsch also talked to the actors about handling horses  —  which was a necessity for his team in the rugged terrain. The modern cavalry concept became the inspiration of the book Horse Soldiers by Doug Stanton, which is the basis for the movie.
"We tried to impart what that [going into battle with horses] was like and a lot of that made it into the scenes," Nutsch said.
Many of the actors' inexperience with horses is also realistic. Nutsch grew up on a ranch and riding competitively in rodeos, but "for my teammates it was a steep learning curve," he said.
Actors who play members of the 12-man special forces team, such as Michael Peña, Trevante Rhodes and Geoff Stults, have all acknowledged their lack of horse experience before the intensive boot camp involved in making the movie.
According to Nutsch, who lived the real story, the movie gets one thing completely right: The "incredible bravery and heroism that my men displayed throughout that mission."
12 Strong tells a story that could easily seem unbelievable if it weren't true  —  which is why filmmakers sought to keep the details grounded in reality.
Featured image: A scene from Alcon Entertainment's, Black Label Media's and Jerry Bruckheimer Films' war drama "12 STRONG," a Warner Bros. Pictures release.