Uncategorized
Patty Jenkins Teases New Characters, Big Emotions for Wonder Woman 2
With all of the excitement and celebration around Wonder Woman's triumph this year, fans are understandably looking forward to the 2019 sequel. It's very early on in the production, so director Patty Jenkins is cautioning us all to be careful about our assumptions. Anything that she says, though, heightens our anticipation and makes us hungry for more details so we are mining her statements for clues about the future of Diana Prince.
Jenkins was a guest on Variety's Playback podcast where she was asked by host Kristopher Tapley about the sequel. Here's the exciting details she had to share:
"It's really still going to other values of hers, and a similar formula insofar as making a great, enjoyable fun movie but that ultimately in its third act turns some very big issues, and a very big experience that will aim to have slightly more weight and profundity than it has to have. Because that's a formula that I really like, and I like the idea of taking somebody on a very solid, great journey but that arrives at a bigger question being answered. So it's like that but because she is Wonder Woman and she's here now and she's fully developed, it's got great fun from the start and great big superhero presence from the start, and is funny and a great love story again and a couple new unbelievable characters who I'm so excited about, who are very different than were in the last movie."
Wonder Woman has been the most compassionate member of the Justice League, always striving to serve humanity and do the right thing. In her first standalone movie, Diana took a stand against war and even though Earth isn't a glittering utopia like Themiscyra, she still fought to defend it. Being a trained warrior, Wonder Woman is made of pretty tough stuff, but we can see where moral dilemmas might develop. Part of her charm is seeing her goodness triumph and we're eager to know what the challenge Jenkins refers to might be.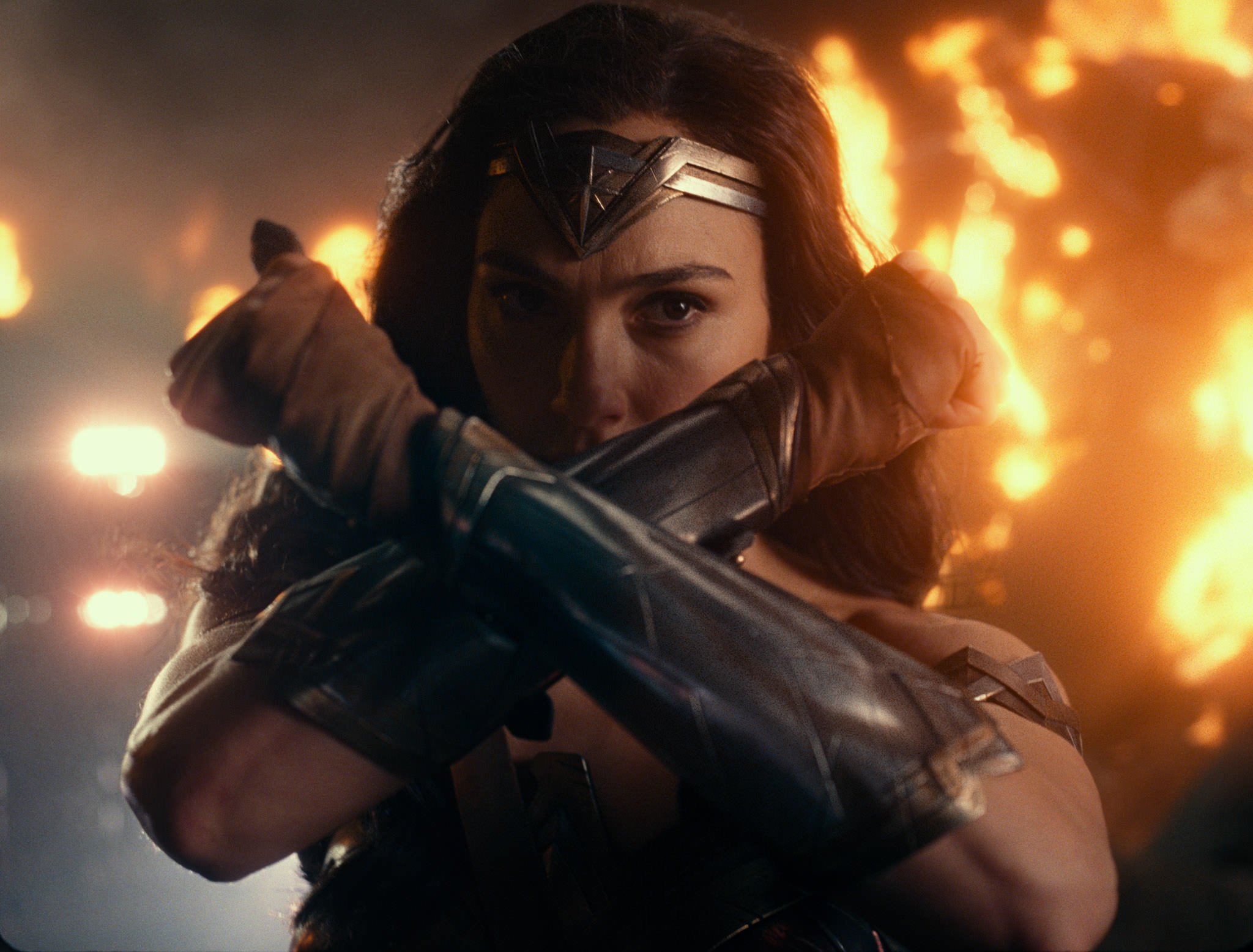 GAL GADOT as Wonder Woman in Warner Bros. Pictures' action adventure "JUSTICE LEAGUE," a Warner Bros. Pictures release. Courtesy of Warner Bros. Pictures/ TM & © DC Comics
Jenkins did allude to that theme being played out further. "I did very much thematically want to get to love [in Wonder Woman 1], because that's what she stands for, and the complexity of what we're facing. That was the thing, is like the journey of a character through our world who believes in good and evil—as we all do—facing a world ultimately that ends up showing you how unbelievably complicated it is to tackle that or conquer that in any black and white terms. And therefore how much love that requires to stay struggling to make this world a better place versus choosing hate and joining the fight that perpetuates it."
We loved getting to see Wonder Woman's origin story in the first film, but now that we know her better, we like that Jenkins says she'll come out with a punch. The masterful mix of grace, action and humor was a winning combination the first time. Dialing everything up is what successful sequels are made of.
Chris Pine was darling as Steve Trevor and we'll absolutely miss him and are curious who the new love interest might be. Someone on the Justice League? A character that hasn't been introduced yet in the films? Steve was Diana's main beau in the comics, so his death really puts a big question mark on the series' future.
What we might be most excited about is seeing the development of characters we've already come to know and love. Gal Gadot was by every definition of the word a star, but her surrounding cast was equally dazzling. We lament that we won't see more of Robin Wright's Antiope in action after she sacrificed herself in battle. The team Steve Trevor assembled in Sameer, Charlie, and The Chief were spectacular, though. We would love to see them reunited. Most dear to our hearts is the delightful Etta Candy who was spectacularly played by Lucy Davis. Her return has been teased in the Blu-Ray bonus material so we are really counting on that coming true.
Diana Prince has the advantage of being immortal, so Wonder Woman 2, could be placed in any time, really. In order for her mortal cohorts to return, however, it couldn't stray too far from the WWI setting of the original. Jenkins did indicated that she'd like to keep the next installment more closely tied to Wonder Woman's standalone universe that the present day DCEU.
"I feel like it's just the right amount the same world of Wonder Woman as the first movie while being a completely different story that tackles something very different but very similarly singular. One story," Jenkins said.
Jenkins said on Twitter that she has to keep things vague and any assumptions are likely to be wrong, but true fans can't help dreaming. We still have very little to go off of at this point, so we'll have to keep speculating until the film release nears.
Wonder Woman 2 is slated for a release date of November 1, 2019.
Featured Image; GAL GADOT as Wonder Woman in Warner Bros. Pictures' action adventure "JUSTICE LEAGUE," a Warner Bros. Pictures release. Courtesy of Warner Bros. Pictures/ TM & © DC Comics