Missouri Doctor Recognizes His 1982 T-Shirt Design on Stranger Things
The Upside Down is filled with monsters, conspiracies, and plenty of plot twists, but the mind bending oddities became real for one Missouri doctor who noticed something familiar on screen. Orthodontist Wes Allai from Springfield, MO (formerly most famous as the hometown of Brad Pitt, but obviously now this) spotted a familiar design that he never expected to see on TV. Stranger Things favorite, Dustin (Gaten Matarazzo), was sporting a T-shirt Allai had designed in 1982 promoting his practice.
Allai wasn't actually a fan of the show, but a patient reached out to say she had noticed the unique logo in season 2 episode 6, The Spy. The design was hard to miss. It's a bright orange crew neck with a shuttle flying past a blue planet while astronauts install braces on a disembodied mouth. Dustin was wearing it under a zip up hoodie on the show, but you can make out just enough to recognize the tagline that reads in full, "Brace Yourself for the Future!"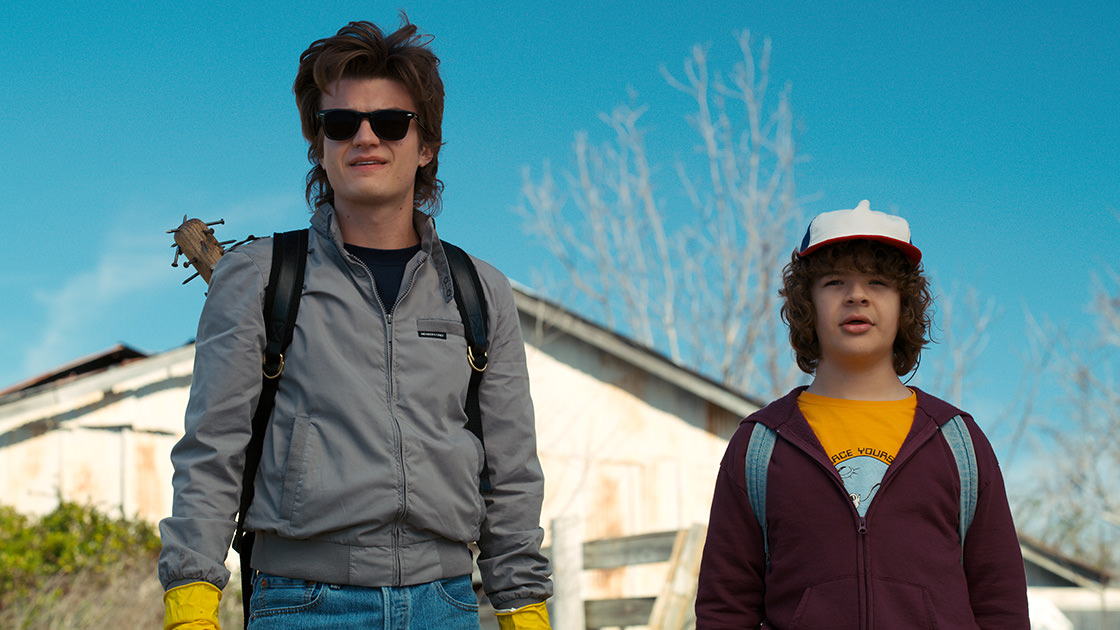 Joe Keery, Gaten Matarazzo in Stranger Things. Courtesy: Netflix
A local news station interviewed Allai, who said he had no idea how the shirt made it on the show. He was not involved in the process at all. Costumes for period pieces, like Stranger Things, are often selected from consignment shops or vintage stores. The series' costume designers must have had a sharp eye, because the shirt actually is from 1982 – the decade in which the show is set. Allai designed it himself and has been handing them out to patients ever since.
If you were a patient of Dr. Allai's "Smiles by Wes" practice, you should go digging through your t-shirt closet to see if you've won this week's TV memorabilia lottery. Luckily, you don't have to make a trip to the dentist to look just like Dustin. In response to the hype, Allai is now selling the shirts on Etsy for $19.99 plus shipping. The shirt was actually produced in three colors, so if you aren't going for the bold look, there's a light blue or pink. If you want to look authentic, Dustin's version is available in Tennessee orange.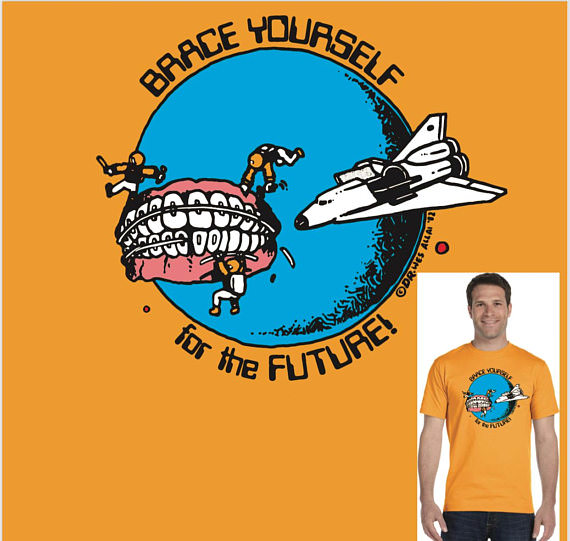 Allai's shirts design now available on Etsy.
Allai has said he would like to get the shirt signed by Matarazzo. For the rest of us, we'd like to know how the shirt made the journey from a small town in Missouri over 35 years onto one of the year's hottest shows. But that may forever remain a mystery in the Upside Down.
Featured Image: Natalia Dyer, Sadie Sink, Joe Keery, Gaten Matarazzo, Caleb McLaughlin in Stranger Things. Courtesy: Netflix