Costume Designer Alexandra Byrne Creates Sinful Style in Murder on the Orient Express
The lavish train ride of Murder on the Orient Express, the 1934 Agatha Christie mystery that ranks among the writer's most culturally iconic novels, makes its second movie adaption premiere today (the first came out in 1974), at the hands of director Kenneth Brannagh. In recreating the world of Hercule Poirot, the fictional dapper detective who appeared in 33 of Christie's books, and as whom the director also stars, Brannagh shot the film on some of the last 65mm Panavision cameras left in the world.
A fully moving train was constructed, and 1930s fabric swatch books were hunted down to create costumes for Russian royalty Princess Dragomiroff (Dame Judi Dench), devout missionary Pilar Estravados (Penelope Cruz), wealthy widow Mrs. Hubbard (Michelle Pfeiffer), and the rest of the snowy ride's 13 suspected passengers. We sat down with costume designer Alexandra Byrne, a veteran of period pieces like Phantom of the Opera, Elizabeth, Elizabeth: The Golden Age (for which she received an Oscar), and Finding Neverland, to chat about recreating a distinct mid-30s aesthetic and costuming for characters in an avalanche.
The film's setting, of course, is very distinct. How much did the this influence costuming choices?
A large part of the film is set within the train carriages while the train is stuck in an avalanche. This means that the clothes will be seen against a background of white, so silhouette becomes very important. The confine of the carriage also means that most of the camera work will deliver predominantly above-the-waist shots.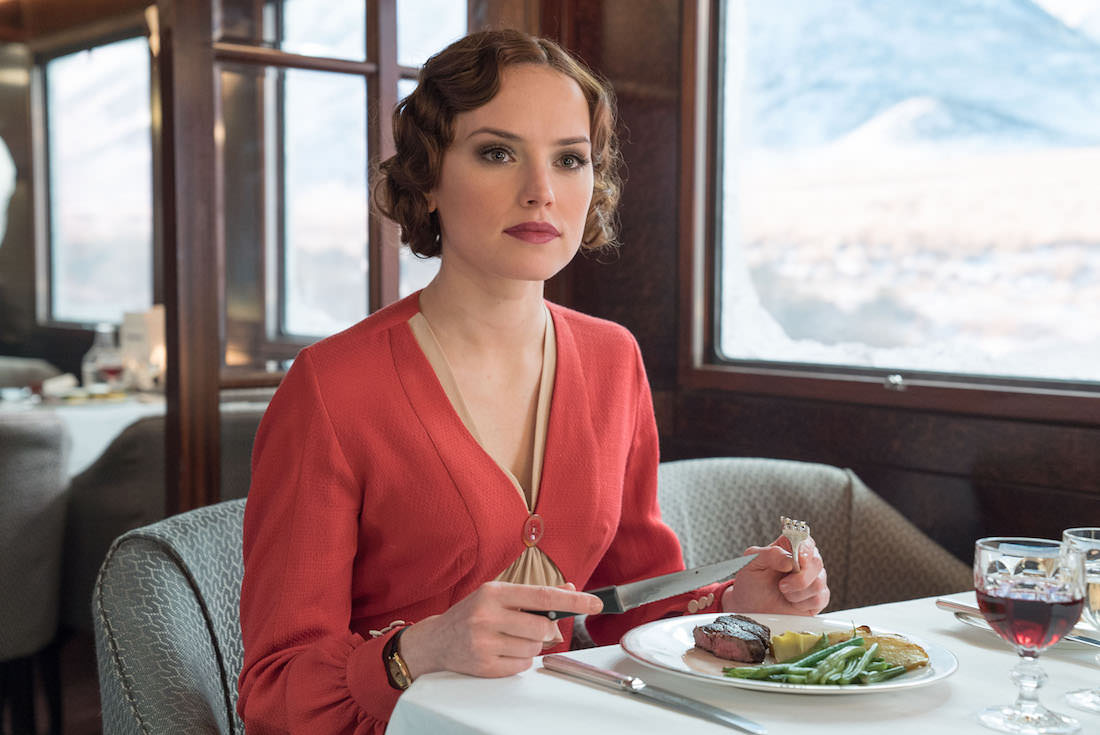 Daisy Ridley stars as Miss Mary Debenham. Photo by Nicola Dove. Courtesy 20th Century Fox.
In creating the costumes, what did you draw from beyond Agatha Christie's original novel? Were you influenced at all by the 1974 film?
My initial research work revolved around the script, the novel, contemporary travel writing, photography, painting, fashion, image research to create mood boards and back history time lines for the characters and environments. I also sourced original garments, fabrics, and accessories for each character, whilst discussing with Ken and the cast. There have been many renderings of Poirot, and I looked at as many as I could find within their context and time of creation.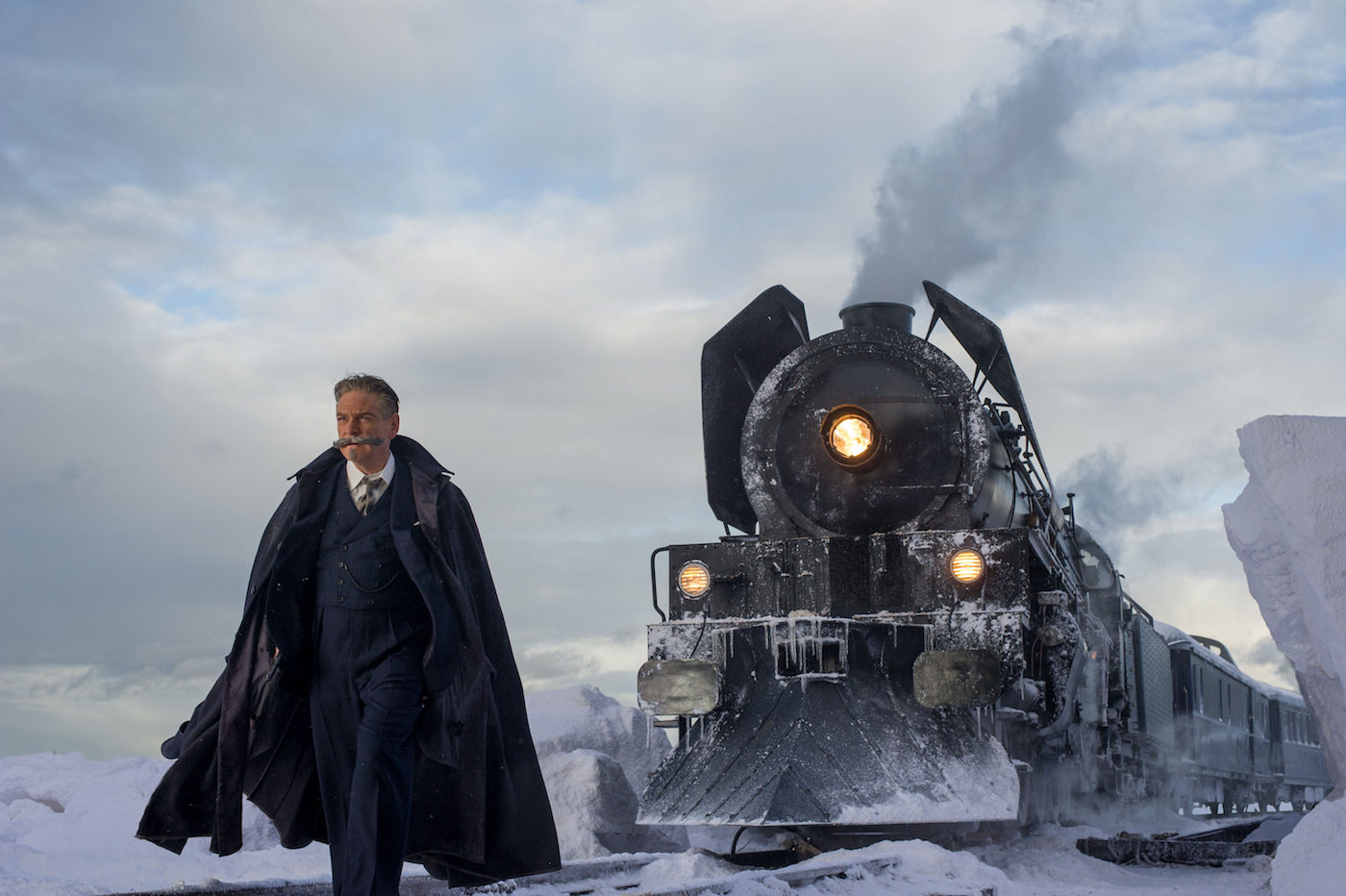 Kenneth Branagh stars as Hercule Poirot. Photo by Nicola Dove. Courtesy 20th Century Fox.
What historical sources did you look to?
As many and as varied as possible. The internet provides endless source of written and visual research available 24/7. I also like to used books…flicking though pages can produce the unexpected.
How were these 1930s pieces created? Where did you find the 1930s fabric sample books used to determine swatches, for instance, and how does one go about recreating those fabrics?
Original pieces can be hired form costume houses or purchased at vintage fairs or through dealers. Fabric book samples are invaluable because the samples have not been exposed to wear and tear or sunlight, so it is possible to see the original colors. I worked with my team to find fabrics as close as possible to the original. Some of the suitings were woven for us, some purchased. Most of the dress fabrics were dyed and printed by my textile team. Then anything made would go through an appropriate aging process so that the clothes had suitable age and wear for the character.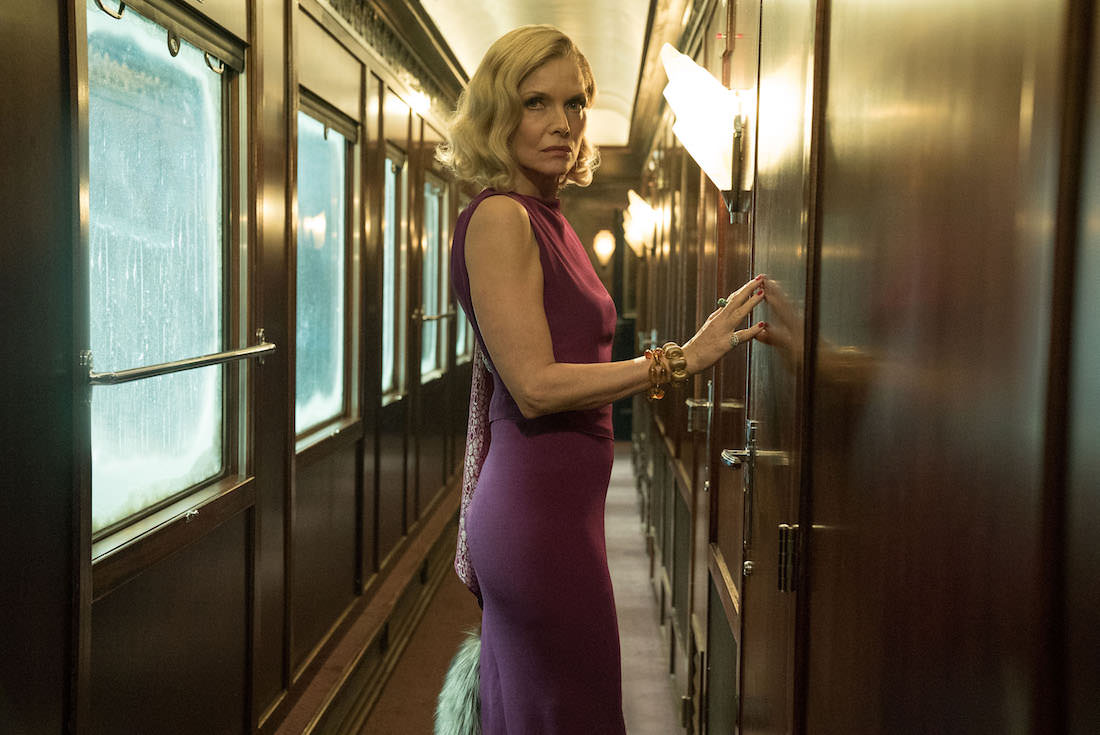 Michelle Pfeiffer stars as Caroline Hubbard. Photo by Nicola Dove. Courtesy 20th Century Fox.
How did designing for this film compare to working on other period pieces, like Elizabeth: The Golden Age and Phantom of the Opera?
The great thing about my work is that I am constantly learning — every project brings different challenges and demands. My work process usually follows a similar path, but leads me into new areas.
Featured Image: Kenneth Branagh and Daisy Ridley star in Twentieth Century Fox's "Murder on the Orient Express." Photo by Nicola Dove. Courtesy 20th Century Fox.