After Years In the Making, Pixar's Coco is Finally Here
Pixar movies are famously time-intensive, and for a good reason: they're beautiful. The studio's latest film Coco is no exception. After six years in development (that's two more years than Toy Story, which, incidentally, was released 22 years ago today), Coco premiered in October at the Morelia Film Festival in Mexico, coinciding with the marigold-bedecked Día de Los Muertos season that it depicts on screen. One month later, it has arrived Stateside. Grab your Milk Duds, and maybe stash some Kleenex in your pocket, because this richly woven story is more than worth the wait.
Below, we look back on how the film came to be.
1937
Coco may be be Pixar's first movie set in Mexico, but it's not Disney's. In The Three Caballeros (1937), Donald Duck launches on a song-filled journey south of the border. Walt Disney himself was recruited by the U.S. government after the Second World War to create films that would strengthen ties with Latin American neighbors. And so he and his colleagues, known as "El Grupo," traveled as Goodwill Ambassadors throughout Mexico looking for inspiration. For the Coco team, research trips to Mexico would inspire not only the look and feel of the story, but the story itself.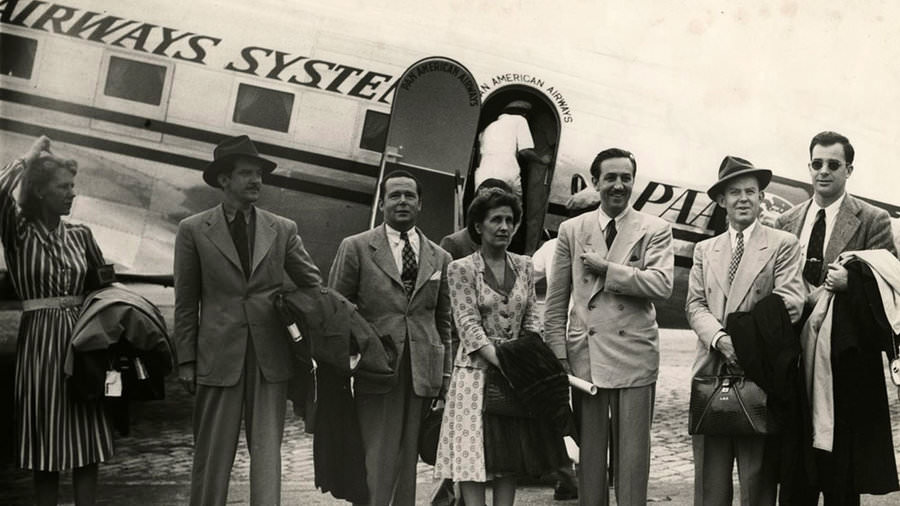 Walt Disney arriving in Mexico. Courtesy Walt Disney Studios.
2011
On a family trip to Epcot, director Lee Unkrich is drawn to the folk art of the Mexico exhibit. He pitches the idea of a movie centered around Día de Los Muertos set in Mexico to the Pixar team in September of 2011. It wasn't, however, the only idea he pitched. Directors are often asked to come with two or three ideas, so as not to get too emotionally attached to a single one. Pixar recognized the uniqueness of the opportunity, as they'd never done anything quite like it it before. Needless to say, the film advanced into the next stage of development.
2012
The film is officially announced as a project in 2012, but its plot, characters, title and visual sensibility were all kept under wraps. The suspense builds.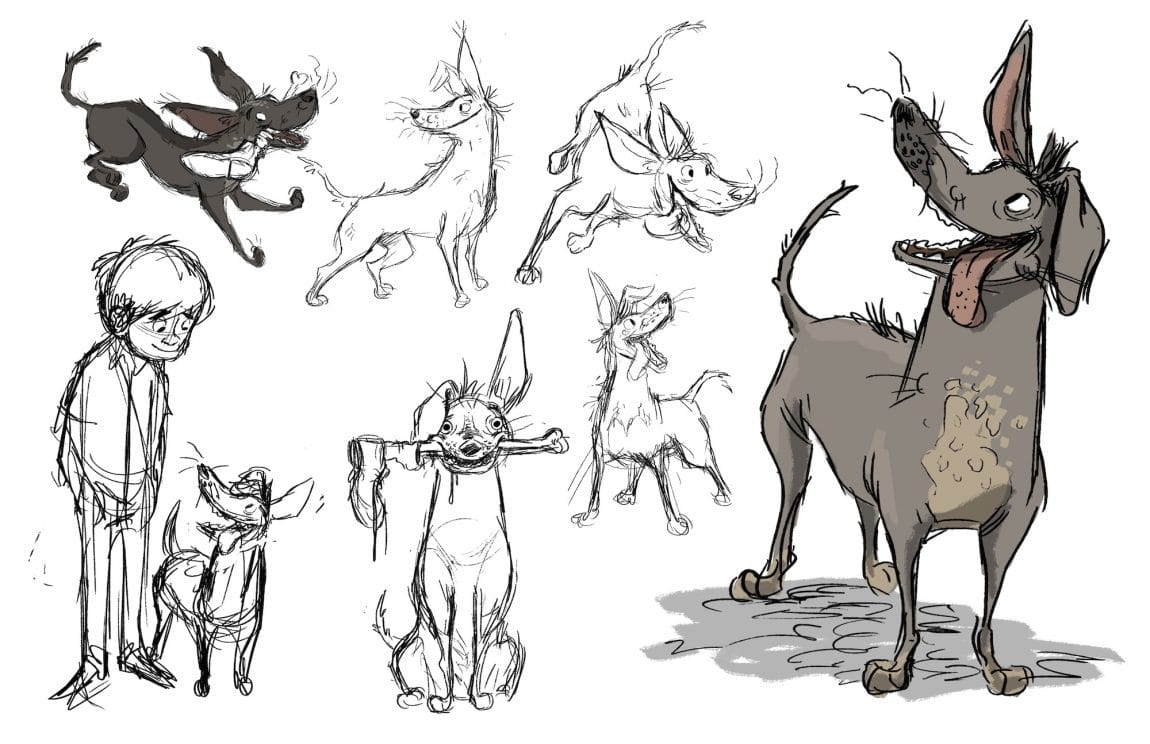 Dante concept art by Manny Hernandez. ©2017 Disney/Pixar. All Rights Reserved.
2013
Short-lived controversy occurs when Disney files to trademark "Día de los Muertos." After an outcry from the Latino community, a week later the studio withdrew the request and reached out to the Latino community for support and advice. Eventually Disney would create a cultural consultant group, something never done before, which would include cartoonist (and a once-vocal critic) Lalo Alcarez, producer Marcela Davison Avilés and playwright Octavio Solís. The consultants worked alongside the Pixar team to guide the story, help get the specificities of Mexican culture right and avoid various cliche traps.
2014 (…or at least our best guess)
The creative team advances. They take several trips to various locations throughout Mexico — Oaxaca, Guanajuato, Pátzcuaro, Mexico City — over the course of three years to study the landscape, people, traditions, customs, crafts, and of course, the music. Characters and plotlines are drafted and redrafted ad infinitum.
2015
The film's name, colorful logo and a few plot details are announced at the annual D23 Expo (an event for Disney mega-fans) in August. Attendees were also shown select artwork and early concept designs. The audience's interest is piqued.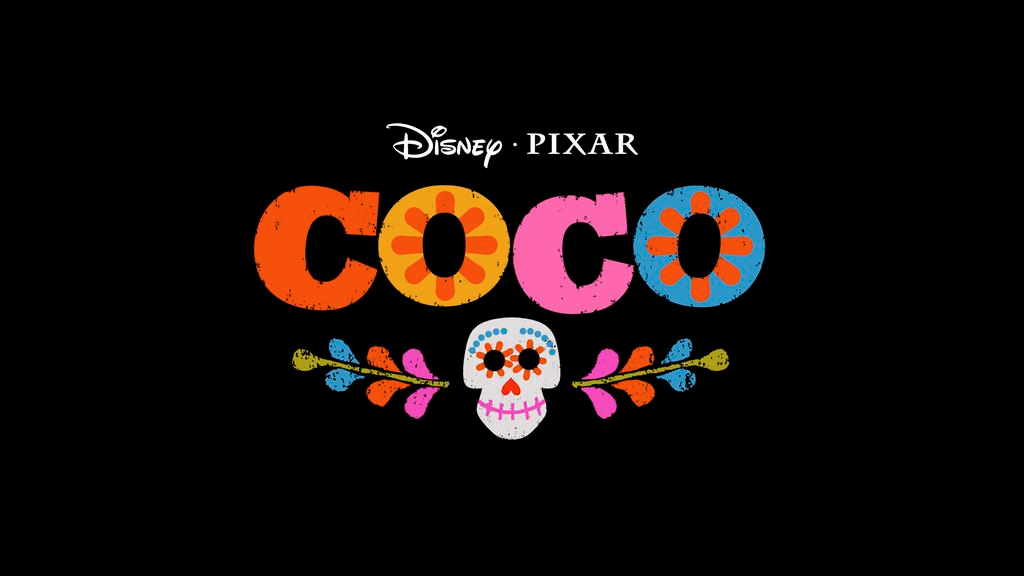 2016
The all-Latin cast is revealed. Gael Garcia Bernal announces via Twitter that he will be giving voice to the character Hector. Unkrich told EW that it took a bit of convincing to sell the idea of GGB to executives. "Gael was someone we were considering early on, but I didn't know if I'd be able to sell him because he's done so many films I've loved through the years, but he hadn't really done comedy," he told the magazine. "Thankfully, our casting director said, 'Have you seen this new show that Gael's in?' And it was Mozart in the Jungle, and I started watching and thought, 'Oh my God, he's so funny, he's so charming, and he's perfect.' So, thank God for Mozart."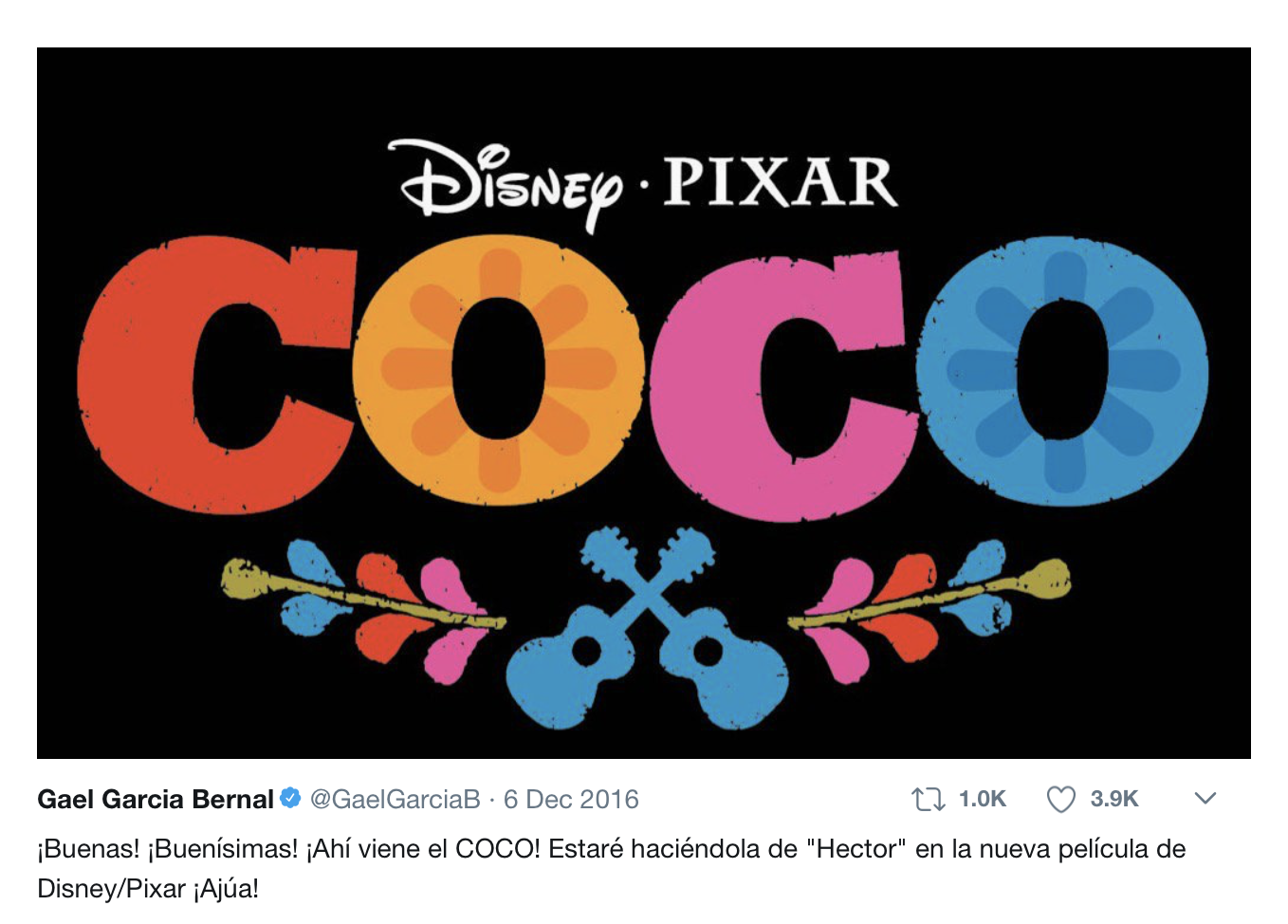 2017
The movie sets a record for the best box-office performance for an animated feature over a ten-day period in Mexico. But beyond a sign of commercial success, the strong sales figures are an indicator of a near-universally enthusiastic reception across Mexico, many heralding the movie as a boon to the country after two devastating earthquakes in September and a generally tense political atmosphere with its northern neighbor. Time will tell how the movie resonates with audiences in the U.S, but we have a feeling that mini-crooner Miguel and his slobbering sidekick Dante will touch hearts worldwide.
Coco premieres in theaters today, November 22.
Featured image: Coco, courtesy Pixar/Walt Disney Studios.