See the Photographic Proof of Harrison Ford Accidentally Punching Ryan Gosling in Blade Runner 2049
If you're like us, you're counting down the hours until you get to see Blade Runner 2049, which, in case you haven't heard, is getting some insanely good early buzz. After 35-years, the wait for a sequel to Ridley Scott's iconic 1982 original is only days away (October 6, to be exact), and Warner Bros. is going full bore with their promotion, which includes sending star Harrison Ford on the talk show circuit to dish about the film, and hoo boy did he have a great story to tell; he punched co-star Ryan Gosling in his face. If you want to know absolutely nothing about the film, stop reading here.
In an early scene, after Gosling's Officer K tracks down Rick Deckard (Ford), the two don't immediately hit it off. In fact, Deckard decks K. The problem was, Ford actually decked Gosling during one take, and there's photographic proof.
Here's Ford explaining what happened on The Tonight Show with Jimmy Fallon.
Both Ford and Ryan Gosling appeared in The Graham Norton Show in England and discussed the incident there as well, but that time, they brought photographic proof, and it's incredible.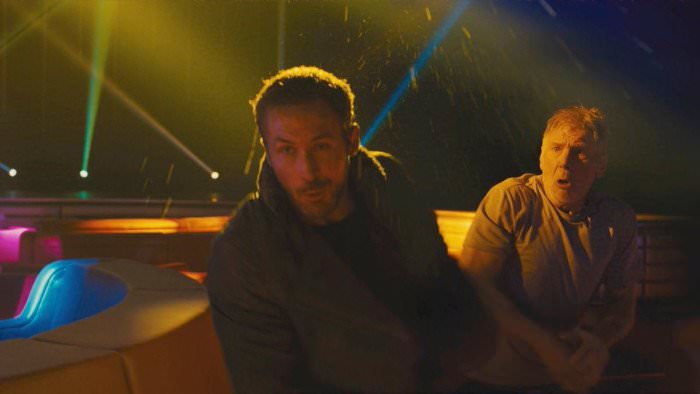 As we count down the days until we get to see these two in action, we're going to enjoy looking at Ford's expression above, knowing he just socked one of Hollywood's most handsome faces. We'll see whether or not Gosling's K can take a punch as well as the actor did this Friday.
Featured image: Harrison Ford and Ryan Gosling on the Entertainment Weekly cover. Courtesy Warner Bros.