The Ultimate 'Final Girl' Returns: Jamie Lee Curtis to Star in Halloween Reboot
In stellar casting news, Jamie Lee Curtis is returning to the role that kickstarted her career—Laurie Strode, the ultimate "Final Girl"—in the Halloween reboot. Along with this news, we also have the film's brand new (and super brief) synopsis.
Curtis's involvement in the reboot was revealed on Twitter, of course, where she's wearing the very same outfit we last saw Laurie Strode donning in the iconic original. Naturally, over her right shoulder is Michael Myers, the freakish, unstoppable killer. The film's slated for an October 19, 2018 release.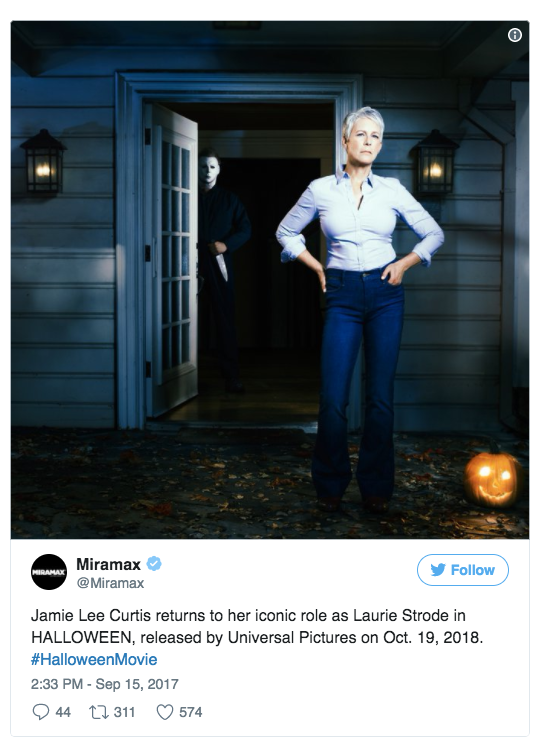 Curtis tweeted the same image, adding; "Same porch. Same clothes. Same issues. 40 years later. Headed back to Haddonfield one last time for Halloween." Horror maestro and super producer Jason Blum and his Blumhouse production company, which has had an incredible run of films, including Get Out, Split, Paranormal Activity, and The Purge, is behind the reboot. So far, the talent that will surround Curtis is fantastic, including writer/director David Gordon Green to direct and co-writer Danny McBride. As Slashfilm explains, it was McBride who explained how Curtis will be able to return as Laurie Strode—they're going ignore most of the sequels and include only parts one and two existing in their new Halloween universe.
This means that this new Halloween will act as a sequel AND a reboot of the original franchise, ignoring the fact that Curtis's Strode was killed in 2002's Halloween: Resurrection. This new approach also has approval from John Carpenter, the man who started it all.
Here's the new, brief synopsis and Blumhouse's reveal of Carpenter's involvement below:
Jamie Lee Curtis returns to her iconic role as Laurie Strode, who comes to her final confrontation with Michael Myers, the masked figure who has haunted her since she narrowly escaped his killing spree on Halloween night four decades ago.
Master of horror John Carpenter will executive produce and serve as creative consultant on this film, joining forces with cinema's current leading producer of horror, Jason Blum (Get Out, Split, The Purge, Paranormal Activity). Inspired by Carpenter's classic, filmmakers David Gordon Green and Danny McBride crafted a story that carves a new path from the events in the landmark 1978 film, and Green also directs.
HALLOWEEN will be produced by Malek Akkad, whose Trancas International Films has produced the HALLOWEEN series since its inception. Green and McBride will executive produce under their Rough House Pictures banner.
HALLOWEEN will be distributed worldwide by Universal Pictures.