Ron Howard Teases Millennium Falcon's Iconic Kessel Run for Han Solo Film
More than 40 years after Star Wars fans first heard about Han Solo's famous Kessel Run in the Millennium Falcon, it appears we'll finally get to see the actual event. Finally, we'll find out if Han really did make the run in twelve parsecs, as Han boasted in George Lucas's original Star Wars in 1977.
Han Solo Director Ron Howard once again took to Twitter to drop a little clue; a photo of a cave entrance and a one word caption: "Spicey?"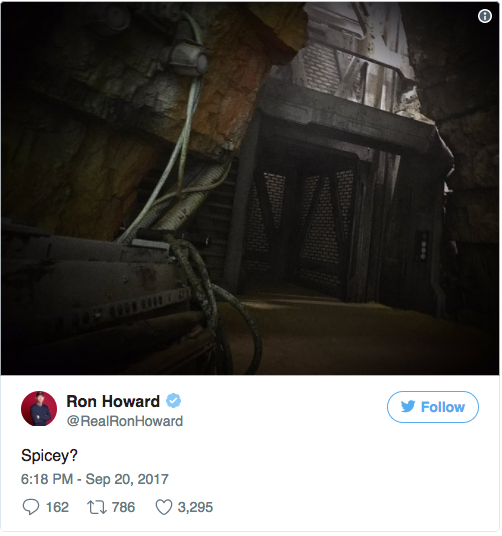 As Han bragged in Star Wars, he flew the famous Kessel Run in 12 parsecs, only to have Rey, some 38-years later, suggest it had been made in 14 in The Force Awakens. The Kessell Run is a hyperspace route which smugglers and "unscrupulous freighter captains" (according to Wookieepedia) used to move spices from the mines of Kessell. You could argue that Han's boast in the original film was one of the reasons Obi-Wan agreed to let him lead them on their rescue operation of Leia. The Kessel Run has been one of those enduring Star Wars backstories, a thing joked about, but never something most fans thought they'd get to see on the big screen.
Now Howard is back to teasing us, possibly showing us the entrance to one of those Kessel spice mines. Howard's been dropping little hints and nuggets ever since he took the helm this summer, doing a nimble job of promoting a film in production, whetting appetites, without giving much away at all.
Howard also seems to be having a blast. He spoke to The Hollywood Reporter's Heat Vision in early August and said the movie was zipping along nicely, and he was having a blast. What's more, he said that his social media breadcrumbs are well thought out, and that he's not just throwing things at fans at random.
Han Solo will see Alden Ehrenreich as the iconic smuggler and flame of Leia Organa, with Donald Glover taking on the role of Lando Calrissian. The film also stars Woody Harrelson, Emilia Clarke, Thandie Newton and Phoebe Waller-Bridge also star, with Joonas Suotamo playing Chewbacca.
The as-yet untitled film is set to open May 25, 2018.
Featured image: The Millennium Falcon in The Last Jedi. Courtesy Lucasfilm/Walt Disney Studios.