Meet the Courageous Amputee Who Stunt Doubles Paul Rudd on Ant-Man and the Wasp
Stunt performer Brett Smrz is living proof that one of the film industry's most difficult jobs attracts the very best people. When Smrz was 16, he lost his lower left leg in a trampoline accident. Yet today, Smrz is a professional stunt driver and one of two of Paul Rudd's Ant-Man stunt doubles. When you watch the upcoming Ant-Man and the Wasp, you'll be seeing the work of one of Hollywood's most courageous stunt performers.
A photo of Smrz in his Ant-Man costume and his prosthetic leg were shared online, and the image as uplifting as any you're likely to see from the set of a major motion picture.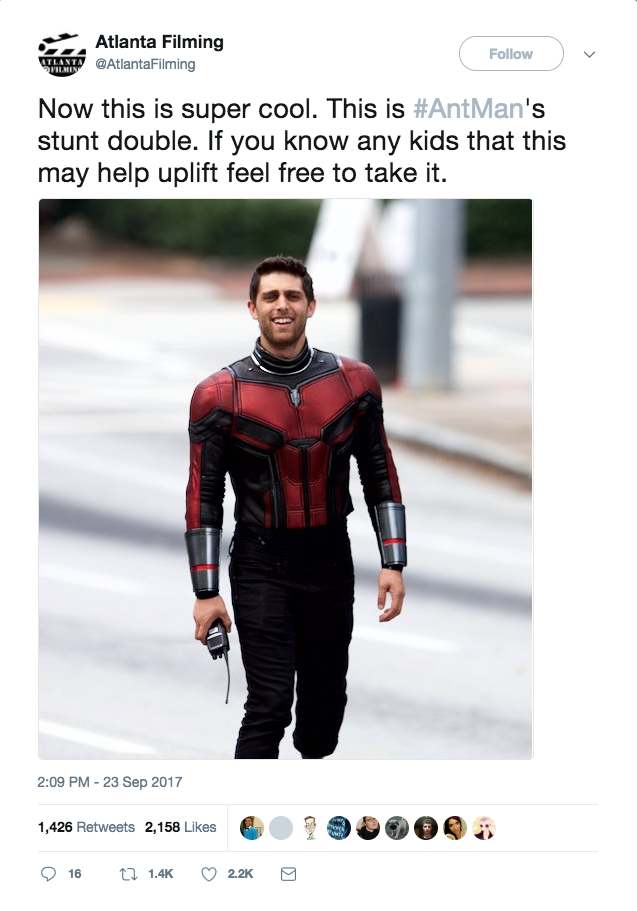 Only two years after his trampoline accident, Smrz's father, a longtime stunt professional, got him into stunt driving. Since Smrz followed in his dad's footsteps, he's worked on some major films, including The Amazing Spider-Man 2, Mission: Impossible – Ghost Protocol, and Mission Impossible 5.
While Smrz has spoken in detail about his tragic accident, the most inspiring part is how quickly he plunged back into an active life, and how little his prothesis has changed his outlook or his goals. Despite having to undergo surgery after surgery, only to find out they would need to amputate his leg, Smrz came out stronger than ever before, and is now enjoying a bustling career in Hollywood's most daring profession.
You'll get a chance to see Smrz's work next July 6, 2018, when Ant-Man and the Wasp hit theaters.
(H/t to i09 for alerting us to this story).
Featured image: Courtesy Marvel Studios.