The Last Movie: Character Actor Harry Dean Stanton, RIP, Finally Gets Lucky Title Role
Stealing scenes for more than half a century in some 200 movies and TV shows, Henry Dean Stanton has played everything from spaceship crew member (Alien) and psychotic criminal (Repo Man) to a Mormon patriarch with fourteen wives (Big Love). Instantly identifiable in his later years for haunted eyes suggesting a man who's stared straight into the abyss and lived to tell the tale, Stanton finally snagged his first title role in Lucky (opening Friday Sept. 29). Shot a few months before his death in September at age 91, Lucky was scripted by Stanton's friends Logan Sparks and Drago Sumonja with direction from fellow character actor John Carroll Lynch.
Like Stanton, Lucky grew up in Kentucky and fought in World War II. And like Stanton, Lucky chain smokes, plays harmonica, drinks Bloody Marias (tequila instead of vodka) and embraces the concept of "nothingness." But for all their similarities, Stanton approached his Lucky role with characteristic thoroughness. "Before production started, we'd meet every Sunday with Harry Dean to go over the material," says Lynch, whose own resume as a character actor ranges from Fargo to The Walking Dead. "He'd get to a spot in the script and tell us 'I'd never say that.' And Logan would go, 'But you did say exactly that last week, like, word for word.' It was an interesting struggle, because Harry Dean was actually questioning stories from his own life that show up in the movie."
Lynch savored the chance to direct Stanton, whom he'd admired from afar as a young acting student. He says "In 1984 I was 21 years old when I saw Harry in Paris, Texas and thought 'Wow this guy's incredible.' A few months later I went to see Repo Man thinking he'd be this soulful character who could break my heart. But then Harry Dean walks into his first scene and grabs me by the throat, hard-bitten and vicious and cynical. I was like, 'How can this be the same guy who walked across the desert heart-broken in Paris Texas?' Harry had the kind of career I aspired to because every movie I've seen him in, whether he's listening or talking, he's the thing you want to watch."
Filmed in just 17 days in the California desert town of Piru, Lucky minimizes plot points to focus on the hero's daily rituals: cigarettes for breakfast, coffee at the diner, drinks at the bar. Later, Lucky has a health scare and reveals an unexpected side of himself by crooning a beautiful Spanish-language ballad at a child's birthday party. But for the most part, the action revolves around smoking, drinking and philosophizing. "Bar stools are good for philosophy," Lynch laughs.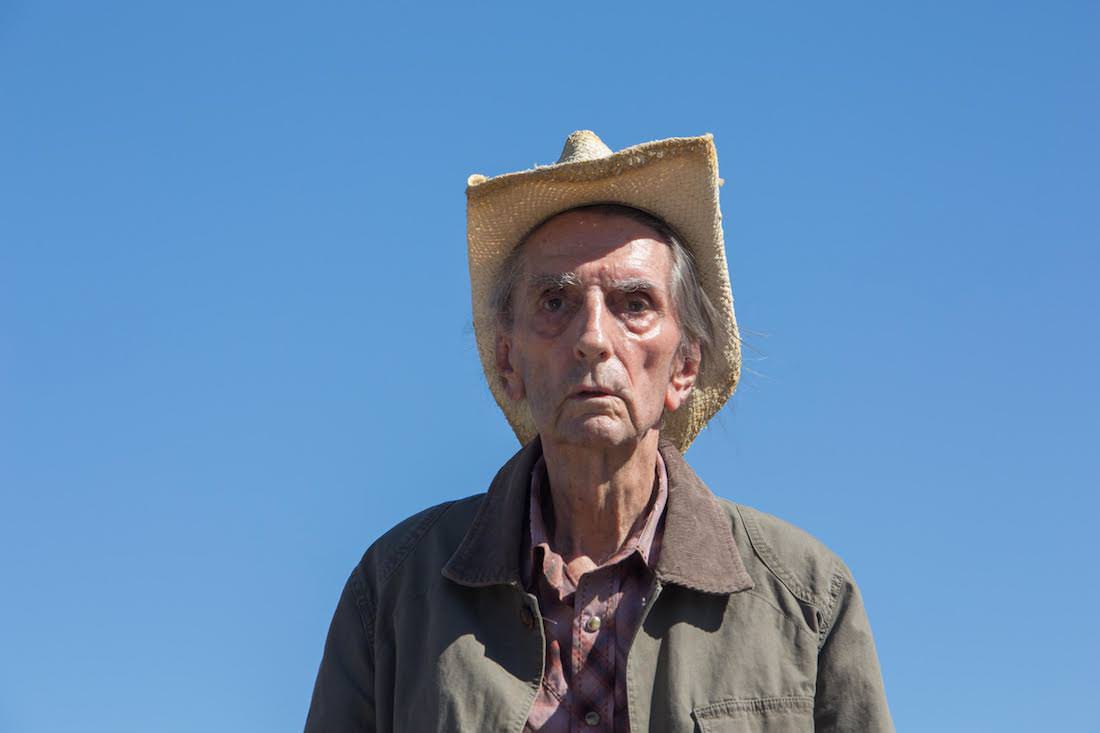 Harry Dean Stanton in LUCKY, a Magnolia Pictures release. Photo courtesy of Magnolia Pictures.
Filmmakers modeled the tavern in Lucky after Dan Tana's, the old-school watering hole in Los Angeles that functioned as Stanton's home away from home when he wasn't shooting movies. Lynch first met Stanton there a few years ago through their mutual friend, character actor Dabney Coleman. "Dabney had this corner booth where he always liked to sit," Lynch recalls. "Whenever Harry got to Dan Tana's first, he made a point of taking that corner booth so Dabney couldn't sit there. Harry thought that mocking someone for the things they thought were important was good for your soul."
Lucky, which also includes Stanton's friend David Lynch as an eccentric tortoise-obsessed buddy, culminates in the bar. There, Lucky eloquently confronts his own mortality. "Harry Dean knew these fears intimately, knowing when he leaves this world there's no second act," Lynch says. "Harry 100 percent believed that, so the moment when Lucky sits at the end of the bar talking about the void, that comes from an abiding place in Harry's heart. Those words were so affecting to the other actors in the scene, there was a palpable silence. I remember the day we shot it, the air in the bar felt electric."
Featured image: Harry Dean Stanton in LUCKY, a Magnolia Pictures release. Photo courtesy of Magnolia Pictures.