Here's When Star Wars: Episode IX Will Hit Theaters
Following yesterday's announcement that J.J. Abrams would return to complete the modern Star Wars trilogy, Disney has announced the official Star Wars: Episode IX release date. Put a pin in your holiday plans for 2019 as the official opening will be December 20, 2019. Originally slated for a May 2019 release, the added months will give Abrams and his team ample time to round out the series as was intended.
Disney tweeted the news as a reply to the announcement that J.J. Abrams would be taking back the baton.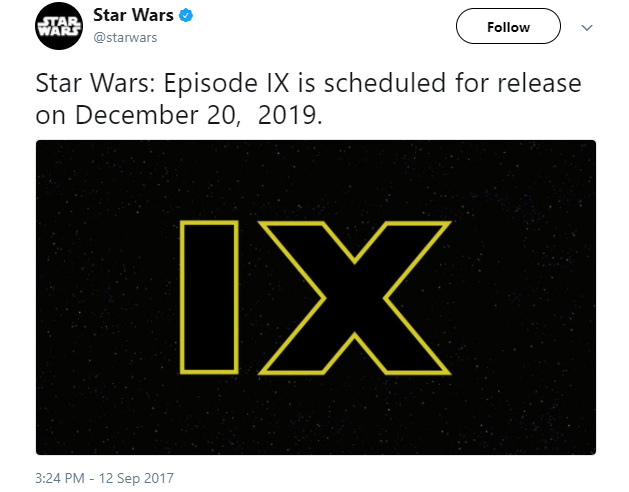 There's a nice symmetry to that plan as The Force Awakens, The Last Jedi, and the yet untitled Episode IX will hit almost exactly two years apart. Abrams' first foray into the franchise opened during the holiday season of 2015, and Rian Johnson's The Last Jedi will be out this December 15. Standalone film Rogue One was also a December release, with only the upcoming Han Solo film set for a May release date in 2018.
The winter date will also be a good opportunity for fans to ask for Star Wars merchandise in their Christmas stockings. The new refreshed take on the franchise has been producing some radically cool swag like this intense Stormtrooper variation.
You might have to camp out at the theater that month with other awesome films, including Patty Jenkins Wonder Woman sequel, the Wicked movie musical and Masters of the Universe all set for December 2019 release dates. Of course, that's a long way out and many of the titles could shift their plans by then, but it's sure to be an exciting season for movies.
Featured image: J.J. Abrams and Daisy Ridley on the set of Star Wars: The Force Awakens