Director Sean Baker on The Florida Project's Kids on the Fringe
"If you like 'The Little Rascals,' you're going to like The Florida Project." That's director Sean Baker, talking about his 21st century riff on the Depression-era comedy shorts featuring adorable mischief-maker George "Spanky" McFarland and his raucous gang.
Flash forward 85 years and Baker updates the kids-at-play theme, only this time the pint-sized heroes find their adventures amid the cheap motels located outside of Disney World. Once favored by tourists, the motels now serve as temporary residence for borderline homeless, including drug dealers, prostitutes, pedophiles, loners, single moms and their children, who are unable to secure permanent housing.
Shortly after using his iPhone to film Sundance hit Tangerine on the streets of Hollywood, Baker and writer-producer Chris Berdoch traveled to central Florida. There, they immersed themselves in the Disney-adjacent world candy-colored motels, diners and gift shops built along Route 192. Baker says, "Once we started exploring this environment, we started seeing six and seven year old kids who'd spent their entire lives growing up in these motels. The original 'Little Rascals' was set against the Great Depression so the characters were actually living in poverty, but that wasn't the focus. It was more about the humor of seeing kids being kids. Chris and I realized our 'Florida Project' could be a modern day 'Little Rascals.'"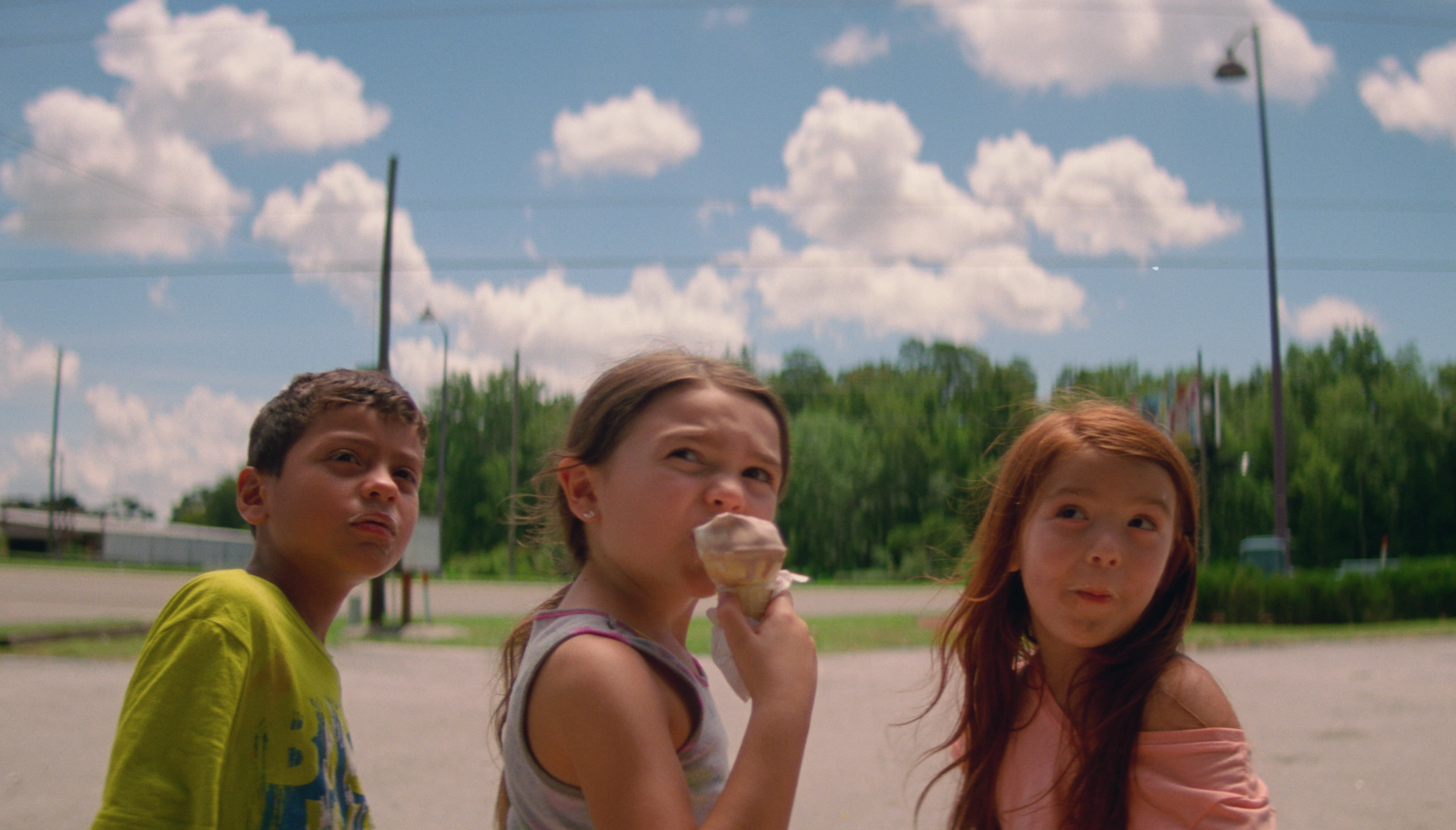 To that end, Baker assembled a cast of lively young unknowns, beginning with Brooklynn Prince. The young actress, who started doing TV commercials at age three, stars as six-year old ringleader Moonee. Too poor to own fancy toys or smart phones, Mooney and her pals create their own fun, panhandling ice cream, spitting on cars, spying on nude sunbathers and breaking into abandoned houses. "This was always going to be a kids' story and that meant fresh faces," Baker says. "I wasn't going to go with the kid from 'Room' or something. I wanted to find the present-day Spanky McFarland. That was one of my caveats: I'm not going to make this film unless we find our Spanky. Then Brooklynn walked in the room and won us over within seconds. She has the cuteness, the wit, the enthusiasm, and the skills, plus she's an extrovert. It's not like I had to manipulate her performance in editing or do any tricks. What you see in the movie is a real performance"
;
Moonee's best friend Jancey is played by five-year old redhead Valeria Cotto, whom Baker spotted at a Florida Target Store as she strolled the aisle with her mom. And Christopher Rivera, who portrays Moonee's sidekick Scooter, grew up in motels similar to the ones seen in The Florida Project.
Rounding out the cast of unknowns is 24-year old newcomer Brtia Vinaite, who plays Moonee's rebellious young mom Halley. A tattooed New Yorker, Halley hustles rent money for motel manager Bobby (Willem Dafoe) when she's not screaming at neighbors, tourists and gift shop owners. Vinaite had no previous acting experience when Baker came across her pictures on Instagram. He says, "Somebody re-posted one of Bria's posts and it made me laugh. She wasn't your average selfie girl who puckers for the camera. Brita had this carefree physicality and was already putting herself out there, so I knew she had the confidence."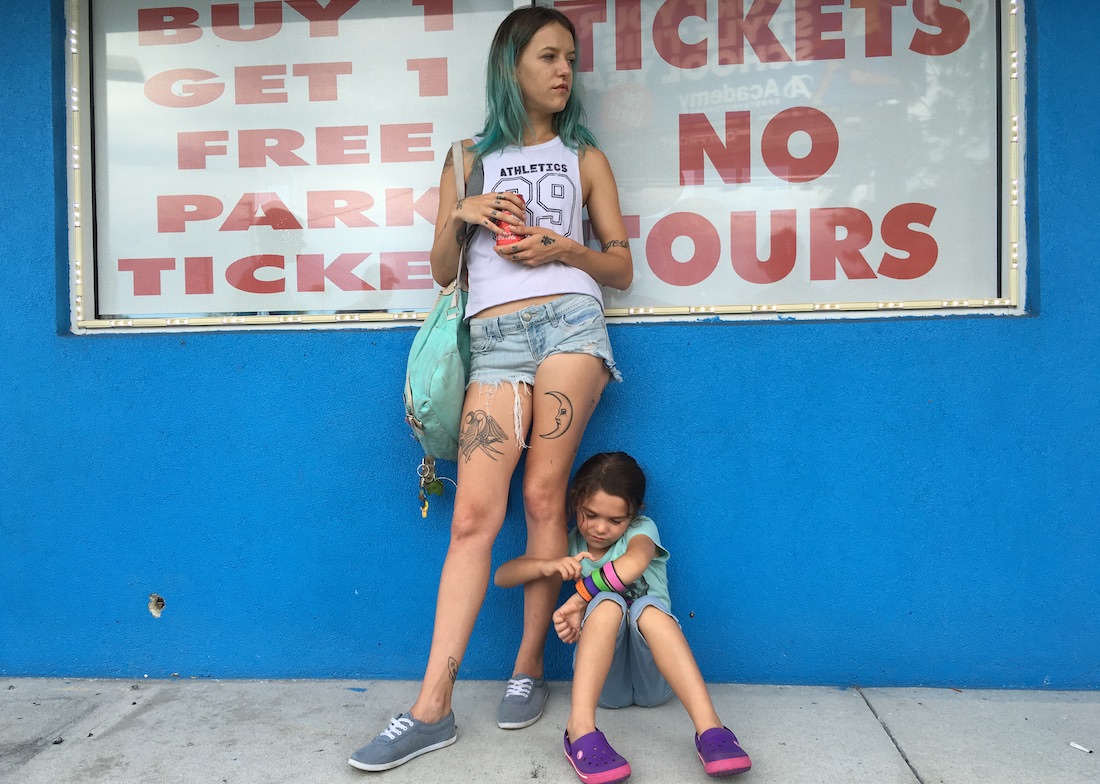 Before production began, Baker and Bergoch spent two months along Route 192 taking meticulous notes about local slang, dress and behavior. "I guess you could say what I'm doing is anthropological or sociological in a sense," Baker says. "I do narrative fiction filmmaking, but I use documentary techniques. I shoot in real locations and do a lot of fact checking because we want to make sure our story rings true to people in the community."
For all its gritty particulars, The Florida Project favors the ebullience of youth over the angst of fractured family life. "I imagine many Americans don't know about this hidden homeless situation going on nationwide, but I didn't want to make a heavy handed melodrama," Baker explains. "I want people to feel like they've spent a summer with little Moonee, getting into mischief and having fun with her mom." Beyond the film's sheer entertainment values, he adds, "Audiences might go home and start thinking about the real Moonees and the real Halleys in our country," he says. "What can we do as a society to take some kind of action? It all starts with awareness."
Featured image: Bria Vinaite, Valeria Cotto, Brooklynn Prince. Photo by Marc Schmidt, courtesy of A24