The Deuce Costume Designer on Dressing the Pimps & Working Girls of 1970s Times Square
When it came to crafting an authentic look for the Times Square hustlers at the center of HBO's birth-of-pornography series The Deuce (debuting Sunday), costume designer Anna Terrazas enjoyed an invaluable resource in the person of show co-creator George Pelecanos. Long before he teamed with David Simon (The Wire) to produce this 1971 period piece, Pelecanos sold shoes. "George used to work in a shoe store in the seventies, so he know exactly which shoes would be worn during that era," Terrazas says. "We really had to go through the wardrobe choices shoe by shoe. He'd say, 'That shoe was 1974, let's go back.' 'This shoe was 1968, we have to go later.' It was good to get that feedback from George because we were able to make the look very specific to the times."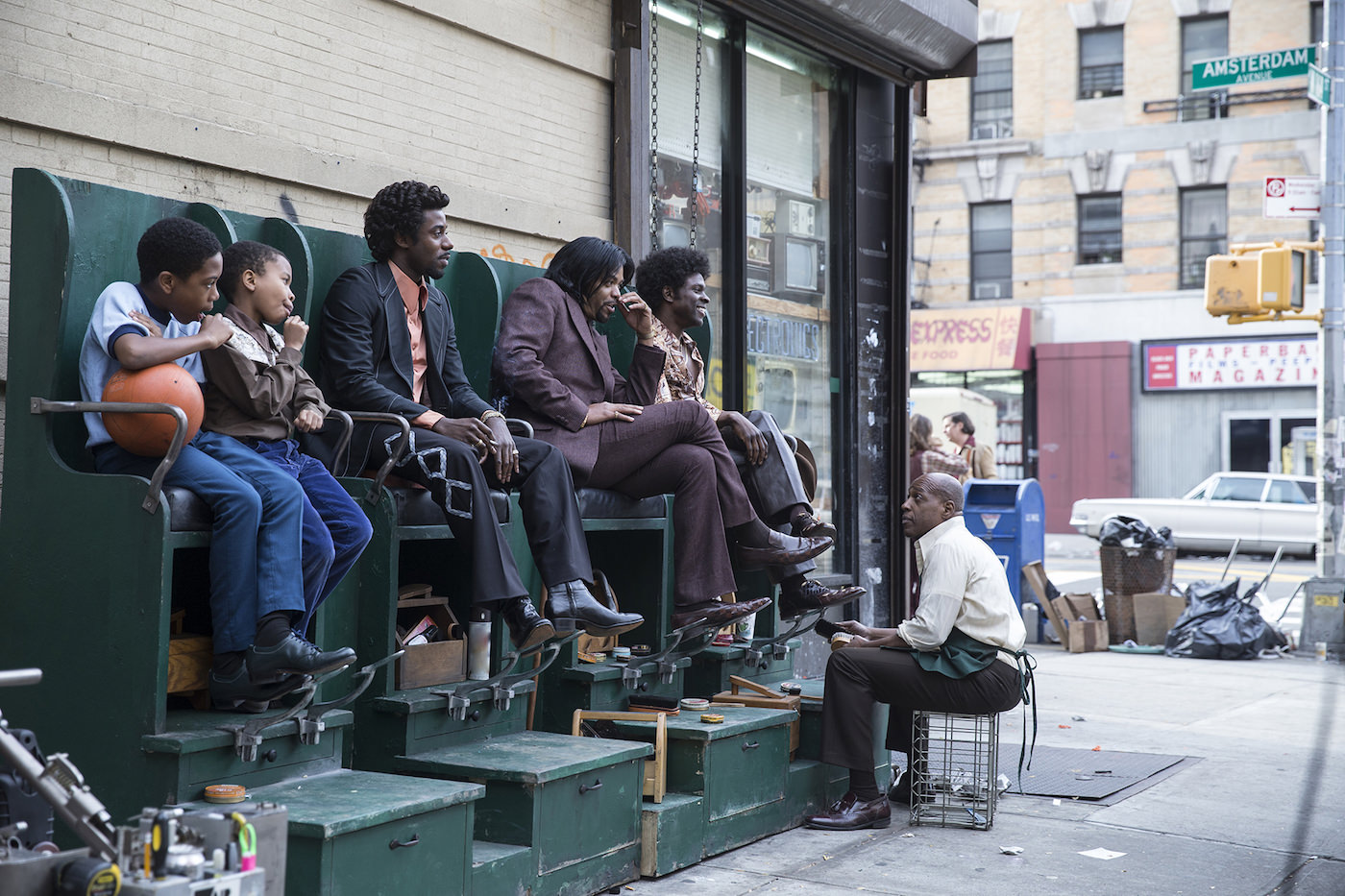 Center, Gary Carr, Cliff Smith/Method Man, Gbenga Akinnagbe. Photo: Paul Schiraldi. Courtesy HBO
Terrazas, based in Mexico City, landed The Deuce gig after pitching her gritty vision to pilot director Michelle MacLaren in Los Angeles. To immerse herself in the period, Terrazas studied Al Pacino junkie movie Panic in Needle Park, researched New York's prostitute subculture on the internet, pored through 1972 book "Gentleman of Leisure: A Year in the Life of a Pimp" and read Iceberg Slim's sex trade memoir. "I picture a pimp as being like a panther who goes out at night wearing the best suit can he put together," says Terrazas. Describing her outfits for Deuce hustlers Larry Brown (Gbenga Akinnagbe) and C.C. (Gary Carr), she says "Clothes are like armor they wear to show their power, but at the same time, these guys aren't millionaires. You'll notice we repeat the shirt, or repeat the tie, or the collar might be a little worn. It's not like they have 25 shirts in their closet."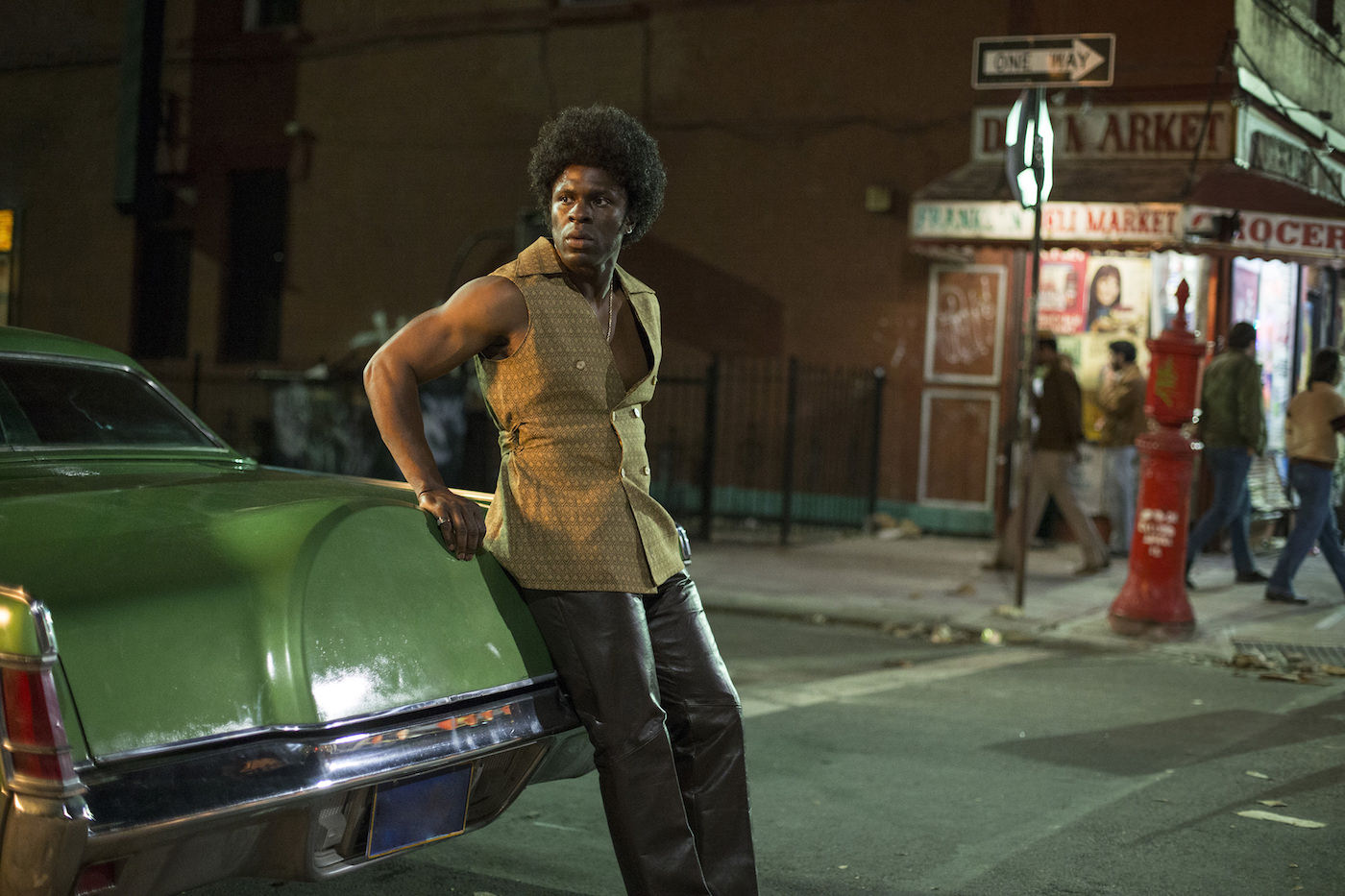 Gbenga Akinnagbe. Photo: Paul Schiraldi. Courtesy HBO.
For The Deuce star Maggie Gyllenhaal, who plays working girl "Candy," Terrazas dressed the actress in skimpy halter tops, high-cut shorts and mini-skirts. "The skirt Candy wears is something we cut shorter and made tighter until at the end, Maggie's going 'Oh my God you can see everything!' But that was part of the idea and the same thing with the shorts. She just needed to feel comfortable with it." Terrazas outfitted working girl Darlene (Dominique Fishback) in extreme hot pants. "Darlene herself says, 'I'm Thunder Thighs,' so we decided to go with the tiny shorts and show her legs. We wanted to use the real bodies of our actresses."
https://www.youtube.com/watch?v=J7YMlL8x8GE
While a few Deuce costumes, including C.C.'s flashy three-piece suit, were custom tailored from scratch, most pieces were hunted down in New York City vintage stores, online Etsy shopping sites and Right to the Moon Alice rental house. She also made several trips to Philadelphia and scoured the city's Bulk Vintage warehouse in search of genuine articles. "All the clothes are in boxes," she says. "You really have to dig in and see what's there. It's nasty and smelly, but you just have to pick through it and find what's right: no fluorescent, no sequins, lots of browns and oranges. The most important thing is, the clothes needed to be 'street.'"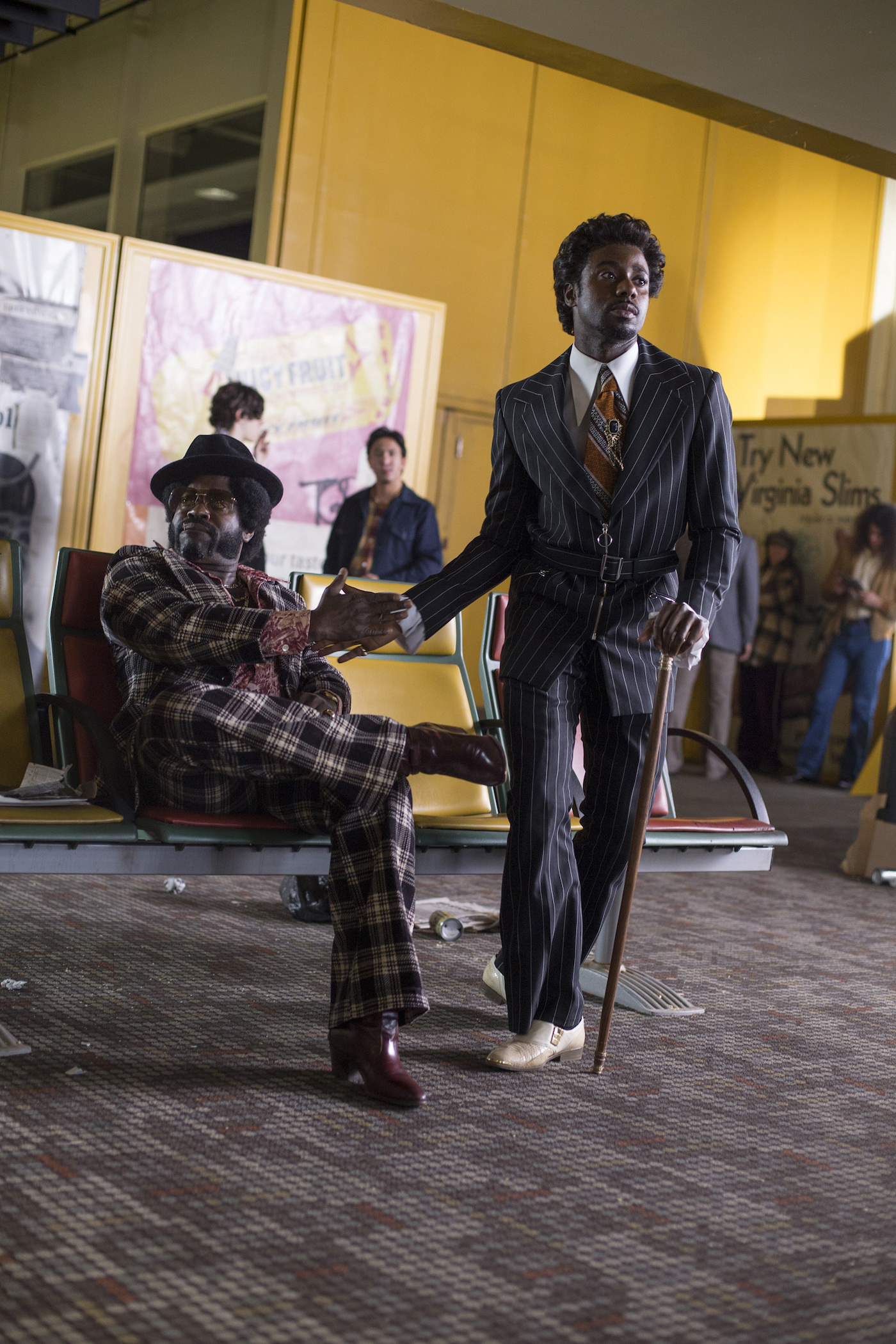 Tarik Trotter, Gary Carr. Photo: Paul Schiraldi. Courtesy HBO.
Terrazas' wardrobe choices went a long way toward defining the dual roles portrayed by James Franco. Family man Vincent lives in New Jersey, works two jobs and wears a sensible brown jacket with high-waisted pants. His wild twin brother Frankie dresses in a black jacket, tight pants and, most importantly, Cuban heels. "Frankie has this 'don't give a damn about anything' attitude, so we decided to dress him more sexy and gave him boots with the Cuban heel. The boots gives Frankie a different kind of walk from Vincent. At the beginning, James said the heels felt weird, but I think they really helped him get into character."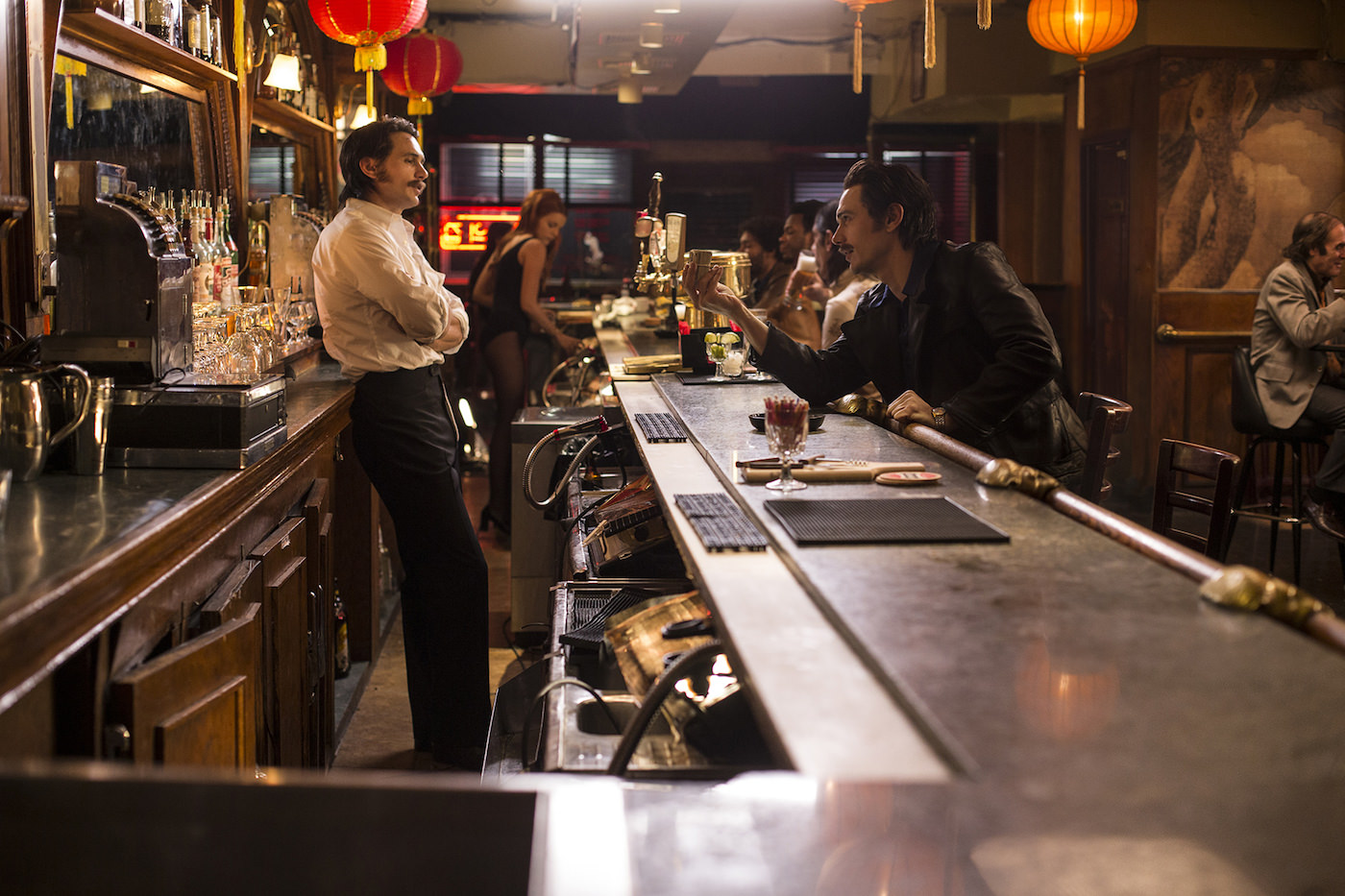 James Franco and James Franco. Photo: Paul Schiraldi. Courtesy HBO.
Establishing the sartorial foundation for The Deuce's eight-episode season, Terrazas took pains to make sure the characters' outfits reflected Manhattan's then-squalid red light district. "I wanted to show who these people are through what they wear," Terrazas says. "The working girls don't earn a lot of money because their pimps take most of it. Basically, these prostitutes have four outfits. I wanted it be like where you can almost smell the clothes when you see them on screen. We even put cigarette burns into some of the clothes. We didn't want the clothes to look like they come straight off the rack. We wanted everything to look lived in."
Featured image: Maggie Gyllenhaal. Photo: Paul Schiraldi. Courtesy HBO