Uncategorized
Celebrate 50 Years of The Prisoner With This Incredible Poster
If you have spent a lifetime puzzling over 'who is number 1?' this is the poster for you. The Patrick McGoohan masterpiece The Prisoner is turning 50 this year and artist Chris Weston paid homage with this incredible illustration.
The Prisoner was a single season television series from 1967-1968. There was a respectable remake in 2009 starring Ian McKellen, but you can never relive that first time you see perfection.
What began as a spy who was abducted after abruptly resigning became a captivating psychological thriller. Each week, the captive Number Six made attempts to learn more about the mysterious Village where everyone is a number and not a name. Six was often called in to be questioned by a revolving cast of Number Two's, but he could never get to the person in charge – the elusive Number One. It wasn't until the finale that Number One was revealed and the answer is so shocking that there have been college classes devoted to dissecting the answer. I'm still not sure I get all of it.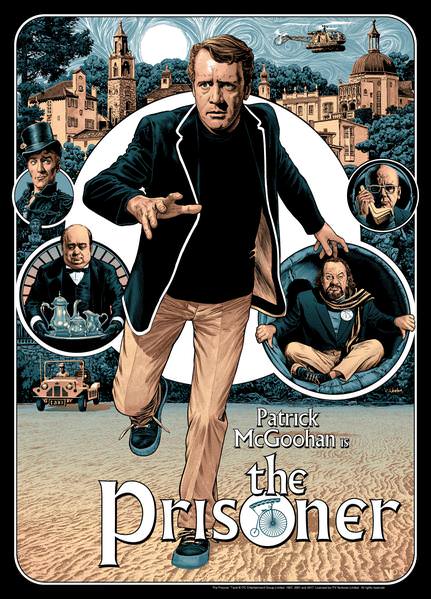 Artwork by Chris Weston
Suffice it to say, this poster is a revelation. Co-creator and star Patrick McGoohan is seen running along the idyllic beach of the Village chased by the best part of the show, Rover. Once you have seen that resolute balloon swallow an insubordinate, you'll never look at latex the same way. It wouldn't be a Prisoner poster at all without Angelo Muscat as the Butler serving tea. There's also a likeness of a personal favorite Number 2 played by Hollywood legend Leo McKern.
The prints are available in color and black and white through Vice Press. If you're not familiar, Vice Press is an amazing UK based print house that specializes in entertainment posters like this one. They're all fully licensed so no guilt. The Prisoner posters will go on sale Thursday, September 28 at 6pmBST (hint: that's 1pmEST). Best of luck as I'll be racing you to buy them up. Be seeing you.