Taylor Sheridan Talks his Chilling Directorial Debut Wind River
From actor (lawman David Hale on FX's Sons of Anarchy) to acclaimed screenwriter (2015's Mexican drug-war thriller Sicario, 2016's Texas-set neo-Western Hell or High Water) to writer-director (Wind River, opening today), Taylor Sheridan has had quite a career trajectory since he first popped up on the Hollywood scene in the mid-90s as a TV acting staple. The 47-year-old Lone Star native considers his three feature films so far to be part of a trilogy that examines the state of the American frontier, with his latest focusing on the often-sad fates of Native Americans on a reservation, fraught with drug addiction and violence, especially against women. It stars Jeremy Renner as a U.S. Fish and Wildlife tracker who joins forces with Elizabeth Olsen's rookie FBI agent to solve the murder of a young woman whose corpse is found frozen in the snow in rural Wyoming, along with such well-known Native American actors as Graham Greene (Dances With Wolves) and Gil Birmingham (Hell or High Water).
We spoke to Sheridan about this third piece to his haunting, thoroughly excellent trilogy.
I consider Hell or High Water a perfect script. There isn't one ounce of fat or wasted moment in that movie. You write my kind of action films – they allow us to take a breath and think in between the mayhem. In Wind River, while the violence is often swift and unsettling, my favorite scene is when Gil Birmingham and Jeremy Renner's grieving characters quietly bond over the mutual loss of their daughters.
I try to play with structure. I don't think of what I do as action films. I think of them as drama with a whole lot of action. A perfect film for me would be Michael Mann's The Insider with a gun fight. Love the action but with emotional reflection.
There seems to be a door motif in Wind River – opening a closed one might not be the best idea.
Doors are never a good thing. In this, I make a lot of effort to follow Hitchcock's approach to this. You sit there and what happens onscreen tells you for 15 minutes what is coming. The greatest unknown is the greatest threat.
You don't want us to think Vice, a 2011 horror film whose credits list you as the director is your debut. Why is that?
The reality is, I did Vice as a favor for a friend of mine who worked for me, a 27-year-old kid in acting class who wrote it. He had me read it and I gave him a ton of notes. He was impatient to turn it into a movie. He wanted to make it himself. When his mother passed away, he took the life insurance money and hired actors, a producer and a director, who ran off with his $3,000. He freaked out and I said, "Let me see if I can help you." I didn't even do the edit. I was surprised as anyone that I got a "directed by" credit. To call me the director is generous. With all those elements, we actually did some pretty cool stuff in there.
Where can we see it?
I don't know if anyone has seen it. I can't say I've seen it.
So why did you say, "I want to direct Wind River for myself"? Filming in these outdoor conditions must have been a challenge. I read somewhere Elizabeth suffered snow blindness for real.
I chose it because of the subject matter. It is dealing with story with this specific issue on a reservation. I have spent a lot of time and have a lot of friends on reservations. I couldn't trust another director to have the same vision. I had promised those in Native community that it would be done a certain way. Some critics lambasted me anyway.
How have they taken you to task?
The big criticism is that we made the two stars white. And yet one of the elements is that an FBI agent responding to a crime is almost never Native American. I wanted it to be an authentic representation. No. two would be that it was frowned upon for me to tell a story of Native Americans. I was vilified for that, but not by Native Americans. I was called out for that at Sundance. But I got a standing ovation from the Native Americans in the audience. I was writing with a foot in both worlds.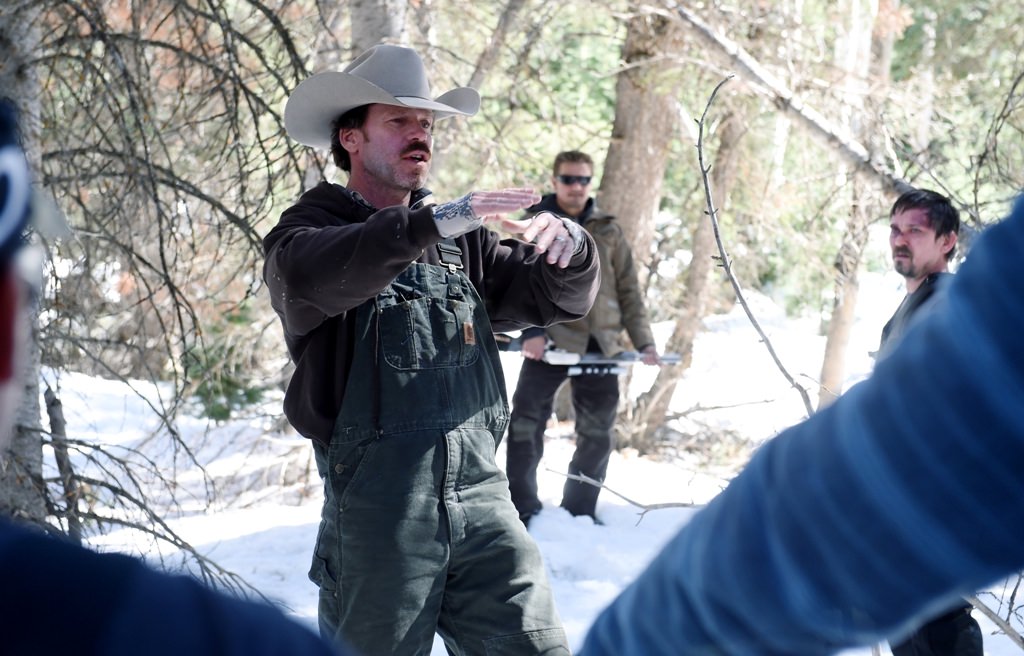 Director Taylor Sheridan on the set of Wind River. Photo by Fred Hayes/The Weinstein Company
Releasing a movie with lots of snow in the summer might be counter-intuitive, although it did make me feel a chill now and then. In the movie, it is supposed to be spring in Wyoming. But you filmed in Utah in early spring.
It was interesting. Choosing a release date is its own alchemy. There are people whose whole job is studying trends. By this point in summer, many are fatigued from blockbusters. Who knows if snow movies do well in August, but Harvey Weinstein is the best and I trust him. As for location, we filmed a little in Wyoming but mostly we shot in Utah. It was really difficult, terrible conditions. Here is my first studio film with a 30-day shoot filled with challenges. That forces the creative in you to come up with scenes to compensate. It compelled me to find inventive ways to stage the standoff right before they enter the trailers near the end.. Forty-five minutes is not enough time to cover a scene. It worked. But the weather was terrible. During the opening scene with the actress (Kelsey Abille) running in the snow, it was 4 degrees Fahrenheit with 50 mile per hour winds.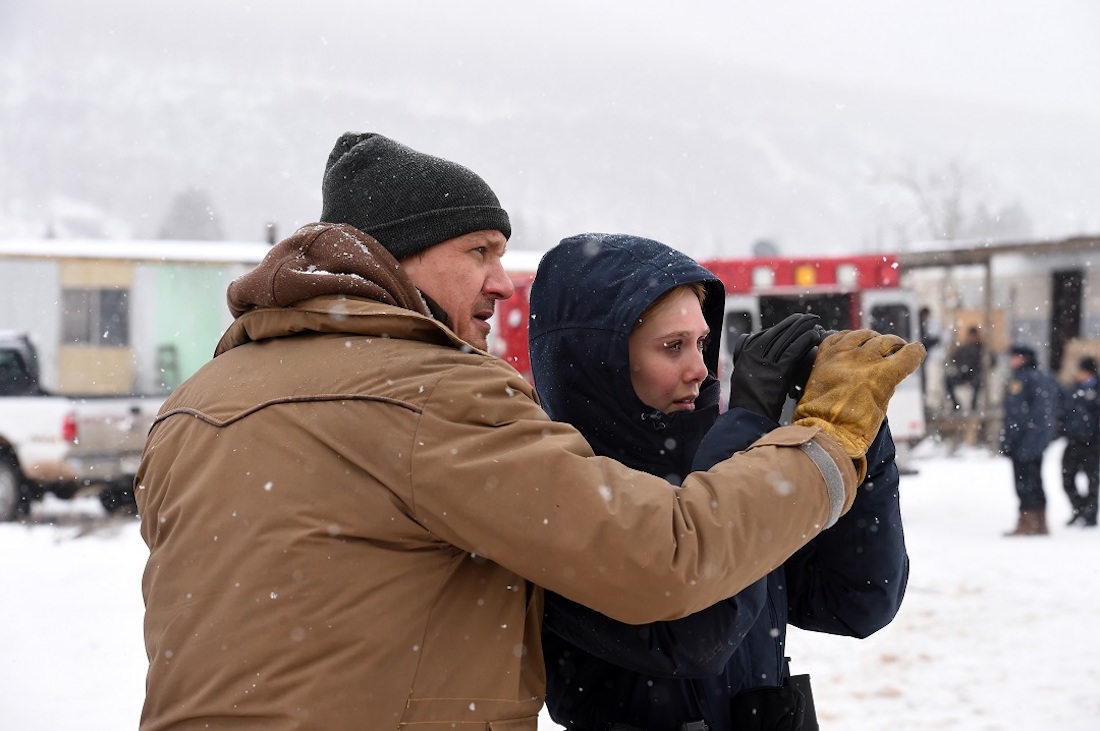 Elizabeth Olsen and Jeremy Renner star in WIND RIVER. Photo by Fred Hayes. Courtesy Weinstein Co.
You consider Sicario, Hell or High Water and Wind River as your American frontier trilogy. They do have similarities. Themes of revenge. A visceral sense of place. Law enforcement vs. law breakers. People who are on the outskirts of society getting a bad deal.
Yes, there are certain machines that I find interesting. I have family in law enforcement and have grown up around it. Sort of these unique elements within it. Sicario had international agencies, strange organizations coming together as a means combat a new enemy. Or, maybe, they are the enemy. Hell and High Water show the autonomy that the Texas Rangers have. Wind River has the Bureau of Indian Affairs dealing with the FBI.
You at one point had Chris Pine as Cory the game tracker. But then Wonder Woman swooped down and took him away. and as you found out, these franchises tie up the talent involved for years. You were lucky Elizabeth and Jeremy were available since they are also members of the Marvel Comic Universe.
Jeremy was originally going to do it. But then Arrival came along. I love Chris and I wanted him to do it. But it took so long to get financing that he became unavailable because of Wonder Woman. The irony is the reason these actors take superhero roles is to give them the freedom to do smaller films.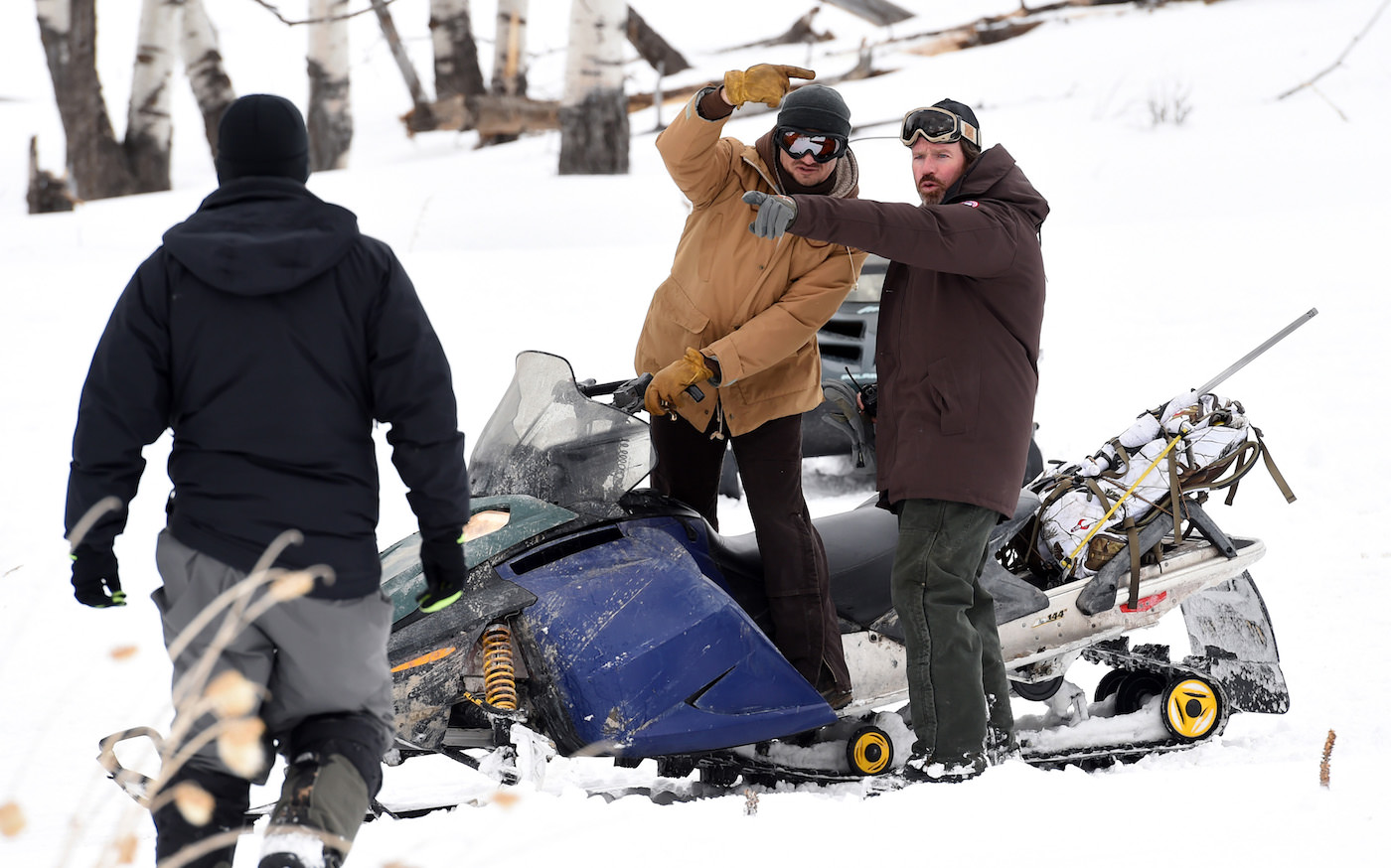 Jeremy Renner and Taylor Sheridan. Photo by Fred Hayes. Courtesy Weinstein Co.
Elizabeth's FBI agent and Jeremy's veteran tracker reminded me of Clarice and Hannibal in The Silence of the Lambs, but without the cannibalism. Or maybe more like Clarice and her superior played by Scott Glenn. She, like Elizabeth's character, is initially underestimated but seems to know when she doesn't know something and when to ask for help.
I wasn't consciously making a parallel to that film as a filmmaker. Long before I was a filmmaker, certain filmmakers spoke to me. In The Silence of the Lambs, it was groundbreaking to see a female lead so capable and being able to watch her grow into job.
Also it got me thinking of Fargo and No Country for Old Men. Not so the absurdity of it all but the landscape and the people. And the competing law enforcement units.
The Coen Brothers are very influential filmmakers on me as well. But I was not consciously doing it. I was once told by very a famous director about borrowing from other directors, "Listen, we are all thieves."
You are quite busy with several projects in the works. There is Yellowstone, a TV project with Kevin Costner protecting his ranch. And Soldado, a follow-up to Sicario with Josh Brolin and Benicio Del Torio returning. Then there is Disorder, based on a French film. And something for Warner Bros. called Dark Invasion, which is based on a non-fiction book.
Yellowstone is a limited series. We are shooting it in Montana and Utah. Paramount is launching a new network, a rebranding of other networks, to attempt to compete with AMC, Netflix and Amazon. We start shooting in two weeks. It will likely premiere next June or maybe in early 2018. I adapted Disorder and James Mangold is directing. Dark Invasion is about the first counter-terrorism squad during World War I, when the New York police department had the first-ever bomb squad.
I noticed you did a list of your favorite movies for Rotten Tomatoes. The Unforgiven being No. 1 made all kinds of sense. And The Godfather is a rite of passage for most male moviegoers. But what surprised me and made me happy was your choice of Kramer vs. Kramer. Does it make you cry?
Of course. It is a splendid film. The screenplay has an extremely simple plot. It really is an exploration of the characters. You feel conflicted about who to root for and what the solution will be that gives a sense of redemption and completion to the arcs of these characters.
Featured image: Jeremy Renner stars in Wind River. Photo: Fred Hayes. Courtesy The Weinstein Company.