Uncategorized
A New Breed of Stormtroopers Emerges in Star Wars: The Last Jedi
With a project as top secret as Star Wars: The Last Jedi we'll take clues anywhere we can get them. For super fans of the intergalactic series, toys aren't just kid's stuff. They can tell us a lot about what's to come in the franchise. September 1 marks Force Friday II, which will bring with it new merchandise from the film.
The Last Jedi will be rolling out some awesome new eye candy like Kylo Ren's TIE Silencer and the new and improved AT-M6 walkers. Now a new action figure set to hit Target this week gives us a preview of a new breed of Stormtroopers. One of the most iconic images of the franchise that strikes fear in the heart of fans is this militant First Order army in all white armor. A new twist on the uniform will give us The Executioner.
Here's a preview of the collectible with noticeable black accents on the shoulders, joints, and a cool patch over the right eye. They also carry sticks with creepy pincers on the end that appear to send out circular sabers. As their name suggests, it's almost like a futuristic double sided ax used in execution style beheadings.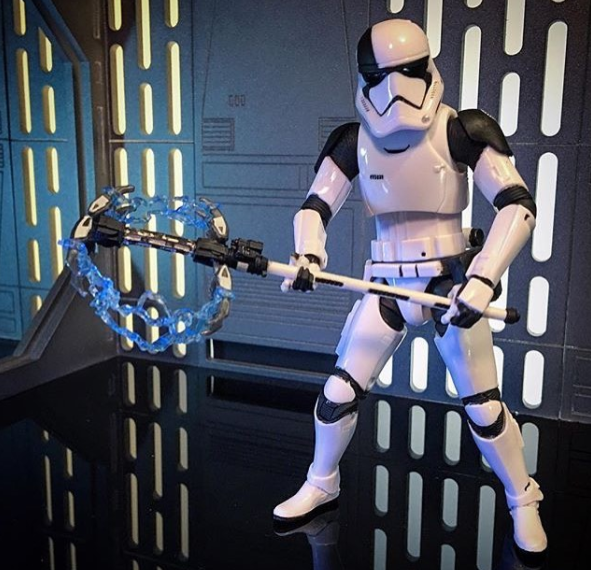 The official branding refers to them as First Order Judicial and the box gives us a foreboding clue about what these soldiers are tasked with doing:
"The First Order can only operate effectively with the absolute loyalty of its followers. Should any soldier be found guilty of treason, it is up to this special branch of Stormtroopers to dispense final justice."
Sounds like any Storm Troopers who are caught defecting will be put to death. Finn better keep a sharp eye out for these guys as he fits that exact description after fleeing the First Order and joining the Resistance in Star Wars: The Force Awakens.
The Executioners will make their official debut in Star Wars: The Last Jedi on December 15.