A Jacked Josh Brolin Gets Dave Bautista's Competitive Juices Flowing
Thanos and Drax are having a serious showdown…in the gym. Dave Bautista's professional wrestling career probably helped him land the gig of playing Drax, the muscle of Guardians of the Galaxy. Now, the bodybuilder says that Marvel co-star Josh Brolin is giving him a run for his money. Brolin is a Hollywood heavyweight but lesser known for his physique. He's taken on characters like Tom Chaney in True Grit and even Bush 43 in W. Although he's starred in several action films, we've never seen him quite like this.
Brolin pulls double duty in two different MCU properties – Cable in Deadpool 2 and Thanos in Avengers: Infinity War. Brolin underwent a crazy body transformation to take on the roles and Bautista now says he's going to have to step it up.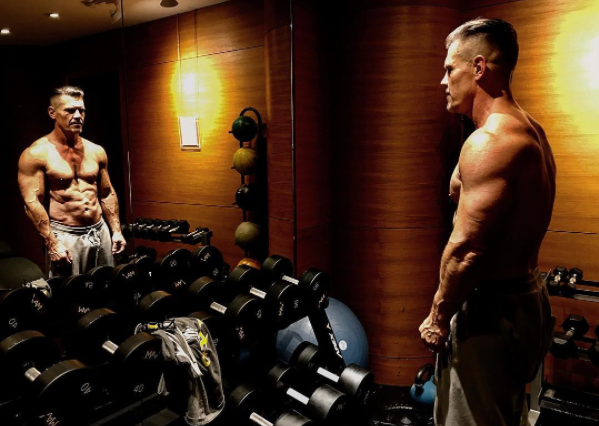 From Brolin's Instagram feed.
"I am known for being in shape and being a big guy, and he actually made me self-conscious! I swear to God, I promised him that in November, when I do some work on [Avengers] 4, I told him, 'I will be in better shape for that because you make me self-conscious, f****r!'" Bautista told THR.
There's definitely some rivalry going on now, and maybe even a clue about Infinity War. The Avengers will team up with the Guardians of the Galaxy in the next installment to face Brolin's god-like Thanos, but not every one of the good guys is expected to survive. If Bautista is set to appear in Avengers 4, that might mean that Drax is safe for this round.
The competition is all in good fun and Brolin was honored, saying on Instagram, "Just saw @davebautista at the gym and he said: "What the f*ck happened to you?!" Haha. Best compliment ever."
See Brolin's complete transformation in Avengers: Infinity War on May 4, 2018 and Deadpool 2 June 1, 2018.