Game of Thrones Explainer: Bringing Dragons To Life Demands Animators Follow The Sun
First a skeleton, then the meat. Next some scales, then some fire. A layer of color. A layer of shading. Then some motion. Frame by frame.
It might not be as grueling as battling a dragon, or defending all of Westeros from hordes of White Walkers, but making the dragons of Game of Thrones come to is a Herculean feat all its own. It's one that up to 30 animators do daily at visual effects company Pixomondo.
The operation, which has studios in Los Angeles, Frankfurt, Stuttgart, Vancouver, Beijing, Toronto and Shanghai, produces dazzling computer graphics for feature films, TV shows and commercials. On Game of Thrones, it has been responsible for Daenerys's pets since season two.
"The dragons started out as kitten-sized babies, then they grew to children, then teenagers – they've just become bigger and bigger," visual effects supervisor Sven Martin told Cospective. "With that increase in size – and they really are big this year – there's much more screen space to cover, and that demands a much greater degree of complexity."
Martin says that close-ups of the creatures create the most work. To make them believably in the scene, animators were forced to refine how the computers render facial performances. Being so close to the camera, they also needed to produce more skin textures and model each scale and attach it to the simulated skin individually.
Five Pixomondo studios—in L.A., Beijing, Toronto, Frankfurt and Stuttgart—must work together to get the job done, visual effects supervisor Nhat Phong Tran said during 2016's NAB Show, where major players in entertainment, media and technology convene.
"We needed to be able to share information across globally separated team as if they would work virtually in the same room," Tran said during his presentation.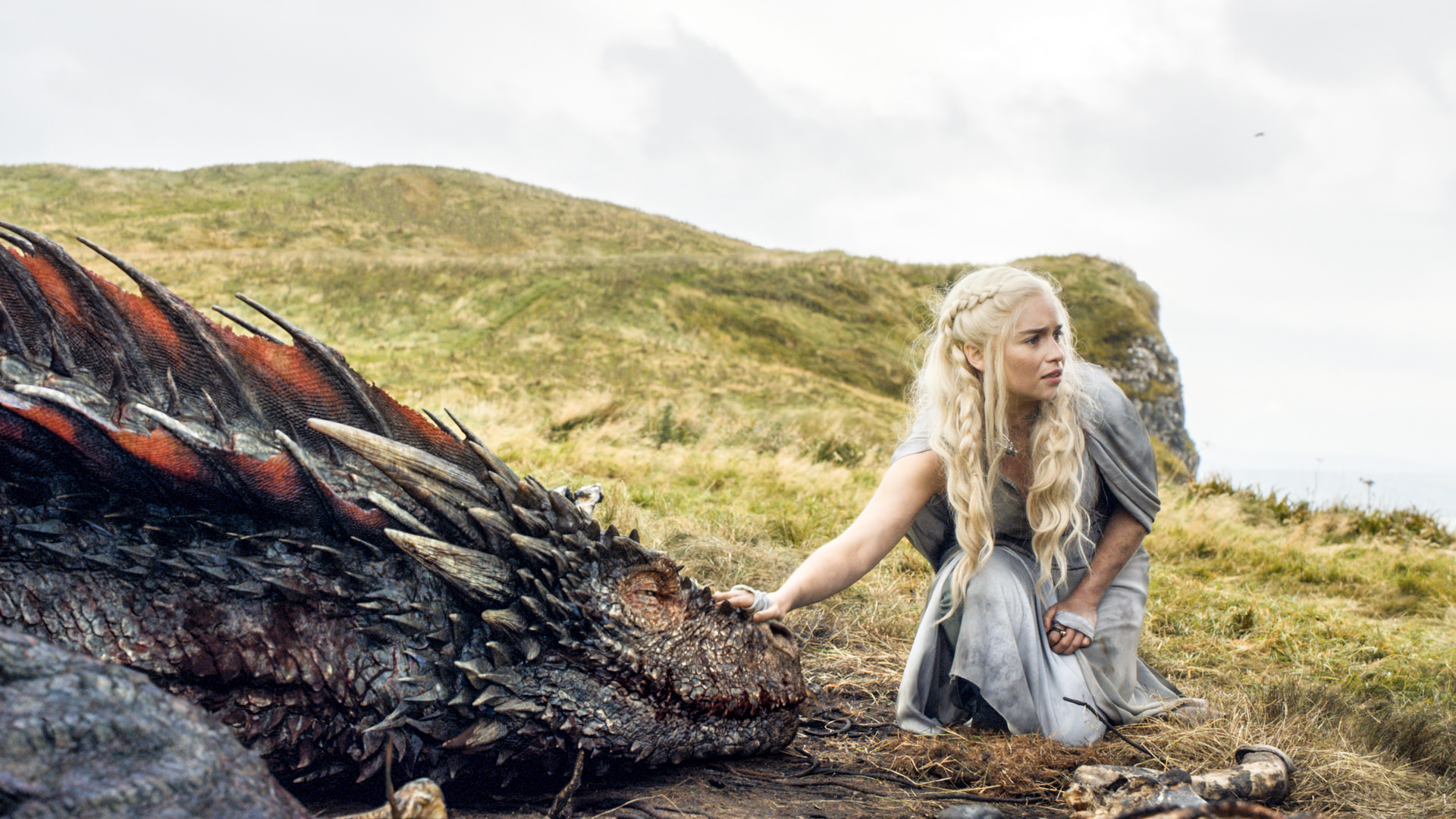 Emilia Clarke and Drogon, her dragon. Courtesy HBO.
A typical workday starts in Beijing and tracks across the world with the sun. A scene shot in real life in Northern Ireland or some other GoT-like landscape may start with Daenerys walking around a burnt patch of grass strewn with bones. By the end of the cycle, a final shot is rendered with a fully realized and sated dragon sharing the scene with the actress, taking a nap atop a pile of bones after gorging on a herd of animals.
The whole pipeline works with the aid of software programs like Autodesk's Shotgun and Cospective's cineSync production software.
"Even though there are hundreds of kilometers separating us …and we're living in different time zones, being able to talk about the same material right in front of us – it makes it feel like they're just a room away," visual effects supervisor Viktorija Ogureckaja told Cospective. "The real-world measurements just don't matter anymore."
Check out a short version of how the magic is made:
If you really want to dive into the deep end, check out Tran's NAB Show presentation:
Pixomondo – Creating VFX for Game of Thrones, with a global pipeline fueled by Shotgun from Autodesk Media and Entertainment on Vimeo.
Featured image: Emilia Clarke and Drogon, her dragon. Courtesy HBO.